Justwealth is a popular digital wealth manager (aka Robo-Advisor) in Canada. It is one of a few non-traditional management services available to Canadians who want to lower their investment fees while maximizing their investment returns.
If you have been following my personal finance blog for a while, then you know that I'm very much in favour of passive investing, i.e. replicating the performance of the market index at the lowest cost possible and without much stress.
Active fund management firms promise higher returns than what the "market" has to offer but are rarely able to do so. Over 80% of actively managed equity funds underperform their benchmark index every year, and over time, passive investing has been shown to beat active management.
To get the most out of your investing and save a lot in fees, you can choose to either go the route of DIY investing or use a robo-advisor like Justwealth.
About Justwealth
Justwealth is a robo-advisor that was launched in Canada in 2016 by co-founders Andrew Kirkland and James Gauthier. Together with other members of their core team, they bring several decades of investment management and financial planning to the table.
On the advisory side of things, the team at Justwealth is supported by a top-notch group of successful CEOs, a Senior Fellow of the C.C. Howe Institute, and a professor of finance.
Justwealth is a member of the Portfolio Management Association of Canada (PMAC). They pride themselves on what they do and see themselves as:
Canada's most comprehensive online portfolio management platform, committed to providing honest, smart and cost-effective wealth management.
Accounts Offered by Justwealth
Justwealth offers various types of accounts to meet specific investor needs. These include:
RRSP (individual and spousal)
TFSA
RESP
RRIF
Locked-in Retirement Accounts (LIRA)
Life Income Fund (LIF)
Non-registered investment accounts
Opening a Justwealth Account
Opening an account with Justwealth is easy peasy and should take you about 15 minutes or less.
Step 1: Visit Justwealth via this link (this promo link gives you a special cash bonus of up to $500 on sign-up).
Step 2: Enter your basic details and answer the questionnaire so Justwealth can learn about your investment objectives.
Step 3: An optimal portfolio is automatically chosen based on your profile and designed to meet your needs.
Step 4: Fund your account, and your personal portfolio manager will invest your funds using low-cost ETFs.
Start enjoying fees as low as 0.4% per year! If you want to discuss your account or ask for advice, they are just one phone call or email away.
Information that will be requested during the sign-up process includes:
Social Insurance Number (SIN)
Bank account details
Copy of government-issued ID
Spouses' SIN (for a spousal RRSP)
You can transfer your accounts from other financial institutions to Justwealth in cash or in kind. Account transfer fees on an account with $25,000 or more are covered for up to $150.
The minimum amount to open an account is $5,000 (except for RESP accounts which have no account minimum).
Benefits of Justwealth and Portfolio Categories
Justwealth offers four general types of portfolios to accommodate your investment goals over time:
Starter Portfolios: for wealth initiation
Growth Portfolios: for wealth accumulation
Income Portfolios: for wealth distribution
Preservation Portfolios: for wealth retention
For these different categories, Justwealth can design 65 custom portfolios utilizing 38 different ETFs from 9 different ETF providers, including Blackrock and Vanguard.
In addition to uniquely constructed portfolios, low fees, and a dedicated personal portfolio manager, many other benefits come with a Justwealth account:
Automatic Rebalancing: Your account is monitored daily and will be rebalanced automatically as needed to ensure your asset allocation is maintained.
Tax Efficiency: Your portfolio is managed in a way that minimizes your taxes. Non-registered accounts benefit the most from this and are designed to improve after-tax performance without increasing risk.
Free Personalized Financial Planning: Andrew Kirkland, Justwealth's President is a Certified Financial Planner. When I chatted with him regarding this review, he quickly pointed out that although they are a robo-advisor, they focus more on the "fin" side of "fintech," something uncommon among their peers. They give you access to financial planning that's personalized for your needs.
Free Portfolio Review: They offer a free portfolio review if you want a professional opinion on how your money is currently being invested – i.e. performance, fees, asset allocation, etc. You do not need to be a client to use this free service.
RESP Target-Date Portfolios: Justwealth offers custom Education Target Date Portfolios for RESPs which mature when your child begins their college education.
U.S. Dollar Portfolios: They offer Canadians the opportunity to invest using US dollars if they so prefer.
Security: Justwealth via BBS Securities Inc. is insured by the Canadian Investor Protection Fund (CIPF). This means that your assets are protected for up to $1 million for each type of account you have should the company go bankrupt.
Marketplace: Justwealth offers a marketplace where you can access other services that are complementary to the investment management services they offer. For example, you can find various insurance products, mortgage loans, and accounting services.
Justwealth Account Fees
Canadians are realizing that fees can make or break their investment/retirement goals.
Those who know me well know how much I rail against the ridiculous fees charged by active fund managers who routinely trail their benchmark index and are unable to differentiate between "skill" and "luck."
Justwealth charges the following annual management fees:
$5,000 – $500,000: 0.50%
Over $500,000: 0.40%
Accounts below $25,000 pay a minimum of $10 per month in fees (excluding RESP accounts). RESP accounts have no minimum account size. ETF management fees up to 0.25% are charged directly by the funds included in your portfolio.
I like that Justwealth has an entire page dedicated to its pricing details. Their fees are visible, clear, and upfront. The main fee structure is not hidden in small-print or invisible tabs, which tells you something about their transparency.
Wondering how much you can save in fees when you invest using Justwealth? See the sample chart below: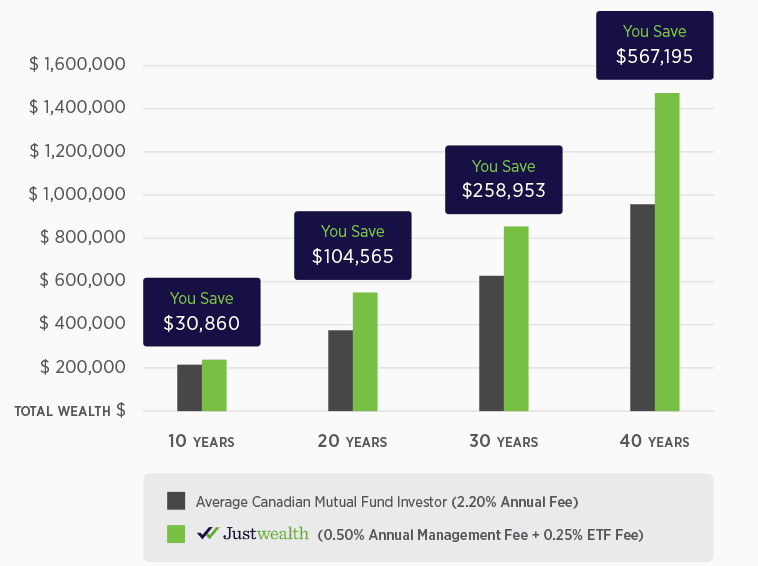 Compared with active equity mutual funds and their average MER of 1.98%, you are saving up to 1.48% in fees per year with Justwealth.
Justwealth vs. Wealthsimple
Justwealth and Wealthsimple are both robo-advisors and offer similar wealth management services. A few differences between them are as follows:
Wealthsimple is the most popular online wealth management firm in Canada.
Wealthsimple charges an overall lower fee for smaller accounts. For example, portfolios with investable assets exceeding $100,000 pay 0.40%. With Justwealth, you pay a flat 0.50% fee unless your account exceeds $500,000.
Wealthsimple accounts have a Roundup feature that allows you to automatically save your spare change. This app feature can help you reach your investing goals faster.
If you are a self-directed investor, you can use Wealthsimple Trade to make no-commission trades on thousands of stocks and ETFs. And on the alternative investing side of things, the company also offers a cryptocurrency platform – Wealthsimple Crypto.
Lastly, Wealthsimple does not have an account minimum which means you can open your TFSA or RRSP account with just $50 to get things started.
Justwealth has a minimum investment amount of $5,000. However, this minimum does not apply to their innovative RESP investing accounts.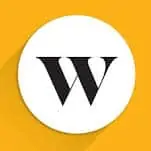 Professionally managed ETF portfolios
Multiple account types
Auto rebalancing and div reinvesting
Get a $25 bonus with a $500 deposit
Justwealth Institutional
This is Justwealth's exclusive service to advisors, businesses, and Not-for-Profit-Organizations.
Advisors can partner with Justwealth to manage client accounts using their sophisticated portfolio solutions. Also, businesses can open corporate investment accounts and set up Group RRSPs for their employees.
Is Justwealth For You?
Robo-advisors are for you if you want to save on investing fees and compound your fee savings to grow your wealth over time.
If you have at least $5,000 to invest in registered (RRSP, TFSA, RRIF, etc.) or non-registered investment accounts, you should consider taking advantage of Justwealth's low management fees, customized portfolios, automatic rebalancing, personalized financial planning, tax-loss harvesting, and much more.
For their RESP accounts, there is no account minimum, and you get an account that is designed to grow your funds until your child begins their post-secondary education.
Older clients who are wary of "robo" or "automated" will find that Justwealth puts more emphasis on investment management, and as per Andrew Kirkland (President), they focus more on the "fin" in "fintech."
If you are unsure which of the robo's work best for your circumstances or can only start with a smaller portfolio (less than $5,000), check out my detailed review on another robo-advisor, Wealthsimple.
You can also compare all the major robo-advisors in Canada.
For a limited time, Justwealth is giving readers of "Savvy New Canadians" an exclusive cash bonus when they open a new account:
$50 for assets between $5,000 and $24,999
$100 for assets between $25,000 and $49,999
$225 for assets between $50,000 and $99,999
$500 for assets over $100,000
Justwealth Review: Low-Fee Investing in Canada
Investment Options

Management Fees

Ease of Use

Account Minimum

Customer Support Options

Value For Money
Summary
Justwealth is a popular digital wealth manager (aka Robo-Advisor) in Canada. To get the most out of your investing and save a lot in fees, you can choose to either go the route of DIY investing or use a robo-advisor like Justwealth.