Passive income. I must confess, but often when I lay awake at night, it's because my mind is continually racing to figure out how to earn enough passive income so I can free up my time to do other things.
When you are caught up in the hustle and bustle of your 9-5 job (i.e. active income) in order to make ends meet, it's difficult to see the light at the end of the tunnel.
Wake up. Go to work. Get a paycheque. Go to work. TGIF. Year after year. On and on it goes until someday you can hopefully retire…and become free!
What would you pay to have more time available to you to do what you truly love?
Read on to learn about some of the best passive income ideas for Canadians and begin accelerating your journey towards financial freedom.
What is Passive Income?
Simply put, passive income refers to money you earn on a continuous basis without needing to put in effort on a day-to-day basis.
A passive income stream continues to flow while you sleep and while it may need some work to be done, your "effort" is no longer equivalent to the "reward" you earn.
Imagine you write a book that takes a year to complete, that then goes on to sell and earn income 10 years after it was initially published?
Or, an investment portfolio that continues to grow and earn returns long after you stop investing new funds?
If you have ever wondered why the rich keep getting richer, the bottom line is that most of them have figured out how to make their money and ideas work for them.
As they say, "time is money." It's a finite resource. You have started out on the path to wealth when you are able to find a way to make money, come rain or shine.
It usually takes some money and effort to make more money. However, a solid passive income strategy continues to make money long after you are done working.
Start with one idea, make it work, and then like most self-made millionaires, replicate the same model across several channels to create multiple streams of income.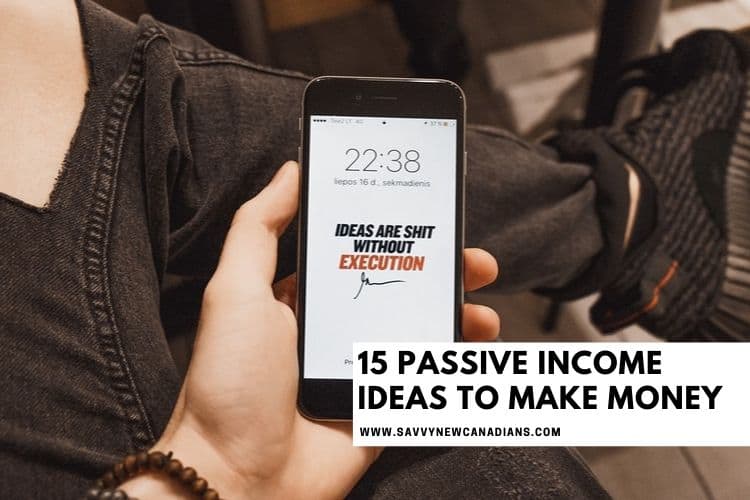 Best Passive Income Ideas in Canada
Here are some of the best passive income ideas you can put into action right now.
1. Open a High-Interest Savings Account
Put your savings in an account that actually earns interest. Traditional banks stopped paying worthwhile returns on savings accounts about a decade or so ago.
While you may have bought into the "loyalty" crap and love your bank dearly, consider moving your savings account to an online bank that pays interest exceeding the inflation rate.
Mind you, a high-interest savings account will hardly make you rich given the 1-2% return they generate.
However, they are low-risk and are great for short-term savings, emergency funds, or conservative income sources in retirement.
I have reviewed some of the best high-interest savings offered by online banks in Canada:
EQ Bank (earn a standard rate of 1.50% and get unlimited free transactions, mobile cheque deposits, and Interac e-Transfers)
Your funds are protected up to $100,000 by the Canada Deposit Insurance Corporation (federally-incorporated banks) or guaranteed up to 100% regardless of the amount (many credit unions).
If you want to invest in a TFSA, EQ Bank offers one of the highest savings rates at 1.50%.
For U.S. residents: Check Ally, Synchrony, CIT Bank, and Brio Direct.
2. Invest With a Robo-Advisor
Investing for passive income is "as old as the hills." It is a tried and tested method that often pays the patient investor.
Markets rise and wane, however, historical data tells us you are likely to make more money in the financial markets when you assume a higher risk.
Managing your own investment portfolio requires some work, confidence, and knowledge. However, a hands-off approach also works.
Robo-advisors aka wealth managers can invest your money using low-cost ETFs in a custom portfolio that mirrors your investment preferences.
Their passive investment strategy costs you much less than traditional mutual fund managers; there's no stress, you get free financial advice, and your net worth continues to grow.
Wealthsimple.com is Canada's most popular robo-advisor, with hundreds of thousands of clients and over $15 billion in assets under management.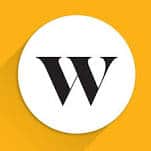 Professionally managed ETF portfolios
Multiple account types
Auto rebalancing and div reinvesting
Get a $75 bonus with a $500 deposit
Other robo-advisors in Canada I have reviewed are:
You do not necessarily need to have large sums of money to invest before you can earn passive income.
There are spare-change investing apps that round up your purchases to the nearest dollar and invest the difference in a non-registered or registered investment account.
The most popular micro-investing app in Canada is Moka. Moka (formerly Mylo) can help you invest even when you don't have much money to set aside. Get started with Moka and get $5.
The Wealthsimple app also offers roundup capabilities.
For U.S. residents:
Popular robo-advisors in the U.S. are Betterment and WealthFront.
Micro-investing apps: Acorns and Stash.
3. DIY Investing
Build your investment portfolio from scratch using stocks, ETFs, bonds, GICs, index funds, and more.
Self-directed investors can use an online discount brokerage platform to buy and sell investment assets to make money.
Stocks: A popular approach is to invest in dividend stocks. When you purchase stock in a company, they may pay out regular income (from profits) to their shareholders.
You do not need to do anything extra to benefit from these income distributions, which is why dividend investors love the passive income derived from dividend stocks.
Index Funds: Index funds represent a broad portion of the market or specific sectors e.g. the S&P 500, and are an excellent way to diversify your portfolio at a low cost.
They are designed to provide returns that reflect the general performance of the market.
ETFs: Exchange Traded Funds are similar to index funds in that they hold multiple securities such as stocks, bonds, or commodities; however, they trade on an exchange like a stock.
You can purchase any of these investment assets using Wealthsimple Trade or Questrade ($50 in free trade credit) in Canada.
Note that managing your own investments comes with risks. For example, you will need to be aware of your behavioural biases, be prepared to rebalance your portfolio, and conduct market research as required.
Here are the 10 commandments of investing that I follow.
For U.S. residents: Can invest online using investing apps such as Robinhood.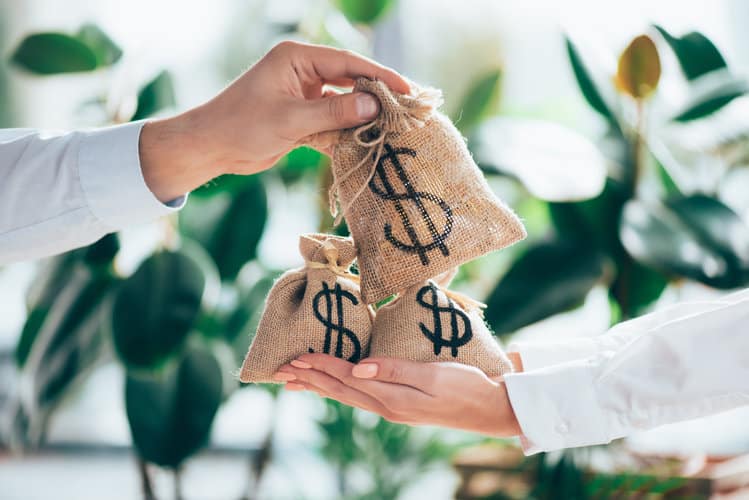 4. Start a Blog
I won't lie to you and say blogging is an easy way to make money. It isn't.
That being said, if you are able to put in the effort to find an audience for your blog, it can rake in tons of cash, day in, day out.
I know this because I earn passive income from this blog.
Check out this guide for the 6-steps to starting your own money-making blog.
The start-up costs are minimal. For example, web hosting for your blog through Bluehost costs about $5 or so per month.
After getting your blog off the ground, you can outsource its day-to-day running to virtual assistants and freelance writers.
Some of the ways to monetize your blog are through:
Display ads
Affiliate marketing
Sponsored posts
Selling your own products e.g. ebooks and courses
You can also own a blog by purchasing one that's already in existence. Once you have decided on your preferred niche, find a blog that is already established in that area and is up for sale.
Sites that list websites for sale include Flippa and Empire Flippers.
5. Create an E-Commerce Store
Shopping online has never been more popular or lucrative. Start your own online store when you sell products made by you or others.
Some of the things you can sell online include clothing, art, handcrafted jewelry, online courses, footwear, books, consumer electronics, Athleisure, home decor, healthcare supplies, baby products, and many fashion accessories.
Worldwide e-commerce sales are projected to grow to $6.54 trillion in 2022. If you are able to establish your store, it can generate passive income whether you are awake or asleep.
One platform you can use to set up your e-commerce store is Shopify.
Shopify provides everything you need to get your store started. The platform is a one-stop-shop for non-techie people to start their own online stores.
A basic package starts at $29/month and you get a free 14-day trial (no credit card required).
Once you have decided on what you want to sell:
Visit Shopify to open an account.
Choose your business name and address e.g. Stockings.myShopify.com or purchase a domain name that is exclusively yours e.g. Stockings.com.
Pick your preferred theme from ready-made templates that are available. You can also customize them to your taste.
Easily add product images and their prices.
Enable payments and add shipping.
Install apps to manage your sales, inventory, newsletters, analytics, and more.
Publish your store and start selling.
Owning an e-commerce store does not mean you need to fill up your basement with products. Here are some ways to sell products without keeping an inventory:
1. Dropshipping: Find a supplier (e.g. through Oberlo) and have them ship products directly to buyers. They take care of packaging, shipping, and returns.
2. Use Amazon and/or eBay.
6. Use Cash Back Apps
Whether you are shopping online or in-store, there are free cash back apps you can use to make/save money.
I love using cash back apps because they require very minimal effort and reward you for making purchases you were going to make anyway.
Some of the popular cash back apps that are worth joining are:
A. KOHO: This free cash back app and prepaid card are a must-have if you make purchases using your debit card or cash. It pays 0.50% cash back on all your spending and you can access the cash back almost immediately.
You also get access to a free budgeting tool, free Interac e-Transfers, an automatic savings account, and your balances earn interest at 1.20%!
Get KOHO ($20 welcome bonus with CASHBACK promo code and account funding).
B. Rakuten (Ebates): This is the most popular cash back site for online shopping. With over 2,200 popular retailers listed on the site, you can earn cash back rebates every week.
Sign up for Rakuten ($30 bonus).
Read my Rakuten review.
C. Drop: I use this free app to earn cash back whenever I make a purchase using my linked card at any of their partner retail stores.
The app automatically tracks your purchases and credits your account with cash back. There is no need to upload your purchase receipts. The Drop app is available in Canada and the United States.
Sign up for Drop ($5 bonus).
Read: Drop App review.
D. Swagbucks: Swagbucks is a popular get-paid-to site that rewards you for shopping online, playing games, searching the internet, and more.
Swagbucks is available in Canada and the U.S. Read my detailed Swagbucks review.
E. Caddle: This app is similar to Checkout 51 and is one of the best grocery receipt scanning apps available in Canada. Easily cash out your earnings starting at $20.
You can read our Caddle review.
Other cash back rewards apps that are available in Canada: Shopper Army and Ampli.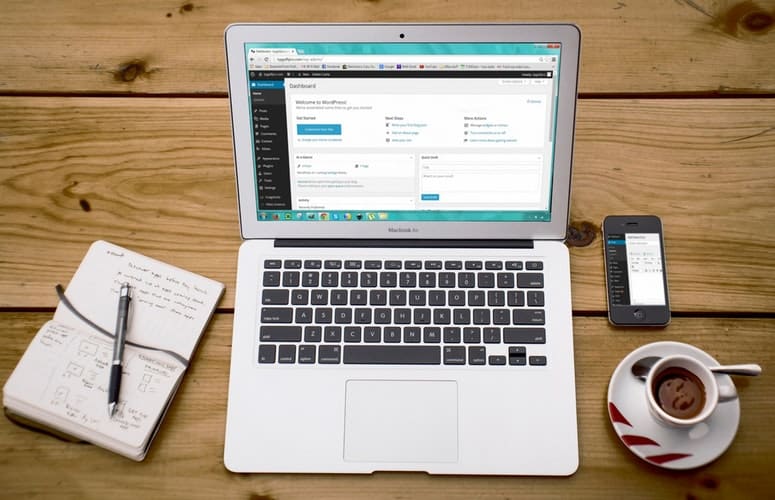 7. Invest in Real Estate
If you are like me and are not interested in getting involved with buying homes, repairing and flipping them for a profit, don't give up yet. There are ways to generate passive to semi-passive income from real estate.
Purchase a Rental
You can purchase a house and rent it out to tenants. They pay you a monthly rent that covers the monthly mortgage payments and also provides some cash flow.
In an ideal scenario i.e. with good tenants and the right location, you simply pocket the extra income and after the property is paid for, it continues to generate income.
Of course, becoming a landlord comes with its own problems, especially if you get stuck with tenants from hell!
As a landlord, you can minimize your direct involvement with the day-to-day operation of your business by utilizing property managers.
REITs
Real Estate Investment Trusts offer an easy way to invest in real estate without owning physical property.
REITs are companies that own or operate real estate properties for the purposes of generating income.
They distribute a majority or all of their profits to their shareholders in the form of dividends and you can purchase them like stocks on major exchanges.
REITs can have a place in most portfolios based on their competitive yields (returns) and low correlation with other assets.
Similar to other investments, you should do your research to select the right REITs and ensure your portfolio is adequately diversified.
Crowdfunded Real Estate
Crowdfunding has made it possible for a large group of people to pool their money to fund massive real estate projects.
Crowdfunded real estate opportunities used to be limited to only accredited investors, however, they are now available to retail investors as well.
One of the platforms for crowdfunding in Canada is NexusCrowd. In the U.S., you can check Realty Mogul.
8. Lend on Peer-to-Peer Lending Platforms
Peer-to-peer (P2P) lending involves lending money to individuals and businesses through an online platform that matches borrowers with lenders.
The lending platform evaluates the risk investors face when they provide financing to individuals and businesses through the marketplace and sets the potential returns based on this risk.
Basically, the higher the risk that a borrower may default on paying back their loan, the higher the interest rate they pay.
By cutting out the middlemen (i.e. traditional banks), P2P lending offers investors an opportunity to earn more on their investments.
Lending Loop is Canada's premier P2P lending marketplace where you can loan money to entrepreneurs and small businesses.
Loan sizes are from $1,000 to $500,000 with rates starting from 5.9%.However, lenders can start lending with as little as $25.
As of this writing, Lending Loop has more than 10,000 investors who have lent over $53 million to Canadian small businesses.
Loan grades range from A+ to E. You can diversify your portfolio with loans of varying risk in line with your risk tolerance.
For example, a conservative portfolio may return 6.1% while a balanced portfolio may return up to 8.4%. Earnings are paid out on a monthly basis.
Join Lending Loop and get a $25 bonus after you lend a total of $1,500 on their platform or enter the referral code E2189C.
Interested in peer-to-peer consumer lending (personal loans) in Canada? Read my goPeer review.
For U.S. residents: Popular peer-to-peer lending platforms in the U.S. are LendingClub, Fundrise, and Prosper.
Passive Income Strategies
These passive income ideas work for beginners and seasoned hustlers alike.
9. Use Affiliate Marketing
If you have a blog, you can easily incorporate affiliate products in your posts to make money.
The way it works is you promote products and services provided by others and when you make a sale, they pay you a commission or referral fee.
Even if you do not have a blog, you can still make money by promoting affiliate links on social media like Facebook, Instagram, Pinterest, Twitter, and even through word of mouth.
Michelle from Making Sense of Cents makes anywhere from $50,000 to $100,000 per month on her blog and most of this income is generated from affiliate marketing.
If you want to really leverage this income strategy, you should check out her course, Making Sense of Affiliate Marketing.
10. Write a Book / Ebook
Get your creative juices flowing and write an ebook.
With online platforms like Amazon kindle direct publishing, self-publishing is your work is possible and much less cumbersome than the traditional way of going about it.
If you are located outside the United States, see how you can avoid the 30% withholding tax when you sell your ebook on Amazon.
The eBook Academy teaches you everything you need to know about how to publish your ebook on Amazon and earn royalties.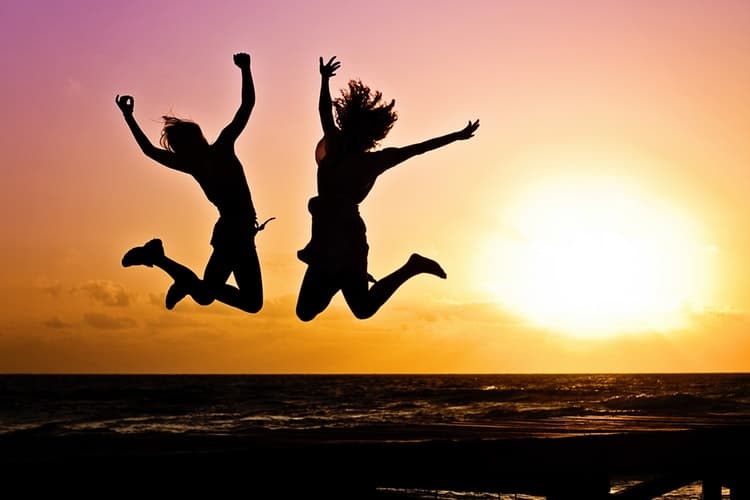 11. Maximize Credit Card Rewards
If you use credit cards to pay for purchases, make sure to choose one that is worth your while.
Every year, we earn at least $800 in credit card rewards and this is without paying one cent in interest fees. Free money doesn't get better than that.
Credit card rewards can be in the form of cash back or reward points. I generally prefer real cash back, but many points cards are also great as long as you can redeem the points in exchange for something worthwhile.
Check out some of the best credit card offerings in Canada per category:
12. Rent Your Spare Room
If you have a room sitting empty in your home, consider renting it out using Airbnb.
Listing your home is free, they verify guests and cover every booking with up to $1 million in property damage protection and $1 million in insurance against accidents.
Even better, you choose your price and schedule.
13. Rent Your Car
Ride-sharing apps like Uber and Lyft are popular for earning extra income, however, you can't refer to driving other people around as being "passive."
To generate passive income using your car, you can:
Rent your Car on Turo
Turo is a popular marketplace for sharing your car with others.
Listing your car is free and you earn 65% to 90% of the trip price. In addition, Turo provides you with up to $2 million in liability insurance, 24/7 roadside assistance, and excellent customer support.
Earnings are paid out via direct deposit or PayPal within 5 business days. Read my Turo review.
Advertise on your Car
You can advertise products and services by wrapping your car with paid ads. Companies that offer this opportunity include Cavertise, Wrapify, and Drivertise.
Make sure to watch out for scammers who may try to defraud you (avoid people who ask you to pay for your wrap).
Non-passive ways to generate income from your car include delivering food in your area using DoorDash or Postmates.
Here is a list of apps that pay you to drive your car.
14. Create an Online Course
If you have a skill, talent, or passion that others find useful or interesting, consider creating a course you can sell online.
Two popular platforms you can use to create and host your course are:
Long after you have put in the work, a course can continue to generate income for you without much additional effort.
15. Monetize Your Daily Activities
Earn money by doing the things you already do on a daily basis. If you surf the internet, play games, watch videos, or like answering surveys, there are sites that reward you for these activities.
Passive Income Canada FAQs
What are the best ways to generate passive income in Canada?
Investing in the stock markets and earning dividends and capital gains is a great way to create passive income. You can also consider starting a business, blogging, real estate, and writing a book.
Can passive income make you rich?
With careful planning, you can build one or more sources of passive income and have enough to pay all your bills without putting in an extra ounce of 'work'. Many of the rich people we hear about do get a significant portion of their wealth from passive income. Many regular Joe's are also able to build a sizable nest egg by investing long-term and watching their portfolio grow.
Conclusion
Generating enough passive income so that work becomes optional is a dream held by many.
Try out these passive income ideas and get started with living the life of your dreams.
Which of these passive income ideas do you like the most? Are there any other strategies you are using to earn effortless income right now? Leave them in the comments section!