Turo, popularly referred to as the "Airbnb of cars," is one of many ways to earn extra income from your existing assets in today's ever-growing gig economy.
Unlike the U.S., where you can find other private car rental platforms like Getaround and HyreCar, Turo is the only peer-to-peer online car rental company currently operating in Canada.
Uber and Lyft are popular among passengers who share car rides and drivers who make extra bucks driving others around during their spare time.
Turo takes it up a notch. You rent out your vehicle and make some money when it's not in use, and you do not need to be the driver.
This Turo review covers how it works, how you can monetize your car, insurance coverage, and whether this side hustle is worth your while.
What is Turo?
Turo is a peer-to-peer car-sharing marketplace where you (as an owner) can rent out your car, or you can book a car (as a renter).
The service is available in Canada, the U.S., the U.K, and Germany.
Turo was founded in the U.S. in 2009 and was formerly known as RelayRides. The company boasts a community of over 10 million people and more than 350,000 vehicles available.
As of 2021, Turo operated in five provinces in Canada – Ontario, Alberta, Nova Scotia, Quebec, and British Columbia.
In addition to the four countries where Turo operates, you can also sign up as a Turo "Commercial Host" in many other countries worldwide (56+ countries in all).
Turo at a Glance
They service over 5,500 cities in the U.S., Canada, the U.K., and Germany.
Available in 56 countries.
Hosts over 850 vehicle make and models.
$500/month average owner earnings.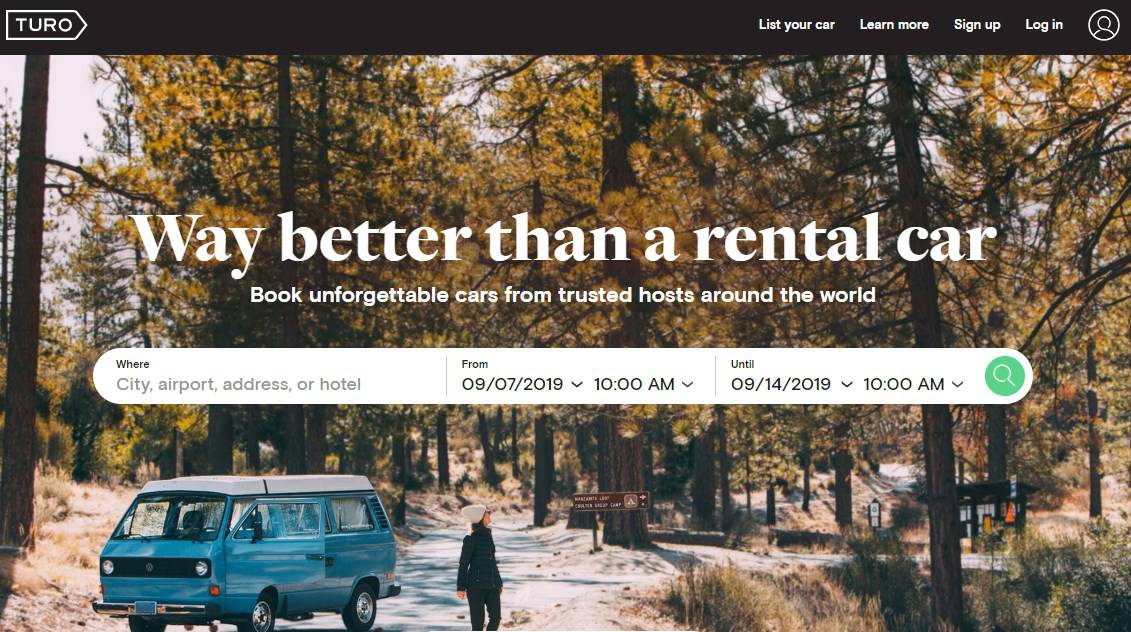 How Does Turo Work? (For Owners)
Turo's operational model is different from the traditional car rental business. Unlike Enterprise or Avis-Rent-A-Car, who keep an inventory of vehicles they rent out, Turo does not own any cars.
All the vehicles being rented out through the Turo marketplace belong to owners who are referred to as "Hosts." If you are looking to become a host and rent out your vehicle, follow these steps:
Create an account at Turo.com. Registration is 100% free, and you can access Turo on your computer or mobile phone.
List your car. This process takes less than 10 minutes. You will need to enter your car's license plate number, model, multiple photos showing the car to potential renters, and your location. Write a detailed profile to attract more bookings.
Set your availability and price. You will receive notifications when your car is booked, and you can accept or reject bookings. You can choose automatic pricing to have the Turo algorithm vary your price based on supply and demand.
Rent your car. Coordinate with the renter (guest) for pickup. You can meet them at an airport or other locations in your area, or they can pick up the car at your residence. Turo screens each guest for suitability.
Get paid. You earn anywhere from 65% to 90% of the fee paid by the renter. Your earnings vary depending on the insurance plan you choose.
Turo provides 24/7 assistance to its car owners.
Turo Car Requirements
Your car must meet Turo's basic requirements before it can be listed.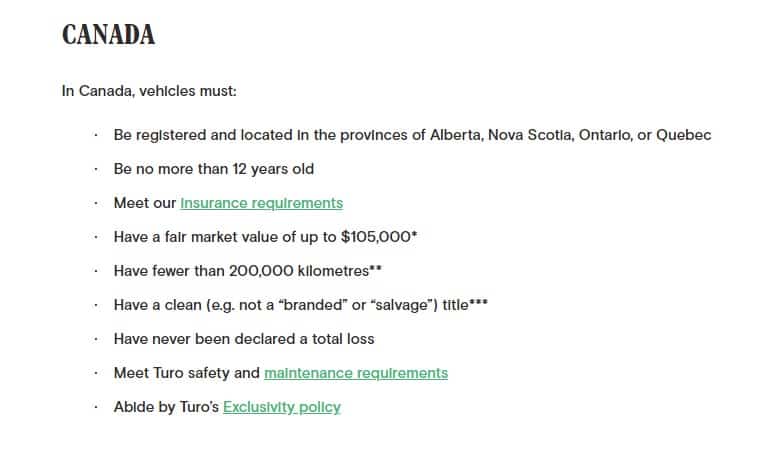 For specialty and classic cars, their fair market value must be at least $105,000, and they should be in excellent condition (physical and mechanical).
Motorcycles, RVs, box trucks, farm equipment, limousines, passenger vans that seat more than 8 people, and vehicles designed for off-road use are not allowed for listing on Turo.
Vehicles must be properly equipped for winter as per provincial requirements.
How Does Turo Car Insurance Work?
Insurance is a big part of renting on Turo. What happens if your car is damaged or is involved in an accident?
Turo offers insurance coverage to its hosts in the Canadian provinces where it operates. This coverage is provided by Intact Financial Corporation. In the U.S., coverage is provided through Turo Insurance Agency, LLC. (from Liberty Mutual)
The insurance plan offered in Canada provides $2,000,000 in liability protection and physical damage protection (up to a limit of $105,000).
Commercial hosts operating outside Ontario, Alberta, Quebec, and Nova Scotia must source their own commercial rental liability insurance and provide it directly to their guests.
Some companies that offer this coverage in Canada and allow car-sharing are Intact, Belairdirect, The Personal, L'Unique General, Desjardins Insurance direct network, CIBC Home and Auto Insurance Program, and The Co-operators.
Turo Insurance for Renters (Drivers) and Hosts
Drivers can choose from three insurance packages when they book their car on Turo.
1. Premier Plan: This is the maximum coverage plan and comes with up to $2 million in liability coverage and a $0 deductible.
2. Standard Plan: This also offers up to $2 million in liability coverage; however, there's a $500 deductible.
3. Minimum Plan: This plan comes with up to $2 million in liability coverage and a $3,000 deductible.
Renters can purchase liability insurance from the host if it's a "commercial host." They can also decline coverage. In this case, they are on the hook for all costs incurred if an accident occurs.
Fairly similar insurance plans apply to hosts as well.
How Much Money Can You Make With Turo?
If you are reading this Turo Review, you are likely very interested in knowing how much you can earn by listing your car on the Turo marketplace.
To find out the income potentials, check out Turo's "Carculator".
Using Toronto as an example, this calculator shows that you can earn $451 per month renting your 2017 Honda Accord for 10.9 days. This is an average earning of $41/day and a listing price of $55/day.
With a slightly higher-end vehicle like a 2017 BMW 3 Series, you earn $676 renting it out for under 10 days per month. This is an average earning of $68 per day and a daily listing price of $91.
An even higher-end car like a 2017 Porsche 911 would earn $1,330 for bookings of just over 5 days per month and a daily price of $328.
How Much Money Does Turo Take?
Using the Turo app and listing your car is free. There are no monthly fees.
So, how does Turo make money?
They take a cut of your trip price as follows depending on the Turo insurance and support package you choose:
Premium package: 35% (you keep 65% of the fees)
Standard package: 30% (you keep 70% of the fees)
Basic package: 15% (you keep 85% of the fees)
Commercial host insurance: 10% (you keep 90% of the fees)
Turo pays Canadian hosts via PayPal. Following a trip, you receive your share of the trip price, and funds should show up in your account within 1-5 business days. Hosts are responsible for paying taxes on their earnings.
Pros and Cons of Turo
As with all other side hustles to make money, renting out your car on Turo has its own advantages and disadvantages.
Benefits of Turo
1. It is a flexible way to earn passive income when you are not using your vehicle.
2. In Canada, payment is made directly to your PayPal account. In the U.S., payment is via direct deposit.
3. You set your schedule and prices and can earn even more by offering extras, e.g. unlimited mileage, extra gear, prepaid refuels, post-trip cleaning, etc.
4. The website/app is user-friendly, and there are no fixed monthly costs.
5. Extensive customer service and 24/7 roadside assistance.
6. You have access to comprehensive liability insurance and damage protection. Turo vets renters, and you can always decline a booking if you do not feel comfortable with a guest.
Downsides of Turo
1. Strangers will ride your car. For me, this is the main disadvantage of this side gig. I'm not even comfortable with friends driving my car, let alone strangers.
2. Not every car is eligible to be listed. Your really old clunker (older than 12 years) or salvaged vehicle may not meet the basic car requirements.
3. If you live in a city that's not a traveller's destination, bookings may be minimal.
4. Turo has an "exclusivity policy" which prevents you from listing your vehicle on other car-sharing platforms.
5. You may come across some terrible guests who treat you badly and leave you a less-than-stellar review. They may also be rough with your car and accelerate its depreciation.
Related:
Turo Promo Code
Turo occasionally offers promotional codes renters can use to get a rebate on their trip price. These promo codes and offers are sent out via email, and you can apply them at checkout.
They also have a referral program; however, it appears it is currently paused.
For the referral program, when friends and family sign up using your referral link, you get $25 in travel credit when they book and complete a trip. If they go on to list their car and rent it out, you get $75.
Is Turo Legit or Sketchy?
Turo is a legitimate car-sharing business. As of this writing, it has the following user-generated review ratings:
Consumer Affairs: 4/5 rating from 490 reviews
Best Company: 4/5 rating from over 1,700 reviews
Trustpilot: 4.5/5 rating from over 12,000 reviews
Highya: 4.2/5 rating from over 1,000 reviews
Is Turo Worth It?
If your car sits idle most of the time similar to that of the average Canadian, Turo offers a way to put your gig hat on and make some money.
The platform does have its downsides though and you should definitely be comfortable with the uncertainty that comes with strangers taking your car for a spin.
Other Ways To Make Money With Your Car
If you'd rather not allow strangers to drive your car, you can take on food deliveries in your spare time and make money. Some of the best delivery jobs are offered by DoorDash and Instacart.
DoorDash: Dashers (Drivers) deliver restaurant food to customers in their local area. The pay is upwards of $20 per hour, and all you need is a car, scooter, motorcycle, or bike. Sign up for DoorDash.
Instacart: Full Service Instacart Shoppers shop groceries for online shoppers and deliver them. If you have access to a vehicle and can lift up to 40lbs without accommodation, this gig may be for you. Sign up for Instacart.
Turo Review: Rent Your Car to Make Money
Ease of use

Insurance

Earnings

Support available
Summary
Turo is a popular car-sharing marketplace in Canada and the United States. This Turo review shows how to make money renting out your car, insurance coverage and more.
Pros
A flexible way to earn extra income.
Get paid promptly via PayPal.
Set your own schedule and prices.
24/7 roadside assistance.
Comprehensive liability insurance.
User-friendly app/website.
Cons
Strangers will ride your car.
Very old or salvaged vehicles are not accepted.
Bookings may be minimal.
Some guests may treat your car badly.