If you want to sell crafts online or are looking to start an eCommerce business, there are many best-selling platforms for handmade products available.
You've probably heard of Etsy Canada and the drawbacks of using the platform, such as the high fees and changing algorithms.
If you're looking for an alternative, many selling sites like Etsy have a range of features and price points.
This article details the 11 best online stores similar to Etsy. Find out the pros and cons, how the site works, and the main features of each.
Best Sites Like Etsy
Here are the 11 best online stores similar to Etsy:
1. Shopify
Shopify is an eCommerce platform that allows anyone to set up an online store to sell their products. It is a quick way to launch your business and start selling immediately.
How Does It Work?
Merchants can set up and customize an online store to sell products in multiple places, both online and in person.
It is completely cloud-based and hosted, so if you have both an online and physical store, your inventory and stock will be synced so you can manage it from one place.
Top Features
Customizable templates for your store
Tools to sell in multiple places, both online and in-person
Integrated payment processing
SEO and marketing tools
Fees
Shopify has a free trial where you only pay $1 monthly for 3 months on select plans. You can also try Shopify for three days for free without a credit card. After that, you can choose from five different pricing plans:
Shopify Starter: $7/month
Basic: $38/month
Shopify: $99/month
Advanced: $389/month
Shopify Plus: starts at $2,000/month
What Can You Sell?
You can sell a range of products and services on Shopify, such as physical products, digital products, memberships, ticketed experiences, and classes and lessons.
Who Is It Best For?
Shopify is great for stores that sell physical and digital products requiring very little configuration. It's perfect if you want to build a scalable online store.
Pros
Run your business from anywhere, as long as you're online
Detailed back-end of your store with analytics
Many customization options
Many different plans available, with ranging features and prices
Cons
There can be a steep learning curve when figuring out how to use Shopify and building a profitable store
Pricing can be confusing, as there are five different tiers
The built-in blog software isn't very effective or detailed
2. Amazon Handmade Canada
Amazon Handmade Canada is an artisan-only community on Amazon where artists and crafters can sell their unique, one-of-a-kind handcrafted goods online.
This business model is different from other ways of selling on Amazon.
How Does It Work?
To join, you need to apply to become an artisan. Once approved, you'll create a Seller Central account and complete registration, then leverage programs to list your products and manage and grow your business.
Top Features
Custom URL for your profile, making it easy for customers to find your shop
You can get a Fulfillment by Amazon (FBA) badge on your listings
Sponsored ads
Sell on all three North American Amazon stores
Fees
You pay a $29.99 upfront fee when you're approved for the program, and Amazon takes a 15% referral fee every time you make a sale.
What Can You Sell?
You can sell all kinds of handmade items, including artwork, jewelry, pet supplies, and baby products.
However, everything must be handmade, hand-altered, or hand-assembled. No mass-produced products are allowed on the marketplace.
Who Is It Best For?
Amazon Handmade Canada is best for people who make and sell handmade products and don't mind the 15% fee.
Pros
Only genuinely good handcrafted goods are allowed on the site, as there is an artisan application and audit process
No fees for listing products and creating your shop
High sales volume and traffic
All fulfillment is done by Amazon
Cons
15% fee on every item sold
High competition, as there are over 2.5 million sellers on Amazon
Some specific policies and procedures can be tough on small business owners
3. Ruby Lane
Specializing in antiques, collectibles, dolls, fine art, furniture, jewelry, vintage fashion, and more, Ruby Lane is an eCommerce site like Etsy but cheaper.
It is perfect for anyone passionate about collecting vintage and antique items.
How Does It Work?
To sell on Ruby Lane, you set up a shop, list items, and sell.
You must be pre-screened by an in-house team of art and antique professionals and meet their standards before selling anything on the platform.
You can sell items in an auction format like eBay, or at a set price.
Top Features
One-of-a-kind products not available anywhere else
High standards for quality
Fees
There are no setup or listing fees. Instead, there is a $25/month maintenance fee (unless you sell 15 or more items during the month) and a 9.9% service fee on every order total, capped at $250.
What Can You Sell?
You can sell high-quality antiques, collectibles, vintage furniture, fashion and art, antique collectible dolls, and handcrafted artisan jewelry.
Who Is It Best For?
Ruby Lane is best for those who sell vintage or antique items and want to sell to that specific audience.
Pros
No setup or listing fees
High standard for quality inventory and service
Vetted sellers
Cons
High service fees of almost 10%
Significantly less traffic than websites like Etsy and eBay
Not the most user-friendly website
Want to make money on Etsy? Check out the Ultimate Etsy Course that teaches you how to earn a consistent 4-figure income monthly selling printables on Etsy. The step-by-step tutorials cover everything from idea generation to product creation, listing and marketing, and more.
4. iCraft Gifts
iCraft Gifts is an online marketplace with the highest quality handmade jewelry, hand-knitted products, home decor items, and more from independent artists and crafters.
How Does It Work?
To sell on iCraft Gifts, you'll open a store (add a description, customizable banner, etc.), choose a subscription package, set up your store policies, and start selling.
Top Features
Only unique handmade products are available
No listing fees – keep all of your profits
Connect social feeds to your store
Fees
There is a one-time registration fee of $25. After that, choose your subscription package – either pay monthly ($15/month), for 6 months ($12/month), or for 12 months ($10/month).
The subscription includes unlimited listings, interchangeable products, and a free or discounted domain.
What Can You Sell?
You can sell handmade items such as jewelry, home decor, clothing, crafts, bath & body, and toys.
Who Is It Best For?
iCraft Gifts is one of the best-selling platforms for handmade art, crafts, and fashion creations. It's perfect for those who make anything handmade, not mass-produced.
Pros
Handmade items only, with no resellers
No commission on sales
No listing fees
Cons
iCraft Gifts doesn't allow art supplies, mass-produced items, or vintage products to be sold as Etsy does
Restrictions for the sale of items – they must be handmade
The site's customer base is in the market for specific things only, so you may not get a lot of traffic to your store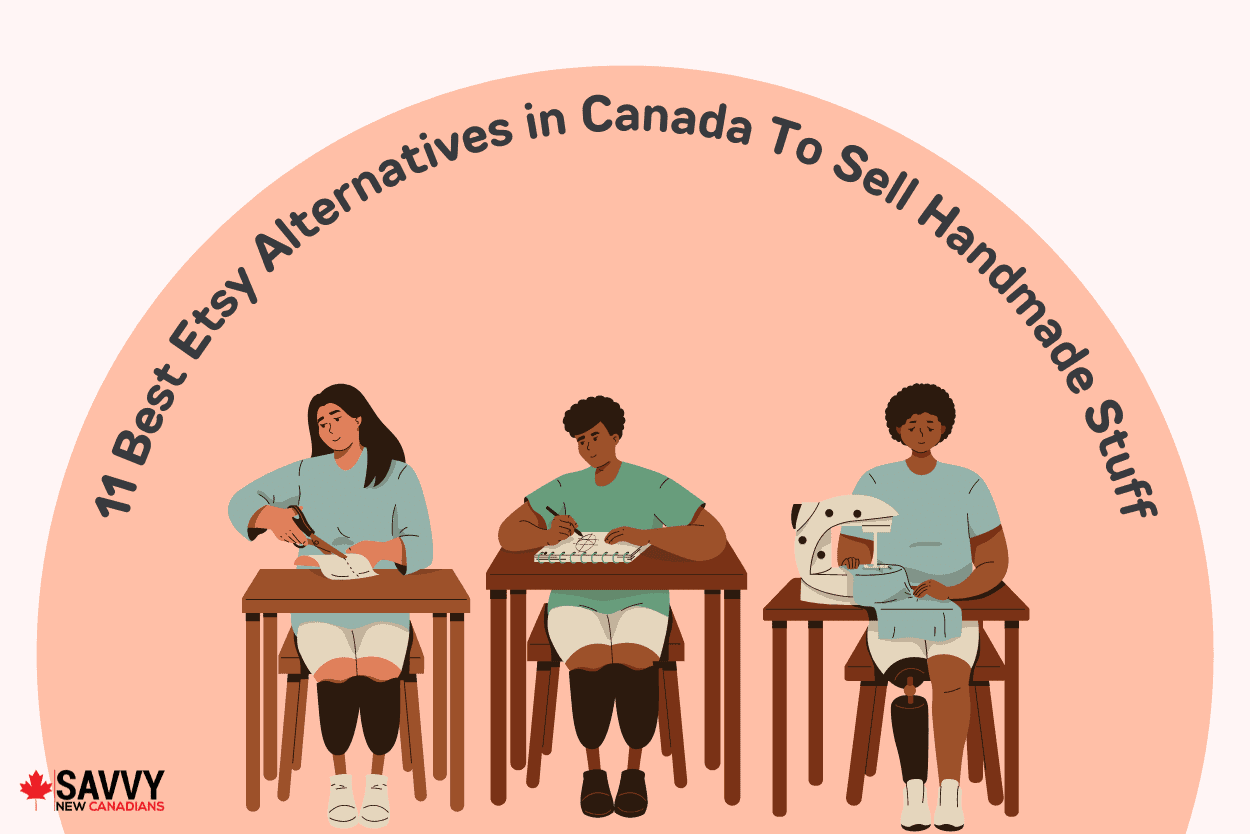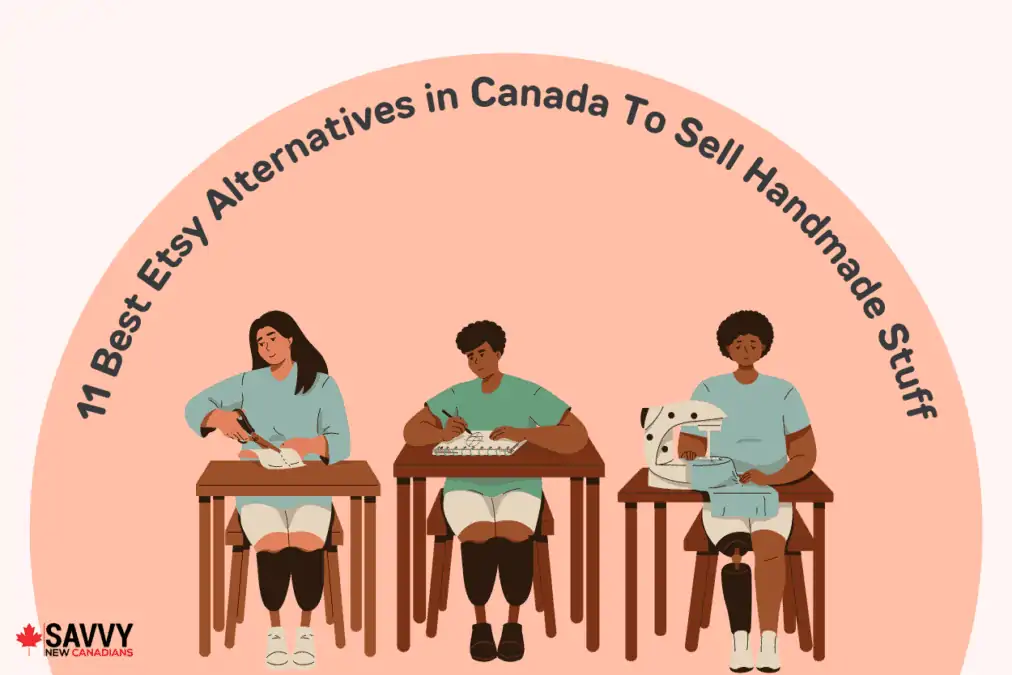 5. Big Cartel
Big Cartel is one of the only free eCommerce builders made for artists, makers, and small brands. It is a viable Etsy alternative.
How Does It Work?
You are provided with all the tools you need to get your business up and running, including a storefront where you can showcase the goods you are selling. Add your products, set up your checkout with PayPal or Stripe, and customize your shop.
Top Features
Easy store setup
Inventory tracking
Custom domain
Fees
There are no fees or percentages taken for each sale. Instead, choose from three monthly plans:
5 products – free
50 products – $9.99/month
500 products – $19.99/month
What Can You Sell?
You can sell handmade goods like paintings, jewelry, woodwork, handmade soap, and candles.
Who Is It Best For?
Big Cartel is best for small businesses just starting out rather than looking for major growth.
Pros
User-friendly onboarding process with helpful tips on how to set up your store
Perfect for artists selling individual pieces
Budget-friendly plans
Cons
Very basic with lacking features
Minimal customization
Coding knowledge is necessary to move your store beyond the basics
6. eBay
eBay is one of the biggest global commerce platforms, connecting millions of buyers and sellers. Best known for its auctions and consumer-to-consumer sales, it is used in nearly every country.
How Does It Work?
To start an eCommerce business using eBay, you'll set up an eBay shop, which enables you to display all your merchandise in one place.
eBay works by listing an item, adding photos, and choosing the price and shipping options.
The buyers can bid on it or select "Buy It Now." Once the buyer has paid for the item, the seller ships it.
Top Features
Huge, competitive platform with millions of buyers
Instant trust – the majority of people trust eBay because it is popular and widely known
You have the option to put items for auction to get a higher price
Fees
There are no setup or monthly fees. A percentage is taken from the total sale + $0.30 per order based on the selling price.
Your first 250 listings per month are free, but after that, you'll need to pay $0.30 per listing.
What Can You Sell?
You can sell almost anything on eBay except for a few prohibited items.
Antiques, jewelry, clothing, books, electronics, and sporting goods are commonly sold.
Who Is It Best For?
eBay is best for anyone who wants to sell their products quickly without building an online store.
Pros
Lots of traffic, with over 164 million active buyers
Easy to gain repeat customers
Seller protection
Simple to get started
Cons
Very competitive, as many of the same products are sold by other people
The marketplace fees may not be worth it if you're selling low-priced items
You don't have much control over your eBay shop, as eBay owns it
7. IndieMade
IndieMade is a website builder made to create an artist's website with a store, blog, galleries, and more. It has all the tools an artist needs to make and market a website.
How Does It Work?
You set up your website, select a theme, set up your store, set shipping rates, and add products.
You can start selling right away, and you also have the option to write blog posts.
Top Features
Web store
Blog
Easy-to-add web pages
Custom domain
Fees
You get a 30-day free trial with no setup fees. Choose from 4 monthly plans:
Basic – $4.95/month
Standard – $12.95/month
Pro – $14.95/month
Plus – $19.95/month
What Can You Sell?
You can sell a wide range of physical products, digital goods, and services.
Who Is It Best For?
IndieMade is best for anyone who wants to talk about their work, share photos, or create a storefront to sell products.
It's for crafters, artisans, photographers, musicians, performers, or any kind of micro-entrepreneur.
Pros
After signing up, your website is ready. All you need to do is select a theme and upload your content
Simple, clean, professional-looking websites
Everything is integrated, including a blog
Very easy to use
Cons
Paypal is the only payment option
People will not stumble across your site like Etsy – you need to bring the traffic
8. Storenvy
Storenvy is an Etsy alternative. This online store builder and social marketplace allows store owners, makers, and artists to open a free, customizable online store.
It's home to emerging brands and inspired goods.
How Does It Work?
You can easily design and launch a professional, customized store in just a few minutes. You can promote your business with the Storenvy Marketplace, which works like a social network for shopping.
To get started, set up and customize your store, list your products, and add details like shipping and item costs.
Connect a domain name to your custom store, and you can start selling.
Top Features
A Marketplace store where millions of customers can see your products
Quick and easy storefront design
Built-in analytics
Fees
There are no listing fees, but you can choose from one of four monthly plans:
Free – list up to 20 products
Artisan – $9.99/month, list up to 100 products
Growth plan – $24.99/month, list up to 500 products
Professional plan – $49.99/month, list up to 5000 products
If your product is sold from their Marketplace, Storenvy takes a 15% fee.
What Can You Sell?
You can sell almost anything except for a list of prohibited products.
Clothing, jewelry, art, home decor, music, and health and beauty products are commonly sold on Storenvy.
Who Is It Best For?
Storenvy is a great platform for small brands and authentic goods. It's perfect for people just starting their business.
Pros
No technical skills or coding required
20 product listings for free
Marketplace helps you sell by putting your products in the face of the customers
Easy to use and set up
Cons
Shipping costs are not calculated for you
A 15% fee is taken from anything you sell using their Marketplace
Not as large a marketplace as websites like Etsy and eBay
9. Zazzle
Zazzle is an online marketplace for designers and customers to create their own products with independent manufacturers, such as clothing and posters.
Every item is custom-made with one-of-a-kind designs.
How Does It Work?
As a creator, you can sell your artwork on products in the marketplace with the Zazzle Creator Program.
As a Maker, you can manufacture physical products and sell them through the Zazzle Maker Platform.
Zazzle allows you to upload your art and use it on everything from T-shirts to tote bags. It takes care of the manufacturing, inventory, shipping, and customer service.
Top Features
A wide variety of products are available
Easy-to-use interface
Affiliate marketing program
Fees
It's free to sign up. Designers pay 30% of their revenue to the site and a shipping services fee.
What Can You Sell?
As a creator, you can create any design as long as you own the copyrights to the images and content and do not violate Zazzle's guidelines.
Who Is It Best For?
Zazzle is best for those who want to design and sell customized products.
Pros
You can set your own royalty rate
Low barrier to entry
Cons
Quality of products may not be consistent
Limited options for store customization
10. Bonanza
Bonanza is an online shopping platform that connects buyers and sellers from all over the world.
It combines a marketplace and web store, with each seller listing their items for sale, just like eBay.
How Does It Work?
Each seller lists their items for sale, and buyers purchase directly from them.
Bonanza does not produce or ship any inventory. Set up your online store (called a "booth"), add your payment and shipping details, and list your products to get started selling.
Top Features
Automatic eBay, Amazon, and Shopify inventory import or sync
Customized marketing campaign tools
Web stores are automatically built from your marketplace account
Fees
There are no listing or monthly fees. When you sell an item, you pay a base 3.5% fee.
If you are a part of the Advertising Program, you will pay a commission fee.
What Can You Sell?
You can sell almost anything on Bonanza, such as clothing, health & beauty items, home decor, and jewelry.
Who Is It Best For?
Bonanza is best if you're just starting your business and want to list items for a low fee.
Pros
Low fees
Easy-to-use import features for eBay, Etsy, and Amazon listings
Listings are automatically sent to Bing and Google Shopping, allowing sellers to have more exposure
Cons
Limited customization
Not many monthly users
Large sites like Etsy have a superior item inventory compared to Bonanza
11. Ecwid
Ecwid is an online store builder where you can set up catalogues of products and add photos, pricing, and weight for each item.
You can set up your Ecwid store to sync and sell across a website, social media, in-person, and more.
How Does It Work?
With Ecwid, you get a widget to place on other sites or social media profiles to display your store.
You can sell online, through social media, or in person, and Ecwid will sync your orders and inventory so you can eliminate manual tracking errors.
Top Features
POS features to sell in physical locations as well as online
SEO optimization features
You can use Ecwid with other platforms like WordPress, Squarespace, and Wix
Fees
You can choose from one of four monthly plans:
Free plan – $0/month, sell up to 10 products
Venture – $12.50/month billed annually or $15 month-to-month, sell up to 100 products
Business – $29.17/month billed annually or $35 month-to-month, sell up to 2500 products
Unlimited – $82.50/month billed annually or $99 month-to-month, sell unlimited products
What Can You Sell?
You can sell almost anything on Ecwid, as it is software that connects to your online store. Physical products, digital goods, and services are all included.
Who Is It Best For?
Ecwid is best for small to medium-sized businesses that are just getting started selling online.
Pros
Add eCommerce to any existing website
POS functionality available
Easy-to-use interface
Cons
Phone support is only available on the most expensive plans
Very basic SEO features
A limited number of apps and integrations included in the Ecwid app store
What Are the Best Alternatives to Selling on Etsy?
There are a few different and often free Etsy alternatives depending on your needs.
Shopify is good for vendors who want an easy way to build and manage a robust, independent store.
It includes many features and benefits, which is why many people choose to use it.
Amazon Handmade is also another great craft site like Etsy. Although the fees are quite high, it is the largest online marketplace, and there is huge potential for people to see your products.
Amazon has 300 million active customers, while Etsy has only 35 Million.
Etsy Alternatives FAQs
Who is Etsy's biggest competitor?
There is not only one big competitor to Etsy. However, the biggest two competitors with the most similarities to Etsy are Amazon Handmade and Shopify.
What is the best place to sell handmade products?
Amazon Handmade is the best place to sell handmade products, as they have lower fees and are the biggest online marketplace in the world. They don't change their algorithm as often as Etsy, and there is an application process to ensure you're making the products you plan to sell.
Is Shopify cheaper than Etsy?
Etsy has a USD $0.20 listing fee and several other fees, while Shopify has different pricing plans and no listing fees. Shopify has higher costs upfront but may be a better alternative to Etsy as it will become more expensive as you list more items.
Conclusion
There are many sites like Etsy for jewelry, clothing, handmade items, and much more.
Not all of them have the same features and pricing, so it's important that you choose the best one for you.
If you're just starting your business, Shopify or Big Cartel might work for you, or if you make one-of-a-kind handmade items, Amazon Handmade might be the best.
It all depends on your needs, budget, and business structure.
Related: