Airbnb launched in 2008 and changed the face of the travel industry overnight. Suddenly, people with a property to rent could connect with travellers worldwide and make a side income or even a full-time income.
By becoming a host, you can earn money with Airbnb Canada in Toronto, Vancouver, Montreal, or anywhere else. These days, you don't even need to own a property to be able to earn money from Airbnb, and people all over Canada are finding new ways to make money from the service.
This guide will look at how Airbnb works, how you can make money from it in Canada, how to get started with Airbnb, the pros and cons, and more.
What is Airbnb?
Most people have heard of Airbnb, even if they have not used it. It was originally called AirBed & Breakfast after the founders turned their living room into a bed and breakfast using an air mattress.
It is essentially an online marketplace that allows people with properties to connect with travellers and rent out their properties as holiday lets.
Before Airbnb came along, it was a lot of work to rent a property, with all the marketing, finding tenants, and accepting payments involved. Airbnb gets rid of all the hassle and simplifies the whole process.
You don't need any experience or much money to get started. As long as you have a property, you can become a host. And even if you are not a property owner, there are still ways to make money with Airbnb.
How Does Airbnb Work?
Airbnb is used to connect hosts (property owners) with guests (travellers).
For hosts, you need to have a property to list on the site, usually a property you own. Then, you simply sign up, create a listing, set a price, and start.
Airbnb will take care of getting your listing in front of guests. Guests interested in booking can contact you to ask questions and reserve your property. You can decide whether you accept their reservation or not (you may only want families or couples, for example).
When they pay, it goes through the website's payment system. Then, Airbnb takes its cut, and you get the rest.
For guests, simply visit the website, search for properties by area and availability, and filter your search.
Contact the owner if you want to ask questions or reserve the property directly. If the host accepts your reservation, you pay either or all of the cost. You will also find details of the refund policy and the date you must pay the full amount.
How to Become a Host
The process is quite simple if you have a property and are interested in becoming an Airbnb host in Canada.
First, prepare your space, whether you have one room or a whole property. Ensure it has secure locks, all the most useful appliances, internet, new sheets, towels, and more. You should also clean it, either yourself or by hiring a professional cleaning service.
Then sign up at the website by clicking the 'Become a Host' option on the homepage and then the 'Try Hosting' button. You'll be asked to sign up using your phone number.
After this, you can create your listing. Fill out all the details, take photos, describe it accurately, and set your price by looking at similar properties in your area as a guide. Of course, you can always change the price later.
You can also set a minimum number of nights and decide if you want to charge for additional services like cleaning or renting equipment. Then choose how you want to receive the money, and you're ready to go.
Is Airbnb Profitable?
The amount you can earn from Airbnb depends on your property, location, how much you charge, how popular your listing is with guests, how many positive reviews you get, and more.
For example, you can probably charge a premium if you have a property listed on Airbnb Canada near Niagara Falls or another popular tourist spot.
One thing to say is that there is potential to make a lot of money. Airbnb has grown in popularity over the years, and there is often more demand than supply, so you may be able to enjoy higher occupancy rates and charge more, especially during peak months.
Airbnb charges 3% for most hosts, but it can be higher (e.g. for Airbnb Plus hosts or if you have a strict cancellation policy).
You will also have to factor in costs like cleaning, supplies, services, etc. You'll need to do your sums to work out how profitable it can be for you.
Airbnb startup costs are quite low if you already have a property, and it is essentially passive income. You can even hire someone to manage the property to make it even more passive.
How Much Do Airbnb Owners Make?
There is no limit to the amount you can make with Airbnb. You may make a few extra dollars a month, a full-time income, or considerably more.
According to Airbnb, in April 2021, hosts have earned $150 billion since 2010, of which $5.6 billion (CAD$7.1 billion) was earned in Canada.
Hosts earn, on average, $9,600 annually (for hosts who had welcomed one or more guests during the previous year).
These are averages, and while you may not make as much, you might also make a lot more.
Superhosts, for example, can make a significant amount on the platform, and there are Airbnb millionaires out there. These are hosts with several properties, and many of them make a full-time income.
How to Make Money with Airbnb Without Owning Property
As mentioned, the most common way to make money with Airbnb is to become a host. But that's not the only way.
Some people have started to use various other techniques to earn money with Airbnb without actually being hosts.
Airbnb Experiences
One of the options available to you if you do not have a property of your own is to host an Airbnb Experience.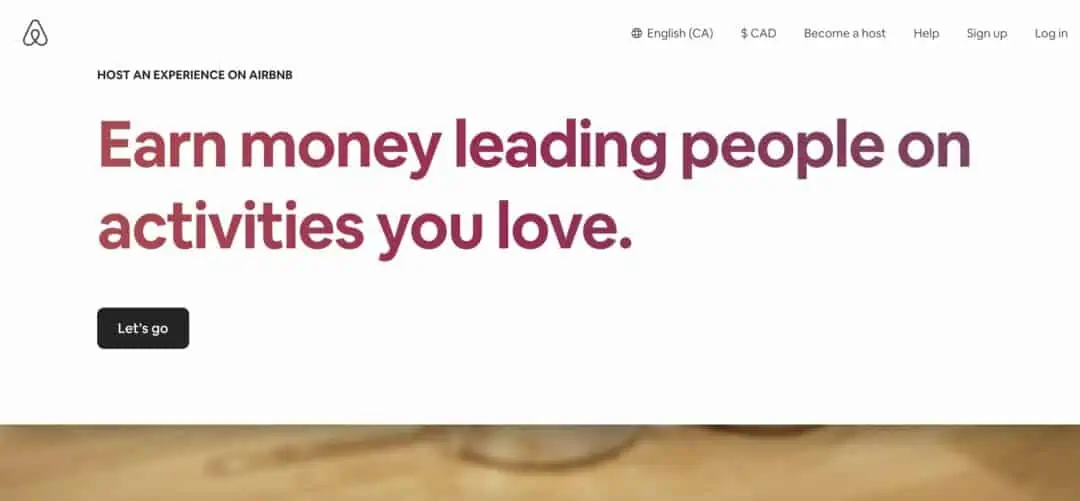 Launched in 2016, Airbnb Experiences focus on tour services you can provide, so you can offer activities to people instead of a place to stay.
If there is something unique that you can offer, like a haunted tour of your city, local cooking classes, or sports lessons, this could be a good option.
Simply choose a schedule, decide how frequently you want to host the experience and how many people can join a group, and set your rate.
You need to apply with Airbnb, and they will vet you first. You should also find the legal requirements where you live because you may need a licence.
Online Experiences is another more recent addition to Airbnb. With this option launched in 2020, you can provide experiences online via live video. So, for example, you could provide a cooking class or a virtual tour, and you can do it all from home.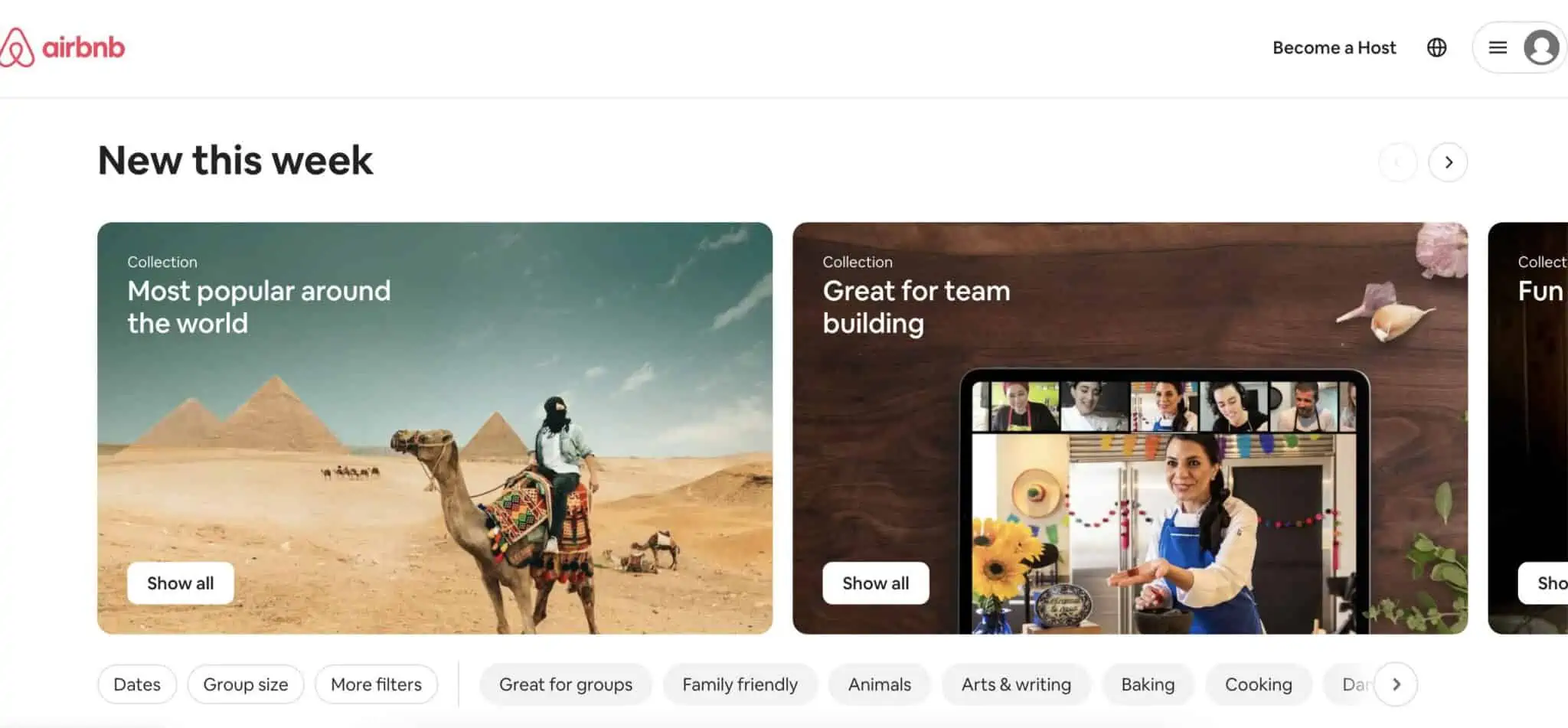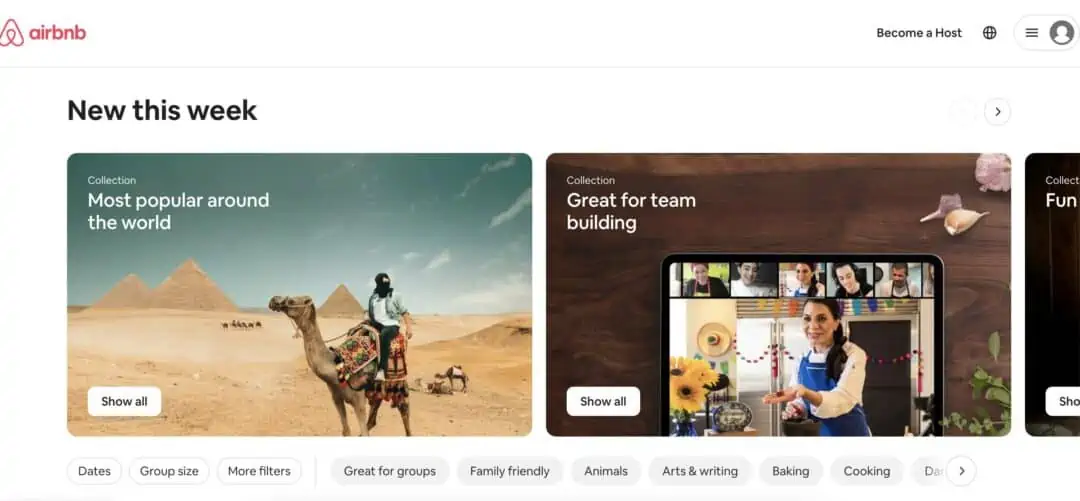 Become a Property Manager
Another good option to earn money without being a host is to take over the running of someone else's property by working as a property manager. This way, the host can be more hands-off and earn more passive income while you do the work for them.
As a property manager, you take care of everything for them, and the amount of work you do can depend on how much you charge.
For example, it could involve confirming bookings, responding to guests' questions, helping with check-in, marketing the property, arranging cleaning, carrying out or organizing maintenance tasks, and more.
Remember to find out about legal requirements and whether you need a licence or not in your area.
You could also work as a co-host. This is similar, but the host is more involved. Rather than managing everything, you may share the work. It might be easier to start as a co-host before working as a property manager.
Offer Airbnb-Related Services
Finally, you could offer services related to Airbnb rather than use the platform itself as a host.
For example, you could help hosts to optimize their listings by taking professional photographs of their properties or creating better copy.
You could even become an Airbnb consultant to provide advice. However, you will normally need experience as a host first to offer the best advice.
You could even offer marketing services for Airbnb hosts. This way, you can help to get their properties found by more people, so they make more money.
Pros and Cons of Being an Airbnb Host
If you are thinking about becoming an Airbnb host and have your own property, it can be a great way to earn extra money with little effort.
However, here are some pros and cons to consider before deciding.
Pros of Hosting
Airbnb provides you with an easy way to rent your property. Airbnb takes care of many things, and you may find using the platform easier than renting to tenants in your local area via an agent.
Airbnb offers a great deal of flexibility. You can choose when to host your property, whether for a few weeks a year or every day of the year, and you can change the rate you charge. So you have a lot of control.
You can do as much or little as you want when managing your property. You can get involved and do everything yourself, including the cleaning, or outsource to a property manager for a more hands-off experience.
By listing a property on Airbnb, you will get it in front of potential customers. There is no need to market your property (although you can do it), and Airbnb takes care of getting eyes on your listing.
It can be a good source of future income. The demand for short-term rentals is not decreasing, and more people realize they can enjoy a better and cheaper vacation with Airbnb than a hotel. So the effort you put in and your investment in setting up is not likely to be wasted.
You could even make more money compared to long-term letting. If you want to maximize earnings from your property, you may find short-term rentals are a better option.
Cons of Hosting
One thing to keep in mind is that Airbnb will take a cut of your earnings. So you have to decide whether the amount the platform charges is worth it.
There is no guarantee you will make money using Airbnb. For example, guests may cancel at the last minute, or you may end up with an empty property at a busy time of year. In addition, some properties may only be popular at certain times of the year.
Also, guests can sometimes be difficult. While most will be fine, you may have to deal with difficult guests from time to time.
How To Make More Money with Airbnb
While it looks simple enough to start earning money with Airbnb, some hosts are more successful than others. However, you can do several things that might help increase your earnings.
Treat It as a Business
Firstly, you'll do better if you're serious about your Airbnb property. Treat it like a business rather than just a bit of passive income.
Choose your niche carefully, provide excellent customer service, know who you are targeting, and do everything you can to make your property appeal to them.
Improve the Experience for Guests
Following the first point, ensure you provide an exceptional experience. For example, ensure you have a clean and tidy property where everything works well, the Wifi is fast, and there are no annoying problems.
Be friendly. Go to greet guests, help them when something goes wrong, and you're more likely to get great reviews – which can lead to more guests.
Spend Time on Your Listing
A good profile can help to attract guests, so spend time on it. Make sure it is accurate and detailed, and the tone is friendly but professional.
Also, take professional photographs to show your property in the best possible light.
People worldwide will search for the best Airbnb in Canada they can find, and your aim should be to make your listing stand out.
Be Smart About the Price
Research other properties in your area and find out how much they charge. Don't set the price too high or low.
Promote Your Listing
One of the great things about Airbnb is that it gets eyes on your listing. But there is no harm in promoting your listing.
Share on social media, set up a blog, and ask family and friends to tell people about it.
Find Out About Big Events
If there are big events in your area, take advantage of them. For example, when there are festivals or sporting events, either annually or one-off, ensure you know about them in advance and set your prices accordingly.
Airbnb Canada FAQs
Here are some answers to common questions about Airbnb:
What are the risks of being an Airbnb host?
You may have bad guests who damage your property or cause problems for the neighbours. In addition, there may be legal issues if someone has an accident while staying in your property.
Is Airbnb still profitable in 2023?
Airbnb can still be a very profitable way to make money in 2023. However, it will depend on various factors like the size of your property, its location, how much work you put in, how much you charge, how many guests you attract each year, and more.
How do I start my first Airbnb?
You can start immediately if you have a property or room to rent. Just sign up with Airbnb, create a listing, and you can start to rent it out to guests in no time.
Can I Airbnb my house if I have a mortgage?
This will depend on the rules set by your lender. Make sure you are clear about the terms of your mortgage and ask your mortgage provider if you are unsure.
What percentage does Airbnb take from the owner?
The fee is usually 3% of the booking. This is where the host and the guest split the fee. With the host-only fee, the host pays between 14% and 16%. You can find out more about fees here.
How do I get approved for Airbnb?
If you can provide accommodation to guests that is safe and comfortable, there's a good chance you will get approved. Make sure you meet the requirements and follow local laws, and you are unlikely to have any problems.
What type of property is best for Airbnb?
This completely depends on your location and your expectations. For example, a spare room in a city apartment may be ideal if you just want to make some passive income. On the other hand, a unique property in a popular year-round vacation spot might be better if you want to make a full-time income.
Should You Become An Airbnb Host?
This guide should give you most of the information you need to make money using Airbnb. Whether you become a host or look at other ways to make money via the platform, such as Airbnb Experiences, there are many opportunities to earn an income here.

Only you can decide whether it is right for you or not to become a host, but it can certainly be a worthwhile way to make either a small side income or significant amounts of money.

So look into the platform, explore the options, and set up your listing to start earning money from Airbnb.
Related: