Want to check your credit score for free in Canada? There are now multiple ways to achieve that.
While our neighbours down South have had access to free credit scores for more than a decade, it was only recently that Canadians could boast of having the same resource available to them.
Gone are the days when you needed to pay $20 or more to TransUnion or Equifax to see your credit score. Through the resources I have listed below, you not only get your credit score for FREE, but it gets even better: you can have access to quarterly, monthly, or even weekly credit score updates, all at no cost!
The companies offering this free service have other services they promote including credit cards, personal loans, etc. However, you are under no obligation to subscribe to any of their other offerings or services.
What Is A Credit Score And Why Is It Important?
A credit score is a three-digit number between 300 and 900 that serves as a snapshot of your creditworthiness i.e. the level of risk a lender has to assume when they lend you money.
In general, credit scores may be ranked as follows:
760 – 900 → Excellent
725 – 759 → Very Good
660 – 724 → Good
560 – 659 → Fair
300 – 559 → Poor
A very good to excellent credit score means that you can qualify for the best rates on loans, mortgages, lines of credit, and other financial products. Click here for tips on how to improve your credit score.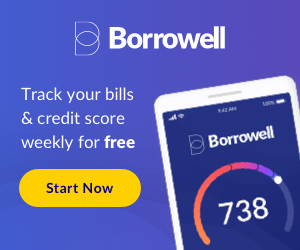 Getting Your Free Credit Score in Canada
These four companies will provide your credit score for free:
Borrowell: They offer access to a free Equifax credit score and credit report. There are no fees and your credit score and report are updated on a weekly basis. Learn more about them in this Borrowell review.
Mogo: This company offers access to your free credit scores (Equifax) when you apply for its free prepaid card. The score is updated on a monthly basis. Get more details about Mogo in this review.
Credit Karma: They offer access to free credit scores (TransUnion). Your credit report is also provided.
How to Apply for a Free Credit Score
Applying for your credit score online is an easy process.
Simply visit their website and enter your basic personal details. Your social insurance number or credit card details are not required.
You may be asked to answer a few questions to validate your identity. Once completed, your credit score becomes available online. The entire process takes 3 minutes or less.
Also, checking your credit score using these online portals is considered a "soft inquiry" and does not adversely affect your score in any way.
It is advisable to check both your Equifax and TransUnion credit scores. Sometimes, lenders report to one and not the other and your credit scores may vary.
Get Your Free Credit Report in Canada
Your credit report gives more details about your credit history and can be obtained free of charge from the credit bureaus, including Equifax and TransUnion.
Borrowell provides a free Equifax credit report.
For a TransUnion credit report, you can access your report online and download it. For Equifax, you can simply make a request by calling them at 1-800-465-7166.
It's a good idea to keep tabs on both your credit score and credit report. That way, you can quickly identify any errors, and also track improvements in your credit profile over time.
What Makes Up Your Credit Score?
It is important to know how your credit score is calculated if you want to improve it. In Canada, a credit score is impacted by these factors:
Payment history (35%): Lenders want to know whether you pay your bills on time. If you have missed or late payments, they affect your credit score negatively.
Amounts owed (30%): This refers to your "credit utilization ratio" which is how much of your credit balance is currently in use. For example, if you have a $10,000 credit limit and are owing $4,000, your credit utilization ratio is 40%. Aim to keep your account balance at 30% or less of your credit limit.
Credit history (15%): The longer your credit history, the better. When closing credit accounts, consider keeping the older ones as they may fetch you more points.
New credit inquiries (10%): If you have multiple hard inquiries on your credit file within a short period of time, lenders may think you are desperate for cash and this could affect your ability to pay back debt. Don't apply for credit if you don't need it.
Credit mix (10%): A combination of different types of credit accounts can strengthen your credit profile. For example, a mix of a credit card, personal loan, mortgage loan, and line of credit in good standing can build up your credit score. They show how well you can manage credit.
How Often Are Credit Scores Updated?
In general, your credit score is updated every 30 days. In some cases, it may take longer and update every 45 days.
Credit bureaus depend on the information they receive from lenders to update your credit report and score.
While you can expect them to report this information (e.g. payment history, account balance, credit limit changes, delinquencies, etc.) every 30 days, in some cases, it may be delayed.
FAQs
What is a good credit score in Canada?
A good credit score in Canada ranges between 660 and 724.
Can I check my credit score without affecting it?
Yes, when you check your own credit score using the providers above, it qualifies as a "soft inquiry" and does not affect your credit score.
Is 850 a good credit score in Canada?
A credit score of 850 is considered an excellent credit score and is well above the average credit score in Canada.
Also Read: