Students can use an RBC student credit card to build their credit history during their time in college or university.
My first credit card was an RBC Rewards Visa Card in 2011 when I was a post-grad student at the University of Manitoba. While this card is now discontinued by RBC, it served me well back in the day even though I had to secure it with a $1,000 deposit.
In addition to building your credit history and score using a student credit card, it can also help you develop good financial habits.
Using your credit card responsibly is very crucial as a student. If you don't, you can damage your credit profile and be unable to apply for personal loans, car loans, or a mortgage in the future.
Read on to learn about RBC's student credit cards, the rewards and protection they offer, alternative student credit cards, and how to apply for one.
About RBC
The Royal Bank of Canada is one of the biggest banks in the world and has over 86,000 employees in 36 countries including Canada and the U.S.
RBC was founded in 1864 in Halifax, Nova Scotia.
The bank offers a complete suite of financial products and services to its customers including chequing, savings, credit cards, loans, investments, insurance, and mortgages.
RBC was named the 2020 Celent Model Bank of the Year and is one of the Best Workplaces in Canada. The financial institution is traded under the ticker symbol "RY" on the Toronto and New York Stock Exchanges.
The main bank competitors to RBC are CIBC, TD, BMO, and Scotiabank.
What is a Student Credit Card?
Student credit cards are credit cards designed for use by post-secondary students who are getting their first cards.
Similar to regular credit cards, you can use a student credit card to make payments and grow your credit score.
Generally, a student credit card has no or low annual fees and the rewards are basic compared to a premium credit card. The credit limit is also "limited."
Lastly, student credit cards are easy to qualify for since they have a very low personal income requirement.
RBC Student Credit Cards in Canada
The Royal Bank of Canada has three credit cards that are specifically designed for students:
RBC Rewards+ Visa Card
Purchase interest: 19.99%
Cash advances: 22.99%
Annual fee: $0
The RBC Rewards+ Visa has no annual fees and is one of RBC's entry-level credit cards for students and newcomers.
You earn 1 RBC Rewards point per $1 spent on gas, grocery, and drugstore purchases, and 1 point per $2 spent on all other purchases.
New cardholders can get up to 3,500 bonus points when they meet certain eligibility requirements including opting out of paper statements.
RBC Rewards points vary in value depending on what you redeem them for. RBC Rewards cardholders can redeem their points for some gift cards at a 1% conversion rate i.e. 2,500 points = $25 (and 1 point = 1 cent).
Note that the regular conversion rate for gift cards is 3,500 points per $25 or 1 point = 0.71 cents.
This card also offers:
3 cents per litre on fuel at Petro Canada and 20% more Petro Points
Purchase security and extended warranty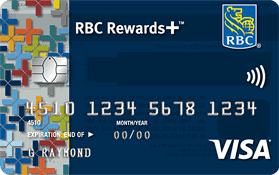 RBC Cash Back Mastercard
Purchase interest: 19.99%
Cash advances: 22.99%
Annual fee: $0
The RBC Cash Back Mastercard is great for grocery shopping. For a no-fee card, its level of cash back rewards makes it one of the best no-fee cash back credit cards in Canada.
You get 2% back on grocery purchases (on up to $6,000; 1% after) and up to 0.50% cash back on all other purchases up to $6,000 in spending (and 1% after that).
Cardholders also enjoy a 3 cent discount per litre of fuel purchased at Petro-Canada as well as 20% more in Petro-Points.
The RBC Cash Back Mastercard offers purchase protection for up to 90 days and extended warranty coverage that doubles the original manufacturer's warranty for up to one extra year.
Signature RBC Rewards Visa
Purchase interest: 19.99%
Cash advances: 22.99%
Annual fee: $0 or $39
The Signature RBC Rewards Visa has a $39 annual fee, however, the fee is waived for students who have an RBC Student Banking or RBC No Limit Banking for Student account.
The card offers 1 RBC Rewards point per $1 spent on all eligible purchases. You can redeem your points for merchandise (e.g. online at Apple or Best Buy), gift cards, travel, or convert your points to other loyalty programs such as Hudson's Bay Rewards points or Westjet Dollars.
Cardholders save 3 cents per litre at Petro-Canada and earn 20% more Petro-Points and RBC Rewards points.
The card also comes with travel accident insurance, car rental insurance, purchase protection, and extended warranty coverage.
Benefits of an RBC Student Credit Card
If you have a chequing account with RBC e.g. RBC Student Banking, you get an RBC student debit card you can use for everyday purchases.
However, a chequing account rarely impacts your credit score because you are spending your money and not credit.
A credit card helps students build a credit history. Over time, this credit history or report translates into a three-digit number known as a credit score which lenders use to assess your ability to use credit responsibly.
In Canada, credit bureaus, TransUnion and Equifax, compute your score periodically using information reported to them by banks and lenders.
A very good to excellent credit score means that ceteris paribus, you can borrow money at a lower interest rate. Find out your credit score for free.
You can increase your credit score by paying your card balances on time, keeping a low balance that is no more than 20% to 30% of your limit, correcting errors on your credit report, and not making too many credit applications at once.
Other benefits of an RBC student credit card include:
Rewards: You earn rewards in the form of cash back or points you can redeem for gift cards, travel, and merchandise.
Consumer protection: Some student credit cards offer insurance coverage for your purchases in the form of purchase protection and extended warranty coverage.
Discounts: Enjoy discounts at select retailers e.g. the RBC Cash Back Mastercard offers 3 cents per litre on fuel at Petro Canada stations.
Alternative Student Credit Cards in Canada
These non-RBC student credit cards are great alternatives if you are looking to get your first credit card.
1. Tangerine Money-Back Credit Card
Purchase interest: 19.95%
Cash advances: 19.95%
Annual fee: $0
The Tangerine Money-Back credit card is my top choice for students who have a personal income of approximately $12,000 per year.
This card offers unlimited 2% cash back rewards on up to three categories of spending including popular purchases like gas, groceries, pharmacy, and entertainment.
You earn 0.50% on all other purchases and your cash back is paid out monthly unlike other cards that pay it out once in the following year.
In addition, the card offers free purchase protection and extended warranty coverage.
The Tangerine credit card does not have an annual fee and you can get more details about it in this Tangerine Credit Card review.
Earn 10% cash back – promo offer!
2. Scotia SCENE Visa Card
Purchase interest: 19.99%
Cash advances: 22.99%
Annual fee: $0
Students looking for free movies and food would love the rewards offered by the Scotiabank SCENE Visa.
To start, you get 2,500 points when you spend $500 in your first 3 months. This is worth 2 free general admission or 3D tickets.
The card offers 1 Scene+ point per $1 spent on everyday purchases and 5 points per $1 spent at Cineplex theatres or Cineplex.com.
You can also use the card to save up to 25% when you rent a car at AVIS or Budget. Learn more in this SCENE Visa Card review.
3. BMO CashBack Mastercard
Purchase interest: 19.99%
Cash advances: 22.99%
Annual fee: $0
The BMO credit card reward rate was recently changed and it now offers 3% cash back on grocery purchases on the first $6,000 spent, 1% cash back on recurring bills (first $6,000), and 0.50% on everything else.
Cardholders also enjoy purchase protection, extended warranty, and up to 25% off car rentals at participating National and Alamo locations.
Learn more in this BMO Cash Back Mastercard review.
Student Credit Card FAQs
Which RBC credit card is best for students?
I prefer earning real cash back to points and would choose the RBC Cash Back Mastercard over the Rewards+ Visa. Both cards do not have an annual fee.
If your chequing account is with RBC as well, you may be able to waive the fee on the Signature RBC Rewards Visa.
What is the best credit card for students in Canada?
While not designated as a student card, students who meet the $12,000 minimum personal income (e.g. if you earn roughly $1,000 per month) can apply for the Tangerine Money-Back card.
It offers up to 2% unlimited cash back in various categories and you can also open a no-fee chequing and savings accounts at the same time.
Can I get a credit card if I'm a student?
If you are a post-secondary student who has reached the age of the majority in your province, you can apply for a student credit card.
The age of the majority is 18 in Alberta, Manitoba, Ontario, PEI, Quebec, and Saskatchewan. It is 19 years old in British Columbia, Newfoundland and Labrador, New Brunswick, Nova Scotia, Nunavut, Yukon, and the Northwest Territories.
In some cases, a credit card issuer may require you to get a co-signer before they approve your credit card application. If you have no income, you can also apply for a secured credit card.
What Canadian bank is best for students?
The big 5 banks all have bank accounts for students that waive the monthly account maintenance fees and provide free transactions.
You can also opt for online bank offerings like Tangerine and Simplii Financial in order to enjoy unlimited free transactions.