I personally use both services, and the result of my Wealthsimple vs. Questrade comparison is that both financial institutions offer Canadian investors access to some of the best investment platforms in the country. Both of them also help you to save on fees!
Wealthsimple is my top choice for automated robo-advisor investing, and it offers the only commission-free online discount brokerage service in Canada (Wealthsimple Trade).
Questrade is the undisputed choice of online brokerage for active traders who want to save on fees while getting access to robust market data and research capabilities.
And, Questrade now offers its own highly competitive robo-advisor service in the form of Questwealth Portfolios.
This Questrade vs Wealthsimple comparison will explore the various services they offer, their fees, investment strategies, investment products you can trade, account options, perks, and their pros and cons.
Of course, this post won't be complete without our exclusive promo codes and links to save on either service if you go ahead and open an account.
For Wealthsimple Invest
For Questrade
Who is Wealthsimple?
Wealthsimple is Canada's most popular online wealth management service aka robo-advisor.
Founded in 2014, the company now manages more than $15 billion in assets and also operates in the United Kingdom.
Wealthsimple's managed investment portfolios utilize a passive strategy that is designed to follow Nobel Prize-winning research.
The low-cost ETF portfolios utilized by Wealthsimple are built to cater to investors with varying risk tolerances. So, whether you want a conservative, balanced, growth, or aggressive portfolio, there's something for everyone.
And, it is hassle-free. Simply set it up and they take care of the rest, year after year.
In addition to their pre-designed ETF portfolios, they also offer DIY investors a commission-free online brokerage, Wealthsimple Trade, where you can buy and sell thousands of stocks and ETFs.
More recently, Wealthsimple introduced their Wealthsimple Cash service, a free hybrid account that offers saving and chequing account features that are a pretty rare combination in Canada.
The company offers many other account options and perks that will be discussed below and you can find out more in this guide to Wealthsimple.
About Questrade
Questrade has been around for over 20 years and introduced the concept of low-cost trading commissions for everyday investors in Canada.
With more than $30 billion in assets under management and 200,000+ new trading accounts every year, Questrade is considered to be the fastest-growing independent brokerage in the country.
Their brokerage service offers access to free ETF purchases and low commissions on stocks, options, and other products.
Questrade recently introduced its robo-advisor service, Questwealth Portfolios, which has one of the lowest management fees among the robo-advisors we have reviewed. Questwealth utilizes an active management style.
You can learn more about the company in this detailed Questrade review.
Questrade vs. Wealthsimple Trade
1. Trading Fees
Wealthsimple Trade has no fees for buying and selling stocks and ETFs. One exception to this is when you make a USD trade, you pay a 1.50% currency conversion fee (exchange rate fees are typical for brokerages).
Questrade charges a $4.95 minimum fee per trade to sell ETFs and buy or sell stocks. You pay $19.95 USD for precious metals and $9.95 + $1 for options. ECN fees apply to some trades. Purchasing ETFs is free.
Since Questrade offers USD account funding, you can avoid paying currency exchange fees when trading US-listed securities.
2. Investment Products
Questrade offers popular investment products, including ETFs, stocks, GICs, mutual funds, options, initial public offerings, and bonds.
As for Wealthsimple Trade, the only products available are stocks and ETFs. While thousands of these assets are on the Wealthsimple Trade app, not all Canadian and U.S. stocks and ETFs are listed.
3. Account Options
Both Wealthsimple Trade and Questrade offer the three most popular investment accounts i.e. personal non-registered accounts, RRSP, and TFSAs.
Questrade also offers trading in RESPs, LIRA, LIF, RRIF, corporate investment, and margin accounts.
4. Minimum Investment
You can start trading on your Wealthsimple Trade account with $100. Actually, they do not have a minimum account balance requirement, and you can technically open an account with $1.
For a Questrade trading account, you need a minimum balance of $1,000 to start trading.
5. Trading Platform
Wealthsimple's Trade app has racked up a 4.7/5 rating from over 123,000 reviews. Simply put, it has a clean interface and is very easy to navigate for beginners.
Their trading platform is also available on desktop, although it is totally separate from the Wealthsimple Invest account i.e. their robo-advisor service.
Questrade offers a web app (IQ Web) that functions across all devices, a mobile app, and IQ Edge, which is a desktop downloadable software.
Questrade's mobile app is not as positively rated as Wealthsimple's; however, its web platform is excellent.
6. Market Data
A basic Questrade account comes with free access to snap quotes. Snap quotes are real-time data that need to be refreshed to update it. Clients can pay $19.95 to $89.95 per month for access to their streaming real-time data.
Wealthsimple Trade offers free stocks and ETF price data with a 15-minute delay. You can upgrade your account to Plus (which costs $10 per month) and get access to snap quotes and up to $5,000 in instant deposits.
7. Are They Safe?
Trading accounts with Questrade and Wealthsimple Trade are protected against insolvency through the Canadian Investor Protection Fund (CIPF).
8. Other Features
Questrade allows you to trade U.S.-listed stocks and ETFs without the need to convert from USD to CAD. This can lead to significant savings in currency conversion fees.
Wealthsimple Trade now offers fractional shares, and you can easily buy portions of expensive stocks like Google, Amazon, Tesla, Shopify, Microsoft, Facebook, and more.
9. Promotions
Questrade will give you a $50 credit in free trades when you sign up for a new account or enter the promo code SAVVY50 during signup. To be eligible, you must deposit at least $1,000 in your account.
Wealthsimple Trade offers a $25 sign-up bonus when you open a new account (no promo code required with the link) and deposit at least $150.
In summary, investors who are new to trading stocks and ETFs on their own would enjoy the clean, intuitive interface offered by the Wealthsimple Trade phone app.
You can simply look up a stock or ETF symbol, buy or sell it, and be done. There are no trading commissions unless you are converting CAD to USD, and you can start trading with as little as $150.
Questrade has a more versatile platform. Active self-directed traders can pay to access in-depth streaming market data and research, and they have a lot more investment products and accounts to choose from.
Also, if you trade U.S. stocks and ETFs, you can save on USD-CAD currency conversion fees by funding your account with USD.
Overall, Questrade offers a more robust trading platform for most investors; however, you will need to fund your account with at least $1,000 to get started.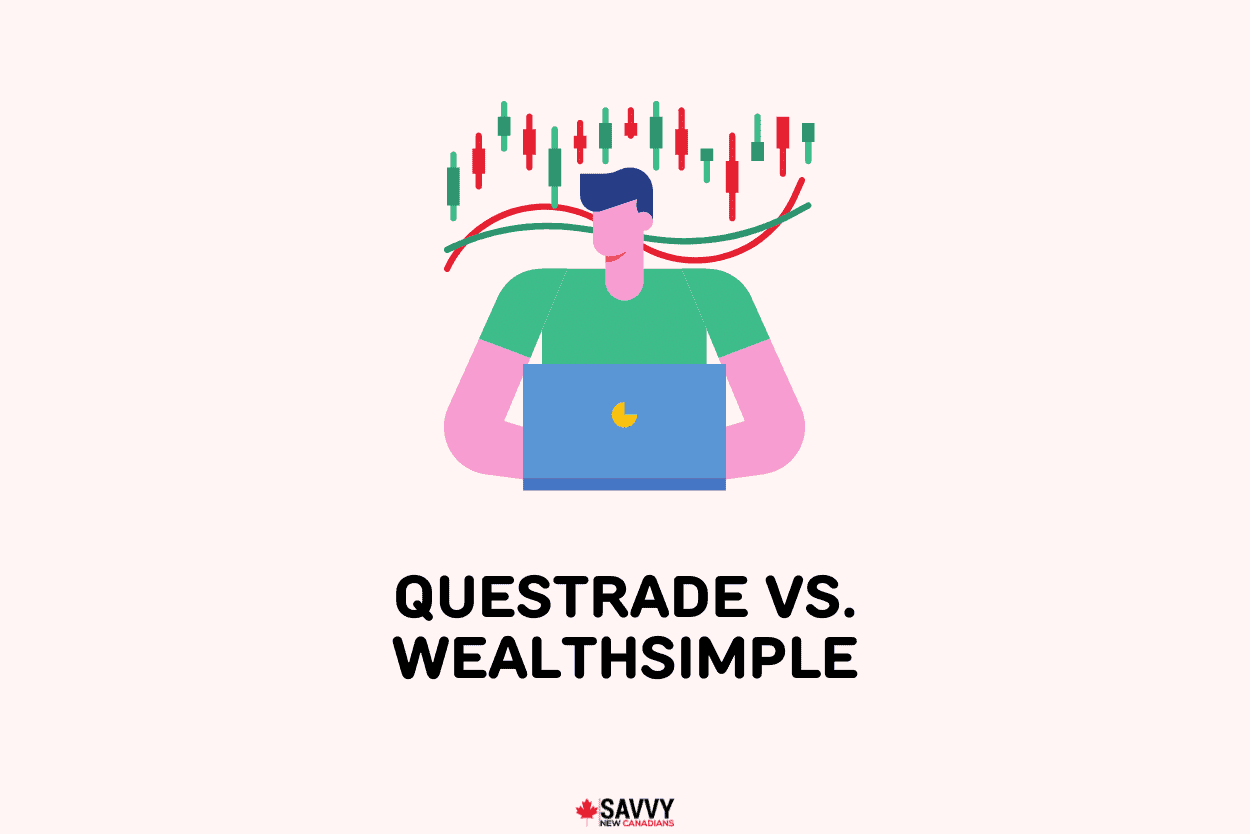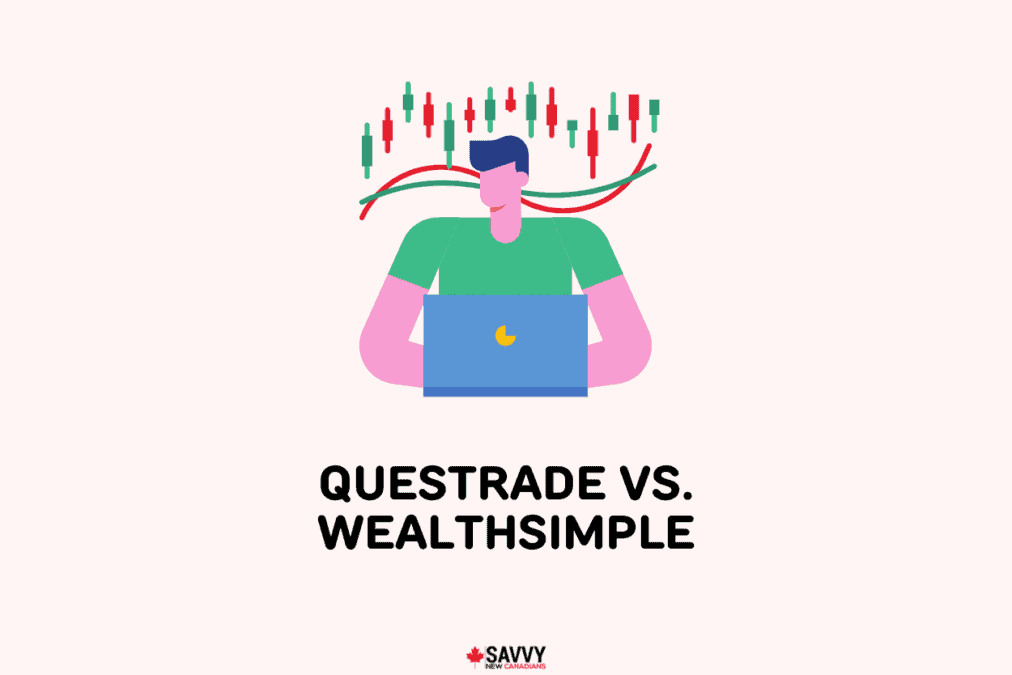 Wealthsimple Trade
Questrade
Fees
$0 to trade stocks and ETFs (no commissions); $10 monthly for access to real-time data (Trade Plus)
Stocks and ETFs ($4.95 to $9.95), ETF purchases are free;
$9.95 for mutual funds; min. of $5,000 purchase for bonds,
GICs and IPOs; 1% fee for Intl. equities;
$19.95 USD/trade for precious metals
Accounts available
TFSA, RRSP, non-registered accounts
RRSP, RESP, TFSA, Margin, LIRA, LRSP, RIF, LIF, non-registered personal
& business accounts
Minimum investment
$0
$1,000
Device platforms
Web, iOS, and Android
Web, iOS, and Android
Promotions
$25 cash bonus when you deposit your first $150 or more
$50 in free trades on new accounts with min. $1,000
Other fees
1.5% currency conversion fee for USD-CAD trades
ECN fees when applicable
Market data
Market data is delayed by up to 15 minutes (real-time snap data available at a $3 monthly fee)
Multiple market data packages available (free & paid)
Types of orders
Market orders, limit orders, and stop-limit orders
Market order, limit order, stop-loss order, stop-limit order,
trailing stop order, trailing stop-limit order, limit on open order, limit on close order
Stock exchanges supported
TSX, TSXV, NYSE & NASDAQ
TSX, TSXV, NYSE, MX, PINX, BATS, CNSX, etc.
DRIPS
Not currently available
Available
Wealthsimple vs. Questwealth
Now that we have compared their trading platforms, how about the online wealth management service offered by both companies – Wealthsimple Invest and Questwealth Portfolios?
Wealthsimple is definitely the leader on the robo-advisor front.
Their managed investment portfolios are significantly cheaper than the average mutual fund, and they offer so many perks that even novice investors get a taste of what only VIPs (the very rich) have been enjoying until now.
I'm a bit on the fence about Questwealth Portfolio's investment management style. However, their management fees are an industry-low for the Canadian market.
1. Management Fees
Wealthsimple Invest has a tiered fee structure that is based on your account size. For accounts below $100,000, the annual fee is 0.50%, and this drops to 0.40% once your combined portfolio value exceeds $100,000.
Compared to the average of 1.98% charged on equity mutual funds, a 0.40% to 0.50% fee plus the ETF MER is big savings.
Questwealth Portfolios has a 0.25% fee for balances less than $100,000 and 0.20% for accounts that exceed $100,000.
To put this in perspective, on a $100,000 investment portfolio, you will pay $400 in fees per year with Wealthsimple and $200 per year with Questwealth.
A traditional equity mutual fund could easily cost you up to $1,980 per year on the same balance.
Note that Questwealth also charges 100 basis points (1%) in fees when they need to buy or sell US dollars to trade ETFs in your account.
Inbuilt ETF management expense ratios (MER) apply to any ETF in your portfolio on both platforms. On a $100,000 account, this is an extra $200 or so per year.
2. Minimum Investment
Again, Wealthsimple Invest has no minimum balance, and for Questwealth, you need to fund your account with at least $1,000 before it can be invested on your behalf.
3. Investing Strategy
Wealthsimple portfolios are designed to follow a passive strategy. Research over the years has shown that trying to beat the market rarely works. While mutual fund managers get paid to time the market and beat their benchmark indices, they very rarely do so.
Over time, the high fees dampen your overall returns, and you'd have been better off with a portfolio that simply tracked the market.
Passive investing strategies are nothing new and have been well documented in research that has received the highest honours, including the Nobel Prize.
Not only that but investing gurus like Warren Buffett, John Bogle, and Peter Lynch all advocate for the use of index funds and passive strategies for long-term success in the markets…more so, for everyday investors.
Questwealth bucks the trend in this regard and utilizes an active investment strategy. It seems to be working for them, and you can definitely take a look at their historical returns as a part of the vetting process.
Let's just say that I'm a skeptic of traditional active investment management and its overall long-term results.
4. Account Types
Wealthsimple Invest offers all the basic accounts, including TFSA, RRSP, RESP, RRIF, LIF, LIRA, personal non-registered, and business investment accounts. They also offer a hybrid (savings and chequing) account that will be the first of its kind when it's fully rolled out.
Questwealth portfolios offer TFSA, RRSP, RESP, LIF, RRIF, personal non-registered, and corporate investment accounts.
5. Investment Options
Both Wealthsimple and Questrade offer portfolios to meet various levels of risk tolerance e.g. conservative, balanced, and growth portfolios.
If you want your portfolio to reflect your consciousness about the physical and social environment, both companies also offer socially responsible investing (SRI) portfolios.
In addition, Wealthsimple offers custom Halal portfolios to adherents of the Islamic Faith.
Basic services that are similar across both providers include automated rebalancing, dividend re-investing, automatic contributions, and free financial advice.
6. VIP Perks
When your account exceeds $100,000, Wealthsimple upgrades your account into the Wealthsimple Black category and you receive free access to VIP perks, including financial planning sessions, tax-efficient funds, and a lower management fee of 0.40%.
When your account exceeds $500,000, you also get personalized, in-depth financial reports, financial planning, and 50% off a Medcan Health Plan.
Questrade members with $250,000+ in assets enjoy Platinum benefits, including a dedicated Platinum team representative and phone line; and access to exclusive promotions.
7. Extra Account Features
A Wealthsimple investment account comes with two options that can help you save and invest faster:
Roundup: This feature automatically rounds up your spare change and invests the difference. One other app that does this is in Canada is Moka.
Overflow: You can use this feature to automatically invest excess cash in your chequing account after providing for day-to-day expenses.
Wealthsimple also manages Simple Tax, a free tax return software that works on a "pay what you want" basis.
8. Platforms
You can access your Wealthsimple and Questwealth portfolio accounts using any device – computer, tablet, or smartphone. They both offer a web interface as well as mobile apps.
9. Promotions
We have partnered with Wealthsimple and Questwealth for a promotional offer if you sign up for either service.
| | | |
| --- | --- | --- |
| | Weathsimple Invest | Questwealth |
| Management fee/year | 0.40%-0.50% (ETF MER 0.10% to 0.20%; SRIs: 0.25% to 0.40%) | 0.20% to 0.25% (ETF MER: 0.17% to 0.22%; SRIs: 0.21% 0.35%); 1% fee for ETFs traded in USD |
| Minimum investment | None | $1,000 |
| Account types | TFSA, RRSP, RESP, LRSP, RRIF, LIRA, non-registered accounts (personal & joint), corporate accounts | TFSA, RRSP, RRIF, LRSP, LIRA, RESP, LIF, and non-registered accounts |
| Investment strategy | Passive | Active |
| VIP perks | Accounts > $100K: detailed financial planning, tax efficient funds; or > $500K: plus 50% off Medcan Health plan, financial reporting, etc. | Not applicable |
| Promotions | Get a $25 cash bonus when you open an account with $500 or more | Invest up to $10,000 free for 1 year |
| Platforms | Web, Phone, tablet | Web, phone, and tablet |
| Extra account features | Offers roundup, overflow, Wealthsimple Cash, and Simple Tax | Allows DRIPs and Norbert's Gambit |
Questrade vs Wealthsimple FAQs
Is Wealthsimple Trade better than Questrade?
Both Wealthsimple Trade and Questrade are great for investing. If you are a beginner, the Wealthsimple Trade platform is more user-friendly. If you want to trade options, use margin, or need access to advanced trading tools, Questrade works better.
Does Wealthsimple offer margin trading?
No, Wealthsimple does not offer margin accounts. You can only open cash non-registered accounts.
Can I trade US stocks on Wealthsimple Trade?
Yes, you can buy and sell thousands of US stocks on Wealthsimple Trade. A foreign conversion fee applies to US-denominated trades; however, you could avoid paying this fee each time you place US trades by upgrading to Wealthsimple Trade Plus. The foreign exchange fee on Wealthsimple is 1.5%.
Does Wealthsimple offer FOREX trading?
No, Wealthsimple Trade does not offer currency trading. You can trade currencies on Questrade.
Do Questrade and Wealthsimple Trade have inactivity fees?
Both Wealthsimple Trade and Questrade do not have inactivity fees.
What are the fees on Wealthsimple Trade?
There are no trading commissions on Wealthsimple Trade. Wealthsimple Trade Plus has a $10 monthly subscription fee and provides access to a USD account and higher instant deposits.
Conclusion
You can't really go wrong with either Wealthsimple or Questrade if your aim is to 'divorce' your bank so as to save on management fees. I use Wealthsimple for my business and Questrade for my personal investment account.
I love both services and you can potentially save on fees even further by using our promo links above.