Quick Answer
Legal Wills, Willful, Epilogue, and FormalWill are the best online will kits in Canada.
Online Will Kits are fast, cheap, and convenient. However, they may not work for individuals with complex properties or assets abroad.
You'll typically need to identify an executor who will carry out the terms of your Will before creating one.
Having a legal will in place is a key part of estate planning; however, you'd be surprised how many Canadians don't have a will.
Despite the high perceived costs of creating a will, it can actually be affordable to create a legally binding Will using online Will kits like Legal Wills, Willful, and Epilogue Wills.
This post covers some of the best online will kits in Canada, including how much they cost and their main pros and cons.
Best Online Wills in Canada for 2023
Here is a summary of the best online wills in Canada:
| | | | | |
| --- | --- | --- | --- | --- |
| Online Will Kit | Highlight | Pricing | Availability | Learn More |
| Legal Wills | Best Value | $39.95 for a Last Will and Testament and $69.95 for a complete estate plan | All provinces, including Quebec. | LegalWills.ca review |
| Willful | Best Premium | $99 for a standard legal will, $189 for a premium package | Ontario, Alberta, Manitoba, Nova Scotia, New Brunswick, British Columbia, and Quebec. | Willful review |
| Epilogue Wills | Great for Frequent Changes | $139 for a will, $199 for a will and incapacity documents | Alberta, British Columbia, Manitoba, New Brunswick, Newfoundlan, Nova Scotia, Ontario, P.E.I, and Saskatchewan. | Epilogue review |
| FormalWill | Individual services | Services start at $39 | Most Canadian provinces | N/A |
Best Online Wills in Canada
The best online will-writing services in Canada simplify the process, and you can have a legal will in as little as 20 minutes. Since you don't need the services of an estate planning attorney, you can also easily save several hundred dollars in fees.
Compared to the generic DIY kit you can buy in stores like Staples or Walmart, an online kit accommodates more scenarios and is tailored to reflect provincial probate legislation.
1. Legal Wills
LegalWills.ca is Canada's most popular provider of online wills, power of attorney, and living wills. The platform has been helping Canadians with creating legal online wills for over 20 years.
This online will service is $39.95 for a single will and $59.95 for a mirrored will (couples). If you want to add a power of attorney or living will, you can pay for their services separately at $29.95 and $19.95, respectively.
LegalWills offers free updates for 1-year, and you can pay a one-time fee for unlimited updates and storage beyond one year.
When you enter the promo code SAVVY20, you receive a 20% discount on any LegalWills order.
Available in: All provinces in Canada, including Quebec.
Cost: Varies depending on your needs.
Promo code: Use SAVVY20 to get a 20% discount.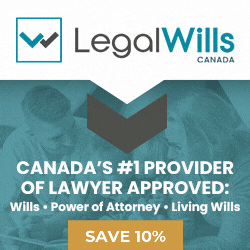 2. Willful
Willful was founded in 2017 and is one of Canada's top destinations for legal online wills. The company offers three will packages, including a basic, premium, and couples (mirrored) plan.
Willful will kits start at $99 and go up to $329 for a comprehensive couples plan.
You can include a Power of Attorney and healthcare directive in your last will.
When you sign up for any Willful plan and use our promo link (no code required), you receive a 15% discount.
For more details about the service they offer, read our Willful review.
Available in: Ontario, Alberta, Manitoba, Nova Scotia, New Brunswick, British Columbia, and Quebec.
Cost: $99 to $329
Promo code: Use the link below for 15% off.
3. Epilogue
Epilogue is an online Will-making platform in Canada founded by two former estate planning lawyers.
Their Will document service for individuals starts at $139 and goes up to $269 for a couples' comprehensive Wills and Powers of Attorney plan.
Creating your Will in Epilogue is easy and can be completed within 20 minutes. They guide you from start to finish.
You can update your documents online for free at any time. Also, Epilogue can help you name a professional trust company as the executor of your Will if this is your preference.
Available in: Alberta, British Columbia, Manitoba, New Brunswick, Newfoundland, Nova Scotia, Ontario, P.E.I, and Saskatchewan.
Cost: $139 to $289.
Promo Code: Use SAVVY20 for a $20 discount.
4. FormalWill
FormalWill is a Canadian online will kit service founded by a lawyer. Their will kits are custom-tailored to work with each province and territory in Canada.
They offer various packages, including a legal will ($79), power of attorney ($59), living will ($59), and a pet will ($49). You cannot make changes to your legal will with FormalWill unless you purchase a "peace of mind bonus."
The power of attorney and living will documents available on FormalWill cannot be updated.
If you'd like to have a lawyer look over your will or provide advice, they have a lawyer review service that costs up to $249.
Available in: All Canadian provinces and territories.
Cost: Varies depending on the package you select.
Online Wills are Legal in Canada
Given the importance of a will, you want to be sure that if you use an online will kit, it will be valid and legally enforceable.
The simple answer to whether online wills are legal is that an online will is legal in Canada if completed correctly. Heck, you can hand-write a will (holographic will) and sign it without any witnesses, and it would be valid in court.
That being said, any last will and testament, whether handwritten, completed online or drafted with the help of a lawyer, needs to reflect and meet specific basic criteria.
Legal online will kit services work with experienced estate lawyers to create templates that reflect the Estate Law in different jurisdictions.
One of the online will kits noted in this post does not offer its services in Quebec due to differences in Quebec law. For example, in Quebec, you also have the option of a notarial will, which only requires a notary to sign it.
You can also prepare a power of attorney, and living will document using an online will service. These documents specify how you want your legal, financial, and health affairs to be managed.
Lastly, an online will has to be printed on paper and signed in the presence of two witnesses for it to be valid. The witnesses cannot be beneficiaries of your will.
Pros and Cons of Online Will Kits
There are benefits and downsides associated with creating a will online.
Pros
Fast: LegalWills and Willful advertise that you can complete your will in under 20 minutes. A will drafted by a lawyer will likely take a couple of weeks, maybe even a month, before it is completed.
Cheap: You will spend hundreds of dollars less in fees. An easy comparison would be approximately $100 using an online will kit vs. $1,000 or more with a lawyer.
The cost of an online will is fixed and apparent upfront. You do not need to shop around to compare fees between different law firms.
Convenient: You (the testator) can complete the process of making a will online from the comfort of your home. The online platform allows you to make as many changes as possible before printing your will for signatures.
You can also update, reprint, and sign if your assets or circumstances change.
Step-by-step guidance: You will be guided on how to complete each section of the will, signing requirements, and how to store your will.
Cons
Online will kits do not work for individuals with complex assets or properties abroad. Also, if you have a blended family or are looking to stagger distributions to your children, you would benefit from customized legal advice.
Some online will kits are not available in Quebec.
What Do Online Wills Cost?
| | | | |
| --- | --- | --- | --- |
| | Legal Wills | Willful | Epilogue |
| Individual Will Cost | Starts at $39.95 | Starts at $99 | Starts at $139 |
| Couple Will Cost | Starts at $79.90 | $329 | Starts at $229 |
| Power of Attorney Option | Yes | Yes | Yes |
| Free Updates | 1 year (additional fee for lifetime updates) | Unlimited | Unlimited |
| Availability | All provinces, including Quebec. | Ontario, Alberta, Manitoba, Nova Scotia, New Brunswick, British Columbia, and Quebec. | Alberta, British Columbia, Manitoba, New Brunswick, Newfoundland, Nova Scotia, Ontario, P.E.I, and Saskatchewan. |
| Learn more | Visit | Visit | Visit |
How to Write a Legal Will Online
There are a few important things to remember when writing an online will.
First, you want to choose the right online will for your situation. That means looking beyond the price and finding out what that price includes.
Are you allowed to make updates, for example? Your situation may change over the years, and you will want your will to reflect these changes.
Before you write your will, ask someone to be your executor. The executor is the person you want to carry out the terms, and it could be a family member or close friend. You will normally have to identify an executor when you create your will.
Creating the online will is quite straightforward. You can often complete the process in as little as half an hour or less. However, this depends on the complexity of your situation.
Follow the guidance provided and write down the beneficiaries, including people or organizations you want to benefit from your assets. You should make it clear how you want to distribute your estate.
Your online will may include a power of attorney, which you grant someone to make decisions if you cannot. You can include the details when you write your will.
You may also provide funeral instructions and any other information you feel is relevant.
Once you have completed the required information, print out your will and sign it before two witnesses. You must choose these witnesses carefully because they must not benefit from your estate.
You cannot use a digital signature, so sign it in ink.
Here's Why You May Need a Will
You may not want to think about end-of-life planning much, but it is very important. It is especially important if you have anyone who relies on you financially, like a spouse or children.
A will allows you to decide how to divide your assets when you pass away. If you do not make a will, your estate may be divided in a way that goes against your wishes.
If you have specific instructions about who should inherit your assets and how much they should get, a will is the only way to clarify this.
You do not need to have a large estate to make a will. Many wills are uncomplicated, and in this case, online wills can be a sensible option because they are quick, affordable, and legally the same as traditional wills.
If you have assets, investments or property, want to leave gifts, donate some of your estate to charity, or have any other wishes, making a will should be something you do.
Alternatives to Online Wills in Canada
If you want to write a will, there are several alternatives to online wills that you may prefer. These include DIY Will Kits, Holographic Wills and Lawyer-Written Wills.
Here, we take a closer look at each of these, including the pros and cons.
DIY Will Kit
DIY Will Kits are low-cost wills that retailers like office supply stores often sell. They consist of a simple paper template, and you simply fill in the blanks with the correct information.
You will need to sign your DIY will when you complete it. You also need to have two witnesses to make it legally binding.
Pros:
These wills are the most affordable option compared to other types of wills, costing about $50 or less.
They are easy to fill in because you have a template and just fill in the blanks.
Cons:
They may not be suitable if you have no experience with legal documents because they do not usually come with guidance.
They are only suitable for simple wills, and there is no room for more complex situations.
While they are easy to create, they are not easy to update should your circumstances change.
Holographic Wills
Holographic Wills are handwritten wills. There are no templates to fill in and no legal guidance. So instead, you simply prepare the will and write it in ink in your handwriting.
Because you write the will in your handwriting, you do not need witnesses to sign it.
Pros:
There is no cost involved in this will because you create it yourself without needing a template.
No witnesses are needed to sign your will, as with other types of wills.
Cons:
You have no help writing these wills, so you need to ensure your will is accurate and includes all the relevant information.
These wills are not accepted all over Canada; only some provinces recognize them.
They are more suited to someone with a legal background who knows the proper wording to use and what the will should contain to avoid making mistakes or leaving out important information.
Lawyer-Written Wills
You will need to hire a professional lawyer to create this type of will. As such, you have to pay extra for this service.
They may be necessary for more complex estates or if you want to carry specific wishes.
Pros:
You get peace of mind knowing that a professional lawyer has created your will, and it's unlikely they will make mistakes.
They are a suitable option for larger estates where the will is likely to be more complex.
Cons:
These wills are the most expensive option; even a simple one could cost hundreds of dollars.
They are less convenient because you have to find a lawyer you trust and then work with them instead of doing everything yourself in your own time.
Is An Online Will Right For You?
If you have dependents or assets you would like to pass on to beneficiaries, you should create a will.
An online will is an affordable and legally valid option if your estate planning requirements are straightforward.
You can save 20% off any LegalWills using our promo code SAVVY20.
You get a 15% discount when you create a Willful Will.
For Epilogue Wills, use SAVVY20 to get a $20 discount.
Most Canadians can safely create a will online; however, if you have a complex estate or trust arrangement, you will benefit from seeking legal advice.
Related: Free Will Templates in Canada.