Willful is one of Canada's best online legal will platforms.
If you have not yet created a last will and testament that addresses how you want your estate assets to be distributed after you die, it's a good time today as any to put one in place.
I get it. No one likes to ponder their own mortality, which is probably a big part of why most Canadian adults do not have a will.
Another reason for the lacklustre statistics when it comes to writing wills could be the perceived difficulties of the process and expensive lawyer (legal) fees.
This is where a company like Willful comes into play. They simplify the will-making process so you can create a will from the comfort of your home at a reasonable cost.
Willful Review Summary
Willful Review [year]
Summary
Willful makes it easy to create a legal will online in Canada for cheap. If you are skeptical about online wills and whether they are legally binding in Canada, you can rest easy. The will you create online using Willful is legit, even if it costs you several hundred dollars less than what a lawyer will charge you.
Read this Willful review to learn how to create a legal will in less than 20 minutes and for less than $100, plus take advantage of our special 15% discount (this is up to $49.35 off – no promo code is required).
Pros
Available in many provinces
Low-cost Wills compared to a lawyer
Unlimited updates for 90 days
Cons
Not the cheapest Will kit
Updates after the first 90 days requires an annual subscription for $19
What is Willful?
Willful is a fintech company that offers legal online wills in Canada. The company was founded in 2017 by Kevin Oulds and is based in Toronto.
Willful's online will templates are put together by lawyers with decades of Estate Law experience backing them up.
From only operating in Ontario, Willful has grown and now offers its services in several provinces, including Alberta, Manitoba, Saskatchewan, Nova Scotia, Quebec, New Brunswick, and British Columbia.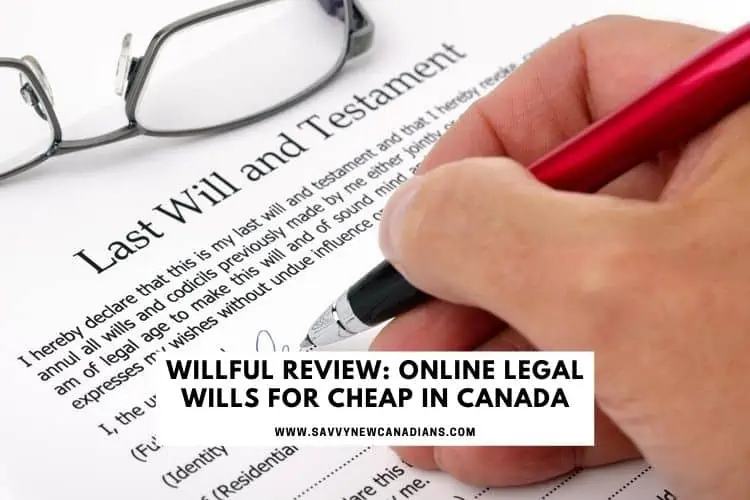 How To Create a Legal Will With Willful
Willful eliminates the stress that often comes with writing a will.
Although there is no rush for you to complete the process in one sitting, Willful makes it possible to create your legal will online in 15-20 minutes.
To get started:
Visit Willful and click on the "Start for Free" button.
Enter your basic information and choose a plan that meets your needs.
Complete your last will and testament, and identify your beneficiaries, executor, and guardians for your children.
Depending on your plan, you can also make arrangements for medical emergencies and choose your Power of Attorney.
If you are married or in a common-law relationship, you and your spouse (or partner) can purchase a family plan.
Print and sign your will before storing it securely.
Your Willful account allows unlimited free changes to your will for the first 90 days. After this, you can pay $19 annually to make updates.
How Much Does a Willful Will Cost?
From store-sold will kits costing a couple of bucks to up to a thousand dollars or more when you use a lawyer, the cost of a will can vary across Canada.
When you create a will using Willful, you can save anywhere from $200 to $850 in fees compared to visiting a lawyer.
Willful offers three main plans.
1. Legal Essentials Plan ($99)
This plan covers what you need to prepare your last will and testament. You decide how your assets are distributed among your beneficiaries, name your executor, and choose guardians for your kids.
All Willful plans offer:
Free registration of your legal will with Canada Will Registry (a $40 value)
Phone, email, and chat support
2. Premium Coverage Plan ($189)
In addition to the options available in the essential plan, you can choose a power of attorney for your finances and property and plan for medical emergencies.
The premium plan includes your:
Last will and testament
Power of attorney for emergency (finance and property)
Power of attorney for healthcare (living will)
Notification to key people named in your will
3. Premium Coverage for Families Plan ($329)
Buy a Will plan for two adults (e.g. a couple) with an option to add up to 6 people to your plan.
Each Premium Coverage for Families Plan offers all the options in the legal essential and premium coverage plans, including:
Last will and testament
Power of attorney for finance and property
Power of attorney for healthcare (living will)
Notification to key people named in your will
While the pricing is already competitive as is, Willful is offering our readers an extra 15% off here (no promo code is required).
On the Premium Coverage for Families Plan, this promo code saves you $49.35.
Willful (Online Wills) vs. Lawyer vs. Will Kits
Online wills like Willful and Legalwills offer a middle point between using basic will kits you can purchase anywhere and visiting a lawyer.
DIY will kits or the ones you purchase off the shelf are often very generic and do not take specific provincial legislation into consideration. Since you are left to figure out things on your own, there is a high chance of errors that may render the entire will invalid.
Online wills are affordable and provide guidance on the necessary steps to create a legal will. You can reach out to customer support online or by phone, which is very convenient.
If your estate is complex, sitting down with a lawyer may be preferable. Although it will cost you a lot more, it can save your beneficiaries a lot of stress when you pass. An example of a complex estate is when you own assets abroad or have complex trust arrangements.
Is Willful Safe?
When you store your private information online, you want to be sure that:
The company holding your data is legitimate.
Your data is secure.
Willful uses AES-256 encryption to protect your data. They also note in their terms of service that your information is used in accordance with the Personal Information Protection and Electronic Documents Act (PIPEDA).
Willful Promo Code
Creating a will is important and ensures you have the last word.
Similar to how you budget and plan your finances on a daily, monthly and annual basis, a well-written will is a crucial part of your overall financial planning and strategy.
Willful makes it easy to create your will in 20 minutes or less.
For even further savings on their low fees, visit Willful using the link below to get an extra 15% off (save up to $49.35).
What is a Will?
A will is a legal document that expresses your final wishes and how you want your property to be disposed of.
Also referred to as your "last will and testament," a will gives you control over how your estate is disbursed instead of leaving it to the discretion of your beneficiaries or the state.
If you die without a will, you are said to have died "intestate" and your estate has to go through probate and be distributed according to provincial laws.
The different types of wills you can utilize are:
A. Attested Will: This is also referred to as a "formal" will and is the most common type of will. An attested will must be signed by you (the testator) in front of two witnesses. A Willful will is an attested or formal will.
B. Notarial Will: This is similar to an attested will and is available only in Quebec. It is signed by you, the notary, and one witness.
C. Holographic Will: This is a will written by hand and dated and signed by you. No witnesses are required, which may leave the will open to legal challenges.
Willful Alternatives in Canada
In addition to Willful, you can use online Will platforms like LegalWills and Epilogue.

Operating since 2000
Offer various types of Wills
Create a legal Will from $39.95
20% discount with SAVVY20
Related: