Coast Capital Savings is Canada's second-largest credit union based on assets under management. It is also the largest federally regulated credit union in Canada.
Read this Coast Capital Savings review to learn about their innovative banking products and services, and how you can benefit from becoming a member.
Who is Coast Capital Savings?
Coast Capital Savings is the second-largest credit union in British Columbia and Canada. It was founded in the 1940s and has more than 594,000 members and over $20 billion in assets under management.
Coast Capital Savings became a federal credit union in 2018, giving it an opportunity to expand nationally.
Members of the credit union have access to over 4,000 "ding-free" ATMs through The EXCHANGE Network in Canada as well as over 500,000 ATMs in the United States through the ACCEL Network.
In British Columbia, Coast Capital has 52 branches in Metro Vancouver, Fraser Valley, Vancouver Island, and the Okanagan.
Coast Capital Savings was the first full-service financial institution to offer a free chequing account.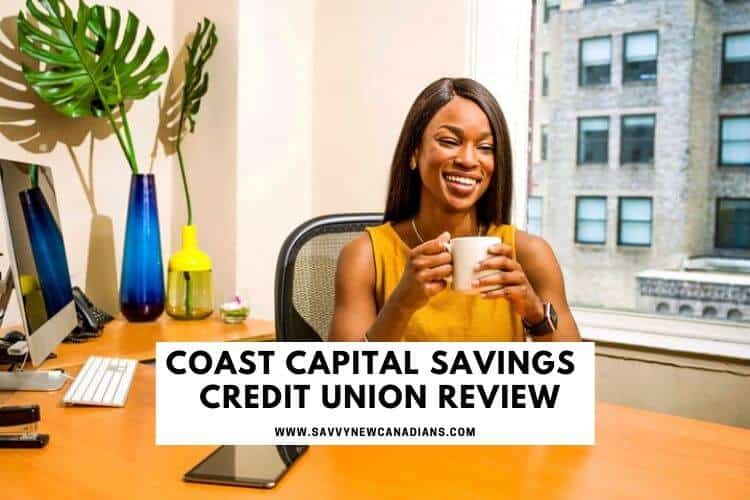 Coast Capital Savings Accounts: Personal Banking
Coast Capital Savings offers a full suite of banking products including chequing accounts, savings accounts, credit cards, mortgages, loans, and investments.
Free Chequing, Free Debit, and More Account
This free chequing account has no monthly fees and no minimum balance requirement.
No monthly fee
Unlimited free transactions
Surcharge-free withdrawals and deposits at 4,000+ ATMs
Free eStatements
Coast U.S. Chequing
This account has no monthly account fee, 1 free transaction per month, $1/transaction after (waived with a $1,000 minimum monthly balance), and free eStatements.
Coast Chequing Classic Package
$11 monthly fee (waived if a member is 59+)
40 free transactions every month
Free cheques
Free Canadian and U.S. bank drafts
$10 discount on a safety deposit box rental fee
Free eStatements or paper statement
Coast Chequing Prestige Package
$21 monthly fee (or $10.50 for members over 59 years). The monthly fee is waived with a $5,000 minimum monthly balance
Unlimited free transactions
8 free withdrawals at non-ding free ATMs in Canada and abroad
Free personalized cheques
Free eStatements or paper statements
Read: EQ Bank High-Interest Savings Account.
Coast Capital High-Interest Savings Account
This savings account offers:
No monthly account fee
2 free monthly transactions and $5 / transaction after
No minimum balance requirement and free eStatements
Credit Cards
Coast Capital Savings Credit union has five credit cards:
1. Coast Visa Elegance Gold Card
No annual fee
Earn 0.50% in bonus dollars
3-day complimentary travel insurance
19.90% interest rate
2. Coast Visa modulo Gold Card
$50 annual fee
10.90% interest rate
Earn 1% bonus dollars
3-day complimentary travel insurance
Mobile device insurance
Purchase protection and extended warranty
3. Coast Visa Odyssey Gold
$110 annual fee
19.90% interest rate
Earn 1% bonus dollars on purchases
Mobile device insurance
Purchase protection and extended warranty
Comprehensive travel insurance (up to 60 days)
Auto rental collision/loss damage insurance
4. Coast Visa Platinum
$169 annual fee and you can apply by invitation-only
9.9% interest rate
Earn 1% in bonus dollars + an additional 1% in cash back (after $20,000 spent)
Comprehensive travel insurance including emergency health, trip cancellation, auto rental collision/loss damage, baggage, and travel accident insurance
Purchase protection and extended warranty
Mortgages: They offer fixed and variable rate mortgages with varying terms.
Loans: Personal loans (1-10 year terms), RRSP loans (2-7 year terms), lines of credit (personal and HELOC), and car loans.
Investments: Invest in a variety of accounts including TFSA, RRSP, RESP, RRIF, and non-registered investment accounts using:
Term deposits and GICs
Mutual funds (via Fidelity Guardian Capital, CI, and others)
Online Investing
Coast Capital Savings: Business Banking
Their business offerings cover chequing, savings, credit cards, investments, and business financing.
Business Chequing Accounts
The Deposit-for-free Business Account
The One Small Fee, the Rest is Free Business Account
Coast Community Chequing
Coast US Business Chequing
Coast Business Chequing Trust
Business Savings Accounts
The High-Interest Business Savings Account
Coast Business Savings
Coast Business Savings Trust
Business Credit Cards
How To Open a Coast Capital Savings Account
You can become a member of Coast Capital Savings by calling them at 1-888-517-7000: Monday-Saturday (8am to 8pm) and Sunday (9am to 5:30pm).
Other options are to visit one of the 50+ branches in British Columbia or apply online (have your SIN handy).
To be eligible for membership, you must be:
Over the age of 19
A resident of B.C.
Purchase $5 in membership equity shares
Coast Capital Savings has an app for digital banking that you can download for iOS and Android.
Coast Capital Savings Credit Union Fees
There are some other fees you should be aware of that may apply in addition to the basic account fees (where applicable) for personal banking:
NSF fees: $48/item
Stop payment: $18
Overdraft protection: $5/month + interest charges
Dormant account (no activity within 2 years): $50/year
Closing an account: (> 90 days): free
Dormant account (< 90 days): $25
Paper statement: $2/membership/month
Lost debit card replacement: $5/card
Interac e-Transfer (receiving): Free
Interac e-Transfer (sending): $1.50
**Check their website for other fees that may apply.
Is Coast Capital Savings Federal Credit Union Safe?
Coast Capital Savings became a federal credit union on November 1, 2018. It is a member of the Canada Deposit Insurance Corporation which means that your deposits are protected by up to $100,000 per insured category.
Categories of deposits insured separately by CDIC are:
Deposits held in one name: insured up to $100,000
Deposits held in more than one name (joint deposit): insured up to $100,000
Deposits in an RRSP: insured up to $100,000
Deposits in an RRIF: insured up to $100,000
Deposits in a TFSA: insured up to $100,000
Deposits held in trust: insured up to $100,000
Deposits held for paying taxes or mortgaged properties: protected up to $100,000
Conclusion
Canadians can save money on their banking fees. This is possible through alternatives to traditional banks such as the hundreds of credit unions and new digital banks like EQ Bank, Tangerine, and motusbank.
While Coast Capital Savings is currently only available in B.C., it plans to grow its services and cater to Canadians from coast to coast as a federal credit union.
This review is part of a series of the best credit unions in Canada.
Bonus: Want to save on your investment fees (e.g. 0.70% instead of 1.98%?), check out Wealthsimple and get a cash bonus.
Related:
Do you bank with Coast Capital Savings? Tell us about your experience in the comments.