motusbank is a digital (online-only) bank in Canada offering its customers zero-fee chequing accounts that earn interest, high-interest savings accounts, and competitive personal loans and mortgage rates.
Launched in 2019 by Meridian Credit Union, motusbank continues the fee-cutting trend and digitization of Canada's banking landscape.
As one of the newer entrants into the digital banking space, motusbank competes directly with other online-only banks like Tangerine, EQ Bank, and Simplii Financial.
This motusbank review covers its account offerings, benefits, pros, cons, challenges of online-only banking, and more.
Motusbank Overview
motusbank is a full-service digital bank owned by Meridian Credit Union which has been around for over 75 years and is based in Ontario.
Meridian Credit Union is the largest credit union in Ontario and the third-largest in Canada, with over 337,000 members and over $20.6 billion in assets under management.
motusbank is a federally chartered bank in Canada and a member of the Canada Deposit Insurance Corporation (CDIC).
As a digital bank, it does not have any brick-and-mortar locations. Customers can conduct their banking online and call customer service when required.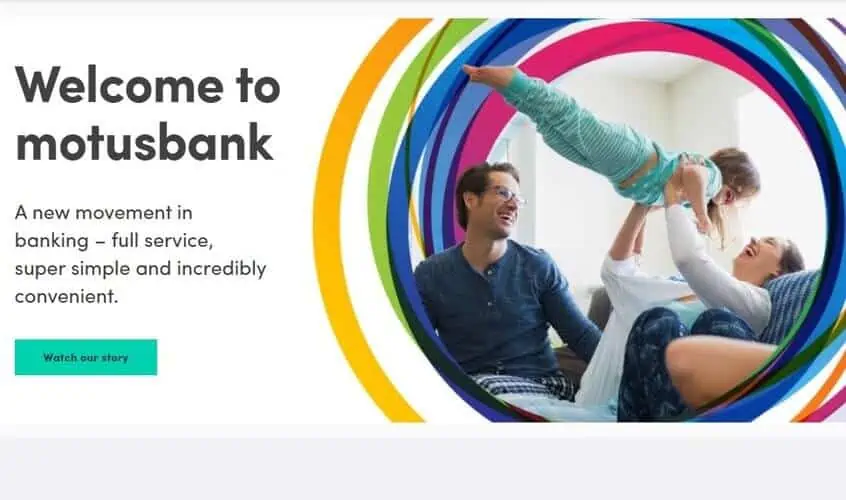 Motusbank Financial Accounts
motusbank offers several accounts and products, including a no-fee chequing account, savings accounts (both registered and non-registered), Guaranteed Investment Certificates (GICs), mortgages, and personal loans.
1. Motusbank No-Fee Chequing Account
Similar to Tangerine, motusbank offers a chequing account that has no monthly fees. Its features are:
$0 monthly account fees
No minimum balance requirement
Free and unlimited Interac e-Transfers
0.15% interest earned on your account balance
Unlimited debit purchases, bill payments, and withdrawals
Access to over 3,700 free ATMs across Canada
Mobile cheque deposits
Your first order of 25 cheques is free
Deposit insurance up to $100,000 by CDIC
2. Motusbank Savings Accounts
They offer a high-interest savings account (2.50%), a TFSA savings account (2.50%), and an RRSP savings account (2.50%).
These are fairly competitive rates compared to some of the standard interest rates big banks offer on deposits.
Alternatively, the EQ Bank Savings Plus Account offers a 2.50% interest rate on general savings and 3.00% on TFSAs.
Its smart savings accounts offer the following features:
Competitive high-interest rates
Zero monthly fees and no minimum balance requirement
Unlimited debit purchases and withdrawals
Access to over 3,700 FREE ATMs across Canada
Deposit insurance up to $100,000 by CDIC
Automated savings feature that allows you to round up your purchases and save your spare change
3. Motusbank Mortgages
motusbank's rates for its 1-5 year mortgage terms are as follows:
5 year fixed mortgage rates: 6.59%
4 year fixed mortgage rates: 6.19%
3 year fixed mortgage rates: 6.39%
2 year fixed mortgage rates: 6.39%
1 year fixed mortgage rates: 6.49%
Low competitive rates are also available for variable mortgage terms.
In addition to motusbank's low mortgage rates, the mortgages come with some great features which can save you money and/or make your life easier:
20% Lumpsum Prepayments: You can pay down up to 20% of your original principal every year without a penalty.
20% Regular Payment Increase: This allows you to increase your normal monthly payments by up to 20% without a penalty.
Skip-a-payment: You can skip up to one month of mortgage payments per year.
Flexible payment schedule: Choose to pay your mortgage weekly, bi-weekly, monthly, or semi-monthly. You can also save on interest fees by making accelerated weekly or bi-weekly payments.
If you are not sure about how much house you can afford, the bank has various calculators that can be of help:
Mortgage Affordability Calculator
Mortgage Payment Calculator
Mortgage Prepayment Calculator, and more.
4. Motusbank GICs
motusbank has GICs you can use inside registered (RRSP, TFSA, or RRIF) or non-registered accounts. GIC rates as of today (February 25, 2023) are as follows:
TFSA/RRSP/RRIF GICs
1-year GIC: 4.40%
2-year GIC: 4.05%
3-year GIC: 3.95%
4-year GIC: 3.90%
5-year GIC: 3.80%
For long-term non-redeemable GICs eligible for non-registered accounts, the rates are 1-year GIC: 4.35%, 2-year GIC: 4.00%, 3-year GIC: 3.90%, 4-year GIC: 3.85%, and 5-year GIC: 3.75%.
The bank also has escalator GICs with varying and increasing interest rates depending on their terms and short-term 30 to 270-day GICs.
Click for a list of the Best GIC Offers available in Canada.
5. Motusbank Personal Loans
It offers various credit facilities, including:
Personal Loans: You can borrow up to $35,000. Loan terms range from 1 month to 5 years.
Personal Line of Credit
Secured Line of Credit (HELOC): Easily tap into the equity on your home when you need to take out a large loan for as low as a 7.20% interest rate.
The minimum amount you can borrow is $5,000, and the online application is easy to complete in just a few minutes. You can also easily obtain an initial rate quote that does not impact your credit score.
Here are some options for a personal loan with bad credit.
Motusbank Fees
As you can imagine, some transactions you conduct with motusbank attract fees. Some of them are: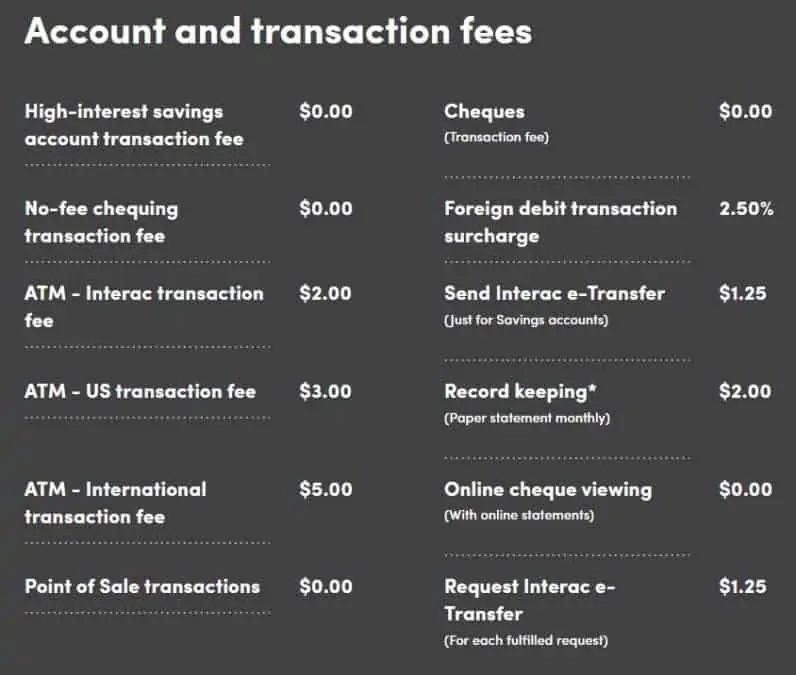 You can also find other applicable fees, e.g. NSF, wire transfers, overdraft, stop payments, inactive account fees, etc., on their website.
Is Motusbank Safe and Legit?
motusbank is just as safe as your bank and is a member of the Canada Deposit Insurance Corporation (CDIC).
CDIC membership means your deposits in savings, chequing, term deposits, and bank drafts are insured up to $100,000 per category. This coverage is available to customers in all provinces and territories in Canada.
Also, motusbank is owned by Meridian Credit Union, which is the third-largest credit union in Canada, and it has been around for more than 75 years.
Pros and Cons of Motusbank
Online-only banks have their advantages and disadvantages when compared to big banks.
Pros
Lower Fees: You can save $15 or more in fees charged on the basic unlimited transaction chequing accounts available at your traditional brick-and-mortar bank.
High-Interest Savings: The funds you keep in your savings earn interest at a competitive rate.
Earn Interest on Chequing: Some digital banks pay you interest on your chequing account balance. Motusbank pays 0.15%.
CDIC Insurance: Similar to the Big 5 banks, Motusbank is a member of CDIC, which means that your eligible deposits (TFSA, Savings, RRSP, Chequing, etc.) are protected up to $100,000 per category.
Mobile App: Their innovative mobile app allows you to conduct transactions easily, including cheque deposits. The app is available on Android and iOS (iPhones).
Customer Support: Phone support is available from 8:00 am to 12:00 am (EST) Monday to Sunday at 1-833-696-6887. You can also email [email protected].
Cons
The main challenge you will face when you bank with an online-only bank is the lack of a physical branch you can easily walk into if you prefer face-to-face banking.
Also, motusbank does not offer credit cards.
Related Posts:
Closing Thoughts
Digital banks provide bank customers with lower-fee options for their everyday banking. Whether savings, chequing, mortgages, or investments, there are options to pay less and earn better returns.
The jury is still out on what impact digital banks will have on the outrageous bank fees charged by the Big 5. Perhaps another entrant into this banking space will increase competitiveness and lead to an overall decrease in monthly bank fees.