If you love to travel or are constantly on the move, having access to Wi-Fi when you need it is incredibly useful.
I'm always on the go and use Boingo Wi-Fi as one of my main ways to connect.
In this guide, I'll explain more about what Boingo is, how it works in Canada, how much it costs, the pros and cons, and how you can get it for free with certain credit cards.
Key Takeaways
Bongo Wi-Fi lets you connect to Wi-Fi from multiple hotspots in Canada and worldwide.
It costs $14.99 monthly, but you can get it for free with several Mastercards, including the Tangerine World Mastercard and BMO Ascend World Elite Mastercard.
What is Boingo Wi-Fi?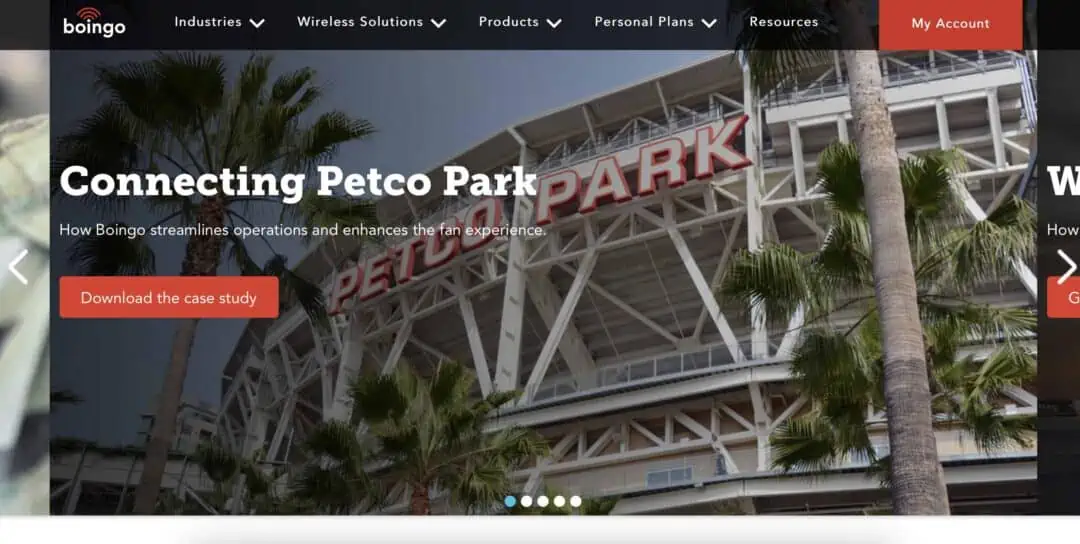 Boingo Wi-Fi, or Boingo Wireless, is a leading provider of Wi-Fi hotspots worldwide.
It has over a million hotspots in Canada and other countries, so you can connect to Wi-Fi when needed.
You can easily connect your phone, laptop, or tablet and enjoy unlimited high-speed internet, all for a monthly subscription that you can cancel anytime you want.
How Does Boingo Wireless Work?
Using Boingo Wi-Fi is easy. Just sign up for an account, pay the monthly fee, and you can then connect whenever you are within range of a hotspot.
You'll need to locate a mobile hotspot, but that's easy. You can find out where hotspots are on the Boingo website or use the dedicated app, which I'll discuss in the next section.
If you sign up to Boingo's Passpoint system, you can also connect automatically when you are in the range of a hotspot.
Boingo Wi-Fi Finder App
The Boingo Wi-Finder App is one of the easiest ways to find hotspots to connect to.
It is available on Android and iOS, and you can use the app to find hotspots and then connect to them with a click whenever you are within range.
Boingo Wi-Fi Locations
You will find Boingo Wi-Fi hotspots in all sorts of locations, including airports, stadiums, stores, hospitals, and even some airlines.
Hotspots are found in most countries, but some locations have more than others.
In Canada, most hotspots are located in BC and Alberta. Use the Boingo Wi-Fi Map to find the nearest hotspot to you.
How Much Does Boingo Wi-Fi Cost?

Boingo Wi-Fi is available as a monthly subscription that currently costs $14.99. This is for the unlimited plan you can use to connect whenever you want.
But you can also opt for the pay-as-you-go service, where you buy a day pass for $7.95. There are also hourly plans for some locations, and the price for these varies.
How to Get Free Boingo Wi-Fi
Like the sound of Boingo? Then you may be interested to know that you can get it for free.
When you sign up for certain credit cards, Boingo is included as a free premium perk. Several Mastercards in Canada provide this benefit, including:
This list is not exhaustive, and you may find Boingo Wi-Fi included on other Mastercards in Canada.
If you already have a Mastercard, you can find out whether it is eligible by checking the details on the credit card website or asking your card issuer.
Can You Use Boingo Wi-Fi on Airlines?
Boingo even works on some airlines, so you can enjoy Boingo in-flight Wi-Fi.
This does not mean you can use it on any flight because it is only available on certain airlines and planes.
WestJet often provides Boingo in Canada, but this is currently the only airline. If you travel internationally, find out from the airline whether Boingo is an option.
Pros and Cons of Boingo Wi-Fi
Pros
Over a million Wi-Fi hotspots around the world, so there is a good chance you can connect wherever you go.
Quick and easy to find hotspots and connect, especially with Passpoint.
Available as a free benefit on many Mastercards in Canada.
Connect up to four devices at a time.
Avoid using expensive mobile data.
Cancel your subscription whenever you want.
Available on some airlines.
Cons
You have to pay a monthly subscription if you don't have a free subscription via your credit card.
There may be limits on how much you can connect via your free credit card subscription.
It may not always be available where you are travelling.
Is Boingo Wi-Fi Worth It?
If you are often travelling or on the move and want the freedom to connect to the internet from more places without using your data, then Boingo Wi-Fi is worth trying.
It's especially worth it if you can get free Boingo Wi-Fi with your Mastercard, and you may be surprised by how many places you can connect to a Wi-Fi hotspot.
You can connect to fast internet from over a million hotspots around the world, and it can definitely be worth it if it takes the hassle out of connecting to the internet wherever you are.
FAQs
How do I connect to my Boingo Wi-Fi?
You can connect to a Boingo hotspot by using the Boingo Wi-Fi Finder App or the Passpoint system, both of which are easy to use.
Which airlines use Boingo Wi-Fi?
You can access Boingo Wi-Fi on certain WestJet flights in Canada when the plane is at cruising altitude. It is available on some other airlines internationally, including American Airlines and Aer Lingus.
How many devices can I connect to Boingo?
You can connect up to four devices at the same time when you use a Boingo hotspot.
Is Boingo Wireless Secure?
Boingo Wi-Fi is generally secure if you use it correctly. But you may want to only visit SSL-secured websites and use a VPN when you connect for extra security.
Related: