TransUnion is one of the two main credit reporting agencies in Canada.
Along with Equifax, both credit bureaus collect and aggregate your credit information from various financial institutions into a credit report. They also compute your credit score, a three-digit number that is used to assess your creditworthiness.
This TransUnion Canada review covers how it works, its credit monitoring services, free credit reports, dispute process, and more.
What is TransUnion Canada?
TransUnion is a credit reporting agency founded in 1968 in the United States. It operates in 33 countries and is listed on the New Your Stock Exchange under the ticker symbol "TRU".
The company has a consumer credit database of over 1 billion consumers and a customer base of more than 65,000 businesses.
For its credit report, credit check, risk management, and data business, TransUnion collects information from 90,000+ data sources.
The three largest credit agencies in the world are TransUnion, Equifax, and Experian.
TransUnion Canada Products and Services
On its personal consumer side of things, TransUnion provides:
Consumer disclosures
Credit scores
Credit reports
Credit monitoring
You can access your TransUnion credit score and report as part of a subscription-based credit monitoring service that costs $24.95 per month.
TransUnion Canada Free Credit Report
By law, Canadians can request a free credit report once each year from TransUnion and Equifax. TransUnion refers to this free credit report as a "Consumer Disclosure".
A Consumer Disclosure contains the following:
Identifying data including your name, address, Social Insurance Number (SIN), date of birth, current/previous employers, and telephone number.
Credit history showing your credit payment activities for credit cards, personal loans, car loans, mortgages, etc.
Credit inquiries from lenders who were authorized to access your credit information for a credit application, non-credit related inquiries such as apartment rental, insurance, or employment-related checks, etc.
Public records including court judgements and bankruptcies.
Collection records such as collection reports and child support payments.
TransUnion Credit Score
Your credit score is a numeric representation of your creditworthiness.
It helps lenders decide on whether to grant credit to you and shows how much credit risk they are taking by approving your credit application.
The TransUnion Canada credit score range is from 300 to 900.
The company calculates your score using the information in your credit report including your payment history, how much you owe, the length of your credit history, types of credit you have, and the frequency of your credit applications.
The higher your credit score, the easier it is for you to qualify for credit.
Here are some credit options based on your credit score range.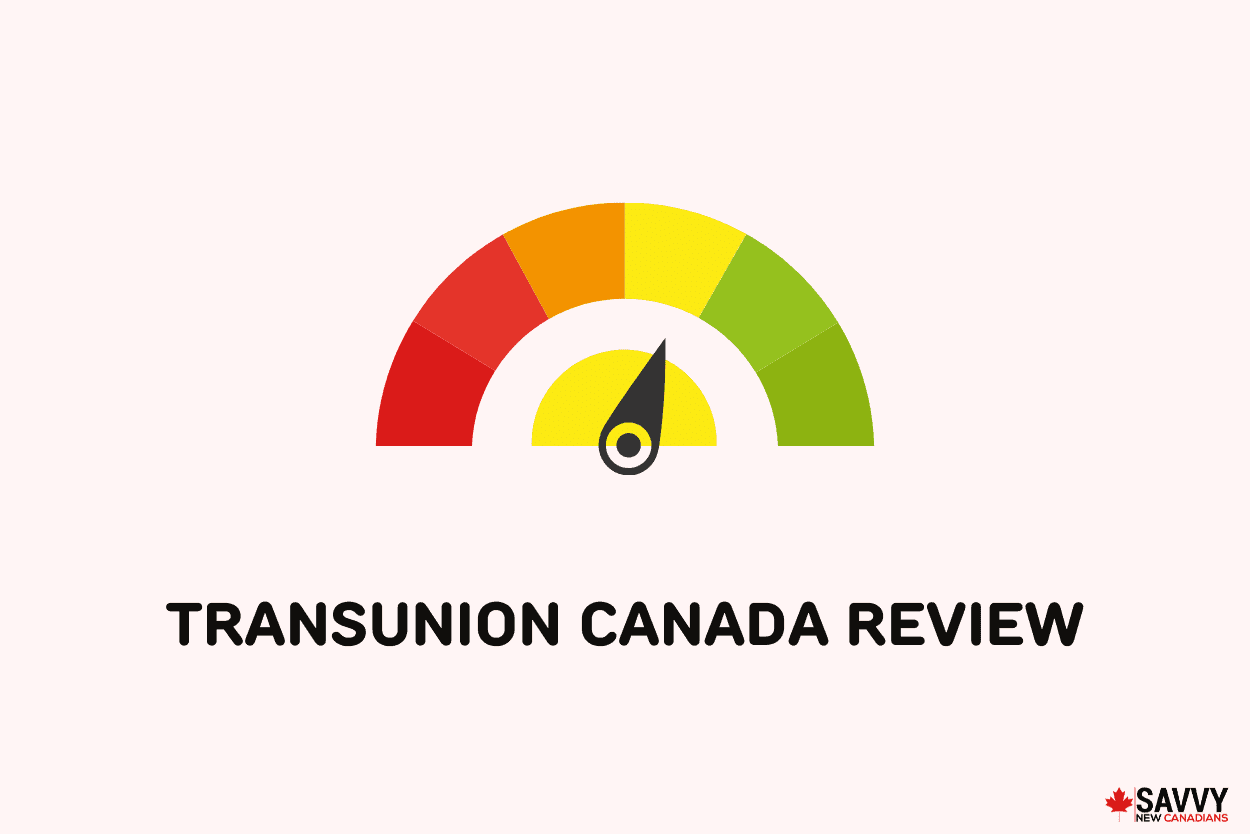 TransUnion Canada Credit Monitoring
To assess your TransUnion credit score via the company, you need its credit monitoring service which costs $24.95 per month.
This monthly subscription provides access to your credit report and score with unlimited updates.
You also get alerts when there are charges to your credit report, personalized credit and debt analysis, and can access up to $50,000 of identity theft insurance.
Residents of Quebec are entitled to see their credit score as part of their free consumer disclosure.
If you live outside of Quebec, you can also view your TransUnion credit score for free using these services.
TransUnion Products for Businesses
Credit Vision: Businesses can use this to access credit performance trends, analytics, and consumer behaviour.
TruValidate: Helps with online and offline consumer verification and authentication.
DecisionEdge: Businesses can use data to develop profitable marketing strategies.
TransUnion Canada Dispute Process
Consumers can dispute errors on their TransUnion credit report.
For example, if your personal information is inaccurate, there is negative information that should have been removed, or you suspect fraudulent activity based on the details in your credit report.
Disputing and fixing inaccuracies on your credit report is free of charge and you can do so in three ways.
Online: Visit TransUnion's online portal to submit your dispute. You will need to provide your name, SIN, date of birth, address, name of the disputed item, and the reason why you are disputing the entry on your report.
Telephone: Call the company toll-free at 1-800-663-9980 or 1-877-713-3398 (Quebec only). You will need to provide the same information listed above for the online dispute process.
Mail: You can complete the TransUnion investigations form (English version or French version) and mail it alongside supporting documentation to:
TransUnion Consumer Relations Department, 3115 Harvester Road, Suite 201 Burlington ON L7N 3N8.
How To Contact TransUnion
For all other inquiries, you can contact TransUnion by phone at:
1-800-663-9980 (English)
1-800-663-9980 (press #2- French)
1-800-916-8803 (US citizens)
You can also visit one of its offices in person to get a copy of your consumer disclosure, including:
Nova Scotia: TransUnion, C/O Lyle Tilley Davidson Chartered Accountants, 1718 Argyle Street, Suite 720, Halifax, NS B3J 3N6 (from 9am – 5pm, Monday – Friday).
Ontario: TransUnion, Consumer Relations, 3115 Harvester Road, Suite 201, Burlington ON L7N 3N8 (from 10am – 2:30pm, Monday – Friday).
You can also access your consumer disclosure online via ocs.transunion.ca.
Free TransUnion Credit Score Checks in Canada
The following providers offer access to your TransUnion credit score for free:
TransUnion vs. Equifax
Equifax Canada is the second main credit bureau in the country.
Your TransUnion credit score may be different from the one you get from Equifax due to both companies using different algorithms.
Also, some lenders only report to one credit bureau while others report to both. It can be helpful to track your credit report and score from both companies.
Frequently Asked Questions
Which Canadian banks use TransUnion?
Which Canadian banks use TransUnion? Banks that use TransUnion in Canada include RBC, BMO, Tangerine, Scotiabank, and National Bank.
What is a good TransUnion credit score?
A credit score of 660+ qualifies as a good credit score for TransUnion.
What is a bad TransUnion credit score?
A credit score below 559 qualifies as a poor or bad TransUnion credit score.
Can I cancel my TransUnion subscription?
Yes, you can cancel your TransUnion subscription at any time.
Is TransUnion's credit freeze available in Canada?
You can only use the TransUnion credit freeze feature in the U.S. In Canada, TransUnion can place a "Potential Fraud Alert" on your credit file, warning potential lenders that you may be a victim of fraud and also give them your phone number.