Accessing your credit score and report can easily cost you a painful $19.95 every time you want to view it.
While Canadians did not use to have a choice, there are now options to get a free credit score and report once a month from the two major credit bureaus – TransUnion Canada and Equifax Canada.
You can monitor your credit rating and avoid identity theft or fraud by regularly reading your credit report and ensuring it has no red flags.
Read on to learn how to obtain your free TransUnion credit report and score in Canada.
ClearScore Free Credit Check

Free TransUnion credit score
Apply online in 3 minutes
Also includes free access to your credit report and identity theft monitoring
Join over 19 million users
How To Get a Free TransUnion Credit Report
Once a month, you can order a free credit report from TransUnion Canada. The document is called a "Consumer Disclosure," and you can order it online, by mail, by phone, or in person.
Online: Visit TransUnion and enter your information, including name, address, date of birth, and social insurance number (optional).
You may be required to answer a few random questions to confirm your identity, after which you can access your credit report.
Mail: Download and complete the request form and mail it to Consumer Relations Centre, 3115 Harvester Road, Suite 201, Burlington, Ontario L7N 3N8.
Attach a copy of your government-issued ID, such as your driver's license, passport, or birth certificate. Also, attach one copy of a document showing your address, such as a recent utility bill, credit card statement, Notice of Assessment, or T4 slip for the current year.
Phone: You can contact TransUnion by phone at 1-800-663-9980 and follow the automated interactive voice response.
In Person: Visit one of their provincial offices in Newfoundland, Nova Scotia, Ontario, and Prince Edward Island.
A second option for obtaining your free TransUnion credit report is via ClearScore. ClearScore is a financial technology company operating in Canada and several other countries.
It offers free access to free credit scores and reports from TransUnion. You can learn more about their service in this ClearScore review.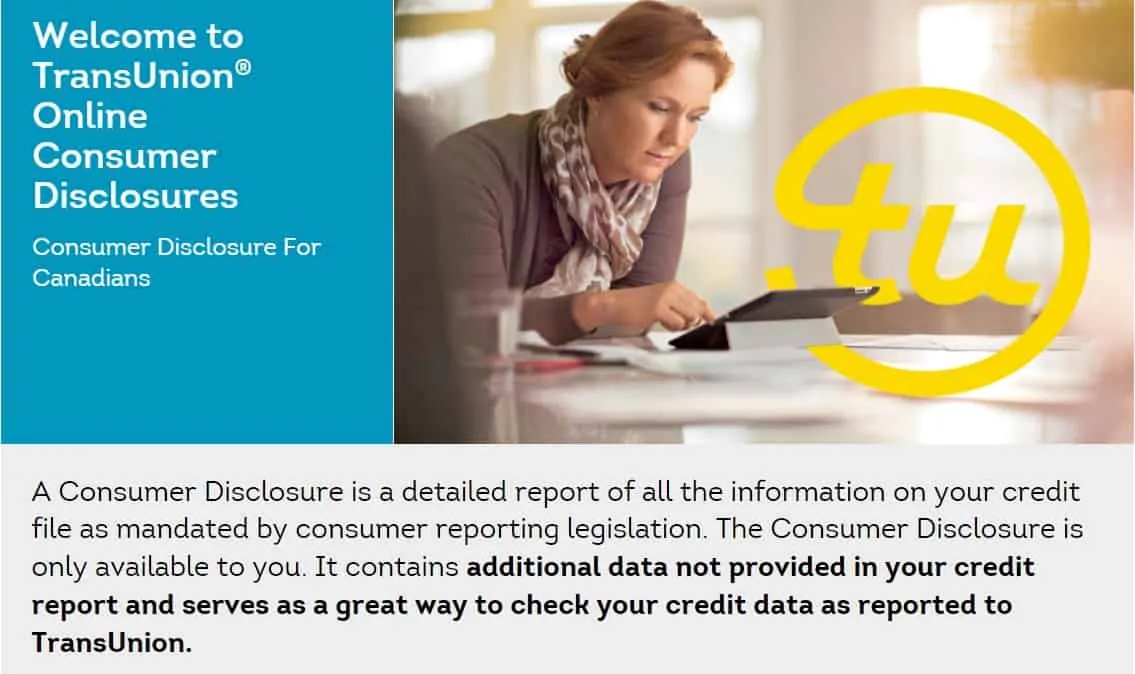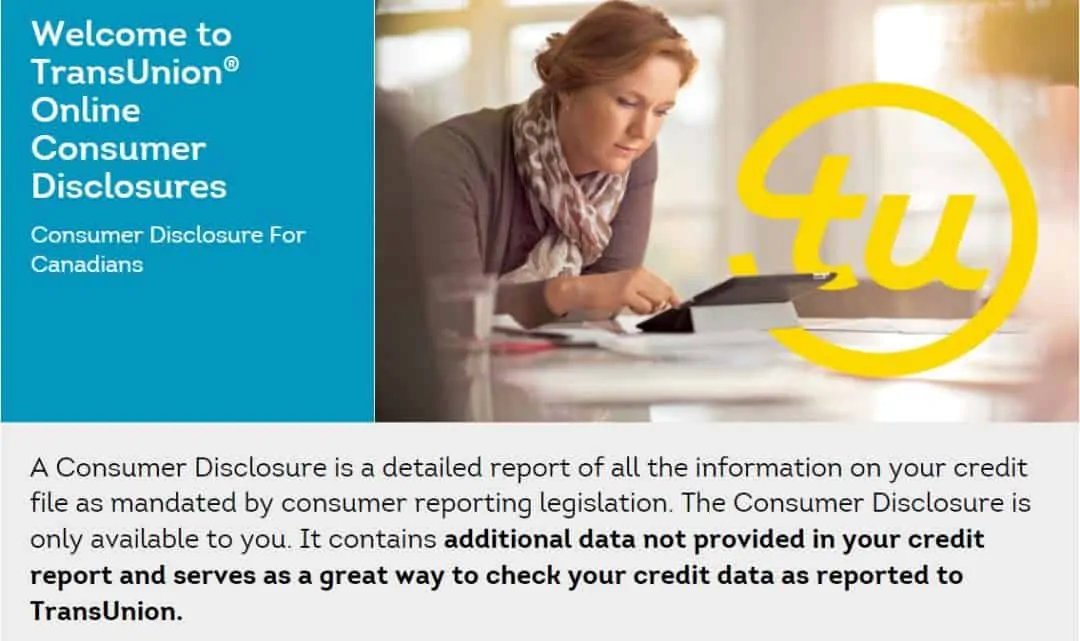 How To Read Your TransUnion Credit Report
Your credit report contains a history of your interactions with credit facilities over time. It shows your:
Personal information, including current and previous addresses, SIN, name, date of birth, and employers
History of making payments to settle your debt obligations, e.g. credit cards and how much you owe
Hard inquiries by lenders for your credit profile
Court judgements, consumer proposals, liens, collections, bankruptcies, and more
The information recorded on your credit report impacts your credit score and highlights your creditworthiness to potential lenders.
Get more details about the information on your credit report. You can also learn about how to dispute credit report errors.
How To Get a Free TransUnion Credit Score
TransUnion Canada does not offer a free credit score check.
To obtain your credit score directly from the company, you will need to sign up for their paid monthly service, which costs $24.95 ($4.95 for the first month with applied discounts).
Alternatively, ClearScore and Credit Karma provide a free credit score based on TransUnion's CreditVision scoring model. This credit score is updated free of charge every month.
If you are also interested in what your Equifax credit score is, you can obtain it via Borrowell or Loans Canada for free.
TransUnion and Equifax credit scores may vary due to various factors, including differences in proprietary scoring models.
Learn more about TransUnion vs. Equifax credit scores.
TransUnion Credit Score Range
Credit Scores in Canada range from 300 to 900. A higher credit score tells lenders you are creditworthy, and they may be willing to offer you lower interest rates.
Conversely, a poor or bad credit score means you will find it challenging to obtain credit.
TransUnion credit scores can be classified as follows:
Excellent TransUnion credit score: 800-900
Very Good TransUnion credit score: 720-799
Good TransUnion credit score: 650-719
Fair TransUnion credit score: 600-649
Bad TransUnion credit score: 300-599
If you have a bad or good credit score, you can improve it by paying your bills on time, using a lower percentage of your available credit (30% or lower), limiting your credit applications, and more.
Learn about how to raise your credit score fast or get your free credit score.
Related posts:
Free TransUnion Credit Score and Credit Report
Summary
Here's how to obtain your free TransUnion credit report and credit score in Canada. There's no need to pay for a credit monitoring service and you can get more details in this post.
Pros
Free Credit Report
Free Credit Score
Both are updated monthly
Access to free credit monitoring
Save the $20 monthly fee
Cons
Credit scores may vary across credit bureaus