Oaken Financial is an online bank in Canada offering a high-interest savings account and Guaranteed Investment Certificates (GICs).
Like its competitors (i.e. Tangerine, EQ Bank, Motive Financial, and Alterna Bank) on the digital-only banking front, Oaken has very limited physical locations where you can conduct face-to-face transactions.
Online banks flourish in Canada because they offer a better savings rate than the big banks, and their chequing accounts (when applicable) do not have a monthly fee.
The higher interest savings rate and lower bank fees are possible because digital banks save on overhead costs that come with maintaining physical branches.
This review of Oaken Financial covers their product offerings and what you can expect when you bank with them.
About Oaken Financial
Oaken Financial was launched in 2013 and is the direct banking arm of Home Bank, which is a subsidiary of Home Trust Company. Home Trust is Canada's largest independent trust company and was founded in 1987.
As a digital bank, Oaken Financial is modelled to provide all its services principally online. However, they also operate a few offices in Vancouver, Calgary, Toronto, and Halifax.
You can reach their customer representatives by phone Monday – Friday between 8 am and 8 pm ET at 1-855-625-3622.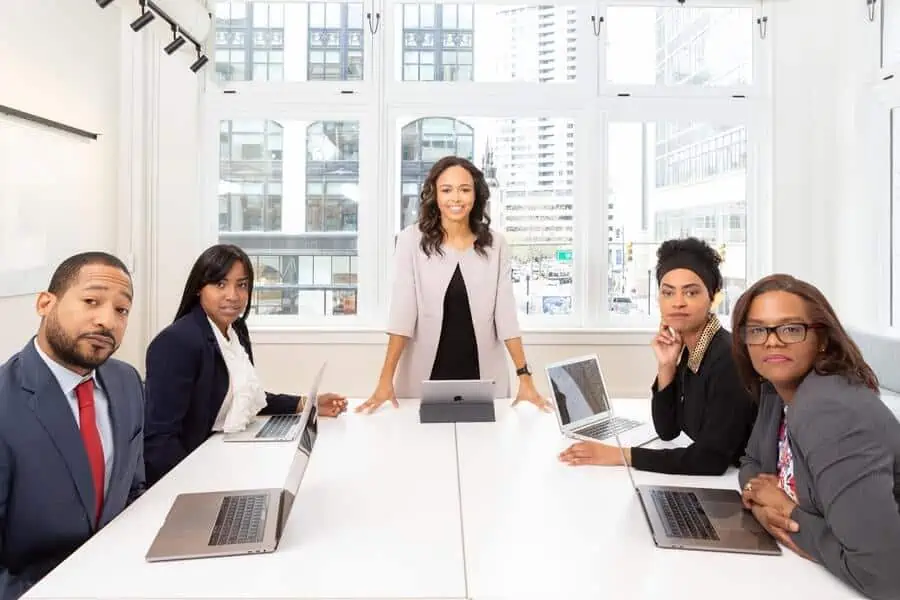 Related: EQ Bank: Best Savings Account in Canada?
Oaken Financial Accounts
Oaken Financial offers two main products – a savings account and GICs.
Oaken Savings Account
This high-interest savings account comes with the following features:
Zero monthly fees
High-interest rates
Free unlimited transactions
No minimum balance
Oaken Financial Guaranteed Investment Certificates
GICs are savings vehicles that guarantee your principal and the interest rate you earn over a specific timeframe. GIC options available at Oaken Financial include the following:
Non-registered GICs – personal and commercial
Registered GICs – TFSA, RRSP, and RRIF
The minimum deposit for GICs is $1,000.
If you are interested in purchasing a GIC, compare GIC rates across multiple online banks to find the best rates currently available in Canada.
How To Open an Oaken Financial Account
It is easy to open a new savings or GIC account at the bank. You can apply through their website, call them on phone, drop by one of their few offices, or complete the application form and mail it in.
Their mailing address is Oaken Financial, 145 King Street West, Suite 2500, Toronto, ON M5H 1J8.
New customers will need their Social Insurance Number, two pieces of ID, and one void cheque to set up a funds transfer. A personal cheque for $1 is required to confirm your identity when your application is completed online.
Oaken Financial does not have a dedicated mobile app; however, you can do online banking through their website using your smartphone, tablet, or computer.
Oaken Financial Fees
While they do not charge monthly fees on your GIC or savings account, there are a few fees that may become applicable.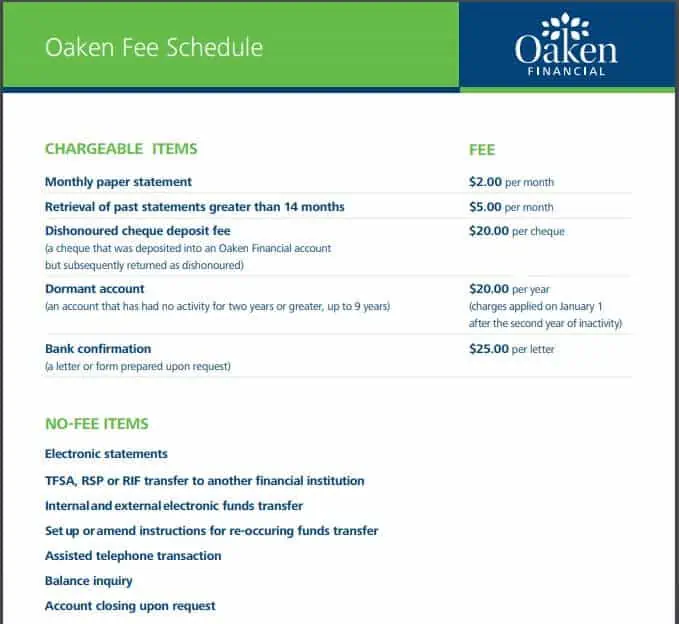 Is Oaken Financial Safe or CDIC Insured?
Your deposits at Oaken Financial are insured by Canada Deposit Insurance Corporation (CDIC) up to $100,000 per account category.
This is because your money is deposited with either Home Bank or Home Trust Company, both of which are members of CDIC.
On account opening, you are given the option to have your funds deposited with either Home Bank or Home Trust Company.
Related: The Best Children's Savings Accounts in Canada
Oaken Financial vs. Tangerine vs. EQ Bank
Oaken Financial, EQ Bank, and Tangerine are all considered online-only banks in Canada. All three offer high-interest savings accounts and GICs. As of today, the interest rates they offer on savings are:
The savings account at EQ Bank is a hybrid account that functions like a combination of chequing and savings, and you can also open a TFSA or RSP savings account.
Other competing banks that are either online-only or are credit unions include Simplii Financial, Motive Financial, People's Trust, WealthOne Bank of Canada, AcceleRate Financial, and Outlook Financial.
Is Oaken Financial For You?
Digital banks can offer a higher interest rate on savings and a free chequing account because they have a lower running cost.
If you rarely need to enter a branch for your day-to-day banking transactions, an online bank like Oaken Financial may suit your needs.
One downside with Oaken is that it only offers a savings account, and the investment product is limited to GICs.
Related Posts