As a renter, you may think that tenant insurance is unnecessary. However, renters insurance will cover you for any unexpected damages.
What happens if you don't have renters insurance? Let's say there is a fire, and your laptop gets damaged. You'll need to pay out of pocket to repair or replace it. With tenant insurance, you will be covered up to a certain amount.
Many different companies provide tenant insurance, but which are the best? This article covers how tenant insurance works, what you'll be covered for, and the 8 best tenant insurance companies in Canada.
What is Tenant Insurance?
If you are renting a property, such as an apartment or house, tenant insurance covers the cost of repairing or replacing your belongings in the event of an accident on the rental property.
It is also referred to as renter's insurance. Without it, tenants must cover the cost of the damages out of their own pocket.
Getting tenant insurance is a good idea, as it can be quite costly to replace your valuable belongings if the landlord's insurance does not protect you.
How Does Tenant Insurance Work?
Tenant insurance covers the cost of damages that may accidentally occur in the rental unit, building, and other units. It may also cover unintentional harm to others who visit the property.
If you were to accidentally start a fire while making a meal or if someone slips and falls in your unit, renters insurance can cover it.
Most renters insurance covers three areas:
Personal Possessions
This covers the contents of your rental space if they were to be damaged or lost by any of the following:
Fire
Theft
Vandalism
Leaks
Weather-related damage
Electrical and plumbing malfunctions
Liability
This coverage protects you if you were to be sued for an injury or any damages caused by other people. It also covers any damages caused by yourself, your family, and your pets.
Liability coverage generally also pays for any legal expenses or court judgements up to the policy limit.
Additional Living Expenses
If something happens to your rental space and it becomes unlivable due to a covered reason, you'll be given money to pay for temporary housing.
Most hotel, temporary rental, and food bills are included.
Best Tenant Insurance in Canada
This list covers the 8 best tenant insurance companies in Canada and what they offer.
1. RBC Tenant Insurance
RBC tenant insurance is comprehensive and covers your belongings (furniture, clothing, or other personal items) inside your rental home or car. It also covers living expenses and liability claims.
Here is an overview of RBC's Comprehensive Tenant Insurance Policy. Coverage includes:
Personal belongings/contents – includes All Perils Coverage, meaning you're protected against the widest range of risks. The coverage amount varies per policy.
Special limits on some personal belongings – there are maximum coverage limits on items such as animals, bicycles, money, and jewelry. View the full list here.
Non-owned property – covers property with no insurance coverage but does not cover people unrelated to you.
Personal property at another location – while you're temporarily away from home
Property in your vehicle – covers up to 100% of contents
Additional living expenses – covers up to 40% of contents
Liability coverage – covered for $1 to $2 million
Voluntary medical payments – covered for up to $5,000
Voluntary property damage – covered for up to $1,000
RBC also provides extensions of coverage and optional endorsements.
The deductible is $1,000, and you get a deductible waiver if the claim exceeds $25,000.
You can request a quote here or have an RBC advisor call you.
2. Square One Tenant Insurance
Square One offers tenant insurance for as little as $12 per month – one of the cheapest tenant insurance policies in Canada.
It is a customizable tenant insurance policy where you choose your limits, coverages, and deductibles.
The policies offered are fully comprehensive and protect against major loss, including fire, theft, and accidental damage.
All Square One policies are comprehensive, which means they automatically include coverage for losses such as water backup, inland flood, wind, and hail.
Square One is a digital company, meaning you can get a quote and buy a policy online in just 5 minutes. If you even need to submit a claim, you can do so online as well.
Everything can be managed through your online account, and licensed insurance agents are available by phone, email, and live chat should you need to speak with someone.
Deductibles range from $250 to $5,000. You can pay monthly or annually and cancel anytime you want.
Essential coverage includes:
Additional living expenses
Personal and premises liability 
Personal property
Optional coverage includes:
Bicycles, watercraft, and sporting equipment
Fine arts and collectibles
Business property 
Jewelry and watches 
Legal protection
Identity theft and financial loss 
To get a quote, click here. 
3. Scotiabank Tenant Insurance
Scotiabank's tenant insurance covers four areas:
Contents – this covers the cost for repair or replacement of any damaged belongings. You may also be eligible for living expense coverage if you need to find a new home while repairs are happening.
Liability – get either $1 or $2 million in coverage for accidental injury or damages to someone else.
All-risk – this policy may cover accidental damages to the rental property, essential home upgrades, and voluntary medical expenses.
Special items – this covers valuable personal items like art and jewelry.
For all areas of Scotiabank's home insurance, including tenant insurance, they offer a 24/7 claims service, discounts for claims and mortgage-free homeowners, contents coverage, and flexible payment options.
To get a quote, call Scotiabank at 1-833-224-7306.
4. TD Tenant Insurance
TD tenant insurance offers different coverage depending on your needs. They also have tenant's insurance for students, which protects items like textbooks, laptops, and other personal belongings.
TD's tenant policy covers contents, liability, and additional living expenses.
To get a quote and learn more, talk to a TD Insurance Advisor.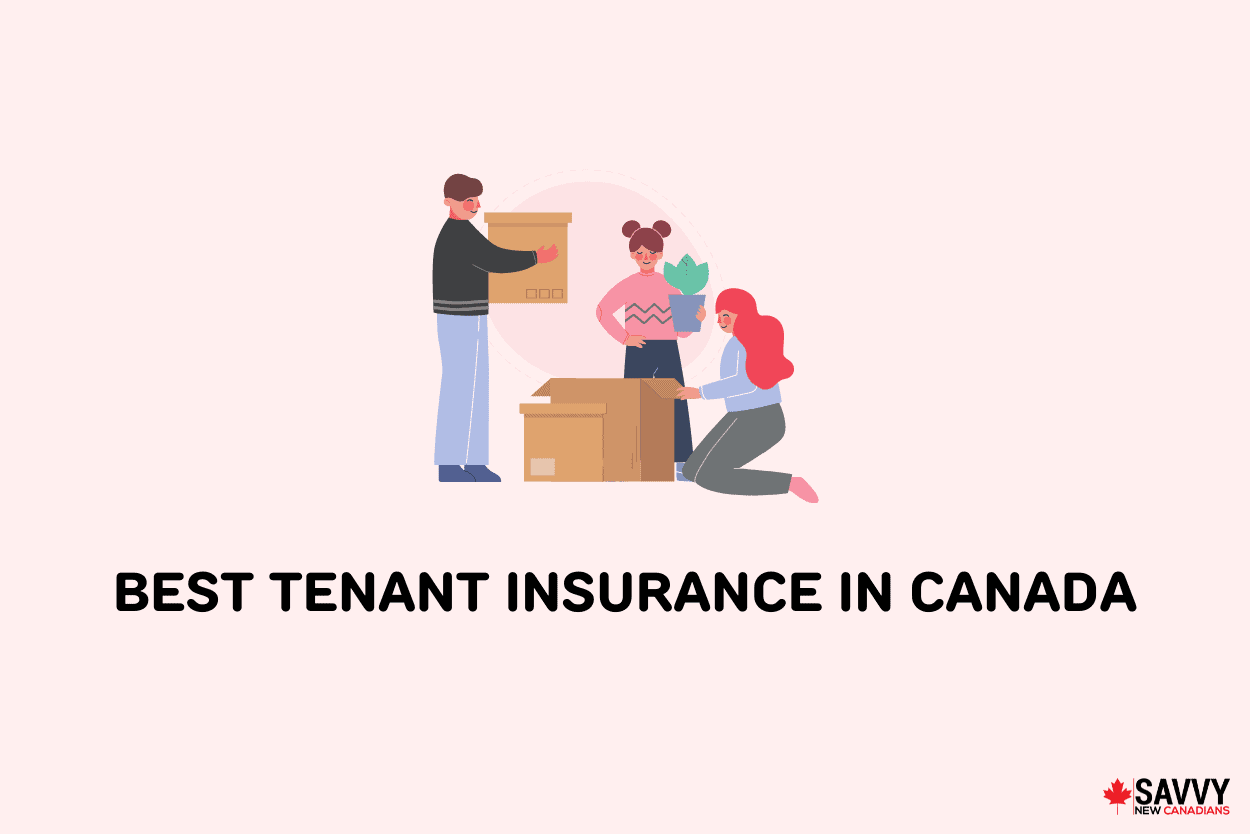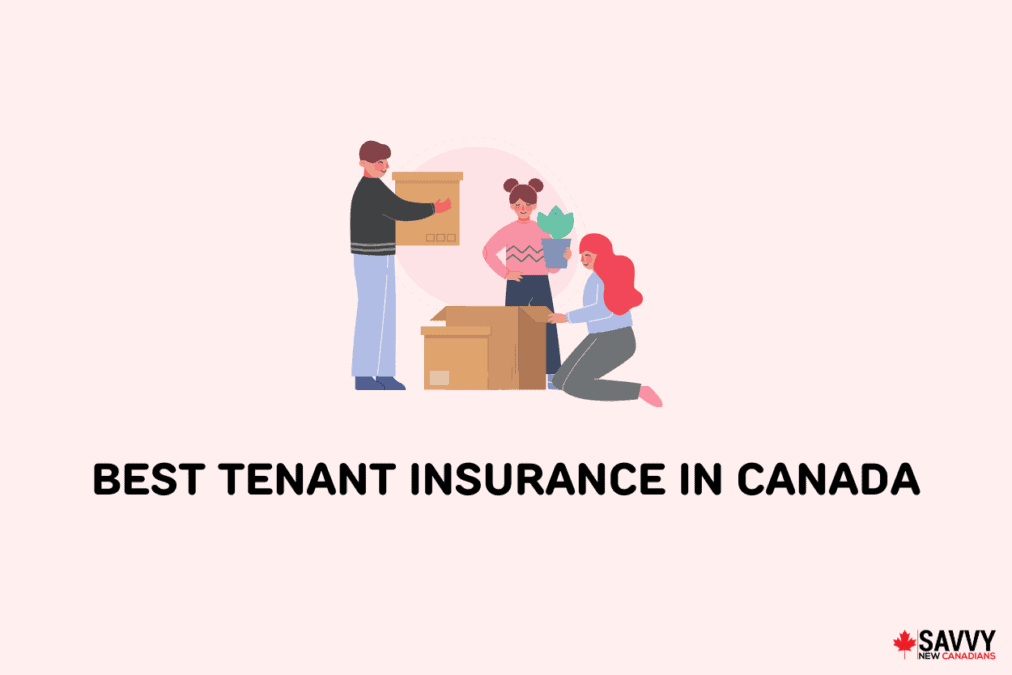 5. Sonnet Tenant Insurance
Sonnet tenant insurance is available across Canada, and you can get a quote within just 5 minutes.
They offer 24/7 support, and you can express claim small losses.
Sonnet offers standard and optional tenant insurance coverages. Standard offerings include:
Liability insurance
Personal belongings
Extra expenses (hotels or accommodation)
Unit improvements
Identity theft
Additional tenant insurance offerings include sewer backup and overland water, depending on your eligibility.
Customers pay an average of $355 per year for Sonnet tenant insurance in Canada.
Get a quote here.
6. Apollo Tenant Insurance
Apollo tenant insurance covers quite a few different liability claims, including the following:
Fire and smoke
Water damage and extended water coverage
Additional living expenses
Crime and vandalism
Personal liability
Click here to get a free online quote. To apply, find and select the coverage you need, choose a payment plan, and you'll get your policy documents in your inbox right away.
With Apollo, you can customize your policy based on how much personal property you need to be covered.
7. Cooperators Tenant Insurance
Cooperators tenant insurance comes in two categories: Classic and Prestige.
Covered under Classic:
Many perils – including fire, lightning, explosion, water, smoke, hail, vandalism, and more
Liability coverage – coverage up to $3 million
Identity fraud recovery expenses – coverage up to $10,000
Personal property moving coverage – 30 days of coverage or until the end of the policy term
Dishonesty limit – $5,000 for credit or debit card, counterfeit currency, or cheque forgery
Dwelling or vehicle lock replacement or re-keying – coverage up to $1,000 with no deductible
Securities – coverage up to $3,000
Bicycles – coverage up to $2,000 for each
The Prestige tier covers everything under Classic and more. View everything covered under Cooperators tenant insurance here.
You have the choice to add optional insurance, personal umbrella liability, and more to your package. If you don't see the items you want covered, you can contact a local Cooperators agent to find out if they can cover them.
8. Desjardins Tenant Insurance
The Desjardins tenant insurance is an all-risk policy that covers most losses that can damage your belongings. You can choose to add optional coverage based on your personal items.
Desjardins tenant insurance includes:
Liability
Furniture and belongings
Fire, vandalism, and theft
Accidental water damage
Fire, smoke, or explosion after an earthquake
Severe weather damage, including tornadoes, freezing rain, wind, hail, and lightning
Some optional tenant insurance coverage you can add to your plan includes:
Ground water and sewer backup
Earthquake
Rain, snow, or sleet
Flood
Short-term rentals and home-based businesses
Personal property temporarily off premises
Desjardins does not cover the following exclusions:
Repeated water leaks
Defects, wear and tear, deterioration
Damage caused by some insects and animals (insects, birds, vermin, rodents, bats, or raccoons)
Landslides and similar events
How Much Is Tenant Insurance In Canada?
Typically, tenant insurance ranges from $15 to $50 per month. It will be on the higher end if you have more belongings you want to cover and on the lower side if you don't.
The average cost of tenants content insurance in Canada is $23 per month or $276 per year, as per RateHub.ca. Again, it all depends on your situation and other factors discussed below.
Here are a few examples of varying costs. We got quotes from two insurance providers, Square One and RBC. We used the recommended coverage amounts from each provider.
Here are the details about the rental unit:
It is a third-floor, one-bedroom apartment in Toronto, Ontario. The renter is 25 years old and has lived in the apartment for less than three years. It is a wood-frame construction and has 1-4 floors.
Only one person lives there, smoking is not allowed, there are no pets, no home-based business, and no active home insurance policy.
Square One Tenant Insurance Coverage – Example
Bicycles, Sporting Equipment, and Watercraft Coverage: none
Business Property Coverage: none
Fine Arts & Collectibles Coverage: none
Jewellery and Watches Coverage: $3,000
Personal Property Coverage: $30,000
Additional Living Expenses Coverage: $25,000
Personal and Premises Liability Coverage: $1 million
Identity Theft and Financial Loss Coverage: $10,000
Essential Legal Protection Coverage: $100,000
Complete Legal Protection Coverage: $100,000
Standard Protection and Deductible: $1,000
The total premium works out to cost $47.80/month or $573.60/year.
RBC Tenant Insurance Coverage – Example
Personal Liability Limit: $1 million
Deductible: $1,000
Personal Property Coverage: $35,000
Additional Living Expenses: $14,000
Voluntary Medical Payments: $5,000
Voluntary Property Damage: $1,000
Identity theft: $40,000
No coverage for: sewer backup, overland water, or special limit for jewelry.
The total premium is $37.71/month or $452.52/year.
Factors Affecting Renters Insurance Cost
A few different factors can affect the monthly cost of renters insurance. If you have more belongings to cover, it will be more expensive.
Your insurance premium can also depend on your postal code, as insurance companies look at the crime rate in your neighbourhood and other factors such as flood risk.
A few other things that can influence the cost include any pets, your credit score, and your past claims history.
How to Get a Tenant Insurance Quote
Visit the insurance provider's website or call a representative to get a quote.
Most websites have a page where you can fill out some personal information, and they will provide you with a quote. You need to enter details such as the address of your rental unit, how long you have lived there, and when you would like your coverage to start.
For example, to get a quote for RBC tenant insurance, the information you need to fill in to get started includes:
Postal code
Address
How long you have lived there
What type of home you have (do you own a home, condo, or do you rent?)
When you want your coverage to start
Every insurance company will be different, but this is generally the process of getting a quote.
How To Save on Tenant Insurance
Tenant insurance can be costly, especially added on top of other insurance and monthly costs you need to pay as a renter.
To save on renters insurance, buy online rather than in person and look at multiple insurance providers to find a price that works for you.
If you can afford it, increasing your deductible could help lower the cost long-term.
Depending on the company, you could also bundle your tenant and car insurance policy.
If you're a student or alumni, some insurance companies like TD have student tenant insurance which is cheaper than regular renters insurance.
Additionally, if you purchase a home security system, your monthly costs may decrease as your rental property will be more secure.
Lastly, do not over-insure yourself. Audit your belongings and don't purchase extra coverage if you don't need it.
What Is Not Covered By Tenant Insurance?
Most tenant insurance policies do not include extreme weather-related, animal, or other damages such as:
Earthquakes
Floods
Sewage backup into your residence
Car damage (most companies cover items stolen from the car, but not damage to the vehicle itself)
Pest infestations such as bed bugs (does not cover the cost of dealing with them or for any damages)
Damage caused by some "high-risk" dog breeds
Unusually high-priced items like jewelry and electronics (you may need to get floater insurance to cover these items)
Losses caused by the tenant's intentional acts or negligence
Pros and Cons of Tenant Insurance
Tenant insurance is not mandatory, but it is a good idea to have. Here are some pros of buying renters insurance:
Your valuable items will be protected from unexpected damages, loss, and more
Most times, the landlord's insurance does not cover you
Some tenant insurance covers personal belongings stored in your vehicle
It covers your items when you are away from home
Living expenses are usually covered if you cannot stay in your home for any reason
It is generally less than $50 per month
Here are some reasons you may not want to get tenant insurance:
If you don't have many valuable belongings, it may not be worth it to pay a monthly fee
It could be an unnecessary cost that impacts your budget, especially if you are trying to save money in the short term
The deductibles could be very high
Is Tenant Insurance Worth It?
If you're renting a property, buying tenant insurance is almost always a good idea. Although you may be paying an "unnecessary" extra cost each month, you will be covered if something goes wrong.
If you do not have renters insurance and unexpected damage occurs, you could be set back a couple of thousand dollars.
Tenant insurance is only about $15 to $50 per month, and with most providers, you can customize your plan and only pay for what you need.
FAQs
What is the purpose of tenant insurance? 
Tenant insurance helps pay for any damages to your personal belongings and property caused by fire and smoke damage, theft, vandalism, and more. You pay a small monthly fee, and you're covered if anything goes wrong. 
Is tenant insurance mandatory in Canada?
Tenant insurance is not mandatory in Canada; however, it's a good idea to have it in case of unexpected damages. Some landlords may require it, but most don't. 
What is the difference between tenant insurance and renters insurance? 
Tenant insurance and renters insurance are the same things. It's for people who rent or lease the properties they live in. 
Does renters insurance cover accidental damage? 
Yes, most renters insurance covers accidental damage, including accidental damage or injury to you or other people while inside your rental unit. It is typically covered under the liability portion of your policy. 
What is the average renters insurance? 
The average cost of renters insurance is $15 to $50 per month; however, it all depends on your location and other factors. 
How much coverage do I need with tenant insurance? 
The coverage you need depends on the value of your personal items and what accidents you want to protect yourself from. As a general rule, you should buy enough tenant insurance to cover the entire cost of replacing all your valuables. 
What is the average cost of tenant insurance in Ontario? 
The average cost of tenant insurance in Ontario is about $25 to $30 per month or $300 to $360 per year. 
What is the cheapest tenant insurance in Canada?
The cheapest tenant insurance on this list is from Square One, who offer renters insurance from just $12 per month. You choose your coverages, limits, and deductible. 
Related: