Thinking about earning tangible returns on funds in your savings account? You should take a look at high-interest savings accounts.
Savers have not been getting a lot back in returns on their savings accounts for the better part of a decade. This has largely been due to a low-interest-rate environment in which the Bank of Canada's (BoC) benchmark rate has remained at historically low levels together with inflation.
Hikes in rates by the BoC have not translated into higher savings rates being offered by the "Big" banks, and you can find rates as low as a measly 0.01% on what is supposed to be a savings account earning you some income.
The downside to the ridiculous rates is that you are earning negative real returns (i.e. losing buying power) after inflation is taken into consideration.
Savings accounts are generally not the place to park your funds if you want to generate significant returns on them and realize some capital growth.
However, if you have funds that are meant for short-term projects (such as a vacation, wedding, tuition, or home down payment) which you do not want to be exposed to the vagaries of the stock market, a high interest savings account (HISA) can serve as a low-risk option to safeguard your money.
A high-interest savings account can help you earn some interest while keeping pace with inflation and the best ones today are close to the inflation rate or higher.
Two of the best HISA rates in Canada from a non-credit union financial institution are:
EQ Bank: 1.25% standard rate
KOHO: 1.20% standard rate
Top High-Interest Savings Accounts in October 2021
Here are the best high-interest savings accounts available in Canada as of today. Before choosing a bank to save with, take a look at their small-print including:
Are there any restrictions on transactions allowed per month? Any lock-in periods?
Are any fees charged on withdrawals or transfers?
Is the offered rate a promotional or introductory rate, or is it an ongoing non-promotional rate?
Is there a minimum balance requirement?
Are automatic transfers possible? Can you conduct a mobile cheque deposit?
How accessible is your savings account?
1. EQ Bank Savings Plus Account (1.25%)
EQ Bank is the online-only banking arm of Equitable Bank. Its high-interest savings account (HISA) is known as the "EQ Bank Savings Plus Account" and currently offers one of the highest non-promotional savings rates in Canada at 1.25%. Non-promo rates mean you won't start earning less on your savings after a few months.
This account has no monthly fee, offers unlimited transactions, free electronic fund transfers, no minimum balance, free mobile cheque deposits, free bill payments, and unlimited free Interac e-Transfers per month.
The interest rate is calculated daily on your closing balance and paid monthly. The maximum balance you can hold in your account is $200,000.
EQ Bank also recently introduced TFSA and RSP accounts with high interest rates and if you are looking to save money inside these registered accounts, EQ Bank offers a top rate of 1.25%*.
Visit:
2. KOHO Earn Interest (1.20%)
With your free KOHO account, you can earn 1.20% on every dollar as well as 0.50% cash back on all purchases.
Similar to EQ Bank, a KOHO account works like a hybrid bank account and you can send unlimited free Interac e-Transfers, pay online and in-store bills, and not have to worry about promotional interest rates coming to an end.
In addition, KOHO comes with a reloadable prepaid Visa card that earns at a 0.50% cash back rate (or up to 2% if you upgrade to the premium version), and customers get access to Early Payroll.
To enjoy the 1.20% interest rate, you need to set up a direct deposit to your KOHO account.
Learn more about KOHO in this review or open an account (our promo code CASHBACK gets a $20 welcome bonus and is applied automatically when you click on the link).
3. Motive Financial Savings
Motive Financial is a division of the Canadian Western Bank which is a member of CDIC. Its HISA is known as "Motive Savvy Savings" and currently offers 1.25% on account balances up to $1,000,000. Its basic savings account (Motive Savings) offers a 0.75% rate on up to $5 million.
The account comes with 2 free withdrawals (costs $5 each after), no monthly fees, and no minimum balance requirements.
Learn more: Motive Financial Review
4. Wealthsimple Save
Wealthsimple is better known as a robo-advisor for the management of your investment portfolio. Their HISA is called "Wealthsimple Save" and offers an interest rate of 0.50%. There are no monthly fees and no minimum account size.
This account allows unlimited withdrawals and transfers.
You can also open a Wealthsimple Cash account (use referral code WCEYAP for a $10 bonus) and use it to send money instantly to friends and family members on your phone contact list.
Note that Wealthsimple Cash does not pay interest on your balance, however, you can easily move funds you don't need to your Save account and earn 0.50%.
5. Tangerine Savings Account
Tangerine is a subsidiary of Scotiabank and was formerly known as ING Direct. Its HISA is referred to as the "Tangerine Savings Account" and currently offers a 0.10% interest rate.
New clients can qualify for a promotional rate of 2.00% for 5 months when they open a chequing account at the same time. However, the interest rate falls to 0.10% following the initial 5 months.
This savings account has no monthly fees or accounts minimum, no lock-in periods or service charges, and an automatic savings plan. In addition to the HISA, Tangerine also offers a TFSA and RRSP savings plan that offer similar rates.
Learn more: Tangerine Bank Review.
6. Wealth One Bank of Canada HISA
WealthOne Bank of Canada is a relatively new bank and a member of CDIC. Its HISA is known by the same name and currently pays 1.25%. The bank also offers TFSA and RRSP savings accounts.
There are no monthly fees, no minimum balance requirements, and you have access to their automatic savings program (ASP).
Learn more: Wealth One Bank of Canada Review
7. Motusbank Savings
motusbank is the newest digital bank in town and a subsidiary of Meridian Credit Union, the most popular credit union in Ontario and the third-largest in Canada. It offers a high-interest savings account, no-fee chequing, competitive mortgage rates, investment accounts, and more.
motusbank's general savings account offers a 1.00% non-promotional interest rate. There's a $1.25 fee per Interac e-Transfer.
Learn more: Motusbank review
8. Alterna Bank HISA
Alterna Bank and Alterna Savings are together known as the Alterna Financial Group. Their HISA is known by the same name and currently offers a non-promotional rate of 0.90%.
There is no minimum balance requirement, unlimited free bill payments, and free unlimited Interac e-Transfers per month. The maximum balance for new customers is $250,000 and they are also available in Quebec.
Learn more: Alterna Bank review
9. Oaken Financial Savings Account
Oaken Financial is Home Trust's direct banking arm. Their HISA is known as "Oaken Savings Account" and currently offers a rate of 1.15%. They also offer TFSA and RRSP savings accounts.
The Oaken savings account has no monthly fees and no minimum balance.
Learn more: Oaken Financial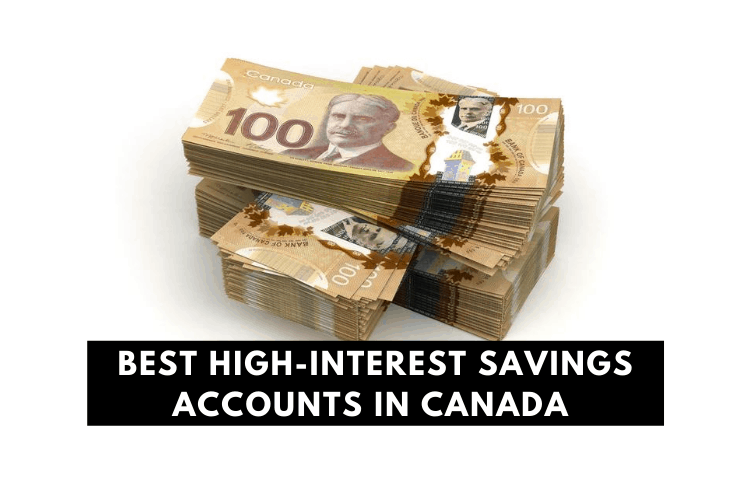 Credit Unions
Some of the credit unions in Canada also offer great rates. Check their small print for details on how the rates work and whether there are fees for transactions.
10. Ideal Savings: offers 1.01% HISA
11. Maxa Savings: 1.00% HISA
12. AcceleRate Financial: offers 1.20% on their HISA
13. Achieva Financial: offers 1.10% on their HISA
14. Implicitly Financial: offers a 1.10% HISA
15. Outlook Financial: offers a 1.10% HISA
16. Hubert Financial: offers 1.10% on their HISA
Big 5 Bank High Interest Savings Accounts
How about the big banks and their savings interest rates?
Unfortunately, the big 5 banks in Canada i.e., RBC, CIBC, TD, BMO, and Scotiabank mostly offer rates that are ridiculously low…think 0.01% – 0.05% in some cases.
Apparently, if you want to earn returns on your deposits and stand a chance against inflation, you will need to look elsewhere for competitive returns.
You can learn more about what the big banks offer below:
What is a High-Interest Savings Account?
Simply put, a high-interest savings account (HISA) pays a higher rate on your money than you would get from a regular savings account. The interest rate is calculated on your daily closing balance and paid out monthly.
HISAs are also known as a high yield savings account.
They are a great place to put the money you don't need right away, but that you need access to on short notice, such as your emergency fund.
There are different types of HISAs including:
Registered Retirement Income Fund HISA, and
High Interest Savings Account vs. Traditional Savings Account
When people hear "high-interest savings accounts" or "HISA," they often wonder what differences (if any) are between them and traditional savings account at their bank.
For starters, a HISA pays a higher interest rate than is offered on regular "savings." For example, compare a 0.05% rate on a savings account at a major bank while 0.35% is offered on a HISA at the same bank.
There may be limits on the frequency at which you can make withdrawals from a HISA. The reasoning behind this is simple – the bank lends some of the deposits they hold to borrowers in order to generate income. The longer your deposit sits in your HISA, the more it earns for the bank. If you are 'in' and 'out' of your account too frequently, then your money is not earning as much for the bank and they are unable to justify paying you higher rates.
That being said, the majority of online-only banks which offer great HISA rates do not have limits on the number of withdrawals you can make from your HISA per month.
There may be fees associated with some transactions conducted in a HISA if you exceed your monthly quota. These may include when you exceed a certain number of withdrawals, money transfers, or when you request a paper statement. The bank may also require you to maintain a minimum balance in order to earn the HISA rate. Again, most online-only banks waive these fees, except for free Interac transfers which often have a limit.
Essentially, a high-interest savings account is not designed to conduct day-to-day transactions.
Advantages of a High-Interest Savings Account
1. Higher Returns: As already mentioned, you will earn better returns with a HISA than with a traditional savings account.
2. Safe and Guaranteed: Your money is generally safe in a HISA. If the financial institution is a member of the Canada Deposit Insurance Corporation (CDIC), then your funds are insured up to $100,000 per customer if the bank should go bankrupt. Deposits at credit unions are insured provincially and usually cover the customer's full deposit, even those exceeding $100,000.
3. Flexible: Compared to a Guaranteed Investment Certificate (GIC) which may lock in your funds from 6 months to 5 years or even longer, most HISA's are readily accessible and penalty-free if you need your money. As such, a HISA can be a good option for holding emergency funds.
4. Bonuses: Some banks will offer you cash bonuses when you sign up. They may also offer promotional rates that come up now and then.
Disadvantages of a High-Interest Savings Account
A savings account will not double your money overnight, but that's not necessarily a bad thing. They are less risky than many other investment assets and your expected return is supposed to reflect your assumed investment risk.
The main downside to savings accounts and other fixed-income assets, in general, is taxes. The tax on interest income is at your marginal tax rate which can result in a significant chunk of your earnings going to the taxman if you are in a high-tax bracket. Interest income is taxed less favourably compared to dividends or capital gains.
To avoid paying taxes on your HISA returns, an option is to utilize a TFSA Savings Account.
Are High-Interest Savings Accounts Taxable?
High-interest savings accounts are not tax-free unless when held inside a TFSA. The interest earned is included in your taxable income at the end of the year and taxed at your marginal tax rate.
Your bank will send you an investment income slip or T5 showing how much interest you earned for the year.
Are High-Interest Savings Accounts Safe?
All the online banks listed above are members of the Canada Deposit Insurance Corporation (CDIC). What this means is that your deposits in regular savings, HISA and chequing accounts are insured up to $100,000 should the bank become insolvent.
The credit unions are also insured by their provincial deposit insurers, such as the Deposit Guarantee Corporation of Manitoba which guarantees 100% of deposits held by Manitoba's credit unions and Caisses Populaires.
You do not need to reside within Manitoba to take advantage of this benefit.
High Interest Savings Account FAQs
What is the highest interest savings account in Canada?
EQ Bank offers one of the highest interest savings account rates in Canada. While its rates are also subject to change at any time, I find that they are more consistent and don't fluctuate every few weeks like some other banks. Also, EQ Bank's interest rates are non-promotional.
How much interest will I get on $1000 after a year in a savings account?
If you go with a big bank paying 0.01%, you can expect to end the year with approximately 10 cents in interest using a "simple interest" calculation and you will have $1,000.10. Assuming your funds are saved at an online bank offering 1.25%, you will earn $12.50 for a total of $1,012.50. Your $12.50 return is not a lot, however, it is 125x what you'd earn at the 0.01% rate. If you use daily compounding interest, you earn a little more over time. That said, the current low rates don't make much of a difference.
Which bank offers the most interest on savings?
Online banks have lower overhead and are able to pass on the savings in operational costs to their customers in the form of higher savings interest rates.
Where can I put my money instead of savings?
If you don't need access to your funds for a while, you can consider investing in GICs, stocks, bonds, or ETFs. Note that some of these investments are higher-risk and you can lose your capital.
Related Posts:
Savings rates continue to trend down in Canada. What strategies are you using to maximize your returns?