Keeping a regular maintenance schedule for your car will go a long way to keep it in top condition, minimize unexpected out-of-pocket costs, and prolong your car's overall useful life.
Cars cost a lot to keep on the road! The average annual cost to own and operate a new car in 2022 is $10,728 or $894 per month, significantly increasing from the $9,666 or $805.50 per month in 2021.
With average costs this high, if you are a frugal car owner, you are looking for ways to save money on your car/transportation costs. At the same time, you also want to protect your asset (car) so it can stay useful during its expected lifespan.
To accomplish this goal, you should put to read your car owner's manual now and then. Understand how your car works and identify what the maintenance needs of your car are as stated by the manufacturer.
Also, pay attention to your car and be observant. Look it over often for anything out of place – sounds, fluids, lights, paint, tires, hoses, belts, how it drives, etc.
There are many routine preventive measures that the average car owner can do themselves without getting into trouble. And there are thousands of great video tutorials on YouTube that come in handy.
When you start to DIY your car maintenance needs, you can save money over time.
Do-It-Yourself Car Maintenance Checklist
Below are some car maintenance tasks I have tried over the years to save lots of money!
1. Replace Windshield Wipers
In the grand scheme of DIY car maintenance, this task is one of the easiest. You should consider replacing your car's windshield wiper every year or so, and definitely if it is starting to streak or make squeaking sounds.
Purchase a set of wiper blades, remove the old ones and clip on the new replacement.
Time: 10 to 15 minutes
Estimated cost: $20
Tools required: None. In some cases, a flat-head screwdriver may come in handy to pry open clips that are stuck.
2. Replace Air Filter
The engine and cabin air filters become clogged with dust and debris over time, causing your engine to work harder and negatively impacting your mileage.
This may also result in your car cabin filling up with dust and pollen.
Replacing air filters is an easy DIY task. The engine air filter is usually found somewhere under the hood, while the cabin air filter can be found under the dashboard area.
Time: 10 to 20 minutes
Estimated cost: $20 per filter
Tools required: None
Related: How To Strip, Clean, Stain and Seal Your Deck Like a Pro
3. Replace Batteries
When your car's battery dies or starts to show signs it is nearing the end of its useful life; it is easy to replace it with a new one. However, before your battery needs a replacement, you can keep it in top shape by inspecting it periodically.
Remove the battery terminal and clean off any corrosion or mineral deposits with a rag or brush and corrosion-removal fluid or a mixture of baking soda and water.
When replacing a battery, remove the negative terminal first and reconnect it last. Tighten the brackets to ensure the battery does not move around while the car is in motion. Ensure you buy the right-sized battery with enough power (Cold Cranking Amps – CCA) and Reserve Capacity (RC).
Time: 20 to 30 minutes
Estimated cost: $80 to $100
Tools required: Wrench set, vice pliers or screwdriver, wire brush, rag, and anti-corrosion solution.
4. Replace Headlight and Taillight Bulbs
It is pretty easy to replace most burned-out bulbs in cars. Remove the old bulb and take it along when shopping for a new one to ensure you buy the right size and specification.
Avoid touching the glass bulb when replacing it to prevent it from burning out quickly when you leave the grease and debris from your hands on the glass surface.
Wear a clean glove. If you mistakenly touch the bulb's surface with your bare hands, clean it off using alcohol wipes or rubbing alcohol.
Time: 20 minutes
Estimated cost: $20 – Can vary a lot depending on specs
Tools required: Screwdriver or none
5. Replace Blown Fuses
If your car's radio suddenly quits or lights do not come on, and replacement bulbs do not do the trick, it may be that a fuse has blown. Find the fuse box and remove the cover.
Your owner's manual should have a diagram stating what car component is controlled by each fuse. Find the blown fuse and replace it with a new one that is of similar amperage.
If, after replacement, the fuse blows up again, your car may have an underlying electrical problem requiring the attention of a mechanic.
Time: 20 minutes
Tools required: Needle-nose pliers
Related: 10 Ways To Prepare Your Car For Winter
6. Top Up and Replace Fluids
Regularly check to ensure your car's fluids are at the proper levels. These include the brake fluid, power steering fluid, windshield washer fluid, oil, and radiator coolant.
Topping up is easy – you need to purchase the right product, get a funnel, and top up till you reach the "full" indicator line.
Keep a close eye on the different warning light indicators on your dashboard. If one of them comes on, find out what it means by looking at your owner's manual.
You can partially replace dirty/old brake and power steering fluids. Use a turkey baster to siphon the old liquids in the reservoir and replace it with new fluid. Ensure you only use the recommended fluid specs for your car.
Time: 20 to 30 minutes
Estimated cost: Depends on how much fluids you are replacing or topping up with
Tools required: Funnel, baster, rag, and container to hold old fluids
7. Flush Radiator
A car's radiator requires cleaning after a while due to an accumulation of deposits, rust and other debris. Drain the radiator and grab a coolant flush to clean it out.
Be careful when working around a hot radiator, as you could get burned. A radiator flush should occur about every 5 years. Check your owner's manual for timelines.
Time: 30 to 40 minutes
Estimated cost: $40
Tools required: Wrench, screwdriver, radiator flush, funnel, and a container to empty the old coolant into
8. Monitor Tires
Monitor your tires for wear and tear to avoid them blowing up on you when you least expect them. Check for bulges, uneven wear, and other damage.
When the tread depth of a tire reaches 4/32″ or less, consider replacing it. Check the cold tire pressure on a routine basis and ensure tires are inflated as recommended in your owner's manual (and never beyond the maximum pressure noted on the tire itself).
Under-inflated tires use more fuel, and over-inflating your tires can increase the risk of a blowout.
Time: 5 to 10 minutes
Tools required: Tire pressure gauge and compressed air
Related: Tips To Maintain Your Furnace and Save Money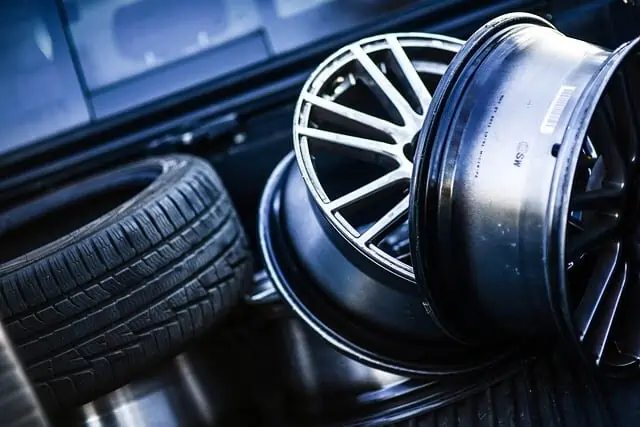 9. Change Spark Plugs
As your car ages, you may need to replace the spark plugs more frequently. This is not a challenging project, but it can easily appear tricky to the newbie DIY'er.
If you are starting to experience a loss of power, poor fuel economy, misfires, rough idling, etc., it may be due to worn-out spark plugs.
Time: 45-60 minutes
Estimated cost: $60
Tools required: Spark plug socket and extensions, torque wrench
10. Change Oil and Filter
Your owner's manual will recommend how often to change your car's engine oil. An oil change is usually not required as frequently as your dealership/mechanic advises.
Always change the oil filter whenever you carry out an oil change. If you drive an older car, you should consider checking the oil levels routinely so you can top it up when required. Simply pull out the dipstick, clean it, re-dip it, and then read the oil level.
Choose the correct oil type and grade for your vehicle as recommended in the owner's manual. I stopped changing my car's engine oil because it is not so easy to dispose of the used oil appropriately.
Time: 30 to 45 minutes
Estimated cost: $30
Tools required: Wrench, funnel, and oil pan
11. Touch-Up Paint Scratches and Chips
If your car's paint job suffers a scratch or chip, you should plan to fix it ASAP before rust sets in and it becomes difficult for the paint to stick.
For a basic paint touch-up job, find the paint code number for your car (using the VIN) and purchase the appropriate colour paint and clear coat.
Time and cost: Depends on the extent of touch-up required
Tools: Paint pen or syringe (base and clear coat), wax/grease remover, spot sanding tool, sandpaper (different grits), rust remover, and brush
12. Replace Brake Pads
Your car's braking systems and brake pads should always be in good shape since poor braking ability can result in a fatal accident.
If you are willing to push yourself a bit, replacing your car's brake pads is not difficult, particularly if other parts of the brake system are in good working order.
You know your brake pads may need replacing when you start hearing the classic squealing or metallic grinding sounds. If the brake warning lights come on, the steering wheel may vibrate, or you may just feel it takes longer for your car to come to a stop.
Brake pads that are less than 1/4 inches thick should be replaced.
Time: 60 minutes
Estimated cost: $40 per axle
Tools required: Hydraulic jack, wrenches, hammer, C-clamp, wire brush, and WD-40
13. Detail With Confidence
Thinking about saving some money? Consider detailing your car routinely, and you will not only save money, but you will also keep your car looking brilliant for a long time to come and slow its depreciation.
There are many options when it comes to supplies for cleaning your alloy wheels, waxing and polishing the interior and exterior, and cleaning and restoring upholstery.
Tools: Microfiber towels, vacuum and attachments, washing mitt, soap, wax, garden hose, window cleaning fluid, gloves, leather cleaner and conditioner.
Conclusion
DIY can save you lots of money, not only on car maintenance but also on many other projects around your home. That being said, always ensure the following to avoid a disaster that could easily cost you more than your savings:
Know your limits and only DIY what you are comfortable doing.
Stay safe and use appropriate safety gear – wear eye protection, gloves, and other PPE as required.
Again, read the owner's manual and follow the recommendations written there for parts specifications.