Neo Financial recently launched a secured credit card that is now easily the best secured credit card in Canada.
The Neo Secured Credit Mastercard joins the company's other credit card, the Neo Card, in offering above-average cash back rewards, no monthly fees, and an excellent way to build your credit score.
Not only that, but this secured card also offers guaranteed approval.
This Neo Secured Card review covers how it works, its pros and cons, cash back rewards, welcome bonuses, and alternatives.
Neo Secured Credit Card – At a Glance
Neo Secured Credit
Rewards: Earn up to 5% real cash back on purchases.
Welcome offer: 15% cashback on your first purchases, plus a $25 welcome bonus.
Interest rates: 19.99% – 29.99% for purchases; 22.99% – 31.99% for cash advances.
Annual fee: $0
Credit limit: Starts at $50.
Credit score required: Poor or bad credit score.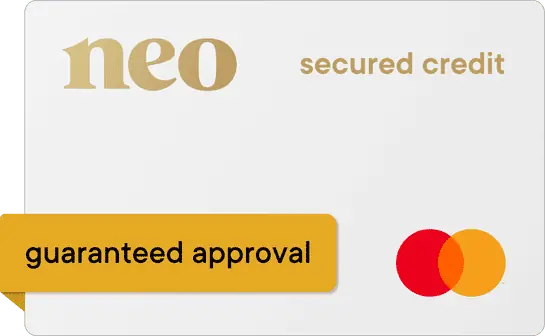 Benefits of Neo Secured Credit
Neo Secured Credit is unlike anything I have seen for secured credit cards in Canada.
Typically, when you must get a secured card due to bad credit, you can forget about earning rewards. And you often pay an annual fee plus monthly maintenance fees.
This is not the case with the Neo Secured Card, which has no monthly or annual fees.
Let's break down its top benefits:
Guaranteed approval: Have a bad credit score or no credit history? The Neo Secured Card offers guaranteed approval. They won't even pull your credit (i.e. no hard inquiry), so there's nothing to worry about on that front.
No annual fees: Secured credit cards can cost you up to $120 per year. For the Neo Secured Card, there is no monthly or annual fee.
Up to 5% cash back rewards: It is an unwritten rule of thumb that secured credit cards don't offer rewards or any other perk for that matter. Neo Financial charges that by offering up to 5% unlimited cash back when you shop at thousands of partner stores.
And to make it worthwhile, they guarantee you will earn at least 0.5% cash back across all spend, even if it means topping you up to reach this threshold.
15% welcome bonus: Cardholders get 15% cash back on their first purchases. This offer is available at most Neo partner stores.
$25 welcome bonus: New applicants who sign up via our exclusive link get a $25 welcome cash bonus after their application is approved.
Low security funds: When you apply for a secured credit card, you must provide collateral, also called a security deposit. The minimum amount is generally between $300 and $500.
For the Neo Secured Credit card, the minimum security deposit is just $50.
This means you can start building your credit score immediately, even if you are hard up for cash. If you close your account, this deposit is returned to you as long as your account is in good standing.
Physical and digital cards: Neo Financial customers receive physical and digital cards. You can add your digital (virtual) credit card to your favourite wallets, such as Apple Pay or Google Pay.
No hard credit check: Neo Financial does not conduct a hard credit check. This helps to keep your credit score trending in the right direction if you use the card responsibly and make payments on time.
Downsides of Neo Secured Credit
This card does not offer insurance coverage benefits, such as purchase security, extended warranty, or rental car insurance. This is standard fare for secured credit cards.
Secondly, there are limits to the guaranteed 0.5% cash back offer – the top-up is only on up to $5,000 spending at non-partners.
Given that you earn up to 5% unlimited cash back at partners, this card still trumps all its competitors.
Lastly, you should aim to pay off balances on time since the purchase APR is as high as 26.99%.
How To Apply For Neo Secured Credit
To apply for this card, click here ($25 bonus).
The application process is quick, and you can start using your digital card right away while waiting for the physical one to be mailed to you.
Since this is a secured card, you will need to provide a security deposit, starting at $50.
Your security funds determine your credit limit.
Neo Financial Fees
There is no monthly or annual fee to use the Neo Card and earn the standard cash back rates.
If you use your Neo Card abroad, a standard 2.5% foreign currency conversion fee applies. ATM withdrawal fees may also apply to cash withdrawals.
You can add optional "perks" to your Neo Card for a monthly fee.
What is Neo Financial?
Neo Financial is a financial technology company founded by some of the people behind one of Canada's best food delivery services, SkipTheDishes.
It offers two credit cards (Neo Credit and Neo Secured Credit) and a high interest savings account (Neo Money).
Neo financial cards are issued by ATB Financial under license by Mastercard. Its savings account is provided in partnership with Concentra Bank.
Neo Financial Rewards
Neo Financial has partnerships with thousands of stores and retailers across Canada.
When you shop at these stores, you earn cash back that you can redeem to pay off your balance. Popular Neo partner stores include Amazon, Sport Chek, Subway, Earls, H&R Block, Avis, Clearly, and several others.
Neo Secured Credit vs. Alternatives: How Does It Compare?
Other popular secured credit cards in Canada include:
Plastk Secured Credit Card
Home Trust Secured Visa
The Plastk Secured Credit Card has a $48 annual fee and $6 monthly maintenance fees.
You need a $300 minimum security deposit and get 0% APR on purchases for the first 3 months (17.99% after).
Plastk Secured Credit Card
Rewards: Earn points you can redeem for cash.
Welcome offer: na
Interest rates: 17.99% on purchases; 21.99% on cash advances.
Annual fee: $48, plus a $6 monthly maintenance fee.
The Home Trust Secured Visa Credit Card has no annual fee. You need a minimum $500 security deposit, and the interest rate on purchases is 19.99%.
Both cards do not offer insurance coverage benefits.
Neo Secured Card FAQ
What credit score do I need to get Neo Secured Credit Card?
You can apply and be approved for this secured card with any credit score. Neo Financial does not conduct a hard credit inquiry.
How hard is it to get a Neo Secured credit card?
The Neo Secured Credit offers guaranteed approval, making it one of the easiest instant approval cards to obtain in Canada.
Is the Neo Secured Card a real credit card?
Yes, Neo Secured Credit is a credit card, and your transactions are reported to the credit bureaus. You can use this card to improve your credit score.
Can I increase my credit limit on the Neo Secured Card?
Yes, you can increase your security deposit to increase your credit limit on the card.
Does Neo offer a signup bonus?
You get a $25 signup bonus when you sign up for a Neo credit card via the links above.
Related: