If your credit score has been dinged over the years and you are looking to rebuild your credit rating, the Home Trust Secured Visa card may be for you.
Repairing your credit can be challenging and almost impossible if no lender is willing to lend you money. A secured credit card can help you get back on track by requiring you to put down a security deposit.
Secured credit card issuers report your credit usage to the credit bureaus so you can rebuild your credit profile and become eligible for an unsecured credit card in the future.
This Home Trust Secured Visa review covers its benefits and shows why it's one of the best secured credit cards in Canada.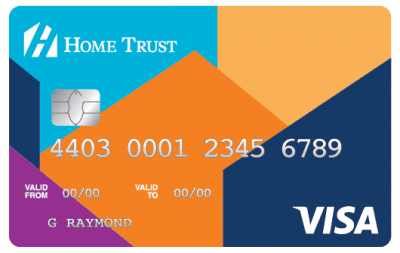 Home Trust Secured Visa – Summary
No annual fee
Security deposit: $500 – $10,000
19.99% purchase interest rate
19.99% annual interest rate on cash advances
Foreign currency conversion: 2.00%
Income requirement: None
Not available in Quebec
Home Trust Secured Visa Benefits
1. No annual fee: For a secured credit card, it is wonderful that this card comes with no annual fees. You can also opt for a paid version of the card that comes with a 14.90% purchase interest rate and costs $59 per year.
2. Credit limit up to $10,000: A security deposit is required and determines your credit limit. For example, if you deposit $1,000, your credit limit is $1,000.
Note that you will still need to pay off your credit balance similar to a regular credit card. The minimum credit limit is $500 and the maximum is $10,000.
3. Establish or re-establish your credit: Home Trust reports your file to the two major credit bureaus every month. This can help your credit rating if you are making payments on time.
4. Guaranteed approval: The approval rate for the Home Trust Visa card is a whopping 95%+. You can qualify as long as you are not currently in bankruptcy.
Individuals who have been discharged from bankruptcy can also apply. This is great since this card is only one of a handful of secured credit cards available in the country.
In addition to these benefits, cardholders enjoy the worldwide acceptability of Visa as well as purchase security. You can retrieve your security deposit when you close your account.
Home Trust Secured Visa Application
To apply for this card, click here.
You must be:
A resident of Canada
At least 18 or 19 years of age depending on your province of residence
Able to provide a security deposit
(Not be) in bankruptcy
The application process takes 2-3 weeks to be completed. Residents of Quebec are not eligible to apply.
Home Trust Secured Visa Alternatives
A secured card alternative that offers more rewards and benefits is the Neo Secured Mastercard.
You earn up to 5% cash back on purchases and the security deposit starts at $50.
New cardholders get a $25 cash bonus plus 15% cash back on their first purchases at multiple retailers. Even better, this credit card does not have a fee, and approval is guaranteed.
Learn more in this Neo Secured Mastercard review.
Another top secured credit card option in Canada is the Plastk Secured Credit Card. This card has a $48 annual fee and offers the following benefits:
6,250 welcome bonus points ($25 value)
Cashback points on all purchases. You can redeem points for popular gift cards, merchandise, and more
Access to free credit score updates
$300 to $10,000 credit limit depending on your security deposit
25-day interest-free grace period for purchases
17.99% low interest rate for purchases
Plastk Secured Credit Card
Rewards: Earn points you can redeem for cash.
Welcome offer: 5,000 bonus points and 0% APR for 3 months.
Interest rates: 17.99% on purchases; 21.99 on cash advances.
Annual fee: $48, plus a $6 monthly maintenance fee.
Lastly, you can also take a look at these personal loans for bad credit to vary your options when making a decision.
Is The Home Trust Secured Visa For You?
The Home Trust Secured Visa is for folks who have a poor or bad or even no credit rating. If you are unable to qualify for a regular credit card, this card can help you build or rebuild your credit rating.
If you would like to earn rewards while improving your credit score and want to avoid annual credit card fees, the Neo Secured Mastercard is our top choice.
Also read:
Home Trust Secured Visa review
Summary
The Home Trust Secured Visa card helps rebuild your credit if you have a poor or bad credit score. This Home Trust Secured Visa review covers what you need to know about it.