Obtaining your credit score in Canada used to be fairly expensive, costing $20 or so every time you needed to take a peek at it. In June of 2016, Borrowell, a leading Canadian fintech company changed all of that when they teamed up with Equifax to offer Canadians free access to their credit score for the very first time ever!
More recently, they also started providing free credit reports to Canadians plus a mix of other personal finance services that help you save money.
In addition to providing a free credit score and report, Borrowell is a digital lending platform for unsecured loans of up to $35,000.
Who is Borrowell?
Borrowell is a Canadian digital (online) lender that provides low-interest personal loans to individuals who are in the market for a general loan or those who need a loan for debt consolidation purposes.
The company has been in business since 2014 and is based out of Toronto.
In addition to a management team of well-versed and experienced people, Borrowell also has the backing and partnership of several well-known brands including CIBC, BMO, EQ Bank, Scotiabank, National Bank of Canada, Capital One, Wealthsimple, and MBNA.
Since introducing their free credit score service, over 1.5 million Canadians have obtained their free credit scores through Borrowell.
Borrowell was the first company to offer free credit scores in Canada and they also created Canada's first AI-powered Credit Coach, Molly, who shares tips with Borrowell users, helping them to improve their credit.
Product Offerings by Borrowell
While Borrowell is mainly known for its one-stop-shop for personal loans, that's not all they offer. Their product offerings include:
1. Free Credit Score and Credit Report
In 2016, Borrowell (Borrowell.com) led the way to become the first company to offer Canadians access to their credit score free of charge. More recently, they have also started to provide free credit reports, making it easier for you to access your credit report and score through the same portal.
The free credit score provided by Borrowell is the Equifax Risk Score 2.0 and ranges from 300 to 900. The free credit report you see is also your full Equifax credit report.
Since they started to offer this free service, over one million Canadians have used Borrowell to access their credit scores.
Credit Monitoring: Borrowell updates your credit score and report on a weekly basis, so you can easily monitor your credit profile for any errors or fraudulent activity. This saves you money you would otherwise have to pay for this service when it is provided by a credit bureau such as TransUnion.
You can also print or download your credit report whenever you want to.
How to Obtain Your Free Credit Score and Report
It is pretty easy and should take you less than 3 minutes:
Open an account with Borrowell here and complete the online form (name, email, address, date of birth, etc.)
Verify your identity by answering a few questions. You will not need to enter your SIN or credit card number.
Get your free credit score!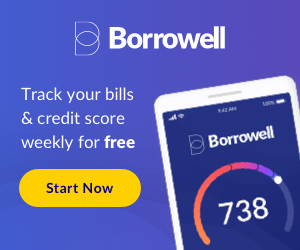 The company recently introduced two products that members can use to stay ahead of their finances, including:
Bill Tracking: This free tool helps you to monitor up to 15 bills and sends you remiders so you can pay your bills on time.
Borrowell Boost: This subscription service monitors an unlimited number of bills and you can access an interest-free $75 cash advance when needed to pay your bills.
2. Competitive Fixed-Rate Personal Loans
Borrowell offers a "low-interest" personal loan to Canadians who want quick access to an unsecured loan, or who need to source loans from alternative lenders for debt consolidation purposes.
Interest rates on Borrowell loans are based on your creditworthiness (credit score and history). You can borrow up to $35,000, with fixed rates from 5.6% to 29.19%. Loan terms are either 3 or 5 years, however, you can pay off your loan balance at any time without incurring pre-payment fees. Loans are also approved quickly without wasting your time!
In general, they offer loans to individuals who:
Are Canadian citizens or residents
Have a credit score above 660
Are not bankrupt, in collections, or have filed for a consumer proposal
Have a credit history of at least 1 year
Have a bank account in Canada
You can obtain various loan types from Borrowell including car loans, business loans, loans for debt consolidation, major purchases, home improvement, and more.
How To Obtain a Borrowell Personal Loan
Obtaining a personal loan through Borrowell is easy and fast.
Open an account here (skip this step if you already have an account to check your credit score)
Request a quote: you can do this from your account dashboard and it takes less than 2 minutes. The free loan rate quote does not affect your credit score.
Verify your identity (proof of income and bank account)
Have money deposited in your account in about 2 days, if eligible.
Is Borrowell's Average Interest Rate Too High?
It depends on your options. Borrowell states that its average annual percentage rate is 11-12%. Many borrowers who approach alternative lenders like Borrowell do so because they have other high-interest debt (credit cards) and are unable to obtain "unsecured" loans from a bank.
Compared to rates as high as 29.99% on some credit cards, a lower rate obtained through Borrowell can be used to pay off credit card debt and consolidate other high-interest debt (e.g. payday loans), without having to put up any collateral.
As per their website, the typical borrower saves $4,812 compared to using a credit card.
Are There Any Other Fees?
You will pay Borrowell an origination fee of 1-5% of your loan amount. This amount is included in the annual percentage rate (APR) quoted for your loan.
Also, if your payments bounce, a $25 NSF fee applies.
3. Credit Cards
Borrowell also offers a portal to compare different kinds of credit cards including:
Cash-Back Cards
Travel Cards
Low-Interest Cards
Rewards Cards
Balance Transfer Cards
On their comparison site, you can compare credit card annual fees, interest rates, card features, etc.
In addition to these 3 product offerings, they also have a robust blog/resources section and a "Free 7-Week Email Course" on how to improve your credit score.
4. Mortgage Rates
If you are in the process of buying a home and are looking for the best mortgage rates available, Borrowell offers a platform to compare rates and financing options.
They also offer mortgage calculators and other tools to make your home purchase less stressful. In addition, you get access to your credit score and tips on how to improve it.
Is Borrowell Safe and Legit?
As per their website, they "use the same level of encryption as the big banks to ensure your information stays safe." They use 256-encryption to protect your private information.
The personal information they collect when you sign up is used to provide you with other personalized financial product recommendations, such as credit cards, mortgages, etc. Your permission is always required to share any of your information with other providers.
Borrowell FAQs
Some of the frequently asked questions people have about their credit scores and Borrowell include:
Will checking my credit score affect it?
No, checking your credit score does not affect it one way or the other. When you look at your score, it is considered a "soft inquiry" and does not impact your score or show up on your credit report.
How long does it take to obtain my score?
You will create your account and have your credit score in 2 minutes…literally!
Is Borrowell secure?
Borrowell is just as secure as your traditional bank since they use similar technology to protect your personal details.
What does my credit score number mean?
Your score is ranked between 300 and 900 which represents your creditworthiness ranging from poor to excellent. A 'very good' to 'excellent' credit score means that you can qualify for loans and other credit at competitive interest rates.
What information is on my credit report?
Your credit report shows your credit history and how you have managed your personal finances over time. Information present includes credit inquiries, credit accounts, collections, consumer statements, and more.
Is the Borrowell credit score accurate?
The credit score you receive when you sign up with them is based on Equifax's proprietary model (Equifax is one of two major credit bureaus in Canada). Other third parties may calculate your credit score differently.
Is Borrowell going to spam and pester me?
Not in my experience. They send me one email every month to check my updated credit score and report. You may also get occasional emails with personalized loan and credit card offers but are not obliged to take them up on their offers. In the almost 4 years of signing up with Borrowell, I have never received a telephone call from them.
How does Borrowell make money?
If you obtain a loan or credit card through Borrowell, they are paid a "referral fee" or "origination" fee. If all you use them for is to get a free credit score, no fees are applicable.
What is Borrowell's phone number and address?
Their customer support email is [email protected] and their physical location is 33 Yonge St Suite 1301, Toronto, ON M5E 1G4. You can reach their customer service between 9 a.m. and 5 p.m. EST Monday to Friday.
Can I obtain my credit score in Quebec?
Yes, Borrowell offers its free credit score and report monitoring service in Quebec as well.
Conclusion
While Borrowell is a leader in the online lending space, they are not alone. Their competitors include LoanConnect and Mogo. The free credit score and report offered by Borrowell can save you hundreds of dollars per year in credit monitoring fees.
Knowing where your credit profile stands is not only good for your overall financial health, but it can also save you from falling victim to fraudulent activities, including identity theft.

Related Posts:
Borrowell Review 2021: Free Credit Scores in Canada
Credibility

Free Credit Score

Free Credit Report

Interest Rates

Ease of Use

Resources
Summary
Borrowell is a leading Canadian fintech company that offers Canadians access to a free credit score, free credit report monitoring, and low-interest personal loans.