If you have recently immigrated to Canada or plan to do so soon, this post covers what you need to know about the best banks for newcomers.
Newcomers to Canada have their hands full when they first get here. You need many things to figure out…housing, jobs, education, banking, investing, etc.
To help you become established in Canada and set you up for financial success, I have written a detailed financial checklist for newcomers and international students that covers banking, home ownership, retirement planning, and other tips related to life in Canada.
Read on to learn about the best newcomer bank accounts in Canada.
The Best Newcomer Bank Accounts in Canada (Big Banks)
Some of the best newcomer bank accounts are offered by the big banks. These financial institutions are well-established, with branches and ATMs across the country.
The Big 5 banks are:
The Bank of Nova Scotia (Scotiabank)
Bank of Montreal (BMO)
Royal Bank of Canada (RBC)
TD Canada Trust (TD)
Canadian Imperial Bank of Commerce (CIBC)
Two other large banks with noteworthy new immigrant banking packages are:
HSBC Bank Canada
National Bank of Canada
1. Scotiabank StartRight Program
Scotiabank is the third-largest bank in Canada by asset size. Through its StartRight program, newcomers can access a free chequing account (for 12 months), savings, credit cards, mortgages, personal loans, free credit score checks, and more.
The Scotiabank StartRight program caters to newcomers who have been in Canada for 0-3 years.
You can open a Scotiabank Preferred Package Chequing account and get:
Up to a $350 promotional offer when you meet the eligibility requirements
No monthly fees for 12 months (costs $16.95 after the first year), or it can be waived after the first year if you maintain a minimum balance of $4,000
Unlimited debit and Interac e-Transfers
One free withdrawal/month from a non-Scotiabank ATM
Access to a high-interest savings account
Up to $150 fee waived on Scotiabank credit cards in the first year
Free credit score check
Earn rewards on debit transactions via the Scene+ Rewards program
Get more details about Scotiabank newcomer accounts.
2. BMO NewStart Program
This program is available to newcomers who have arrived in Canada within the last 5 years.
The BMO NewStart Program offers 1-year of no-fee banking under its Performance Plan. This banking package comes with:
No monthly account fees for 1 year ($16.95/month after the first year); waived with a $4,000 daily balance
Unlimited debit and Interac e-Transfer transactions
Unlimited BMO Global Money Transfers with no fee for a year
1 free non-BMO ATM withdrawal per month (in Canada)
$60 rebate with a small safety deposit box for 1 year
Newcomers also get access to other banking products, including credit cards, international money transfers, investments, mortgage loans, and more.
Its promotional offer includes up to a $400 cash bonus and various other savings and benefits.
Get more details about BMO bank accounts.
3. RBC Newcomer Advantage
The RBC Newcomer Advantage program is offered by Canada's largest bank to permanent residents and international students.
Under the program, you can open an RBC Advantage Banking account, RBC Signature No Limit Banking account, or RBC VIP Banking account and pay no monthly fees for 12 months.
These accounts will cost you $11.95/month, $16.95/month, or $30/month, respectively, after your first year.
The RBC Signature No Limit Banking comes with unlimited debits and Interac e-Transfer transactions. You also get:
Two free international money transfers per month for 12 months
Free small safe deposit box for two years
Access to credit cards, mortgages, car loans, business accounts, and investments
1 NSF fee rebated each year
Free personalized cheques
Without a credit history, you can also apply for one of Royal Bank of Canada's no annual fee credit cards, such as the RBC Cash Back Mastercard.
For more details on RBC's newcomer bank offerings, click here.
4. CIBC Welcome To Canada Banking Package
CIBC's Welcome To Canada Banking Package is available to newcomers who obtained their permanent resident status within the past 5 years and temporary resident workers who have a Canadian work permit issued for 12 months or longer.
A CIBC Smart for Newcomers account offers:
No monthly fees for 2 years (up to $16.95/month after)
Unlimited debit and Interac e-Transfer transactions
One free non-CIBC ATM withdrawal per month in Canada
CIBC makes it easy to qualify for your first credit card with no income, security deposit, or credit history required.
Newcomers can also access mortgages, personal loans, and investment products.
Here are other CIBC new account offers.
5. TD New To Canada Banking Package
TD's New to Canada Banking is for permanent and temporary residents who have been in Canada for two years or less.
You can open a TD Unlimited Chequing Account and get:
No monthly fees for six months ($16.95/month after; waived with a $4,000 balance)
Unlimited transactions (debit and Interac e-Transfers)
No TD fee on any ATMs in Canada
Fee rebate on select credit cards for the first year
Unlimited international transfers for up to 12 months
TD also offers a variety of credit cards, loan products, investments, and savings accounts.
Here's a detailed overview of TD newcomer promotions.
6. HSBC Bank Canada Newcomers Program
HSBC is one of the biggest banks in the world, and HSBC Bank Canada is the top international bank in Canada.
As an international bank, HSBC offers accounts and services uniquely suited to newcomers, including multi-currency savings accounts, globally accessible bank accounts, and $0 wire transfers.
These accounts are available whether you are a permanent resident, foreign worker, or international student.
For the HSBC Premier chequing accounts, you get access to unlimited transactions, premium credit cards, a dedicated relationship manager, foreign currency savings accounts (USD, Euro, GBP, HKD and RMB), easy money transfers, and other perks. There is no fee for the first 12 months if you meet the eligibility requirements. After the first year, the monthly cost of $34.95 continues to be waived if you meet deposit requirements.
The HSBA Advance chequing also includes unlimited transactions and no monthly fees if you meet the eligibility conditions. Otherwise, this account has a $25 fee.
Here is a detailed overview of the HSBC Newcomers Program.
7. National Bank Newcomers Package
You can open a National Bank account – The Connected or The Total package – and pay no flat monthly fees for the first year.
The Connected account has a standard $15.95 fee/month, but this fee is waived if you maintain a $4,500 daily monthly balance.
This account includes unlimited transactions and $30 off the annual fee of an eligible credit card.
Depending on the products you sign up for, you could also get a fee reduction in years 2 and 3.
All seven big banks discussed above have thousands of ATMs their clients can use across Canada. They also have physical bank branches you can walk into to conduct transactions.
Lastly, National Bank often has promotions for new accounts, and you can score free cash when you join.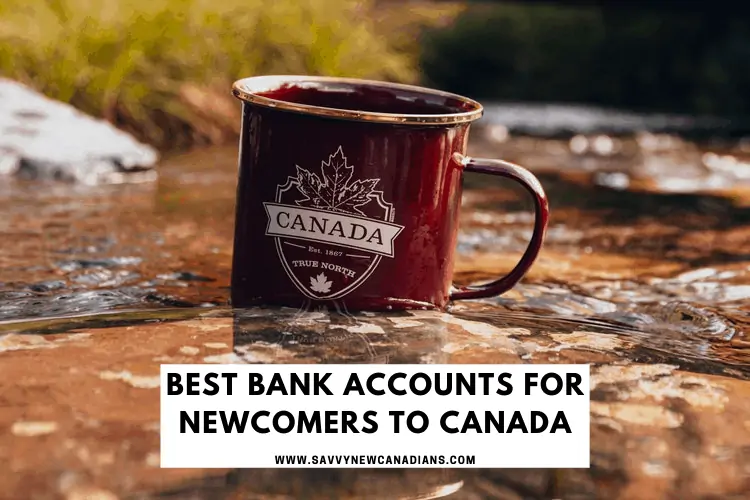 Best New Immigrant Bank Accounts (Online Banks)
Online banks offer newcomers access to regular no-fee chequing accounts that pay interest and are non-promotional.
You can use a full-fledged online bank as a primary bank (note the pros and cons of online banks) or a secondary bank to complement your other accounts.
An online bank can save you hundreds of dollars in annual banking fees because the no-monthly-fee status of your chequing account does not end after 12 months.
Online banks in Canada provide security similar to their traditional bank counterparts, and you enjoy deposit protection through the Canada Deposit Insurance Corporation (CDIC).
Also, many of them are owned by larger and more established banks.
8. Simplii Financial
Simplii Financial is the online banking arm of CIBC. It has almost 2 million clients, and its no-fee chequing account offers:
$400 cash bonus when you open a new account and meet the eligibility requirements
No monthly account fees…ever
Unlimited debit and Interac e-Transfer transactions
Access to 3,400 free CIBC ATMs across Canada
Access to a high-interest savings account
Interest on your chequing account balance
International money transfers
Mobile cheque deposits
Free cheques
Simplii also offers a no-fee cash back credit card, a high-interest savings account, mortgages, personal loans, and investment funds.
Read this Simplii review for more details about its financial products and services.
9. EQ Bank
EQ Bank is an online banking choice for new Canadians. It is owned by Equitable Bank, a federally regulated Schedule I bank with over $63 billion in assets under management.
EQ Bank offers one of the best savings rates in Canada.
While this bank does not replace your primary bank (i.e. it offers a limited selection of products), you can use EQ bank to hold your savings and send international money transfers.
The EQ Bank Savings Plus Account offers:
Zero monthly account fees
High interest rate is paid on every dollar
Hybrid account options (savings + chequing) with unlimited debits and Interac e-Transfers
Cheap international money transfers
Free mobile cheque deposits
EQ Bank also offers GIC products with varying term lengths, and you can open a registered account for tax-free savings (TFSA) or registered retirement savings (RRSP).
Read my full review of the bank here.
10. Tangerine Bank
Tangerine Bank is the direct online banking arm of Scotiabank (a Big Five bank). It is one of the most popular online banks in Canada.
Tangerine's No-Fee Daily Chequing Account offers the following:
No monthly account fees
Unlimited debit and Interac e-Transfer transactions
Interest on your chequing account balance
The first chequebook of 50 cheques is free
Free mobile cheque deposits
24/7 phone support
Access to 3,500+ free Scotiabank ATMs across Canada
Tangerine Bank offers a full suite of financial products, and newcomers can take advantage of its 2% Money-Back Credit Card which has no annual fee.
You can also access personal loans, mortgages, investment funds, GICs, a home equity line of credit, and a high-interest savings account.
Methodology:
We compiled this list of the best newcomer bank accounts by looking at newcomer offers by Canadian banks and scoring them based on monthly fees, transaction limits, minimum balance requirements, convenience, ease of application, welcome bonuses, and many other features. Based on our research, these are some of the top new immigrant bank packages. Visit the bank's website using the links to see their current offers and read their terms and conditions.
What To Look For in the Best Newcomer Bank Accounts in Canada
Canada has a robust and safe financial system. For day-to-day banking needs, newcomers can choose from various financial institutions, including traditional banks, online banks, and credit unions.
Some things you should consider when choosing your first bank account as a new immigrant are:
Banking Needs
What do you need in a bank account? How many transactions will you conduct every month? Are you comfortable with online-only banking? Do you want to open other accounts (e.g. mortgage, investments, savings, credit cards, etc.) in the same place? Will you be sending international money transfers? Do you need things like bank drafts?
For the best deals and to save on fees, you may need to open accounts at more than one financial institution. For example, some banks offer higher savings interest rates or have no monthly bank fees, and others have excellent credit cards.
Monthly Fees
Typically, traditional banks will offer you a promotional period (usually 12 months) when you don't pay a monthly account fee. Afterward, a regular fee may apply. Consider whether these fees are worth your while. Some banks will continue to waive their monthly fee if you keep a minimum balance.
Digital banks often offer regular no-fee chequing accounts with free transactions.
Transaction Fees
In addition to the monthly account maintenance fees, you should also be aware of transactional and service fees and limitations, e.g. ATM withdrawal fees, Interac e-Transfer fees, cheques, online bill payments, and others.
Convenience and Access
How accessible is your bank? While most banking transactions can easily be completed from the comfort of your home, you should choose a bank with branches close to where you live if you plan to conduct many in-branch transactions.
Online-only banks like Tangerine and Simplii Financial have little to no physical branches you can walk into. However, they have thousands of ATMs you can access for free across Canada.
Some banks even allow you to open an account before you land in Canada.
Interest Rates
You want to earn a competitive interest rate on the funds in your savings account. Compare interest rates across banks and read the fine print.
Some online banks will pay you interest on your chequing account balance.
Credit Cards
Can you qualify for a credit card without requiring Canadian credit history? A bank that offers credit cards through its newcomer program can make it easier for you to build a credit history.
How To Open a Bank Account as a Newcomer
To open a new bank account after you land in Canada, you will need to visit a branch and bring the following documents with you:
Permanent resident card or confirmation of permanent residence (IMM5292 or IMM5688)
Work permit, if applicable (for foreign workers – IMM1422)
Study permit for international students (IMM1208)
Social Insurance Number
1-2 pieces of valid government-issued photo ID, such as a passport or driver's license
Proof of enrollment in a post-secondary school (applicable for students)
Before visiting the bank, find their contact number online and book an appointment. You can also start the online application process until you get to the point where it asks you to book an appointment.
Some banks allow you to start the account opening process while you are still abroad. In that case, you will need to complete an application form and send it in. After becoming a landed immigrant, you will need to attend a bank branch to finalize the process.
The application process is completed online for online banks, and you may have to scan your documentation.
How Does Banking Work in Canada?
If your home country is like mine and you are not used to paying a monthly fee to keep a chequing (aka current or checking) account open, welcome to Canada!
Here, a traditional chequing account includes monthly maintenance fees. However, some banks waive this fee if you consistently maintain a minimum balance in your account throughout the month.
The two main Canadian bank accounts you will need are a chequing and a savings account.
Chequing account: This bank account holds money for everyday transactions. If your employer pays you by direct deposit, this is the account it is deposited.
You can also use this account for bill payments, e-Transfers, and pre-authorized debits. Your client or debit card is connected to your chequing account.
There are many chequing accounts, including general, seniors, student, youth, and business accounts.
You can request cheques with your bank account and use these for issuing payments. Here's what you need to know about void cheques and certified cheques.
Savings account: This account is where you keep the money you don't need immediately. It pays interest, and your balances increase over time.
There are many types of savings accounts, including high-interest savings accounts, tax-free savings accounts (TFSA), registered retirement savings accounts (RRSP), U.S. dollar savings, and more.
Other terms you should be familiar with in Canada's banking industry are:
Bank fees: These are the fees you pay for keeping an account open (monthly maintenance fees) or for specific transactions (service and account transaction fees).
Interac e-Transfer: This is a fast method for sending money from your bank account to anyone with a Canadian bank account. To complete an Interac e-Transfer, you need the recipient's email and/or mobile telephone number.
ATMs: Automated Teller Machines (ATMs) or Automated Banking Machines (ABMs) are electronic cash dispenser machines you can use to deposit or withdraw cash.
Depending on your account package, transactions at your bank's ATMs may be free; however, when you use another bank's ATM, there may be a convenience fee.
NSF fees: A non-sufficient fund (NSF) fee is charged when your cheque or pre-authorized debit payment bounces because you don't have sufficient funds in your bank account to cover a transaction. This fee can be as high as $48 per NSF transaction.
Conclusion
A bank account in Canada is going to be crucial for you to manage your finances.
Carefully compare plans and offerings across different banks before choosing the package that best suits your needs.
You do not have to keep all your accounts with the same bank. In some cases, it makes sense to open your primary chequing account with one bank while you open a savings or mortgage account with another bank offering better rates.
You can also use dedicated money transfer platforms like Wise or Simplii GMT for sending money abroad.
Related: