Tangerine Bank is one of the oldest and most popular online banks in Canada, while motusbank is a newer digital bank that is quickly gaining traction in the virtual banking space.
Online banks offer Canadians an opportunity to save on banking fees. Since the big banks continue to make tonnes of money charging ridiculous monthly fees on chequing accounts, fee-conscious customers like myself are partly or fully embracing online-only banking to save money.
It's not only about monthly account fees. Online banks often also offer some of the best savings account rates available.
They save on overhead costs through their lack of physical locations or branches and pass some of these savings on to customers in the form of higher savings rates, lower mortgage rates, competitive personal loan rates, and credit card offers.
This post takes an in-depth look at how motusbank compares against Tangerine. You can also read our other comparisons of digital banks like EQ Bank vs. Tangerine and Tangerine vs. Simplii Financial.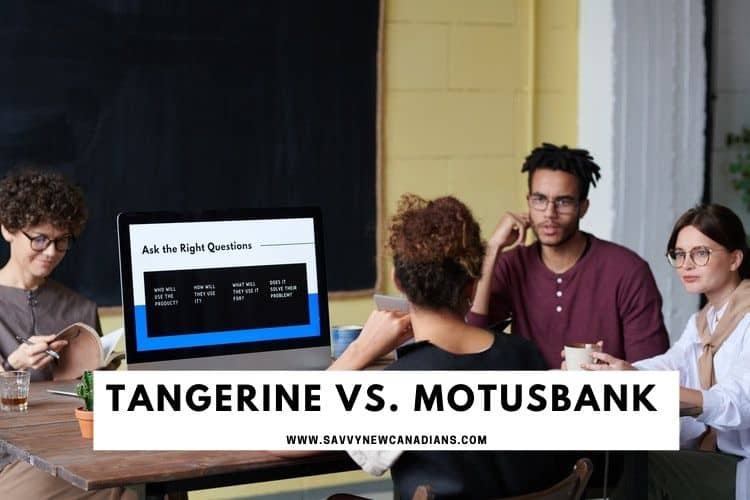 Tangerine Bank – Summary
Tangerine was founded in 1997 as ING Direct Canada and rebranded in 2013. It is a fully-owned subsidiary of Scotiabank. As one of Canada's oldest digital banks, Tangerine is often considered one of the best online banks in Canada.
The bank utilizes Scotiabank's network of ATMs which gives customers access to over 3,500 free ATMs in Canada and several thousand more worldwide.
They have a Tangerine mobile app (available on iOS and Android devices) and you can reach their customer support by phone 24/7.
Tangerine offers a variety of financial products similar to traditional banks including:
Savings accounts: For general savings, TFSA, RRSP, US$, and RRIF.
Chequing account: Some of the features that differentiate Tangerine's chequing account from the Big Banks and make it stand out are:
No-fee chequing account with unlimited debits, bill payments, Interac e-Transfers, pre-authorized payments, and email money transfers.
Earn interest on your balance up to 0.10%.
The first cheque book (50 cheques) is free.
No minimum account balance.
Credit Card: Tangerine Money-Back Credit card and Tangerine World Mastercard offer up to 2% cash back. Both cards do not have an annual fee.
Guaranteed Investment Certificates for non-registered and registered investment accounts.
Investment Funds: Low-fee index funds for non-registered and registered accounts.
Loans: Include mortgages, RRSP loans, HELOCs, and other personal loans.
Business Accounts: Savings and GICs.
Read our complete Tangerine review.
motusbank – Summary
motusbank was founded in 2019 and is the direct banking arm of Meridian Credit Union, the largest credit union in Ontario.
motusbank does not operate any physical locations and all banking transactions are conducted online.
Customers of the bank have access to a motusbank mobile app (available on iOS and Android devices) and a debit card that can be used to access over 3,700 free ATMs across Canada via The EXCHANGE Network.
You can reach their customer support by phone from 8am to 12am EST.
motusbank offers the following financial accounts:
Savings: High-interest savings accounts for general savings, RRSPs, and TFSAs.
Chequing Account that comes with no monthly fees, unlimited free Interac e-Transfers, and interest earned on your balance. Your first cheque book of 25 cheques is also free.
Guaranteed Investment Certificates for registered accounts (TFSA/RRSP) and non-registered accounts.
Loans including mortgages, lines of credit, and personal loans.
Read our complete motusbank review.
Tangerine vs. Motusbank Comparison
Tangerine and motusbank offer similar banking services to clients with a few differences. If you are trying to choose between these two banks, here are some of the things to consider:
1. Chequing Account: A Tangerine chequing account pays you up to 0.10% interest while you can earn up to 0.15% on your motusbank balance. Interac e-Transfers are free with both Tangerine and motusbank.
Both banks support mobile cheque deposits and do not have a monthly fee.
2) Savings Account: Tangerine's savings account offers a 0.10% interest rate. New clients may qualify for a higher promotional rate for up to 5 months. As for motusbank, you earn a standard 1.55% rate on your savings.
For a standard high interest rate for your general savings, TFSA, and RSP savings accounts, try the EQ Bank Savings Plus Account for a 1.50% rate.
3) Convenience: One main challenge with digital banks is their lack of a physical presence. Both Tangerine and motusbank are 100% online.
Phone support is available 24/7 if you need to reach Tangerine (at 1-888-826-4347). motusbank's phone support is available from 8am to 12am EST seven days a week (1-833-696-6887).
Tangerine clients have free access to Scotiabank's network of ATMs, while motusbank clients can use thousands of free ATMs on The EXCHANGE Network.
4. Safety: Both Tangerine and motusbank are insured by Canada Deposit Insurance Corporation (CDIC) and your deposits are protected by up to $100,000 per category.
5. Promotions: Tangerine has a referral program that pays you up to $50 for each friend who signs up for their products using your Orange Key Code. You can refer up to three friends per year. motusbank does not have a referral program.
6. Mobile App: Tangerine and motusbank both have a mobile app that is available on iOS and Android devices. You can use their mobile apps to deposit cheques.
7. Coverage: Tangerine is available in all provinces whereas some of motusbank's products are not available to residents of Quebec.
Related Posts:
Tangerine vs Motusbank Conclusion
This comparison review shows that both online banks can save you money overall compared to traditional banks.
Canadians who do a lot of Interac e-Transfers would enjoy banking with either motusbank or Tangerine (both free).
I like that Tangerine clients can use Scotiabank's ATMs in Canada and elsewhere for free. Also, Tangerine offers a bit more varied financial products/services so you can easily use them as your only bank.
motusbank's investment options are currently limited and they do not yet have a credit card. Tangerine recently introduced a World Mastercard that offers 2% cash back and has no annual fees.
motusbank's standard savings rate is non-promotional and is higher long-term compared to Tangerine's.
Lastly, motusbank does not offer all its services in Quebec while Tangerine is available in all provinces.
If you are looking for a more competitive interest rate for your savings and an account that offers free unlimited transactions and Interac e-Transfers, check out EQ Bank's savings interest rate (currently 1.50%).
| Features | Tangerine | motusbank | EQ Bank |
| --- | --- | --- | --- |
| Monthly Account Fee | $0 | $0 | $0 |
| Mobile App | Yes | Yes | Yes |
| Free ATMs | Yes | Yes | N/A |
| High-Interest Savings | Yes | Yes | Yes |
| Free Debits | Unlimited | Unlimited | Unlimited |
| Cheques | Free (first 50) | Free (first 25) | N/A |
| Chequing Interest | Up to 0.10% | Up to 0.15% | N/A (1.50% on savings) |
| Interac e-Transfer | Free | Free | Free |
| Credit Card | Yes | No | No |
| CDIC Insurance | Yes | Yes | Yes |
| Referral Program | Yes | No | Yes |
| Investment Accounts | RRSP, TFSA, RRIF, Mutual funds | RRSP, TFSA, GICs | RSP, TFSA, GICs |
| Learn More | – | – | Read review |