Senior discounts in Canada can help you save money on everyday expenses whether you are 55, 60, or 65 years and older.
Older Canadians have competing priorities when it comes to their finances, and pension benefits like the Old Age Security and CPP may not be nearly enough.
Thankfully, there are ways to save on your restaurant, pharmacy, travel, entertainment, grocery, and retail store purchases.
The list of the best senior discounts in Canada is worth bookmarking so you can revisit them when needed.
What Are Senior Discounts?
Senior discounts are exclusive discounts and perks offered to individuals over a specific age.
The age that qualifies as 'senior' varies with different companies. Some consider you a senior citizen starting at age 55 or 60, while others offer these discounts starting at the traditional retirement age of 65.
If you are not sure whether you qualify, just ask.
A good number of discounts for Canadian seniors are tied to a CARP (Canadian Association of Retired Persons) membership. You can become a member starting at age 50 for a $19.95 annual fee.
Restaurant Discounts for Seniors in Canada
From fast food to coffee and more, these restaurants offer senior discounts worth checking out.
IHOP: IHOP offers a 55+ menu for seniors with reduced prices on several breakfast, lunch, and dinner options.
Denny's: Get 15% off your meal every Thursday between 2pm and 10pm. Available to 55+ seniors only. Denny's also has a 55+ menu with reduced prices.
Humpty's Restaurant: Seniors 60+ can join the Emerald Diner Club and get a 10% discount on all food and beverage purchases at Humpty's 45 restaurants across Western Canada.
Salisbury House: Has a "Silver" menu for seniors aged 55 and up. Based in Winnipeg and Steinbach (Manitoba).
Tim Hortons: Some Tim Hortons locations offer a 10% discount. Confirm before placing an order.
McDonald's: Seniors 55+ can get 20% off their coffee orders at select locations. Policies vary by location, as many McDonald's restaurants are owned by franchisees who may offer their own promotions.
Mandarin Restaurant: Seniors 65+ receive 20% off buffet orders at this Ontario restaurant. You will need a valid photo ID. They also offer birthday freebies.
Subway: Seniors aged 60+ can get a 10% discount at some Subway locations.
The Pantry: The restaurant has Senior's Day every Monday where guests 60 years and older can enjoy 50% off "any savoury entree" from their Breakfast, Lunch, and Dinner Prime Timer menu. Need to check in-store to confirm if the offer is available in a particular store as it is not offered in all locations.
Golden Griddle: Seniors 55 and over get a 10% discount off any menu selection every day. This discount does not apply to alcoholic beverage orders.
Smitty's: Smitty's Senior's Club has been replaced by MySmitty's Rewards. You earn double the points on the first Tuesday of every month if you are over 65.
Grocery Store Discounts for Seniors in Canada
Seniors can cut their grocery bills when shopping at these stores. Combine these store discounts with a cashback or coupon app, and your monthly savings can become significant.
M&M Food Market: Seniors 60 years or older get a 10% discount on all regular-priced items. Gift cards are excluded.
Bulk Barn: Seniors 65+ save 10% every Wednesday. ID is required.
Sobey's: Get 10% off your groceries on the first Tuesday of the month, which is tagged "Customer Appreciation Day." This offer also applies at some Safeway locations every 3rd Wednesday.
Amaranth Foods: Seniors (65+) get 10% off on Tuesdays at Amaranth locations in Calgary and St. Albert. It is also known as "Senior's Tuesdays."
Nature's Fare Markets: Nature's Fare has a Senior's Day on Wednesdays and Thursdays when those aged 60 and up get 5% off.
Liquor Depot: Seniors over 65 get 5% off their purchases on Tuesdays. Available in Alberta and B.C.
Community Natural Foods (Calgary): This Calgary grocer offers a 5% discount to customers who are 65 years and older. A valid ID is required.
Pharmacy Discounts for Canadian Seniors
Save on pharmacy prescriptions at the following drugstores that offer discounts to seniors in Canada.
Shoppers Drug Mart: Shoppers Drug Mart offers a 20% discount to seniors 55+ every Thursday when you use your PC Optimum Card. You can save up to $50. Note that some items are excluded, including lottery tickets, gift cards, tobacco, and alcohol.
Lawtons Drugs: Lawton Drugs has a 55+ Appreciation Day on most Wednesdays when seniors who are 55 years of age and older save 20% on many products.
Rexall Pharmacy: Rexall's Advantage 55+ program offers a 20% discount on the last Tuesday of the month to customers aged 55 and older.
Pharmasave: Seniors who are 55+ get a 15% discount on the first Wednesday of every month to celebrate Senior's Day.
Retail Store Discounts for Seniors
Seniors over age 55 can save money through discounts and promotions at several retail stores. Where applicable, you can increase your returns by also using an appropriate store credit card or loyalty program.
Hudson's Bay: Hudson's Bay offers a Timeless Style Tuesday discount on the first Tuesday of the month to seniors aged 55 or older. You can also get special discounts by registering for the HBC Rewards Program.
Value Village: Get a 30% discount on your order every Tuesday at participating Value Village stores.
Goodwill: Goodwill community stores at several locations in Ontario and Alberta offer a Senior Day when seniors aged 55+ get a 25% discount on the second Monday of each month.
Salvation Army Thrift Store: Seniors who are 60 years and older get 10% off at participating Salvation Army stores.
Michael's: Michael's has a 10% senior discount for individuals who are 55 years or older.
Global Pet Foods: Global Pet Foods offers a 15% discount on in-store purchases on the last Tuesday of every month. This discount is available to seniors who are 60+.
There are multiple participating stores in Ontario, New Brunswick, Nova Scotia, Alberta, Newfoundland, Prince Edward Island, Manitoba, and British Columbia.
Canadiana Flowers: Seniors who are members of CARP get 15% off flowers and gift baskets from Canadiana Flowers.
Pet Valu: Save 10% on Senior's Day (last Thursday of every month) if you are at least 60 years old.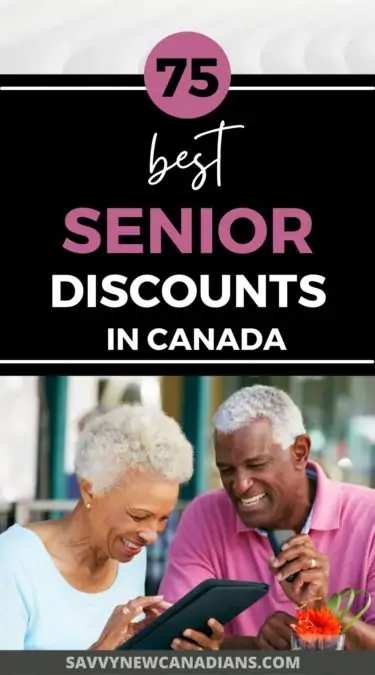 Banking Discounts for Canadian Seniors
Confirm with your bank what they offer as seniors discounts so you can save on chequing account fees.
Here are some of the best bank accounts for seniors.
CIBC: The CIBC Smart for Senior Program is available to seniors starting at age 65. You get discounts off your chequing account, free bank drafts and money orders, and a $5 discount on the annual rental fee for a safety deposit box.
BMO: Seniors aged 60 and older can get a free BMO Practical Plan Chequing account or a $4 discount on all other BMO chequing plans.
RBC: RBC's Day to Day Banking is offered to seniors aged 65 or older without a monthly fee. You get 12 free debit transactions each month.
Scotiabank: Seniors 60 and older can apply for a free Basic Bank Account chequing plan with 12 free monthly transactions. They also get a $4 discount off other Scotiabank Chequing accounts.
TD: TD's Minimum Chequing Account is free for seniors aged 60 and older who are recipients of the Guaranteed Income Supplement (GIS). It normally costs $3.95/month.
Canadian Western Bank: Get the Gold Leaf PLUS Account for a $0 monthly fee when you turn 57. It includes unlimited transactions, a $15 discount on safety deposit box rentals, and complimentary cheques.
Meridian Credit Union: Meridian's Senior Chequing account is available to those aged 60+ in Ontario. It offers unlimited free transactions, 1 free cheque order per year, 4 free bank drafts per month, and free certified cheques.
Steinbach Credit Union: Seniors who are 60+ in Manitoba can get a free chequing with Steinbach Credit Union. The 'Golden Chequing' offers unlimited transactions, one free order of personalized cheques every year, and a discount on safety deposit box rentals.
Servus Credit Union: Its Senior Unlimited chequing account is available to seniors from age 60. This account has no monthly fees and includes unlimited transactions, 100 free cheques per year, 5 free overdrafts, and a $10 discount on safety deposit boxes. Check their website for applicable service fees.
ATB Financial: ATB Financial in Alberta offers a Freedom Account for seniors starting at age 59. This account has no monthly fees and includes unlimited transactions, free personalized cheques, and more.
Travel and Transportation Discounts for Seniors
Seniors can benefit from these discounts when travelling by road (bus), rail (train), or air.
BC Ferries: Seniors aged 65 and older in BC can travel for free on Monday to Thursday on select routes. You must show a valid ID, and the discounts don't apply during statutory holidays.
Via Rail: Via Rail gives Seniors who are 60+ a 10% senior discount. If you are a CAA member, you receive an extra 10% off.
BC BusPass Program: Eligible seniors who are 60+ get a reduced-cost bus pass.
OC Transpo: Seniors 65+ get a senior discount on the presto card, plus free travel on Wednesdays and Sundays on most routes.
Halifax Transit: Seniors aged 65 and older get discounted passes on Halifax Transit, plus free travel on Tuesdays (10am-3:30pm, and after 6pm).
GO Transit: If you are 65 years and older, you can save 55% on GO Transit using your PRESTO card.
Winnipeg Transit: Senior citizens who are 65 and older qualify for reduced fares on Winnipeg Transit with 50% savings on peggo e-passes.
Calgary Transit: If you are 65 or older, you can save on t-fare in Calgary using a discounted Senior Yearly Pass with unlimited access to Calgary Transit services. Low-income seniors save more than 80% on the regular rate with a "Low Income Seniors Yearly Pass".
Metrobus: Free Bus Pass for unlimited use is available to seniors 65+ who are residing in St. John, Mount Pearl or Paradise, provided that they are receiving the Guaranteed Income Supplement (GIS) program of the government. A GIS letter and a photo ID or two (2) pieces of government-issued IDs are required to confirm your eligibility.
CheapOAir: Seniors get discounts when travelling via CheapOair.ca domestically and internationally. Call to confirm what is available.
Amtrak: Seniors aged 60 and older can get a 10% discount on cross-border travel operated jointly by Amtrak and VIA Rail Canada.
Cruise Lines: Seniors from age 55 get special discounts on select cruises with Royal Caribbean and Carnival.
Entertainment Discounts for Seniors in Canada
Numerous discounts are available to Canadian seniors at the many parks, museums, art galleries, cultural, entertainment, and recreational venues across the country.
Canadian Museum for Human Rights: Seniors who are 65+ get a discounted ticket to visit. ID is required. Located in Winnipeg.
Canadian Museum of Nature: Seniors aged 65 and older get discounted tickets ($15) to the Canadian Museum of Nature. The regular fee is $17 for adults.
Canadian Museum of History: Seniors get a $2 discount off the regular adult ticket which costs $20.
Royal Ontario Museum: Senior citizens save $5 off the entry fee and pay $18 compared to the regular $23 for adult admissions.
Canadian War Museum: Seniors aged 65 and over can enjoy a 20% discount on the Individual Membership rate.
Vancouver Art Gallery: The Vancouver Art Gallery provides free admission with a donation to all seniors who are 65 years and older on the first Monday of every month (10am-1pm). Seniors can also save on membership fees.
Toronto Zoo: Seniors 65 and over get deep discounts on membership fees at the Toronto Zoo. You can apply as an individual or a couple.
Hockey Hall of Fame: A discounted admission rate is available to seniors aged 65 and older.
Parks Canada: Seniors 65 and older save on the annual Discovery Pass as well as on single location passes.
The Canadian Canoe Museum: Seniors save on membership fees at this museum.
Winnipeg Art Gallery: The admission fee is discounted from $18 to $15 for seniors who are 65 and older.
Royal Canadian Mint: Every Canadian coin in circulation was produced at this location. Seniors get a slight discount from $8 to $7.
Jurassic Forest: Seniors 60 and older get a $3 discount on daily admission passes.
Cineplex: Seniors aged 65 and older get a discount on general admission tickets at participating Cineplex Odeon, Galaxy, Scotiabank Theatre, and SilverCity Cinemas.
Landmark Cinemas: Seniors 65+ get 20% off admission prices and concession purchases every Monday.
Hotel Discounts for Canadian Seniors
When booking hotel stays, always remember to check for applicable seniors discounts.
Choice Hotels: Choice Hotels offers travellers over 60 up to a 10% discount. If you are a CARP member, you get up to 20% off room rates.
Wyndham Hotels: Guests 60 years and older get a special senior rate (up to 10% off) at participating Wyndham hotels, including Days Inn, Ramada, and Travelodge.
Hilton: CARP members can save up to 15% at Hilton-branded hotels, including Embassy Suites, Hampton, Hilton Garden Inn, and DoubleTree.
Sandman Hotel Group: Seniors 55+ can save up to 40% off Sandman or Sandman Signature Hotel's standard rate. Eligible guests will also receive a $10 on-site restaurant gift card.
Best Western: Guests who are 55+ save up to 15% on room rates at Best Western Hotels and Resorts.
InterContinental Hotel Group: All IHG offer discounts to seniors from age 62. You can confirm the rate by calling 1-877-424-2449.
Fairmont: Seniors get up to a 25% discount at Fairmont Hotels. CARP members can also get one (1) complimentary night and a $25 meal or spa credit at participating locations.
Car Rental Discounts for Seniors
Renting a car? You could save up to 30% as a senior.
Avis: Save up to 25% on your rental car as a CARP member.
Budget: Seniors with a CARP membership get up to 25% off Budget car rentals in North America.
Thrifty: Renters who are 50 years or older get a 5% discount via Thrifty's Silver Club program.
Hertz: Hertz has a Fifty Plus program that offers travellers from age 50 and over savings of up to 20% off base car rental rates.
Senior Discounts in Canada
We have covered more than 75 senior discounts available in Canada. From retail stores to grocery and entertainment purchases, there is a discount for you starting on your 50th birthday.
When you visit any store or establishment, feel free to ask if they offer senior discounts, and always come prepared with your ID.
Here are some other freebies and resources worth checking out:
If there are any senior discounts missing from this list, please leave them in the comments below.