The PC Plus and Shoppers Optimum rewards programs were combined on February 1, 2018, to create a new loyalty program called PC Optimum.
If you shop at the Superstore, Shoppers Drug Mart, and other Loblaw retail stores, you will have migrated your points to a new PC Optimum card and account by now. You can read about the merger and program changes that occurred here.
Although the new PC Optimum got off to a bumpy start, I personally think it's a great loyalty program. We do most of our shopping at Superstore and have averaged over $500 worth of loyalty points per year over the last several years.
That is $500+ worth of FREE groceries every year!
Below I cover 7 strategies for maximizing the PC Optimum rewards program in 2023.
How Do PC Optimum Points Work?
Under the old loyalty programs:
PC Plus: you earned 10 points for every $1 spent at the grocery chain, with a minimum redemption point threshold of 20,000 points ($20).
Shoppers Optimum: you earned 10 points for every $1 spent at the pharmacy chain and could redeem 8,000 points for $10 worth of goods.
Under the new loyalty program, PC Optimum, you can:
Earn 15 points per $1 spent at Shoppers Drug Mart
Earn 10 points per litre at more than 2,000 Esso and Mobil stations across Canada
Redeem 10,000 points for $10 worth of goods at any Loblaw store
The minimum redemption threshold for points is lowered to 10,000 points ($10), making it easier to redeem points
Redemptions are in increments of 10,000 points, i.e. $10, $20, $30, and so on. You can redeem up to 500,000 points or $500 in a single transaction.
You can earn points at participating Loblaw stores using your PC Optimum card or app.
Related: How To Earn SCENE Points, Save Money, and Watch Free movies
How to Maximize Your PC Optimum Points
PC Optimum is one of the most popular loyalty programs in Canada, and for a good reason – you can easily redeem your points by buying everyday grocery/household items.
Here are seven easy ways to maximize your PC Optimum points and earn more "free" groceries:
1. Take Advantage of Weekly Offers
When you sign up for PC Optimum, they send you weekly emails with personalized offers that usually reflect your buying habits.
For example, for this week, one of my personalized offers is 600 points for every $3 spent on frozen fruits – we often buy them to make smoothies.
The weekly offers do not affect other discounts or "in-store offers" available when you go into the store to shop. For example, I could buy frozen fruits on sale at a discount of 30% and still earn points as per the offer.
New weekly personalized offers go live on Thursday and are valid until Wednesday of the following week.
Related: Sites That Pay You Cash To Give Your Opinion
2. Check Weekly Flyers for Bonus Points Events
I like the bonus points events that come up frequently, such as the "Get 20,000 points when you spend $250 or more in a single transaction."
Sometimes, these bonus offers are even juicier, like the one my wife got this week for "7,500 points when you spend $25 on fresh produce." That's a good 30% in rewards!
Some weekly bonus offers are for free items, such as this one for a $24.95 value pack when you spend $250 or more.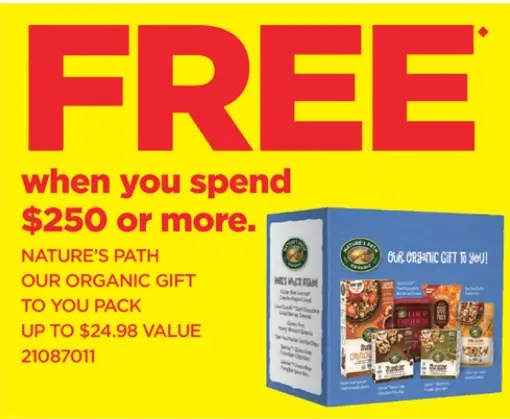 The bonus offers are sometimes sent through email, they may show up in your personalized offers, or you may find them on the weekly store flyers.
Once in a while, we stock up on our usual necessities, such as toiletries, diapers, etc. to take advantage of these bonus offers.
Other bonus points events include the popular Shoppers Drug Mart "spend $50 or more on almost anything and earn 20x the points" days, Senior days, etc.
Related: Ways To Save Money on Your Grocery Shopping
3. Fine-Tune Your PC Optimum App Offers
The offer emails you get weekly are supposed to be personalized based on what you normally buy, but sometimes that is not the case. If you are getting offers on a product you are no longer interested in buying or do not buy often, you can simply click on the offer and choose "Don't show again."
When you do this, the offer is dismissed, and the PC Optimum algorithm learns and shows you other product offers that are more likely what you want.
Another trick is to save an item for later. Click on the product offer and choose "Save for next week." This will save an offer for later, giving you an extra week to redeem it. Not all offers give you the option to save for later.
The PC Optimum app makes managing your offers pretty easy in-app.
Related: 100 Creative Ways Frugal People Save Money
4. Join PC Insiders
I recently subscribed to PC Insiders and depending on what you typically buy, it is one way to up your PC Optimum points game.
Here's what a PC Insiders subscription offers:
10% back in PC Optimum points on all PC products.
No pickup fee when you use the PC Express pickup service at several Loblaw stores, including Superstore, Valu-Mart, Atlantic Superstore, Zehrs, Provigo, Shoppers Drug Mart, and more. This is a saving of $3 to $5 per pickup.
Free shipping when you purchase Joe Fresh and Shoppers Drug Mart online.
10% back in PC Optimum points on purchases at JoeFresh.com.
5% back in PC Optimum points on all travel purchased via PC Travel.
A welcome box in your first year.
PC Insiders subscription costs $119 per year.
5. Use a PC Financial MasterCard
You will earn points faster and get points at Superstore when you use a PC Financial Mastercard for your purchases. For example, with the:
PC Financial Mastercard: you earn 15 PC Optimum points per $1 spent at Shoppers Drug Mart and 10 points per $1 spent at Superstore. This card has no income requirements.
PC Financial World Mastercard: you earn 30 PC Optimum points per $1 spent at Shoppers Drug Mart and 20 points per $1 spent at Superstore, i.e. 2x the normal points. This card has a $60,000 minimum annual personal income requirement.
PC Financial World Elite Mastercard: you earn 45 PC Optimum points per $1 spent at Shoppers Drug Mart and 30 points per $1 spent at Superstore, i.e. 3x the normal earning rate. To be eligible, you must meet the $80,000 minimum personal income requirement.
You also earn points when you use your PC Financial Mastercard to shop elsewhere at 10 points per $1 spent.
Therefore, if you prefer to accumulate points that can be used to purchase groceries, you can simply use your PC Financial MC for your other day-to-day spending.
Learn more about the three cards in this PC Financial Mastercards review.
6. Buy Gas at Superstore and Esso
Earn even more points by fueling up at Esso and participating Mobile gas stations all year round.
You earn 10 PC Optimum points per litre as a PC Optimum member and at least 30 points per litre when you pay using a PC Financial Mastercard.
7. Use Multiple Accounts for a Family
Family members can sign up for different cards, so they get different personalized offers and then redeem the offers with the most value. My wife and I have different accounts, and the bonus offers we receive can be very different.
For example, I mentioned earlier that my wife got a "flash" offer this week for 7,500 points if she spends $25 or more on fresh produce. I did not receive a similar offer.
Another example is – I get an offer for 10,000 points for every $100 spent, and the same week she gets an offer for 7,500 points for a $75 spend. If our shopping list for that week is $80, it is obvious that her offer is a better one to use.
Related: 20 Free Cash Back Apps That Pay You To Shop!
KOHO Prepaid Mastercard
Rewards: Earn 1% cash back on groceries and transportation; Up to 5% cashback at select partners; Earn interest on your balance*.
Welcome offer: Get a $20 bonus when you load and make your first purchase (use promo code CASHBACK during sign-up).
Interest rate fee: 0%
Annual fee: $0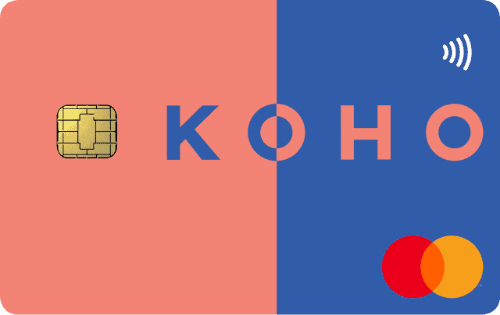 Closing Thoughts
The PC Optimum loyalty program is great, especially if you do lots of grocery shopping for a medium to large family. I like it when I go into Superstore and pay for my entire shopping with points we have accumulated.
We rarely shop at Shoppers Drug Mart, but if that is where you go, the rewards are similar.
Note that your best option for getting PC Optimum points on most purchases is to pair your loyalty card with a PC Financial Mastercard.
Are there any other hacks you use to maximize your PC Optimum points?