If you regularly go to watch the movies at Cineplex, Canada's most popular destination for movie-goers, you may as well enjoy your pastime at the lowest cost possible.
Cineplex Entertainment is the largest cinema chain in Canada and operates about 162 theatres across Canada under brands including Cineplex Cinemas, Cineplex Odeon, Silver City, Scotiabank Theatres, Cineplex VIP Cinemas, etc.
Other popular Canadian movie theatre chains include Landmark Cinemas, Imagine Cinemas, and Cinémas Guzzo.
The SCENE Card Loyalty program
The SCENE Card loyalty program is a rewards program offered through a partnership between Cineplex and Scotiabank.
When you sign up for the SCENE card, you start earning points every time you purchase a movie ticket, food, and drinks at any Cineplex theatre. You also earn points when you dine at restaurants that are referred to as "dining partners" with the SCENE program.
Becoming a SCENE Member
To join the SCENE loyalty program, go to www.scene.ca/enrollment and register. You will be requested to input your details including name, address, email, date of birth, phone numbers, etc.
You will receive a digital Scene+ card you can use via the Scene+ app.
How To Earn and Use SCENE Points
Scene+ members earn 5 points for every $1 spent on movie and entertainment purchases at Cineplex theatres across Canada and the Cineplex store.
When booking travel with Scene+ Travel, you earn 3 points for every $1 you spend on hotel and car rentals.
You can also earn 1 point for every $3 spent on dine-in or take-out at Harvey's, Swiss Chalet, East Side Mario's, Montana's BBQ & Bar, Bier Markt, and Kelsey's Original Roadhouse.
There are many other ways to earn Scene+ points if you have a Scotiabank credit or debit card as well as when you spend at Best Buy through Scene+ Rakuten or make a purchase at The Rec Room and Playdium.
When you accumulate up to 1,250 points, you can redeem them for free general admission or 3D movie ticket. If you would rather redeem for premium (adult enhanced) or VIP movie tickets, you will need 2,000 or 2,500 points respectively.
You can also redeem 500 points for $5 towards food and drinks at the movies or 100 points for $1 off movie rentals or purchases on the Cineplex Store.
Cineplex theatres are not the only places you can earn and redeem Scene+ points. Their restaurant partners include Swiss Chalet, Harveys, Montana's BBQ and Bar, Bier Market, East Side Mario's, Kelsey's Original Roadhouse, etc.
At these restaurant chains, you earn 1 point for every $3 spent and can redeem 500 points to get $5 off your in-restaurant orders. These restaurants sometimes also offer other bonus points that are time-limited.
If you prefer to exchange points for merchandise, you can do so on Scene+ Apple online store and Scene+ Best Buy online store.
Lastly, Scotiabank customers can redeem Scene+ points as a statement credit to pay off their credit card balance.
Related: Rakuten Canada Review
Strategies to Maximize Your SCENE Points
Here are nine strategies to earn more SCENE points and save some money:
1. Use your SCENE card within 3 months of Activation
Following signing up for the SCENE program, you can earn 250 bonus points if you use your card to earn or redeem points within 3 months of receiving it. This is FREE 250 points that you should definitely not miss out on.
2. Use the Scotiabank SCENE VISA Credit Card
This is the fastest way to earn FREE SCENE points. With the Scotiabank SCENE visa card, you earn:
1 SCENE point for every $1 you spend on everyday purchases.
5 SCENE points for every $1 you spend at Cineplex.
Plus 2,500 bonus points when you sign up.
Plus the regular points you earn when you purchase movie tickets, food and drinks at Cineplex with your SCENE card.
The Scotiabank Scene Visa Card has NO ANNUAL FEES, making it a great way to accumulate SCENE rewards points and free movies.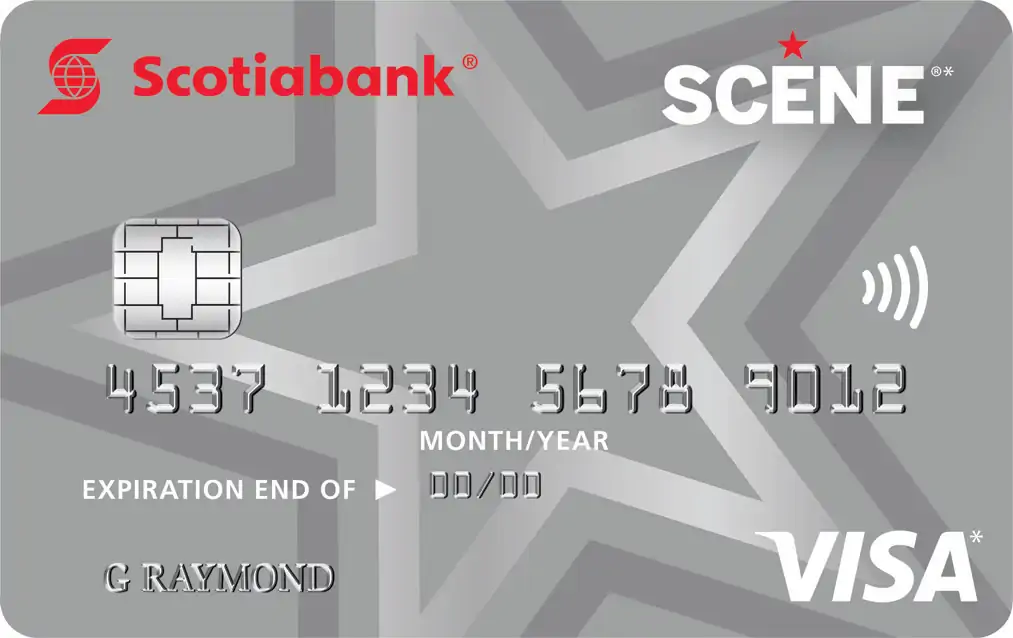 3. Get Multiple SCENE cards for one household
If you attend the movies with a spouse or partner, you should both get your own SCENE cards in order to maximize points.
While you will also earn 65 points for tickets purchased for a child under 14 years (general admission or 3D movies), kids over 14 years of age should get their own SCENE card so that everyone who is eligible can earn points and save some money.
4. Maximize Tuesday Discounts
Movie tickets are cheaper on Tuesdays. As a SCENE member, you get an additional 10% off already discounted movie tickets on Tuesdays. And, you still earn your usual 125 points.
Therefore, you can pay less to watch movies on Tuesdays, earn and accumulate points, and then redeem your points when you go to the movies on days when the tickets are more costly.
5. Sign-Up for SCENEtourage
You can sign up as part of a group of friends or family who goes to see the movies together. The group must have between 3 and 10 members.
When at least 2 members of the "SCENEtourage" go to the theatre together or buy their tickets online on the same day, those members each get an additional 50 SCENE points.
Even if you only go to the movies with your spouse and children, you can take advantage of this benefit if one of your kids is over 14 years and can register for their own SCENE card.
6. Use the Scotiabank SCENE Debit Card
You can also earn FREE SCENE points using Scotiabank's SCENE debit card. With this debit card, you earn 1 point for every $5 spent using your card for everyday purchases plus up to a BONUS 5,000 points when you open a new account.
7. Use Your SCENE card at participating Restaurants
As mentioned earlier, SCENE has partnered with some restaurants and if you already dine at any of these places, ensure you load any offers that are available and show your SCENE card at the time of payment to get your bonus points.
8. Fanxchange Purchases
If you normally purchase tickets to live sports (Football, Hockey, Basketball), concerts, or theatre events that are listed on the Fanxchange website (the US and Canada), you can earn free SCENE points.
You get 1,250 points for each $125 spent plus an additional 1 point for every $1 spent (before taxes and other fees).
9. Download the Carrot Rewards App
If you live in British Columbia, Newfoundland and Labrador, and Ontario, you can earn up to 125 SCENE points by downloading the Carrot Rewards App. The app sends you surveys, quizzes, and offers relating to living a healthy lifestyle.
The Carrot app is available on iOS and Android. Choose SCENE as your preferred loyalty point currency.
Recent Updates To The SCENE Program
Starting on April 17, 2019, you earn and redeem more SCENE points at the movies and for concessions.
However, the overall value of points earned and redeemed for movies generally stayed the same under the new regime i.e. you still earn one free movie ticket after watching ten movies.
As you can see, with the new changes, 3D movie tickets are now redeemed for the same value as general admission tickets and are more value for your points.
The points earned per dollar spent on food and drinks were halved from 10 point/$1 to 5 points per $1. That said, on concession combos, the points you earn are doubled.
The number of points you need to redeem for food/drink is staying the same at 500 points for $5 off.
Other changes to note to the SCENE program:
There is no longer a 20-point bonus when you purchase your movie tickets online. Regular points will apply.
The redemption rate at participating restaurants remained the same at 1,000 points for $10 off.
Any points you carried over past April 17, 2019, lose some value if you plan to redeem them for movies.
Related Posts:
What are your thoughts on the SCENE program and the changes that have occurred in the last year? Leave them in the comments!