If you are a frequent shopper at the Real Canadian Superstore or at Shoppers Drug Mart, you will have heard about the new loyalty program (PC optimum) that replaced the other loyalty programs used in these stores until now.
Starting on February 1, 2018, Shoppers Optimum and PC Plus points merged and became known as PC Optimum. This move, as announced by the parent company Loblaw, was intended to make it easier for the company and its customers to use and track their reward points more efficiently.
For a bit of background, Loblaw Companies Ltd. bought Shoppers Drug Mart in 2014.
What Changed with PC Optimum?
In the grand scheme of things, there were not a lot of changes to the rewards you earn when you shop at the Loblaw chain of stores. The name of the loyalty program changed and how your reward points are calculated.
Overall, you can expect to get the same benefit from shopping at Shoppers Drug Mart and Loblaw's other grocery stores.
Here are a few things to note:
1. Name
The new and singular loyalty program offered by Loblaw is referred to as PC Optimum. PC Plus and Shoppers Optimum are no longer in use as of Feb 1, 2018.
2. Rewards and PC Optimum Points Calculator
Up until February 1, 2018, you could accumulate and redeem points via your PC Plus and Shoppers Optimum cards. Starting from February 1, 2018, all existing points from either loyalty program have been converted to PC Optimum points and will have the same value as they did under the old program.
For PC Plus, points are converted on a 1:1 basis. For example, 10,000 PC Plus points became 10,000 PC Optimum points and remain equal to $10.
For Shoppers Optimum, your points were converted using the template below: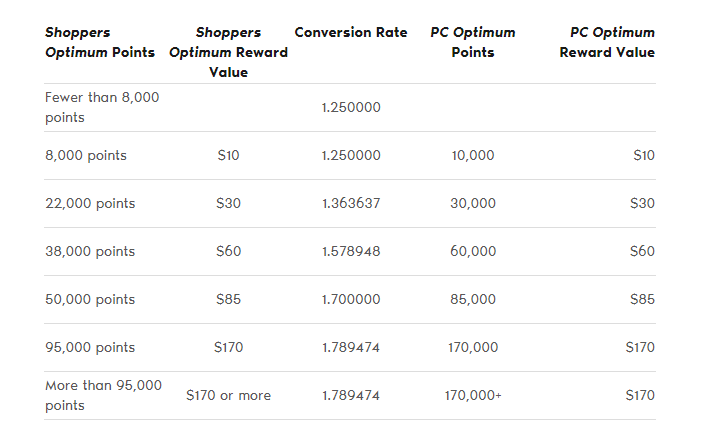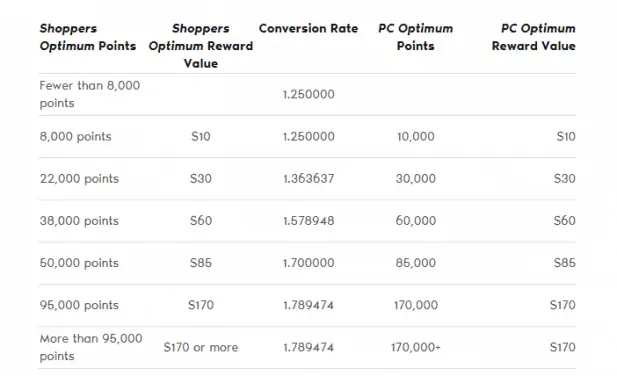 Looks a bit complicated, but your reward value stays the same and was not decreased as a result of the conversion…so no worries! The points conversion will also be done automatically. A calculator you can use to see what your points add up to can be found at https://www.pcoptimum.ca
Accumulating points are a bit different depending on where you shop:
Shoppers at the grocery chain (formerly PC Plus) continue to earn points at a rate of 10 points per $1 spent. Whereas, shoppers at the pharmacy (formerly Shoppers Optimum) now earn 50% more in points under PC Optimum i.e. 15 points for every $1 spent. This is to account for the higher redemption point rate at Shoppers Drug Mart.
Previously, 8,000 points could be redeemed for $10 worth of goods at Shoppers Drug Mart while you needed 10,000 points for $10 worth of value at the grocery store. Now, 10,000 points can be redeemed to purchase $10 dollars worth of goods in all stores, hence the increase in points earned when you shop at the pharmacy.
3. Earlier Redemption
You are now able to redeem your points earlier than before. Previously, the minimum redemption points for PC Plus was 20,000 points ($20). With PC Optimum, the minimum redemption limit was decreased to 10,000 points, for a redemption value of $10.
You can redeem up to a maximum of 500,000 points or $500 on a single transaction. Redemptions are in increments of 10,000 points.
4. One App and One Card
Previously, you needed to have both PC Plus and Shoppers Optimum rewards cards if you wanted to take advantage of the points offered by both programs. Under the new PC Optimum loyalty program, you need just one rewards card and one app for all your purchases, offers, and points.
This way you are able to earn points in more places as they are now all under the same loyalty program.
5. More Stores and Shopping Flexibility
With the merging of PC Plus and Shoppers Drug Mart, you can earn more rewards points and spend them in more places – almost 2,500 stores nationwide.
A list of Loblaw stores where you can earn and spend points interchangeably using PC Optimum include:
Real Canadian Superstore
Atlantic Superstore
No Frills
Zehrs
Loblaws
Shoppers Drug Mart
JoeFresh.com
BeautyBoutique.ca
City Market
Independent
Dominion
Valu-Mart
Fortinos
6. Pharmaprix
The Loblaw's pharmacy chain in Quebec operates as Pharmaprix. The Pharmaprix Optimum program ended on January 31, 2018.
Members of the program were allowed to convert their points to PC Optimum points to retain their full value between February 1st and May 2nd, 2018.
Related: 20 Cash Back Apps That Pay You To Shop
Earn More with the PC Financial Mastercard
You can earn points faster if you are a President's Choice Financial Mastercard holder.
PC Financial is part of the Loblaw group of companies and with the card, you get your PC Optimum points directly whenever you pay with the credit card.
When you use the PC Financial Mastercard to shop at participating stores, you earn more points resulting in more rewards that can be put towards your future purchases.
And the best part is, there are no annual fees.
Additional PC Optimum Points Example
For example, if you shop at Shoppers Drug Mart:-
Using PC Optimum card only: You earn 15 points per $1 spent
Using the PC Financial World Elite Mastercard: You earn the 15 points plus an additional 30 points per $1 spent, for a total of 45 points per $1.
Using the PC Financial World Elite Mastercard has just essentially tripled your rewards points!
There are other PC Financial Mastercard types you can also sign up for:
Additionally, with the PC Financial Mastercard, you earn points when you fuel up at Esso or Real Canadian Superstore, and also earn points when you use the credit card to shop everywhere else. The points are redeemable at all Loblaw stores.
An additional credit card that is great for earning cash back on grocery shopping at any store is the Tangerine Cash Back Credit Card (earn up to 2%).
Tangerine Money-Back Credit Card
Rewards: Earn up to 2% unlimited cash back in up to 3 spending categories and 0.50% on all other purchases.
Welcome offer: Get an extra 10% cash back on up to $1,000 in spending in the first 2 months ($100 value); 1.95% balance transfer rate for 6 months.
Interest rates: 19.95% for purchases, balance transfers, and cash advances.
Annual fee: $0
Closing Thoughts
The Optimum points loyalty program is one of the best available in Canada. Find out how to maximize your PC Optimum points and get free groceries all year long!
Related Posts
What are your thoughts about the PC Optimum points loyalty program?