Zelle is a peer-to-peer (P2P) mobile payment platform for sending and receiving money fast within minutes.
Zelle alternatives in the U.S. include Cash App, Venmo, Wise, and PayPal.
Like Cash App, all you need to transfer funds to a recipient using Zeller is their email address or phone number.
Is Zelle available in Canada? What alternative payment tools can you use to achieve almost instant free money transfers?
Is Zelle Available in Canada
No. Zelle is not available in Canada currently. As per its website, to use the Zelle payment platform, both "the sender and recipient's bank account must be based in the U.S."
When sending money via Zelle to a mobile phone number, it must be registered in the U.S.
Best Zelle Alternatives in Canada
You can easily use these Zelle alternatives to send money to friends and family. Many of them are also free of charge.
KOHO
Wise
PayPal
STACK
Wealthsimple Cash
Interac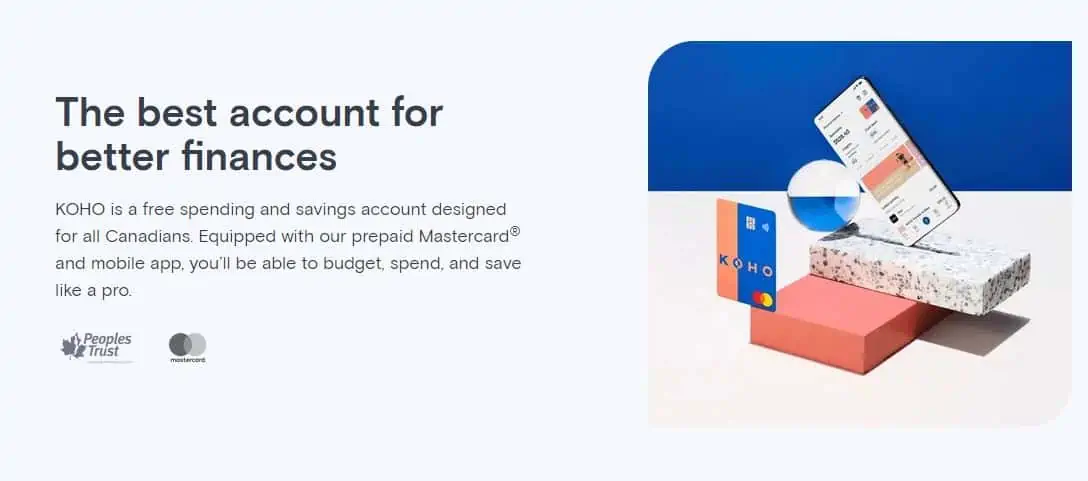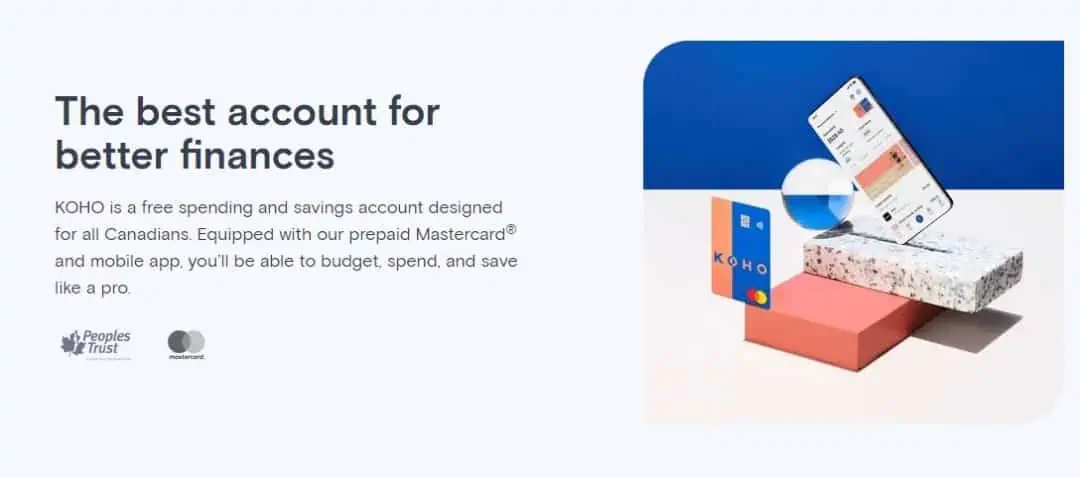 1. KOHO
KOHO is a solid Zelle alternative, especially if you also want to earn cash back anytime you make a purchase.
A free KOHO account comes with a reloadable prepaid card and a mobile app that doubles as a budgeting tool and savings account. The company also has paid offerings.
Its top features are:
Cash back Card: Use the KOHO prepaid Mastercard to pay for purchases online or in-store and earn up to 5% cash back. Even better, you can reload the card using your bank account anytime.
Free money transfers: You can send unlimited transfers to anyone using their email address, including KOHO users and non-users.
Earn interest: If you add a direct deposit to your KOHO account, you earn a high interest rate on your balance.
CDIC protection: The funds in your KOHO account are protected against insolvency for up to $100,000.
Budgeting App: You can use the KOHO app to manage your budget and set up an automated savings plan.
Welcome bonus: Get a $20 sign up bonus when you sign up, enter our referral code CASHBACK, and complete your first purchase.
2. Wise
Wise is one of the most popular global money transfer apps and a solid Zelle alternative.
Its use is not limited to Canada, and you can send money to 80+ countries with a low fee and the best mid-market exchange rates.
Wise also offers a multi-currency account and debit card that allow you to hold up to 53 currencies and easily spend abroad in 200 countries.
You can get started here with a free account and send up to $800 CAD free when you make your first transfer.
3. PayPal
While PayPal is not completely free, it is considered a top Zelle competitor in Canada and the United States.
Sending money to friends within Canada (as a gift) is free; however, you pay a fee to send money for business purposes or internationally.
4. STACK
The STACK Mastercard and app can help you save on bank fees. A STACK account is free if you spend at least $350 monthly (otherwise costs $7.99). It offers:
Reloadable Mastercard: You can use this to make payments whenever Mastercard is accepted.
Cashback: Earn cash back when you shop at 140 participating retailers.
Free transfers: You can easily send money to friends and family using STACK-to-STACK transfers.
Early payroll: If you link your payroll to STACK via direct deposits, you can receive your paycheque up to 2 days early.
No FX fees: Foreign currency exchange fees are waived on some spending outside of Canada if you meet the eligibility requirements.
Learn more in this STACK review.
5. Wealthsimple Cash Card
Wealthsimple Cash is a P2P payment app that works like Cash App and fulfills the core function of Zelle.
You can use the app to send and receive money instantly from anyone on your contacts list.
If the recipient does not have a Wealthsimple Cash account, you can send them money via Interac e-Transfers for free.
Learn more about the Wealthsimple Cash App.
6. Interac e-Transfer
When sending money from your bank account to a recipient within Canada, a popular method is to use Interac e-Transfers.
This payment tool is offered by most banks and credit unions. Depending on your account package, you may not need to pay a transfer fee.
How Zelle Works
Zelle is owned by Early Warning Services, LLC, a financial technology company owned by Bank of America, Capital One, JP Morgan Chase, PNC Bank, Wells Fargo, Truist, and U.S. Bank.
Sending money using Zelle is easy.
To start, find Zelle in the mobile app of your bank account. If your bank does not offer Zelle, you can download the Zelle app and use that instead.
Enter the email or U.S. mobile phone number of the recipient and the amount you want to send.
If the recipient has a Zelle account, the funds will be deposited in their bank account within minutes. If not, they will receive an email with instructions on how to deposit their funds.
Some Canadian banks operating in the U.S. support Zelle on their U.S. platforms, including TD Bank.
Zelle Canada FAQs
Is Zelle in Canada?
No, Zelle is only available in the United States. The top Zelle app alternatives in Canada are KOHO, Wise, and PayPal.
Does Zelle work with TD Bank Canada?
No, Zelle does not work with TD Bank Canada. However, you can use it for sending money within the U.S. if you have a TD Bank U.S. account.
Is there Venmo or Cash App in Canada?
Neither Venmo nor Cash App is available in Canada.
What money transfer apps work in Canada?
You can use Wise, KOHO, PayPal, Xe, Remitly, and WorldRemit for sending money in Canada.
Does BMO Canada have Zelle?
No, BMO Canada does not support Zelle. If you have a BMO Harris account in the U.S., you can send money using Zelle.
Which Canadian bank uses Zelle?
No Canadian bank supports Zelle.