A 600 credit score qualifies as a "fair" credit score in Canada.
It is the grey zone where you may qualify for some credit cards and loans, but lenders continue to view you as high-risk, and traditional banks hardly want your business.
A 600 credit score is not too far off from becoming a "good" credit score, and if you can increase it by 50-60 points, your credit prospects improve.
Read on to learn about what it means to have a credit score of 600, your credit card and loan options, and how to increase your credit score in Canada.
Is 600 a Good Credit Score?
Is a 600 credit score good or bad?
A credit score of 600 is neither bad nor good. It falls in the fair credit score range that runs from 600 to 649.
It is also a lot lower than the average credit score in Canada, which Borrowell puts at 660.
Credit scores in Canada are calculated by the two credit bureaus, TransUnion and Equifax, and they are between 300 and 900.
The higher your credit score, the better your chances of qualifying for credit cards and loans with reasonable rates.
Canadian credit scores are classified as follows:
300-599: Poor/Bad credit score
600-649: Fair credit score
650-719: Good credit score
720-799: Very Good credit score
800-900: Excellent credit score
600 Credit Score Card Options
While some banks will not approve your credit card application if it is below 660, there are options:
Secured credit cards
Store credit cards
Student credit cards
Prepaid cards
Secured Credit Card
You can apply for a secured credit card with any credit – 500, 600, or even no credit history. These credit cards are designed for subprime lenders, and many offer guaranteed approval.
You will typically need to provide a security deposit equivalent to your credit limit.
For example, the Neo Secured Mastercard has no annual or monthly fees, and you earn up to 5% cash back on purchases.
Its minimum security deposit is low at $50, and applying does not involve a hard credit pull.
When you sign up here, you receive a $25 bonus.
Store Credit Cards
Retail store credit cards often accept lower credit scores than traditional credit cards.
On the flip side, their rewards are often tied to shopping at the store, and redemption options for your rewards may be limited.
Here are some store credit cards in Canada.
Student Credit Cards
You may qualify for some student credit cards with less stringent eligibility requirements.
For example, the Tangerine Money-Back Credit Card only requires a 600+ credit score and an annual income of at least $12,000.
This credit card has no annual fees, and you earn 0.50% to 2% cash back, depending on your purchase.
Tangerine Money-Back Credit Card
Rewards: Earn up to 2% unlimited cash back in up to 3 spending categories and 0.50% on all other purchases.
Welcome offer: Get an extra 10% cash back on up to $1,000 in spending in the first 2 months ($100 value); 1.95% balance transfer rate for 6 months.
Interest rates: 19.95% for purchases, balance transfers, and cash advances.
Annual fee: $0
Prepaid Cards
Easily apply for a reloadable prepaid card like the one offered by KOHO.
The KOHO Prepaid Visa offers at least 0.50% cash back on all purchases and up to 10% cash back at select partners.
It also includes unlimited debit transactions, and you even earn savings interest on your balance if you set up a direct deposit.
Instead of covering shortfalls in your budget with a payday loan, you can use KOHO's Early Payroll service to access $100 from your paycheque 3 days early for free.
Learn more about KOHO in this detailed review.
KOHO Prepaid Mastercard
Rewards: Earn 1% cash back on groceries and bill payments; Up to 5% cashback at select partners; Earn interest on your balance*.
Welcome offer: Get a $20 bonus when you load and make your first purchase (use promo code CASHBACK during sign-up).
Interest rate fee: 0%
Annual fee: $0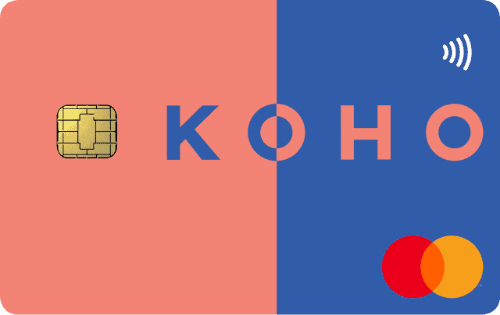 600 Credit Score Loans in Canada
As with credit cards, many banks do not want to give you a loan when you have a 600 credit score.
That said, if you have a job and proof of income ($20,000 – $30,000+ per year), you could apply for a bad credit loan through an alternative lender.
An easy way to find an alternative lender that accepts all types of credit ratings is through loan comparison sites like Loans Canada and LoanConnect.
With a 600 credit score, you can expect to pay higher interest rates.
600 Credit Score Car Loans in Canada
Is it possible to qualify for a car loan with a 600 credit score? The answer is "Yes". It may even be easier than qualifying for a personal loan.
With a car loan, the lender can use your vehicle as collateral, and they can also ask you to provide a co-signer.
Cars Fast works with 350+ dealerships across Canada to provide car loans of up to $75,000 over 1-8 year terms.
The company requires a minimum of $20,000 in annual income, and you must reside in Alberta, BC, or Ontario.
How are Credit Scores Calculated?
5 main factors impact your credit scores:
Payment history: If you miss payment deadlines, it can affect your credit score negatively. Your payment history makes up about 35% of your credit score.
The amount owed: Experts recommend keeping your credit utilization rate to 30% or lower. For example, if you have a $10,000 credit limit, you want to maintain a balance that is no more than $3,000 at any point in time. This factor makes up 30% of your credit score.
Length of credit history: Keep old credit accounts that are in good standing. The longer your credit history, the better. The length of your credit history makes up 15% of your credit score.
New credit application: When lenders pull your credit to approve a credit application, it lowers your credit score. If you have many hard inquiries on your credit report within a short timeframe, lenders may think you are in financial trouble, and your creditworthiness takes a hit. The impact of new credit on your credit score is 10%.
Credit mix: If you have various credit accounts (such as credit cards, loans, lines of credit, mortgages, etc.), it can improve your credit score. This shows you can handle different types of credit, and its impact on your credit score is 10%.
How To Improve a 600 Credit Score
Take the following actions to improve your credit score and see it increase to 700 and above.
Pay your bills on time
Limit your credit utilization to 30% or less
Limit new credit applications
Use a secured credit card to increase your credit score and ensure payments are made on time
Dispute errors on your credit report
Consider a credit building loan
Budget and create an emergency fund
600 Credit Score FAQs
Can I qualify for a mortgage with a 600 credit score?
You may be able to qualify for a mortgage loan with a credit score of 600+; however, the interest rate will be high, and the terms won't be as favourable.
Can I rent an apartment with a 600 credit score?
If you have a below-average credit score of 600, it will be difficult to rent an apartment without a co-signer who has a good credit score. Alternatively, you may need to pay your rent in advance.
How long will it take to increase my credit score from 600 to 700?
It can take 12 months or longer to raise your credit score from 600 to 700.