This Wealthsimple Canada review covers how the platform works, its pros and cons, whether it is legit and safe, how to get a sign-up bonus, and fees to watch out for.
Wealthsimple is Canada's largest and most popular digital wealth manager (also known as robo-advisors). It currently offers money management services to hundreds of thousands of clients in Canada at a lower cost than you would get using traditional money managers.
In addition to reviewing the Wealthsimple Invest product, this article also looks at the company's other financial products:
Wealthsimple Trade
Wealthsimple Cash
Wealthsimple Crypto
Wealthsimple Tax
Wealthsimple Save
Wealthsimple Summary
Wealthsimple Canada Overview
Investment Fees

Account Offered

Investment Options

Ease of Use

Overall Value
Summary
Wealthsimple is Canada's largest and most popular digital wealth manager, with over $15 billion in assets under management. It offers a simplified way to manage your investments, lower your fees, and increase your wealth. In addition to its robo-advisor platform, Wealthsimple offers several financial products used by more than 1.5 million people.
When you open an account using the link below, you get a $25 bonus after funding it with at least $500!
Pros
Best robo-advisor in Canada
Includes automatic re-balancing
Provides dividend reinvesting
Secure platform
Offers tax-loss harvesting
Provides free financial advice
Cons
The 0.50% management fee is not the lowest in Canada
Limited account funding options (only bank transfer/EFT)
Deposits may take some days to reflect on your balance
How Wealthsimple Works
If you have read my article on index investing for newbies, you know the differences between active and passive investing strategies.
In a nutshell, active investing strategies "actively" try to generate returns that beat the market, pay fund managers premium fees to do so, and at the end of the day, they rarely produce results worthy of the fees paid.
Passive investing, on the other hand, is an attempt to earn market returns by holding an asset-mix representative of the "market" at a much lower cost and with less focus on picking 'winners.'
There are many examples to show that in the long term, passive investing often beats active management. If you are wondering how important limiting the fees you are paying "skilled," and underperforming fund managers is, you should consider taking a hint from Warren Buffett himself.
In 2007, Buffett made a bet that an S&P index fund would beat a basket of hedge funds selected by Protégé Partners, essentially wagering that "passive investing" would beat "active investing." A decade later, Warren Buffett was the clear winner, winning the bet to the tune of $2.2 million.
No wonder he says he will ask his estate to be 90% invested in low-cost index funds after he passes.
"When trillions of dollars are managed by Wall Streeters charging high fees, it will usually be the managers who reap outsized profits, not the clients. Both large and small investors should stick with low-cost index funds." – Warren Buffett (2016)
For its Wealthsimple Invest service, the company invests your money using technology and a diversified portfolio of low-cost ETFs that are modelled based on the Modern Portfolio Theory as established by the Nobel Laureate Harry Markowitz.
The funds are then diversified on a global and industry basis, lowering your risk, investing cost, and maximizing returns.
You can invest your money on the platform using its web interface or the Wealthsimple Invest app.
Wealthsimple Invest

On Wealthsimple's Website
Fees: Managed investing service with fees of 0.5%
Account minimum: Start with the Basic Package with $1.00
Promotions: $25 when you open an account & deposit $500+
Wealthsimple Invest Accounts in Canada
Wealthsimple offers various account types to meet specific needs. These include:
Tax-Free Savings Account (TFSA)
Registered Retirement Savings Plan (RRSP)
Registered Retirement Income Fund (RRIF)
Locked-in Retirement Account (LIRA)
Registered Education Savings Plan (RESP)
Non-registered investment accounts (personal and joint)
Corporate investment accounts
How To Open a Wealthsimple Account
Opening a new account with Wealthsimple is pretty straightforward. The website/dashboard is very user-friendly, and you should be up and running in less than 10 minutes.
1. Visit Wealthsimple via this link (includes a cash bonus).
2. Enter your details and answer the questionnaire. After completing your investment profile, you get a personalized plan and recommended asset allocation that is based on your risk category.
3. Choose an account, e.g. RRSP, TFSA, RESP, etc., or transfer one from another provider
4. You have the option to set up regular automated contributions.
That's it – you are good to go! If you have any questions, you are just one phone call, email, or Skype away from financial experts/advisors who are ready to help.
Wealthsimple Portfolios and Investment Products
Wealthsimple offer three basic types of portfolios:
Conservative: 30% stocks/70% bonds
Balanced: 50% stocks/50% bonds
Growth: 75-90% stocks/10-25% bonds
Each portfolio type consists of several index ETFs to ensure adequate diversification and cost minimization.
Canadian portfolios may contain any of the following funds:
XIC – iShares Core S&P/TSX Capped Composite Index
VTI – Vanguard Total Stock Market
VUS – Vanguard US Total Market ETF (CAD-Hedged)
IEFA – iShares Core MSCI EAFE
IEMG – iShares Core MSCI Emerging Markets
XSH – iShares Canadian Short Term Corporate + Maple Bond Index ETF
ZFM – BMO Mid Federal Bond Index
ZHY – BMO High Yield US Corporate Bond Hedged to CAD Index
Investors in the U.S. have several ETF options:
VTI – Vanguard Total Stock Market
VOE – Vanguard Mid-Cap Value ETF
VBR – Vanguard Small-Cap Value ETF
DXJ – WisdomTree Japan Hedged Equity Fund
VGK – Vanguard FTSE Europe ETF
BND – Vanguard Total Bond Market ETF
MUB – iShares National Muni Mond ETF
TIP – iShares TIPS Bond
Benefits of Wealthsimple Invest
There is no minimum amount to start investing with Wealthsimple. This means that no amount is too small, and you can start investing today with whatever you can set aside.
There are three general account types available at Wealthsimple: Wealthsimple Regular, Wealthsimple Black, and Wealthsimple Generation.
Accounts with deposits less than $100,000 fall under Wealthsimple Basic, while those with assets greater than $100,000 qualify for Wealthsimple Black.
All accounts benefit from the following:
Automatic Rebalancing: Say farewell to manually re-balancing your portfolio once or twice yearly. At Wealthsimple, re-balancing is done automatically to ensure your asset allocation remains on track.
Personalization: You get a customized portfolio that is tailored to fit your specific financial needs and comfort level with risk.
Free Financial Advice: You can call, text, or email in-house financial advisors if you have any questions or want to review your portfolio/financial plan.
Automatic Deposits: You can easily schedule automatic deposits into your Wealthsimple investment account. This makes it easy to automate your investing (even with small contributions) and build wealth.
Dividend Re-Investing: Dividends are automatically re-invested, and no action is needed on your part.
Security: In Canada, Wealthsimple/Share Owner Investments Inc. is insured by the Canadian Investor Protection Fund (CIPF), which means that if they go bankrupt, your investments are protected for up to $1 million.
Also, it uses state-of-the-art encryption to ensure that your personal and financial information is kept secure.
In addition to these benefits above, accounts that qualify for Wealthsimple Black and Wealthsimple Generation also get:
Tax-Loss Harvesting: If your account will benefit from tax-loss harvesting, the folks at Wealthsimple will assist you through tax-loss selling, enabling you to save money on taxes.
Full-Service Financial Planning: You get a full-service financial planning session with Wealthsimple experts.
The investment industry has seen some significant changes in the last decade, especially in the area of technology. The drive is not only to maximize returns but also to automate investing, making it easy for you to make your money work for you.
In addition to maximizing returns and automating the investing process, there is also a demand for lower investment fees. Investment fees have continued to rise, and studies have shown that they significantly dampen portfolio returns for investors because active managers rarely earn market returns.
This is where robo-advisors come into play. They take the "grind" out of the investing process by using proprietary algorithms or computer software that takes the investor's investment profile – risk tolerance, investment knowledge, investing horizon, financial goals, age, net worth, etc. into consideration and finds a customized portfolio mix that fits their profile.
Robo-advisors design your portfolio using low-cost index funds (ETFs) that minimize your fees, boost your long-term returns and are adequately diversified.
Downsides of Wealthsimple
Some disadvantages of Wealthsimple Invest include:
The management fee of 0.50% is not the lowest among robo-advisors in Canada
Limited access to financial tools and reporting on your account dashboard
Limited account funding options (only bank transfer/EFT)
Deposits may take some days to reflect on your balance
Wealthsimple Invest Account Fees
One of the big attractions of robo-advisors is significantly lower fees for managing your investments.
Wealthsimple Basic accounts: under $100,000, the management fee is 0.5% per year
Wealthsimple Black accounts: $100,000 to $500,000; the management fee is 0.4% per year
Wealthsimple Generation: over $500,000, the management fee is 0.4% per year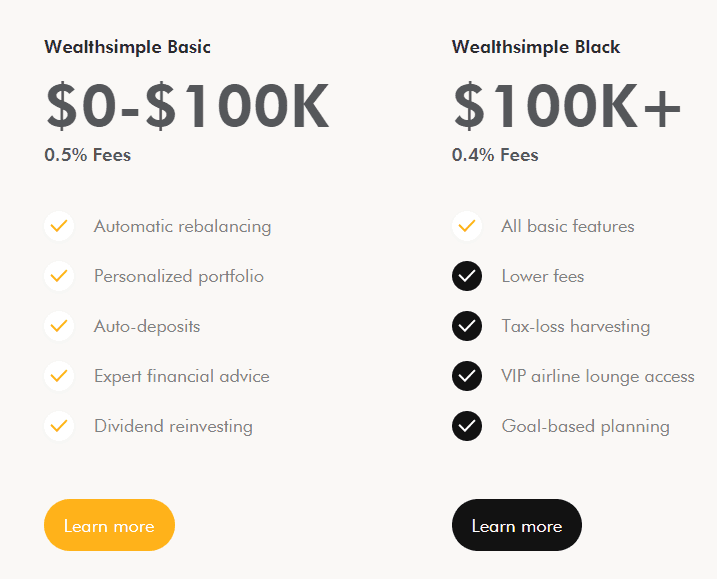 Wealthsimple Generation
Wealthsimple recently expanded its accounts to include a 'Generation' category. To qualify, your accounts must have a minimum total deposit of $500K. Wealthsimple Generation account holders will enjoy all the benefits available under Wealthsimple 'Basic' and 'Black' accounts plus:
In-depth financial planning
50% off a comprehensive health plan from Medcan
A personalized financial report and more.
The annual management fee is 0.4%.
These fees do not include MERs that may be charged directly by managers of the ETFs (funds) held in your account. As per Wealthsimple, this additional fee is approximately 0.20% and is automatically included in the price of the underlying assets/funds.
One big plus for Wealthsimple is that your fees are transparent, known upfront, and posted on their website. There are no hidden fees – no trading, account transfer, or other fees.
To recap on fees (because FEES are IMPORTANT!), robo-advisors charge much less in fees than traditional mutual fund managers.
Robo-Advisor vs. Mutual Funds Fee Example
Wealthsimple Basic: On a $50,000 portfolio, you can expect to pay fees amounting to:
$50,000 x 0.70% (0.50 + 0.20) = $350
Mutual Funds (average fees on equity mutual funds): On the same $50,000 portfolio, you can easily pay fees up to:
Savings with robo-advisor: ($1,115 – $350) = $765
I think we can all agree that this is a lot of money saved in fees per year!
Transfer Fees: If you choose to move your account from another financial institution to Wealthsimple to save on fees, they will cover the transfer fees if your account value is over $5,000.
Wealthsimple – Socially Responsible Investing
Wealthsimple offers socially responsible investing (SRI) portfolio options if that's your preference.
These SRI portfolios reflect investments in funds that follow companies with social and environmental impact, including those with low-carbon emissions, that support gender diversity, promote affordable housing, uphold human rights, etc.
Some of the funds available for inclusion in SRI portfolios include:
PZD – PowerShares Cleantech Portfolio
CRBN – iShares MSCI ACWI Low Carbon Target ETF
VIDI – Vident International Equity Fund
ZFM – BMO Mid Federal Bond Index
XEN – iShares Jantzi Social Index ETF
Wealthsimple Returns and Performance
What kinds of returns can you expect when you invest with Wealthsimple? The stock (financial) market is an unpredictable beast, and no one can reliably predict what your long terms are going to be.
Some of the factors that come into play to determine your portfolio performance are:
The level of risk you assume, i.e. conservative, balanced, or growth portfolio?
Portfolio diversification
Fees (Wealthsimple's management fees are much cheaper than what you pay for comparative mutual funds)
Investment firms are required to show their returns on a money-weighted basis, and you can visit Wealthsimple to see what their various portfolios have returned over the years.
Is Wealthsimple Safe and Legit?
The short answer to this question is that Wealthsimple is just as safe and legit as your traditional bank.
As earlier mentioned, the funds you invest in your Wealthsimple portfolio are held with their custodial broker, ShareOwner Investments Inc. ShareOwner is regulated by the Investment Industry Regulatory Organization of Canada (IIROC) and is a member of the Canadian Investor Protection Fund (CIPF).
Basically, if Wealthsimple were to become insolvent or go bankrupt, your investment funds are protected for up to $1,000,000 CAD.
In addition to this, they use 256-bit encryption and offer 2-factor authentication to increase the security of your account and personal information.
Wealthsimple is backed by some of the world's largest financial institutions, including Power Financial Corporation and Allianz.
Other Wealthsimple Products
There are several Wealthsimple products and features you should be aware of:
1. Wealthsimple Trade
Wealthsimple Trade is a no-fee online brokerage platform that allows you to buy and sell stocks and ETFs for free.
When you think about going "full" DIY with Investing, you are thinking about a scenario where you buy and sell stocks and exchange-traded funds (ETFs) directly through an online discount brokerage, and you design your investment portfolio as you wish. This is what Wealthsimple Trade offers and much more.
Unlike other existing discount brokerages in Canada, Wealthsimple Trade comes with $0 trading commissions and no account minimums. You can trade over 8,000 popular stocks and ETFs (U.S. and Canadian) for absolutely free.
In other words, you get unlimited free trades (compared to the $10 you pay with many other brokerages per trade).
Clients can upgrade to Wealthsimple Trade Plus for $10 per month if they want real-time market data (snap quotes), USD accounts, and a higher limit for instant cash deposits.
Learn more in this Wealthsimple Trade review.
2. Wealthsimple Crypto
Wealthsimple now offers trading in several cryptocurrencies (including Bitcoin and Ethereum) through Wealthsimple Crypto.
This platform is hosted on the Wealthsimple Trade App and is available on iOS and Android devices.
Wealthsimple Crypto has no minimum account balance requirement, and your coins are held by a regulated custodian, Gemini Trust Company LLC.
Learn more in this Wealthsimple Crypto review.
3. Wealthsimple Cash
Wealthsimple Cash offers free peer-to-peer money transfers.
It also has a Cash Card you can use for payments at points of sale, online payments, and more.
If you'd like to earn interest on your savings deposits, this account also works as a high interest savings account.
4. Wealthsimple Tax
Wealthsimple recently purchased SimpleTax, an online tax preparation software that helps Canadians prepare their taxes without the expensive dollars.
Wealthsimple Tax is easy to use, and you pay what you want while getting the maximum refund.
5. Wealthsimple For Work
Wealthsimple for Work is aimed at helping businesses manage their employee pensions/retirement plans using low-cost, passive investing strategies.
Employers get access to easy and cheap professional fund management, and employees get to save efficiently for retirement.
6. Wealthsimple Halal Investing
Wealthsimple also offers a diversified, low-cost investment portfolio for adherents of the Islamic faith who want their investments to stay in keeping with Islamic principles.
Halal portfolios do not invest in companies that profit from gambling, tobacco, weapons, etc.
7. Wealthsimple Roundup
Wealthsimple introduced Roundup in 2018, a feature that helps you invest your spare change in a low-cost ETF portfolio.
When you open your Wealthsimple Investing Account, you can turn on Roundup on the app and link your credit or debit cards.
Whenever you make a purchase, the amount you pay is rounded up to the nearest dollar. The spare change is added daily and withdrawn into your investment account once a week.
8. Wealthsimple Overflow
Wealthsimple introduced a new feature, Overflow, which allows you to specify how much money you want to keep in your chequing account for day-to-day expenses.
Once a month, it automatically checks your account, and extra cash you are not needing is automatically moved to your Wealthsimple investment or savings account!
This feature is excellent for those who want to reach their financial goals fast!
Wealthsimple Sign-Up Bonus
When you open a new Wealthsimple Invest account using our exclusive referral link and deposit $500 or more, you receive a $25 bonus.
If you are considering a Trade account, you can also get a $25 bonus after depositing at least $150.
Wealthsimple users can also invite their friends and earn rewards when they join.
Is Wealthsimple Right For You?
Wealthsimple is the most popular robo-advisor in Canada, and they continue to pick up pace in the U.S. and U.K.
The reality is that robo-advisors are starting to become mainstream because investors no longer want to be fleeced of their investment returns by "skilled" managers who cannot differentiate between skill and luck and who often underperform their benchmark indices (i.e. the market).
While you can choose to go full-bore DIY and manage your investment portfolio on your own through a brokerage, not everyone has the confidence, investment knowledge, and time to get their hands dirty managing their investments.
Wealthsimple (and other robo-advisors) is for you if you want a professionally managed investment portfolio at a low cost and without much effort on your part. The package offered by Wealthsimple already includes dividend reinvesting, portfolio rebalancing, and financial planning – all at a low fee.
Since there is no account minimum for investing with Wealthsimple, it means that you do not need to be a high-net-worth individual to take advantage of sophisticated global diversification and professional money management.
If you are a high net-worth individual or have an account value above $100,000, you can get even more value for your money. When you consider the premium features, such as lower fees, tax-loss harvesting, full-service financial planning, and other perks, the pros of Wealthsimple are hard to ignore.
If you want to compare robo-advisors in Canada, check out my full list.
At the end of the day, you want your money to work for you. If you can lower investing fees (by using robo-advisors or DIY investing), and generate market returns (long-term), your wealth will increase.
Wealthsimple Alternatives
Wealthsimple vs. Questrade (Questwealth Portfolios)
Questrade has been around for a long time. They are well known for providing self-directed investors with a platform to self-manage their portfolios at a low fee.
More recently, Questrade got into the robo-advising business, initially starting out as Portfolio IQ and later re-branding as Questwealth Portfolios.
Accounts offered: Questrade offers a variety of accounts similar to Wealthsimple, including registered accounts – TFSA, RRSP, RESP, LIRA, LIF, RRIF, and non-registered ones – individual, joint, and corporate.
Fees: Fees for Questwealth are highly competitive at:
0.25%: $1,000 – $99,999
0.20%: $100,000+
Add in the in-built MERs on the ETFs they use, and your annual fees fall into the 0.42%-0.47% range for a portfolio under $100K. Like Wealthsimple, their socially responsible investing (SRI) portfolios come with a slightly higher management fee.
It is worth noting that Questwealth charges a 100 basis points fee for ETFs traded in USD in your account. This can add up to become significant if you have lots of USD transactions occurring in your portfolio.
For self-directed portfolio management, trading fees are:
Stocks: 1 cent/share (minimum of $4.95 and a maximum of $9.95 per trade)
ETFs: $0 when buying (minimum of $4.95 and a maximum of $9.95 per trade)
Options: $9.95 plus $1/contract
Mutual funds: $9.95 per trade
Questwealth Portfolios is nowhere as popular as Wealthsimple regarding automated investing in Canada. They are also different in their investing strategies.
Wealthsimple utilizes classical Nobel-Prize-winning strategies using index ETFs, while Questwealth portfolios are actively managed.
Active management has taken a bad rap for charging high fees and underperforming the market; however, when combined with low fees, the result may be different.
If you are planning to trade in individual stocks and ETFs, Wealthsimple Trade offers $0 trading commissions for both buy and sell trades!
You need a minimum investment of $1,000 to get started with Questwealth. For Wealthsimple, there is no minimum account size.
Wealthsimple vs. Tangerine
Tangerine is an online-only bank in Canada known for its no-fee chequing accounts.
Fees: Tangerine is not a robo-advisor; however, they offer low-cost index funds with an average annual fee of 1.07%. While this cost is significantly higher than what is charged on Wealthsimple portfolios, they are cheaper than the average mutual fund at 2.23%.
Tangerine Investment Funds can be purchased in TFSA, RRSP, RRIF, or non-registered investment accounts.
Wealthsimple vs. CI Direct Investing
CI Direct Investing (formerly WealthBar) is a robo-advisor founded in 2013. It provides Canadians with access to RRSP, TFSA, RRIF, LIRA, LIF, RDSP, and non-registered investment accounts.
Fees: The annual management fee they charge on your portfolio ranges from 0.40% to 0.60%, depending on your account size.
$1,000 – $150,000: 0.60%
$150,000+: 0.40% to 0.60%
This fee is in addition to in-built ETF MERs, which range from 0.26% to 0.34%.
Wealthsimple fees are generally lower than WealthBar's, more so for portfolios exceeding $20,000.
In addition to its passive robo-advisor offering, CI Direct Investing also offers Private Investment Portfolios. These portfolios are actively managed and cost more (0.83% to 1.22%).
Like Wealthsimple, CI Direct Investing has an ethical fund (Cleantech) available to include in your portfolio if you so desire. Read this CI Direct Investing review.
Wealthsimple vs. Moka (formerly Mylo)
Moka (formerly Mylo) is a Canadian fintech founded in 2017. It offers an app that allows users to save/invest their spare change automatically (similar to Wealthsimple's RoundUp feature).
In addition to investing your small change, you can create specific investment goals and meet them using the app.
Moka offers TFSA, RRSP, and non-registered accounts. There is no minimum limit on how much you can invest.
Fees: Moka charges a $3 per month fee. This fee is in addition to MER charged by ETF providers, which range from 0.05% to 0.37% on their regular portfolios.
The monthly fee charged by Moka is a bit on the high side if all you are investing is your spare change.
For example, if you invest a total of $20 per month using the basic service ($1 monthly fee), your annual management fee equates to a whopping 5%! On the other hand, if you are investing $200 per month, it falls to 0.50%.
Moka has an ethical fund in its stable referred to as Mylo SRI Fund. You can expect to pay a bit more on the SRI ETF portfolio MERs – ranging from 0.20% to 0.60%.
Read our Moka review.
Wealthsimple vs. ModernAdvisor
ModernAdvisor is a more recent entrant into the field of Canadian robo-advisors. They offer RRSP, TFSA, RESP, LIRA, RRIF, and non-registered investment accounts.
The investing strategy used by ModernAdvisor is both passive and active (hybrid).
Unlike Wealthsimple, which has no minimum account size, you need to have at least $1,000 in your ModernAdvisor account to invest.
Fees: The management fee charged per annum on your portfolio is:
$10K – $100K: 0.50%
$100K – $500K: 0.40%
$500K – $1 million+: 0.35%
Accounts less than $10K are managed free of charge. In addition to the annual management fee, you can expect to pay in-built ETF MER fees that average 0.25%.
ModernAdvisor also offers a dedicated portfolio management service that costs 0.89% on your first $500K and a bit less when your portfolio exceeds this threshold.
For socially responsible investing, they offer 7 eligible funds which cost approximately 0.20% more than their other portfolios.
Wealthsimple vs. Acorns
Acorns is an automated investing app that is available in the United States but not in Canada. Similar to Wealthsimple and Moka, they offer robo-advisor services and have a roundup feature that makes it easier to invest your spare change.
Acorns charge $1-$5 in fees per month depending on your type of account and are one of the most popular micro-investing apps available in the U.S.
Conclusion
Wealthsimple holds its own against its competitors with competitively low fees, free 1-year investing, account features, benefits, and more.
While Canadian do not have access to Betterment and WealthFront, residents of the United States may also take a look at these other two robo-advisors.
Disclaimer: Savvy New Canadians has entered into a referral and advertising arrangement with Wealthsimple US, LTD and receives compensation when you open an account or for certain qualifying activity which may include clicking links. You will not be charged a fee for this referral and Wealthsimple and Savvy New Canadians are not related entities. It is a requirement to disclose that we earn these fees and also provide you with the latest Wealthsimple ADV brochure so you can learn more about them before opening an account.