Cash App is a peer-to-peer (P2P) payment platform that lets you send money, receive funds and enjoy other financial services such as cryptocurrency trading online.
Unfortunately, this platform is currently not available in Canada, as only residents of the U.S. and the U.K. can use Cash App.
However, there are many Cash App alternatives that Canadian residents can enjoy, such as KOHO, Wise, and PayPal. This article covers the best cash app alternatives in Canada, including the features that make these platforms the best.
Is Cash App Available in Canada?
No. Cash App by Square is not available in Canada. So, here are the best alternatives you can use instead:
| | | | |
| --- | --- | --- | --- |
| Alternative | Features | Transfer Speed | Fees and Costs |
| KOHO | Cashback card, Earn interest, Budgeting App, Credit Building | Instant or up to 3 hours | Free to use, but fees may apply when sending money |
| Wise | Large amount transfers, Multicurrency accounts | Instant or up to 2 working days | Fees vary by currency and type of transaction |
| Wealthsimple Cash | Pay for purchases, Send/receive money, Invest money | Instant for cash and savings, Up to 7 days for other accounts | No monthly fees, but some financial transactions have charges |
| PayPal | Simple money transfers, secured buying/selling transactions | Instant or up to 3 business days | Vary based on transaction type |
| Interac e-Transfer | Send/receive money within Canada | Typically within minutes | Free to receive, but sending fees vary based on your bank account |
Best Cash App Alternatives in Canada
If you want to split bills with your friends and send cash instantly without paying a fee, there are Cash App alternatives you can use in Canada, including: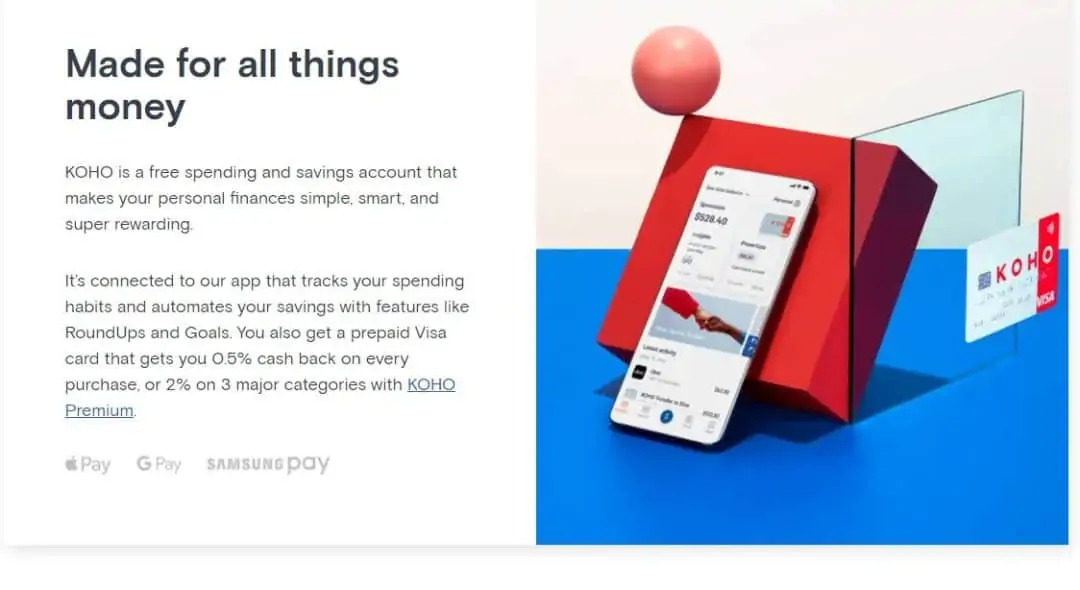 1. KOHO
KOHO is a combination of a reloadable prepaid card and an app.
This financial technology company was founded in 2014 and offers one of the highest savings rates in Canada.
If you are looking for a top Cash App alternative in Canada, the KOHO app does P2P transfers and more.
The main KOHO features are:
Cashback Card: You earn up to 5% cashback on purchases when you pay with the free KOHO Prepaid Mastercard. If you upgrade to a paid KOHO account, your base cashback rate is higher. Both free and premium accounts earn up to 5% cash back at multiple KOHO partner stores.
Free Transactions: KOHO users enjoy unlimited free debits, bill payments, and Interac e-Transfer. You can also send cash instantly to other KOHO users.
Earn Interest: All users earn interest on their balance, varying from 0.5% to 4.50%, depending on their account type.
Credit Building: You can improve your credit score by subscribing to the paid KOHO Credit Building service.
CDIC Protection: The funds in your account are held at a CDIC-insured bank, Peoples Trust.
Budgeting App: KOHO versatile app can be used to budget and save automatically towards various financial goals.
When you sign up for a new KOHO account here, you get a $20 bonus after making your first purchase (use our referral code CASHBACK during sign-up).
2. Wise Money Transfer
Wise is an international money transfer service that is available in 160+ countries. It was formerly known as TransferWise and has more than 16 million users.
Unlike Cash App, you can also use Wise for cross-border payments.
Its fees are low, and foreign exchange rates occur at the competitive mid-market rate, which means you get more bang for your buck.
When you open a Wise multi-currency account, you can hold 53 currencies and apply for a debit card that works in 200 countries.
Learn about Wise in this review. You can send your first Wise transfer for free here.
3. Wealthsimple Cash
Wealthsimple Cash is the equivalent of a Cash App for Canadians. It is free to use and offers these benefits:
Instant Transfers: Send or receive cash instantly from friends and pretty much anyone on your contacts list who has installed the app.
No Fees: This app has no fees for sending or receiving money; deposits and withdrawals are also free.
Cash Card: Wealthsimple Cash Card is in beta and works like a prepaid Visa card. You earn up to 5% cash back when you pay for specific purchases.
Unique Dollar $ign: Get a unique username (handle) that helps others identify to whom they are sending money.
Features of Wealthsimple Cash that are not yet available include bill payments, direct deposits, FX fee waivers, and ATM cash withdrawals.
4. PayPal
PayPal can be used to send and receive money in Canada and internationally. It also owns Venmo, a Cash App competitor in the U.S.
While it's free to receive PayPal transactions from your friends and family, you may pay transfer fees when you send money abroad or use the platform for business purposes.
5. Interac e-Transfer
An Interac e-Transfer transaction that moves money between two bank accounts is also a reliable alternative to Cash App. 
Depending on the chequing account package you have with your bank, sending Interac e-Transfers may be free, or you may need to pay a fee per transfer.
You can send e-Transfers to anyone with an email address and a Canadian bank account.
How Cash App Works
Cash App is operated by Square Inc. It was established in 2013 and has millions of users. The app is available on the App Store and Google Play.
To send or receive money, you can download Cash App for free and create your "$Cashtag," the unique username that identifies your account.
When sending a payment, open the Cash App and enter the email address, phone number, or $Cashtag of the recipient, or scan their QR code.
Cash App's other interesting features include:
Cash Card: This Visa debit card is free, and you can add it to Google Pay and Apple Pay.
Direct Deposits: You can set up direct deposits to receive your paycheck and tax refund directly in Cash App. It also offers a 2-day early access to your paycheck.
Stock Trading: Users can buy stocks directly via Cash App starting at $1. It offers access to hundreds of stocks and supports fractional shares.
Bitcoin Trading: Early buy and sell BTC from your Cash App account. You can also send Bitcoin to others for free.
Cash App Canada FAQs
Is Cash App in Canada?
No, Cash App is only available in the United States and the United Kingdom. The best Cash Apps in Canada are KOHO, Wealthsimple Cash, and Wise.
Is a Cash App US to Canada transfer possible?
You can only use Cash App to send money to individuals who are signed up with the app. They can live in the US or UK. Cash App transfers to residents of Canada are not possible.
Does Canada have Venmo?
No, Venmo is not available in Canada. Instead of Venmo, you can use KOHO or Wealthsimple Cash to send money for free.
Can Canada use Zelle?
No, Zelle is only available to residents of the United States.
What is the best way to transfer money from the US to Canada?
You can easily send money from the US to Canada using a direct bank wire transfer or a money transfer app like Wise, Xe, PayPal, or Remitly.
Can I send e-Transfer from Canada to the US?
Yes, you can send an Interac e-Transfer from your eligible Canadian bank account (e.g. National Bank) to a recipient abroad via a collaboration with Western Union and Mastercard.
Which money transfer apps work in Canada and the US?
PayPal and Wise work in both countries.
Related: