Montreal and Toronto are two of Canada's biggest and most well-known cities, leaving many Canadians wondering which urban center would be best for them to live in.
It's a tough decision: each city has its own unique character, and both are beautiful, culturally rich, and full of the modern amenities that every city dweller dreams of.
To help you gain an understanding of which city is better suited for your personal needs, preferences, and lifestyle, we've broken down the key questions involving living in Montreal versus Toronto.
By the end of this article, you'll be able to make an informed decision about which city is best for you.
Montreal vs. Toronto: An Overview
One of the most significant differences between Montreal and Toronto is culture. The two cities have very different atmospheres, so for most people, the right city is a matter of preference and lifestyle priorities.
Toronto is a bustling, modern city with a distinctly cosmopolitan feel. With sky-high buildings and a quicker pace of life, it's often said to resemble New York City (minus all the trash and dirt, of course).
In fact, many TV shows and movies are filmed in Toronto as a stand-in for the Big Apple. Meghan Markle's show Suits is one series of many that have subbed in Toronto for NYC.
Montreal, on the other hand, has more European influences and has significant history and culture behind it. It's still a major city with plenty of nightlife, restaurants, arts, and culture, but it doesn't quite have the constant buzz that Toronto does.
Perhaps its French influences have something to do with its slower, more relaxed pace.
So which city is right for you? While you may understand some broad-stroke basics, there's still a lot to learn about the differences between Montreal and Toronto.
Keep reading to discover what sets them apart.
Montreal vs. Toronto: Lifestyle
Montreal and Toronto each have so much to offer, ranging from excellent job opportunities to vibrant nightlife. It can be challenging to choose between the two, but the lifestyles that they offer illuminate some of their greater differences.
Toronto is the home of the CN Tower, one of Canada's most famous landmarks, and offers natural beauty in the Toronto Islands, where you'll find many kayakers in the summer months.
Montreal, on the other hand, is known for its sophisticated French culture, gourmet restaurants, and charming cobblestone streets. How could you choose?
Toronto has a lot going for it. It offers a high standard of living, a strong job market, great public transportation, and a connection to the outdoors. However, it's also quite crowded in the downtown area and can get very congested in terms of traffic.
Montreal is ranked as one of the world's most livable cities and one of the world's happiest places. It's a cultural and artistic hub, and it's easy to commute to New York, Toronto, and Boston.
Montreal is Canada's second-largest city, but it offers a strong community and it's very safe. It's an excellent place for families and single people alike.
Montreal vs. Toronto: Weather
Montreal is slightly farther north than Toronto, so it does get marginally lower temperatures than you'd see in Ontario's capital.
Montreal experiences long, warm summers that typically range from May to September. July highs are normally around 26ºC, and winter lows are usually around -13ºC (in other words, you can expect snow and sleet).
Toronto likewise gets comfortable summers with snowy, freezing winters. It's typically partly cloudy for most of the year. Toronto's summer highs are around 25ºC, while its winter lows are normally about 8ºC in January.
In other words, the climates between these two cities aren't really that different. In terms of weather, the choice is splitting hairs.
Montreal vs. Toronto: Population
With nearly 7 million residents, Toronto and its surrounding suburbs are certainly the larger of the two cities. In fact, it's the fifth largest city in North America (after Mexico City, New York, Los Angeles, and Chicago).
Plus, with over 50% of its population being immigrants, Toronto is one of the world's most diverse and welcoming cities.
Greater Montreal has a population of about 4.3 million residents, making it just over half the size of Toronto. Of its citizens, over 50% speak French as their native language, with English coming in as a close second.
It's a very bilingual city overall. While Montreal is smaller than Toronto, it's still a major, bustling city, so you can expect modern amenities and comforts.
Montreal vs. Toronto: Job Market
Montreal is the largest city in the province of Quebec and therefore is home to many of the province's job offerings. It offers a strong job market and is actually experiencing its lowest unemployment rate in nearly 45 years, coming in at 4.9%.
It's also important to note that Quebec is a great place for women in the workplace too. Women hold nearly 50% of the jobs in Quebec, which is one of the world's highest rates.
Toronto's unemployment rate is slightly higher than Montreal's, reaching 6% in January of 2023. However, it's such a big and bustling city that its residents have access to many high-paying job opportunities across multiple fields and industries.
Salaries have been increasing significantly since the COVID-19 pandemic, and many employers in Toronto are amenable to flexible, remote work schedules.
Montreal vs. Toronto: Safety
Canada uses the Crime Severity Index, or CSI, to measure the severity level of police-reported crime in each city. It accounts for both the amount of crimes committed and their seriousness, providing a robust picture of what crime in Canada looks like.
According to data from Canada's CSI, Toronto is slightly safer than Montreal. Its overall CSI score is 56.7, while Montreal's is 72.0.
That said, both cities are safer than average, as Canada's overall CSI score is 73.68. Property crime and violent crime rates in both cities have been dropping in recent years.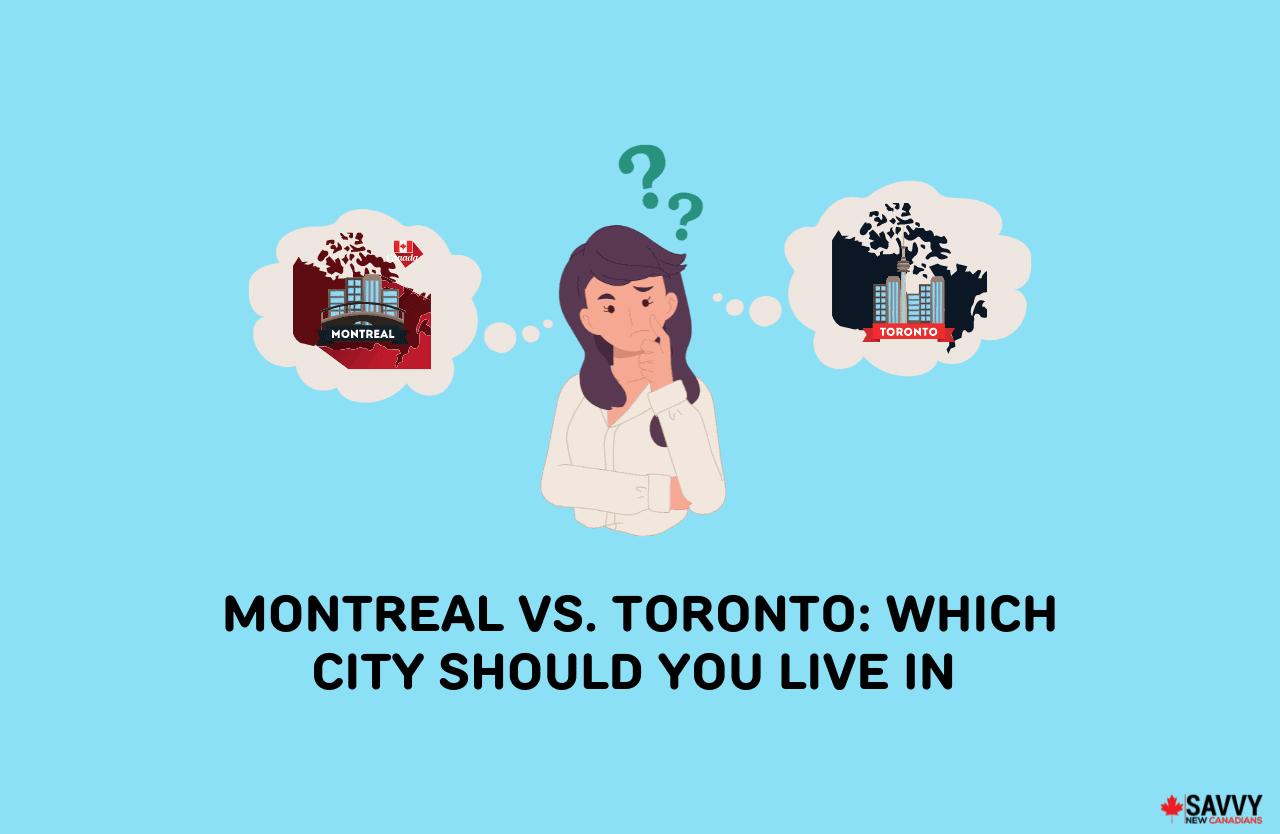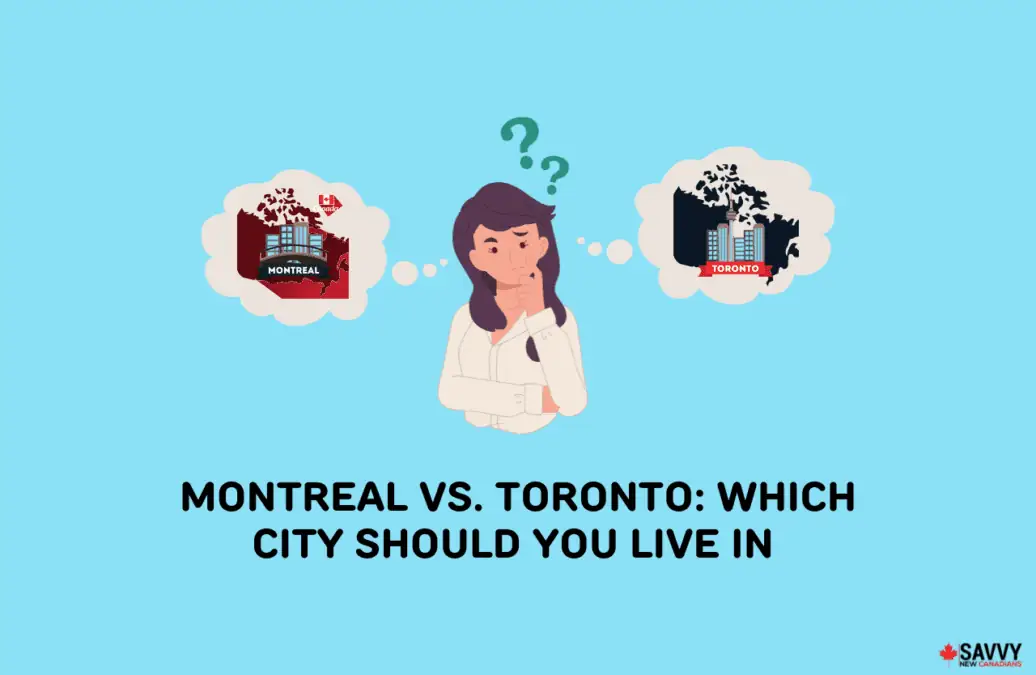 Public Transportation in Toronto vs. Montreal
Toronto is known for offering excellent public transportation. For that reason, many city residents don't feel the need to buy a car.
The Toronto Transit Commission, or TTC, operates the city's public transportation using three modes: subway, streetcar, and bus. With all three, you'll need a token, but you'll get unlimited rides with a daily or weekly pass.
While hailing a cab is relatively easy in Toronto, cabs and cars may not be the best options. Rush hour traffic in the city can be a nightmare, so public transportation (especially via streetcar and subway) is often your best bet.
The city also has a ferry terminal to get people to the Toronto Islands and offers a bike-share program too.
Montreal also has a strong public transit system, although it's not quite as robust as Toronto's. If you're planning on staying in the downtown core, you'll probably be able to use the STM metro system, which is clean and reliable.
It goes into some suburbs, but for certain areas, you'll need to rely on the bus.
Like in Toronto, using public transportation in Montreal is often both cheaper and faster than travelling by car.
Montreal has many one-way streets and detours that end up creating a lot of congestion. When you can use it, the metro system will serve you well.
Cost of Living in Montreal vs. Toronto
The average monthly cost of living in Toronto is about $2,348. That lands it a position in the top 3% of the world's most expensive cities. Montreal, on the other hand, offers a much more affordable option at just $1,688 per month.
Most of this difference comes from housing and renting costs that push Toronto's cost of living up.
In addition to differing living costs, types of residences differ significantly between Montreal and Toronto. Montreal's housing offerings tend to lean toward houses and rowhomes that have been converted into flats rather than towering high rises.
Toronto actually has more living spaces because it has larger buildings to house its residents.
That doesn't make Toronto cheaper, however. In fact, on the contrary. Living in Montreal is estimated to be cheaper than living in Toronto by over 25%. The median sale price for a single-family detached home in Toronto is $1,357,700. In Montreal, it's just $601,500.
Don't forget about taxes. The only way in which Montreal is more expensive than Toronto is in its taxes. Personal taxes are notably high across the entire province of Quebec – in fact, the province has higher income tax than any other Canadian province.
While you may save on rent and day-to-day living costs, taxes can set you back in Montreal.
Montreal vs. Toronto: Entertainment
Both cities are tourist hubs that offer plenty to do. One popular Canadian attraction many get excited about is the Toronto vs. Montreal hockey rivalry.
Toronto is home to the NHL's Toronto Maple Leafs, while Montreal is home to the Montreal Canadiens. Both teams are in the NHL's original six that began the league in 1942.
In fact, the Canadiens hold the most Stanley Cup titles of any NHL franchise, with 24 under their belt. They're the oldest hockey team around.
No matter who you root for, seeing a hockey game in either city is a must. Toronto is also home to Canada's Hockey Hall of Fame. In addition to sports, there are plenty of other entertainment opportunities as well.
Toronto has a vibrant theatre scene in the Entertainment District and is home to many great museums, including Ripley's Aquarium of Canada.
It's a sports, food, and culture hub. Montreal also has an arts district, which is known as Quartier des Spectacles. It's the home of many events and festivals in the city, and it's a global cultural hub.
Both cities are great places for nightlife. Montreal is known for its bar and club scene – plus with Quebec's lower drinking age; it's a popular place for the younger crowd.
No matter the season, you'll find bistros, burlesque clubs, and nightclubs all over town.
Montreal vs. Toronto: Where Should You Live?
Whether you want to live in Montreal or Toronto really depends on your personal preferences and lifestyle needs.
If you're looking for a fast-paced urban metropolis that's a cleaner version of New York City (with the job opportunities and culture to match), Toronto might be the place for you. If you'd prefer a more sophisticated, European feel that runs a bit slower, Montreal could be a better fit.
At the end of the day, the matter of Montreal versus Toronto really comes down to opinion. Each city has its own advantages and benefits, and each fits a different lifestyle and pace.
Toronto has a more cosmopolitan feel, but Montreal gives the sense of being a more closely knit community with beautiful French influence and a strong artistic presence.
No matter which city you choose, you're sure to find everything you're looking for in one of these two locations.
Anyone considering moving to the eastern side of Canada is almost certainly debating between these very two cities. Montreal and Toronto are some of the best Canada has to offer.
FAQs
Is it cheaper to live in Montreal or Toronto?
It is cheaper to live in Montreal than it is to live in Toronto, generally speaking. The average monthly cost of living in Montreal is $1,688. In Toronto, that number goes up to $2,348.
Which city is bigger: Montreal or Toronto?
Toronto is a bigger city than Montreal. The population of greater Toronto is about 7 million people, whereas the population of greater Montreal is only about 4 million people.
Which city in Canada has the best nightlife?
Montreal is known worldwide as the best city in Canada for nightlife. Before Las Vegas was established, Montreal was the original "Sin City," and its nightlife began booming, especially during the alcohol prohibition in the United States. Since then, Montreal has continued to be filled with bars, clubs, and speakeasies galore.
Do people speak English in Montreal?
Most people in Montreal speak French, although English is a common second language. Montreal's French differs from that spoken in continental France – a dialect known as Quebecois.
Is Montreal a party city?
Montreal has excellent nightlife, but it's much more than just a part city. In addition to its exciting entertainment district with plenty of offerings in terms of bars and clubs, Montreal is a safe community with plenty of great offerings for families and children as well.