Venmo is one of the most popular peer-to-peer mobile payment services in the United States.
Want to split a bill with your friend? Just ask them to "Venmo" you.
This cash transfer app can instantly split tabs in multiple ways for free and also supports online and in-store payments.
Does Venmo work in Canada? Learn about alternative P2P payment options like Wealthsimple Cash, KOHO, and Wise.
Is Venmo Available in Canada?
Venmo is not available in Canada.
As per its website, users must meet three main requirements:
You must be physically located in the United States.
You must have a U.S. cell phone that can send/receive text messages from shortcodes.
You must be at least 18 years old.
Venmo Alternatives in Canada
While Canadians can't use the Venmo app, we have several payment options that are just as convenient and safe.
My top four choices are KOHO, Wise, Wealthsimple Cash, and Interac.
If you plan on sending money to a friend across the border, Wise is always an excellent choice.
1. KOHO App
The free KOHO app helps users cut banking fees, save money automatically, earn cash back, pay bills, and earn high interest rates. It is an excellent alternative to Venmo.
Here's what it offers:
Free Prepaid Card: You get a free reloadable prepaid card you can use to make bill payments, shop online, and transfer money.
P2P Transfers: Easily transfer cash between friends who are KOHO users for free. Interac e-Transfers are also free.
Earn Interest: You earn interest on your entire balance.
Earn Cash back: Get up to 10% cash back on purchases. When you upgrade to a paid KOHO account, you get more perks.
Budgeting App: The KOHO app helps with budgeting and saving towards specific financial goals, including automatically saving your spare change.
Credit Building: You can subscribe to a credit building service with KOHO and improve or repair your credit score.
Referral Bonus: Get a $20 welcome bonus when you sign up for KOHO (use our promo code CASHBACK after clicking on the link). The bonus is added to your balance after your first purchase with the KOHO card.
CDIC Insurance: Your direct deposits are held at a CDIC member institution and are protected up to $100,000. Get more details in this KOHO App Review.
KOHO Prepaid Mastercard
Rewards: Earn 1% cash back on groceries and transportation; Up to 5% cashback at select partners; Earn interest on your balance*.
Welcome offer: Get a $20 bonus when you load and make your first purchase (use promo code CASHBACK during sign-up).
Interest rate fee: 0%
Annual fee: $0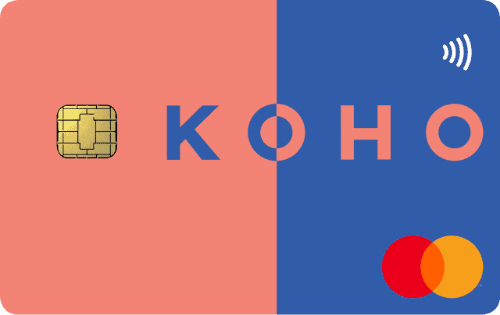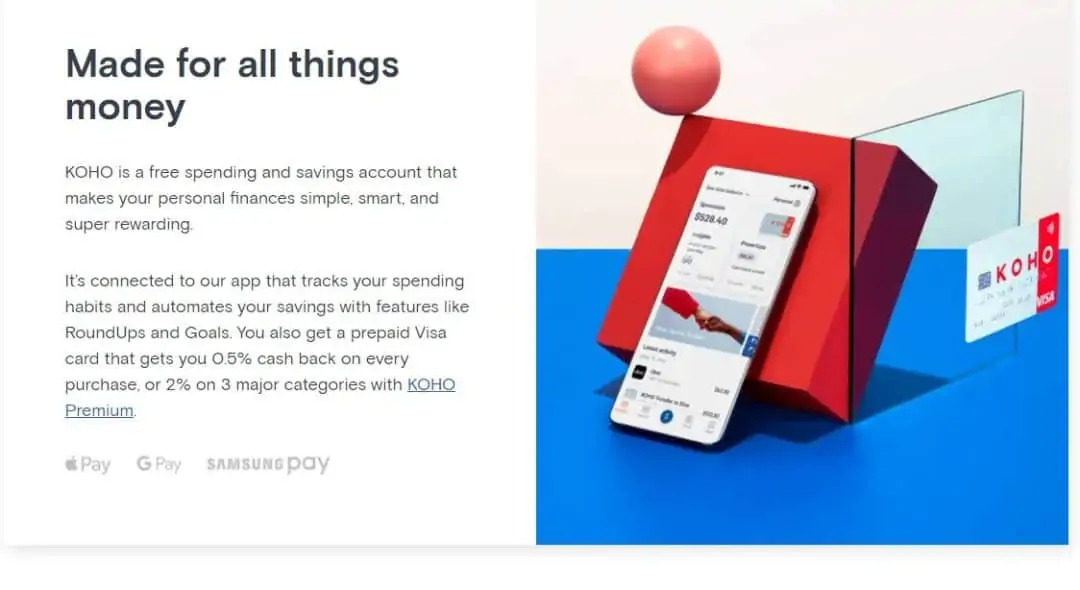 2. Wise
If you send money internationally to friends and family, Wise (formerly TransferWise) is the way to go. It offers one of the cheapest ways to send money abroad at the best exchange rates (mid-market rate).
You can transfer money to recipients in 80 countries and hold up to 54 currencies in your Wise multi-currency account.
You can also send up to $800 CAD free when you send your first money transfer via Wise using this link.
Get more details in my Wise Canada review.
3. Wealthsimple Cash
Wealthsimple Cash is a free peer-to-peer payment app owned by Canada's largest online wealth management company (Wealthsimple).
Its core features include:
Instant Transfers: Send cash and split bills between friends in seconds. You can connect to anyone in your contact list who has the Wealthsimple Cash app.
Zero Fees: There are no fees for sending and receiving money, and you don't pay to deposit or withdraw funds.
Wealthsimple Cash Card: Already in beta, the cash card can be used to pay for purchases and works like a prepaid card.
Unique Usernames: Users get a unique Dollar $ign username that distinguishes them from others.
CDIC Insurance: Your deposits are protected by the Canada Deposit Insurance Corporation up to specified limits ($100,000).
Get more details in the Wealthsimple cash review.
4. Interac e-Transfers
Interac e-Transfer transactions in 2020 exceeded $763 million.
This electronic payment system was established by eight Canadian banks in 1996.
Most financial institutions are now linked with the Interac service, and users can send money electronically (instantly) to anyone with an email address and a bank account in Canada.
Asking someone to Venmo you is like asking them to send you an e-Transfer.
5. PayPal
PayPal is perhaps the most popular way to send money to friends and others after Interac. It is available in several countries, and money transfers to friends/family within Canada are free.
If you use PayPal to send money internationally, expect to pay a transfer fee plus a margin on the exchange rate.
What is Venmo?
Venmo is a payment platform that allows friends to easily send and receive money, split bills, and socialize while doing so.
The service was founded in 2009 by Andrew Kortina and Iqram Magdon-Ismail, and was acquired by PayPal via its Braintree acquisition in 2013.
The Venmo app is available on iOS and Android devices, and you can also send money on the platform by using its website interface.
As of this writing, over 70 million people use the Venmo app. And phrases like "just Venmo me," "I just Venmoed you," and "just Venmoed" have found their way into the urban dictionary.
In addition to splitting bills between friends, you can also use Venmo to make purchases online and in-store.
And with the introduction of the Venmo Credit Card and Venmo Debit Card, you can literally carry Venmo in your wallet and earn cashback when you spend.
Not all Venmo services are free though, and when you send money to people using your Venmo credit card, a 3% fee applies.
Alternatives to Venmo in the U.S include Cash App and Zelle.
Venmo vs. Wealthsimple Cash vs. KOHO
| | | | |
| --- | --- | --- | --- |
| | Venmo | Wealthsimple Cash | KOHO |
| P2P cash transfers | Yes | Yes | Yes |
| Monthly fee | $0 (3% fee when you transfer from credit card) | $0 | $0 (option for Premium) |
| Account minimum | $0 | $0 | $0 |
| Cash back | Up to 3% | 1% | Up to 10% cash back at select partners; (0.50% – 2% otherwise) |
| Earn interest | N/A | N/A | Yes, on your entire balance |
| Early payroll | N/A | N/A | N/A |
| Credit building | Venmo Credit Card | N/A | Yes, Credit Building is available at up to $10/month |
| Mobile app | iOS and Android | iOS and Android | iOS and Android |
| Security | – | CDIC Insurance | CDIC insurance |
| Promotion | – | – | $20 cash bonus |
| Apply | – | – | Get KOHO |
Venmo Canada FAQs
Does Zelle or Venmo work in Canada?
No, both Zelle and Venmo are not available in Canada. They only operate in the U.S. and you can't use Venmo to send transfers within Canada.
Are Venmo Canada to U.S. transfers possible?
No. for Canada to U.S. payments and transfers, you can use Wise or PayPal.
Is there a Cash App in Canada?
The Cash App by Square is not available in Canada. However, you can use Wealthsimple Cash or KOHO.
Can I use Venmo to send money from Canada to the U.S.?
No. Since you can't open a Venmo account in Canada, this app can't be used for money transfers from Canada to the United States.
Related: