While the internet is littered with companies offering guaranteed approval loans if you have bad credit, the reality is that this is not true.
There is really nothing like a "guarantee" when it comes to getting approved for a loan especially if your credit score is dinged and battered.
Depending on your needs, you may be able to apply for bad credit loans online from platforms like LoanConnect, Mogo, and LendingMate.
Whether or not you are approved for these online loans depends on your credit score, employment status, and overall finances (including your debt-to-income ratio).
Sometimes, secured personal loans and guarantor loans are seen as "guaranteed" or "instant" approval loans.
This is only true to an extent. While your credit score may not factor into your application getting approved, other factors come into play. For instance, you may need to have someone with a good credit score act as a co-signer on your loan contract.
With respect to a secured loan, you are required to provide collateral. The same goes for a secured credit card.
If you can find an eligible guarantor or have a down payment to secure your loan, your approval rate goes up (up to 95% with some lenders).
One final loan option that's often regarded as "guaranteed" is a payday loan. This is not a great option as it is prohibitively costly and does nothing to improve your credit score.
What is a Bad Credit Score?
Your credit score is a three-digit number that tells lenders whether you are creditworthy. It is computed by the two credit bureaus in Canada (Equifax and TransUnion) and ranges from 300 to 900.
A bad credit score is from 300 to 599 and it signals to lenders that you may have significant problems with paying back any monies they give to you.
A good to excellent credit score tells lenders that you have been paying back debt responsibly, and they may be more willing to give you credit.
Online Loans in Canada
If you are looking to get approved for a loan with bad credit, your best bet is to use an online loan search engine. These loan rates comparison sites work with multiple lenders and they can help you shop for different types of lenders including:
Traditional banks
Credit unions
Alternative lenders
Also, they give you access to lenders in various locations so you can apply from wherever you live including Alberta, Ontario (Toronto), British Columbia, Manitoba, and elsewhere in Canada.
| | | | | |
| --- | --- | --- | --- | --- |
| Platform | Interest Rate | Loan Amount | Loan Term | Apply |
| LoanConnect | 5.75% – 46.96% | $500 to $50,000 | 6 – 60 months | Visit |
| Loans Canada | 1.99% – 46.96% | $500 to $50,000 | 4 – 60 months | Visit |
| Mogo | 9.9% – 47.42% | $500 to $35,000 | 9 – 60 months | Visit |
Unsecured Personal Loans for Poor and Bad Credit
An unsecured loan does not require you to provide collateral to secure your loan. This means you won't need a down payment or be asked to put your home or other assets on the line in order to get financing.
That said, secured loans often come with higher interest rates and the lender may require a fair to good credit score at a minimum.
Two options for finding unsecured bad credit loans in Canada are:
1. LoanConnect
LoanConnect is a top destination for personal loans in Canada whether you have an excellent, good, poor, or bad credit score.
After you have completed the application form here, they search through multiple lenders to find the best rates on offer.
Loan amount: Up to $50,000
Loan interest rates: 5.75% to 46.96% APR
The rate you qualify for depends on your credit history, how much you are borrowing, and the financial information you provide.
You can pay back your loan between 6 and 60 months.
The loan types available using LoanConnect include cash loans, debt consolidation loans, home improvement loans, regular personal loans, and bad credit loans.
You can learn more about what this company offers in this LoanConnect review.
2. Loans Canada
Loans Canada has an extensive lender network that accepts loan applications from people with bad credit.
You can use the loan for any purpose including debt consolidation, car purchase, home improvement, credit building, and more.
Loan amount: Up to $50,000
Loan interest rate: 1.99% to 46.96%
Loan terms vary from a few months to as long as 5 years (60 months).
To get started, complete the short online application process and they will be in touch to match you with a suitable lender.
The process from application to final funding can be completed in as little as 2 business days.
3. Mogo Loan
Mogo is a financial services company offering personal loans ranging from $500 to $35,000, free credit scores, identify fraud protection, and a prepaid credit card.
A Mogo Liquid personal loan can help you pay for various expenses and has a fixed term. To qualify, you must have a net income of at least $13,000 per year.
It is available in British Columbia, Ontario, Alberta, Manitoba, New Brunswick, Newfoundland and Labrador, Nova Scotia, and Prince Edward Island.
Loan amount: $500 to $35,000
Loan interest rate: 9.9% to 47.42% APR
Loan term: 9 months to 5 years
Find out more about MogoMoney loans or apply below.
4. Spring Financial
Spring Financial offers same-day personal loans of up to $15,000. The funds are paid out using e-Transfer and you can receive the cash within hours of applying if you meet the basic requirements.
To qualify for a Spring Financial loan, the eligibility requirements are:
Minimum $28,000 annual income
At least 21 years of age
Permanent resident, valid work permit, or Canadian citizen
The company operates in all provinces and territories in Canada except Saskatchewan, Quebec, and New Brunswick.
The interest rate for loans ranges from 19% to 46.96%.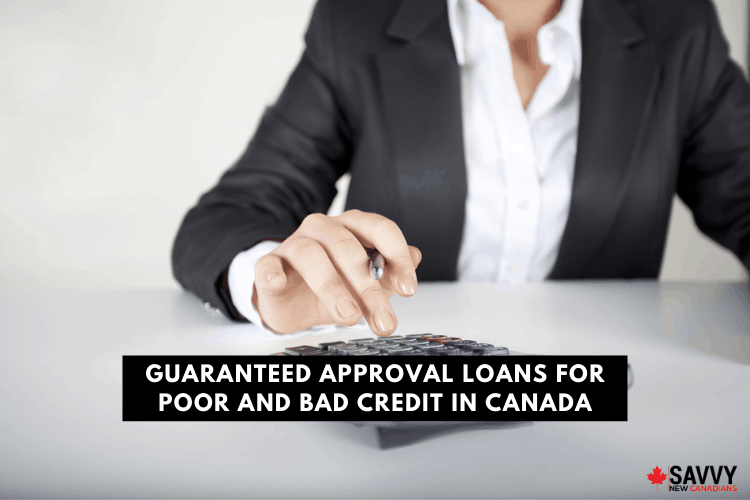 No Credit Check Online Loans
Online lenders that provide almost instant approval with "no" credit checks generally require you to have a guarantor or collateral (i.e. for a secured loan).
You may come across terms like "95% approval rate". However, this is only possible because the requirements for approval are more onerous.
For instance, finding a guarantor who is willing to underwrite your loan by co-signing your loan contract can be challenging.
Similar requirements extend to credit cards for bad credit as well.
5. LendingMate Guarantor Loans
LendingMate offers guarantor loans from $2,000 to $10,000. It does not check your credit score and 95% of borrowers who meet their eligibility requirements are approved.
Eligibility for a LendingMate loan includes:
A guarantor who has a good credit score; is aged 19-75 years, and can afford to cover the loan repayment if you can't.
You must be resident in Canada and have no active bankruptcy or consumer proposal.
The interest rate for a loan using this platform is 43% per annum, and you can borrow for 1 to 5 years.
LendingMate is available in Ontario and British Columbia.
Payday Loans in Canada
Payday lenders are an option if you are in search of an instant approval loan and you have bad credit.
However, we do not recommend them.
Payday loans end up costing you an arm and a leg, and it is in your interest to exhaust all other options before ever considering these kinds of loans.
These short-term loans are nicely packaged so they look affordable, but they are not.
For example, if you pay $15 per $100 borrowed for 2 weeks, you are effectively paying 391% per year! They often go even higher than that.
The industry is also rife with scammers and your financial situation can go from bad to worse in no time at all.
Popular payday lenders in Canada include:
MoneyMart
Cash Money
Captain Cash
National Payday Loans
iCASH
Go Day
My Canada Payday
Instead of a payday loan, consider getting a personal loan, line of credit, home equity loan, or cash advance on your credit card.
You may also benefit from speaking to a credit counsellor.
Conclusion
Be wary of predatory lenders who try to lure you with the promise of a guaranteed loan.
Popular search terms relating to instant approval and guaranteed loans include:
Bad credit loans Canada
No credit check loans online instant approval
Guarantees approval loans for poor credit
Online loans no credit check instant approval Canada
Guaranteed approval no credit check
Guaranteed payday loans Canada, and more.
Before signing any loan contract, make sure you understand what is written in the fine print including the interest rate you are paying, penalties for not making payments on time, and associated fees (e.g. origination fees).
You should also confirm that they will report your payments to the credit bureaus so that you can start to rebuild your credit score.
Guaranteed Approval Loans FAQ
What loans can I qualify for with bad credit?
You can qualify for a regular installment personal loan, however, the requirements vary by lender and some will require you to provide a guarantor or collateral. If a guarantor is required, the loan is referred to as a guarantor loan. If you need to provide collateral, it is a secured loan.
How much loan will I qualify for with bad credit?
The lenders featured on this list provide loans ranging from $500 to $50,000. How much they are willing to lend you depends on your credit history, financial situation, and other factors. In general, you should expect a higher interest rate compared to someone who has a good or excellent credit score.
How do I qualify for an instant approval loan?
When you apply for a loan and provide all the required information, you may be pre-approved based on meeting the minimum criteria. After the lender has fully assessed your application, they can decide whether or not to lend you money.
What are the basic requirements for a bad credit loan?
To increase your chances of getting approved, you should have a source of income, provide your bank account details, have a valid Canadian address, and have an acceptable debt-to-income ratio.