E-Transfer payday loans can help you get money fast in an emergency.
While payday loans often mean you can get funding regardless of your credit score and don't need to rely on traditional banks and lenders, they have several downsides.
E-Transfer payday loans in Canada are costly, and you could get stuck in a vicious cycle of debt.
In this guide, I cover the top e-Transfer payday loan lenders in Canada, how they work, their pros, cons, fees, and alternative loan platforms.
You can also learn about payday loan options and why payday loans are bad.
What is an e-Transfer Payday Loan?
E-Transfer payday loans are the electronic or online version of walking into a MoneyMart or CashMoney brick-and-mortar location and applying for a payday loan.
These loans are designed to cover shortfalls in your budget while waiting for your next paycheque.
You can apply for these online loans using your phone or computer, and if approved, the money is deposited in your bank account within minutes.
This is much faster than Electronic Fund Transfer (EFT) or direct deposit payments.
Unlike traditional personal loans, Interac e-Transfer payday loans do not check your credit score, and they accept various types of income such as child tax benefits, CPP, EI, disability payments, and more.
They are also extremely expensive, with annual interest rates as high as 600%. Simply put, e-transfer loans are not ideal if you can avoid them.
E-Transfer Payday Loans in Canada (Lenders)
There are many lenders offering e-Transfer loans in Canada.
A few are listed below, and I cover how they work, their funding options, and where they are available.
1. iCash
iCash is an online payday loan lender operating in Ontario, Alberta, Manitoba, New Brunswick, British Columbia, Nova Scotia, and Prince Edward Island.
It promotes its e-Transfer payday loans (instant cash loans) as being available 24/7, and approval rates exceed 90%.
You can borrow up to $1,500 with terms up to 62 days. Application requirements include a net income of at least $800 per month, employment by the same employer for at least 3 months, and a Canadian bank account.
Funds are sent by e-Transfer and only take a few minutes.
For a $500 loan in BC and a 42-day term, your annual percentage rate (APR) is 130%.
2. Money Mart
Money Mart is one of the largest payday loan lenders in Canada, with over 500 locations.
It offers installment loans, cash advances, cheque cashing, money transfers, FX, and the Titaniun+ Prepaid Mastercard.
Its e-Transfer loan is offered 24/7 and is available within 2 hours.
Money Mart offers its online payday loan services in ON, AB, BC, MB, SK, and NS, and you can borrow up to $1,500.
In addition to being the age of the majority in your province, you must also have a steady income.
For a $500 payday loan in Ontario and a 14-day term, you pay back $575 for a 391.07% APR.
3. Cash Money
Cash Money has been around since 1992. It offers payday loans, installment loans, lines of credit, money transfers, and cheque-cashing services.
Its instant payday loan is available via an online application, with payments in as little as 15 minutes.
You can borrow up to $1,500 and choose the following methods to receive the cash:
Interac e-Transfer
Direct deposit
Cash pickup at a store
Opt+ Prepaid Mastercard
To qualify for a loan, you must be at least 18 years of age, have a source of income, a working phone number, and a chequing account.
For a $300 loan for 12 days in Manitoba, your cost of borrowing is $51, equivalent to a 517.08% APR.
4. Loan Express
Loan Express provides short-term e-Transfer loans of up to $1,500, and this cash advance loan is available in ON, AB, BC, MB, NB, NL, NS, SK, YT, NT, and NU.
The process is automated and does not require you to submit any paperwork.
If you do not use their bank verification tool and choose to fax or email documents, processing your loan takes longer.
For a $300 loan and a 14-day term, you could pay an APR of up to 599.64%.
5. GoDay
GoDay offers payday loans in many Canadian cities, including Toronto, Vancouver, Ottawa, Winnipeg, Edmonton, London, Saskatoon, Calgary, and more.
After completing its online application, a decision is made automatically, and funds can reach your bank account within 1 hour of approval.
You can borrow up to $1,500, and the income requirements also include payments from the CCB, OAS, CPP, and the disability tax credit.
Note that this company will conduct a credit check; however, bad credit does not automatically disqualify your application.
For a $300 loan and 14-day term in Ontario, British Columbia, or New Brunswick, you pay a $45 interest, equivalent to a 391.07% APR.
6. Speedy Cash
Speedy Cash has offices in BC, Alberta, Saskatchewan, Nova Scotia, Nunavut, Yukon, and the Northwest Territories.
It also offers online payday loans of up to $1,500 without requiring a credit check.
To qualify, you must have a source of income and provide a 60-day bank statement and your most recent pay stub.
You will also need to provide a void cheque or preauthorized debit form and proof of your address.
For a $300 loan for 14 days in Saskatchewan, the APR is 443.21%.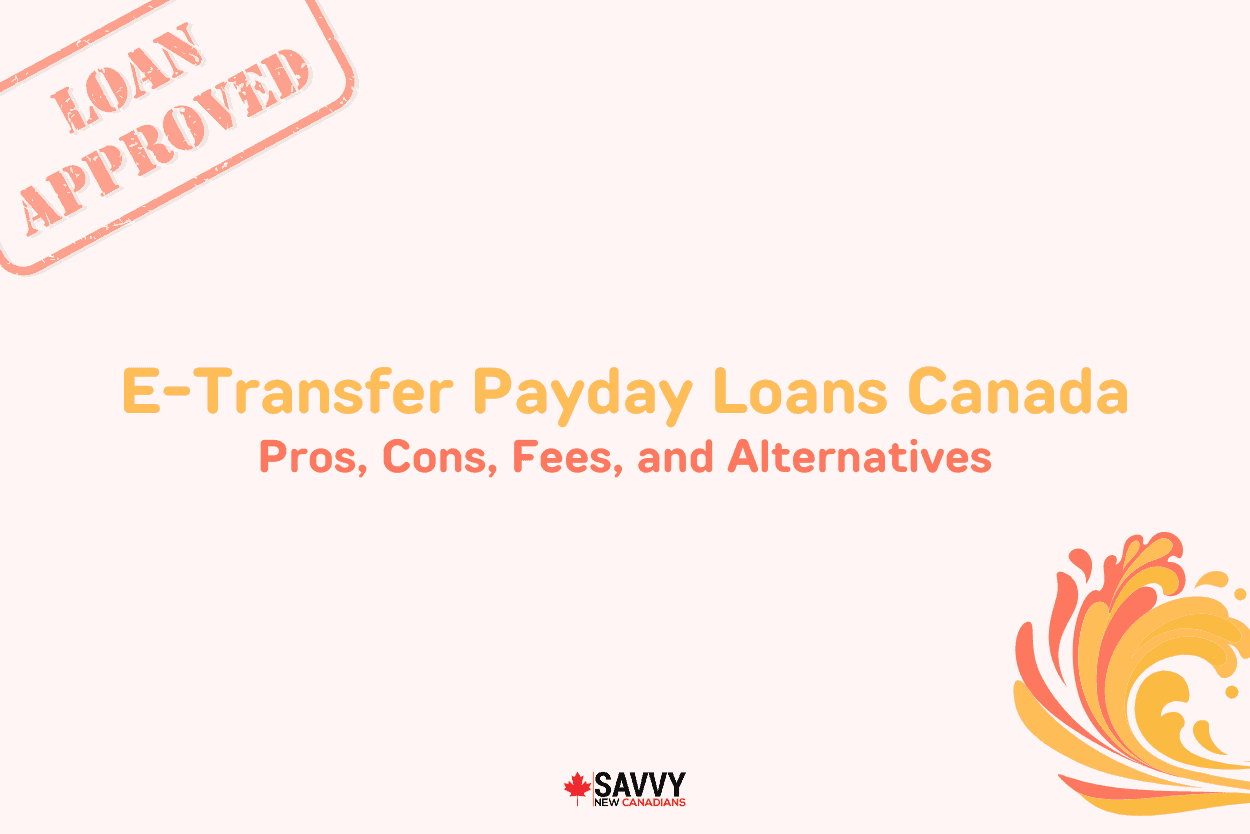 7. Pay2Day
Pay2Day offers e-Transfer payday loans in Ontario, BC, and Nova Scotia. It also provides prepaid cards and cheque cashing at some locations.
You can apply online and borrow up to $1,500 24 hours a day, 7 days a week. Payments take 1-2 hours to reach your bank account.
For a $100 loan for 14 days in Nova Scotia, you pay a $19 borrowing cost, equivalent to 495.36%.
8. Mr. Payday
Mr. Payday has been around since 2002 and offers cash advances in BC, AB, and Ontario.
You can borrow up to $1,500 and get paid within 30 minutes via Interac e-Transfer.
To qualify for a loan, you must be at least 19 years of age, have a steady income over $1,100 per month, an active chequing account, and a phone number.
This lender does not disclose the cost of borrowing on its website.
9. My Canada Payday
My Canada Payday is a licensed payday lender in BC, SK, NS, MB, and ON.
It offers Interac e-Transfer loans 24/7, and you can borrow up to $1,500.
To qualify, you will need proof of income and a bank statement showing your history for 180 days. You may also need a void cheque, recent pay stub, and utility bill.
On a $500 loan in Ontario for 14 days, your borrowing cost is $75, equivalent to a 391.01% APR.
10. LendDirect
This Toronto-based lender offers a personal line of credit up to $15,000, and you can draw cash advances from this line of credit when needed.
Payment is sent using Interac e-Transfer (15 minutes) or direct deposit (1-2 business days).
The interest rate for this loan ranges from 19.99% to 46.93%.
How Much Do e-Transfer Payday Loans Cost?
The maximum borrowing fee a payday lender can charge is fixed for each province at:
| | | |
| --- | --- | --- |
| Province | Borrowing per $100 | APR for 2-week Loan |
| Alberta | $15 | 391% |
| British Columbia | $15 | 391% |
| Manitoba | $17 | 443% |
| New Brunswick | $15 | 391% |
| Newfoundland and Labrador | $21 | 548% |
| Nova Scotia | $19 | 495% |
| Ontario | $15 | 391% |
| Prince Edward Island | $25 | 391% |
| Saskatchewan | $17 | 443% |
Typically, you can only borrow up to $1,500.
Alternatives To e-Transfer Loans in Canada
As an alternative to an Interac e-Transfer payday loan, you can apply for a cheaper installment personal loan if you qualify.
Use these loan comparison platforms to see what is available:
Loans Canada
Loans Canada works with various lenders, and you can use it to find loans designed for debt relief, credit building, auto financing, bad credit, and more.
Loan amounts are up to $50,000, and interest rates range from 1.99% to 46.96%.
LoanConnect
LoanConnect is a one-stop shop for all kinds of loans, including bad credit and emergency loans.
You can use the platform to compare rates from various lenders and borrow up to $50,000.
Borrowing costs range from 5.75% to 46.96%, and funding takes 1-2 business days.
Spring Financial
Spring Financial offers same-day personal loans of up to $15,000. Funds are paid out by e-Transfer, and this means you can receive the cash within hours of applying if you meet the basic requirements:
Minimum $28,000 annual income
At least 21 years of age
Permanent resident, valid work permit, or Canadian citizen
All provinces except SK, QC, and NB
The interest rate for loans ranges from 18.99% to 46%.
Other alternatives to payday loans include:
Getting a salary advance
Applying for a line of credit
Borrowing money from friends and family
Getting a home equity loan
How To Apply For e-Transfer Payday Loans
Applying for an e-Transfer loan is relatively easy as the application process is usually completed online, and most lenders have a 'paperless' operation.
The requirements typically include the following:
Age: You must be the age of the majority in your province, i.e. at least 18 or 19 years old.
Income: You will be required to show proof of income such as employment income, pension, employment insurance, or government benefits.
Bank account: You must have an active bank account where you receive direct deposits. Some lenders will ask for a bank statement showing your financial history.
Phone number and residency: You must be resident in Canada and have an active phone number.
No active bankruptcy: You could still get a payday loan with a discharged bankruptcy or consumer proposal.
Credit score: Money payday lenders won't pull your credit record. That said, some will check your credit score. You can find out what your score is for free.
You will also need to provide a valid government-issued ID such as a driver's license or passport.
If your loan application is approved, funds are sent to your bank account in as little as 5 minutes.
Pros and Cons of e-Transfer Payday Loans
Pros:
Fast access to cash in an emergency
Can be approved with a bad credit rating
Convenient online application
Cons:
One of the most expensive loans
Watch out for hidden fees and charges
The industry is rife with predatory lenders and unsavoury characters
You may get a loan when you should actually be seeking credit counselling
Easy to get deeper into debt
Can damage your credit score
Are e-Transfer Payday Loans Safe?
Before applying for a loan, check with your provincial or territorial consumer affairs office to confirm that the payday lender is licensed to operate there.
Read the small print and ensure you understand the terms and conditions of the loan.
Some payday lenders charge illegal interest rates that are higher than the provincial limits.
Also, confirm whether there are other fees you will be paying on top of the interest rate.
Are e-Transfer Payday Loans Legal?
Yes, e-Transfer payday loans are legal in Canada under section 34.71 of the Criminal Code. Many provinces also have legislation that deals with how payday lenders operate.
For example, in AB, BC, NB, NS, ON, and SK, a payday lender cannot extend or roll over your payday loan.
In AB, ON, BC, NB, MB, NS, and SK, they are not allowed to make you sign a form that transfers your wages directly to them.