It can be challenging to find a car loan in Toronto, Ottawa, Sudbury, London, and elsewhere in Ontario if you have a bad credit score.
This is because bank lenders generally avoid subprime loans, and alternative lenders may ask you to provide a co-signer.
The same challenge is faced by people who do not have a credit history.
The thing is, without a good credit score of 660 or higher, your loan options are very limited because auto financing lenders may consider you as not being creditworthy.
Below, I discuss a few loan comparison sites that work with bad credit car dealerships and some of the car financing rates you can expect. I also discuss ways to improve and fix your credit score.
Where To Get a Bad Credit Car Loan in Ontario
1. CarsFast
Cars Fast
Cars Fast is a popular destination for getting a car loan regardless of your credit score. The platform has partnerships with top loan providers, including TD, Scotiabank, RBC, HSBC, and others.
Interest rate: Varies.
Loan term: 12-96 months.
Maximum loan amount: $75,000.
Eligibility: Earn at least $20,000/yr, reside in ON, BC, or AB; and be employed for 3 months+.

CarsFast works with various lending institutions like TD, RBC, Scotiabank, Valley First, BMO, WS Leasing Ltd, and others to provide car loans in Canada.
It accepts borrowers with all kinds of credit, including bad and poor credit, if they currently earn income (at least $20,000 per year) and reside in Ontario, Alberta, or B.C.
Loan amount: Up to $75,000
Loan term: 12-96 months
2. Loans Canada
Loans Canada
Loans Canada is a loan comparison platform for all kinds of personal loans, car loans, debt consolidation loans, and bad credit loans. It has partnerships with some of Canada's largest lenders.
Interest rate: 1.99% to 46.96%.
Loan term: 4-60 months.
Maximum loan amount: Up to $50,000.

Loans Canada is a top destination for Canadians seeking loans for various purposes, including auto financing, personal loans, credit building, and business financing.
After submitting your application online, they connect you with a car dealership or lender that meets your needs.
Depending on your credit rating, auto financing rates range from as low as 1.99% and can be up to 46.96%.
Loan amount: $500 to $50,000
Loan term: 12-84 months
3. LoanConnect
LoanConnect
LoanConnect is a search engine for finding personal loans online from various lenders. You can use it to find a loan that works for your situation regardless of your credit score.
Interest rate: 6.99% to 46.9%.
Loan term: 3-120 months.
Maximum loan amount: Up to $50,000.

LoanConnect calls itself "Canada's premier personal loan search engine."
The company has partnerships with multiple lenders, including some that cater to subprime borrowers.
To get started, complete the online application, and you could receive pre-approval within 5 minutes.
Loan interest rates available through LoanConnect range between 5.75% and 46.96%.
For auto loans, the general APR ranges from 1.90% to 4.95%.
Loan amount: Up to $50,000
Loan term: 12-84 months
4. Car Loans Canada
Car Loans Canada provides car loans in multiple provinces, including Ontario, British Columbia, Manitoba, Alberta, Saskatchewan, Newfoundland and Labrador, and a few others.
This premier car loan site has been used by 1.6 million Canadians, and more than 3,500 cars are sold monthly.
Following approval for a loan, you can drive off with your car from the dealership in as little as two days.
The Auto financing rates available vary and can be up to 29.95%.
Loans amount: Up to $50,000
Loan term: Up to 96 months
What Is a Bad Credit Score for a Car Loan?
Car loan lenders use credit scores to assess whether people are eligible for a loan. It indicates the risk you present, and they want to see that you are a responsible borrower.
If you want a car loan, a credit score below 660 is considered a bad one. Credit scores in Canada range from 300 to 900, with 300 being the worst and 900 being the best.
While a credit score from 300 to 559 is considered a poor rating, and a score from 560 to 659 is considered a fair rating, they are both considered bad when it comes to getting a car loan.
If your credit rating falls within this range, you will find it extremely difficult to qualify for loans and other credit products with competitive interest rates.
That said, there are lenders who are willing to extend credit even if you have a bad credit score. In exchange for the higher credit risk they face, they charge higher interest rates.
If your credit score is low, you can visit the online loan sites above to find out whether you can get pre-approval for a loan before visiting the dealership.
Who Offers Bad Credit Car Loans in Ontario?
If you're looking for bad credit car loans in Ontario, you will have three main options: dealerships, online lenders, banks and credit unions.
Dealerships
Dealerships are one of the first places people choose when they want to get a bad credit car loan in Ontario.
Dealerships want to sell cars, and if they can get a sale, they may be more willing to provide a car loan to customers with bad credit ratings.
You will often pay higher rates than normal car loans, but this is the same when you get a bad credit car loan from anywhere.
Online Lenders
Online lenders like those we've listed in this guide are a good option. These private lenders often specialize in providing car loans to people with bad credit scores.
The benefit is that the chance of approval is higher. But, on the other hand, the interest rates can be quite high. But this depends on several factors, including your credit score, loan amount, the car you want to purchase, and more.
It's important to choose an online lender with a good reputation that you can trust. Use our guide to find a legit lender and avoid scams.
Banks and Credit Unions
Many people with good credit scores will get a car loan from their bank or credit union. You are less likely to be able to do this if you have a bad credit score. However, it's always worth asking if you have a good relationship with your bank.
You might be able to get a car loan with a lower interest rate than you could get elsewhere.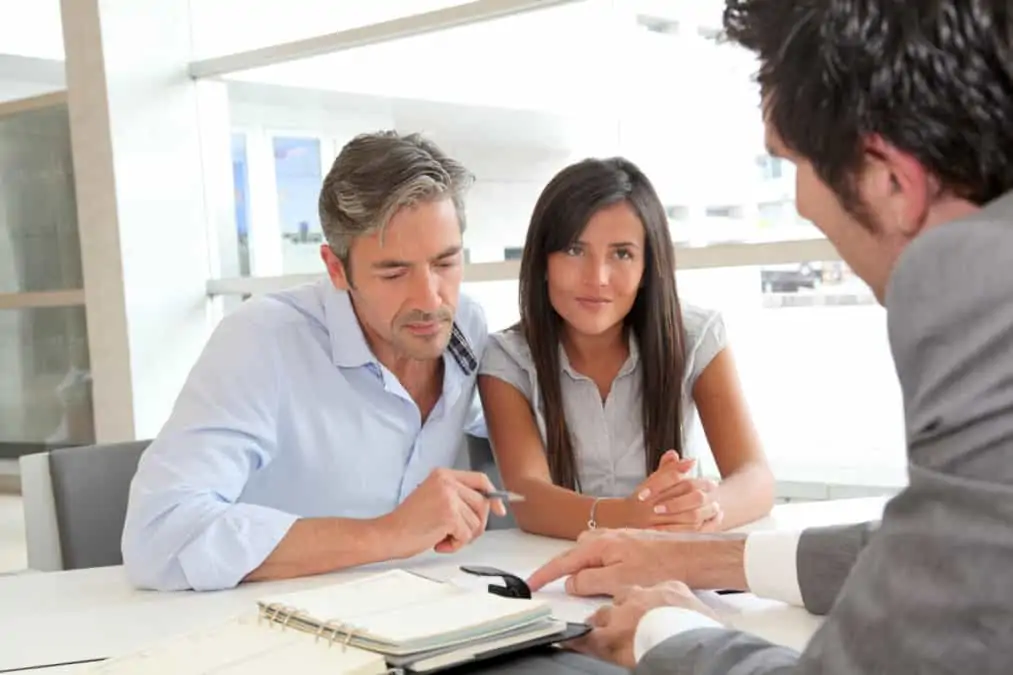 Can I Get Financing For a Car With Bad Credit?
Before approaching a lender, you should first check your credit score to know the types of rates you are likely going to be offered. A bad credit score typically means you will pay an interest rate that is in the double digits.
In some cases, a lender may ask you to provide a co-signer. If you have someone willing to guarantee your loan, it could make the process faster and increase the probability that your application will be approved.
That said, if your credit score falls in the 'poor' or 'fair' category, you may still qualify for an unsecured loan without needing anyone to guarantee it.
The loan platforms on this list work with lenders that accept bad credit loan applications without needing you to provide a co-signer.
Car Loan Applications Checklist
For your car loan application to be successful, you will likely need to meet the following requirements:
Have a valid driver's license
Have a monthly income of at least $1,800 to $2,000 (translates to $10.50 per hour for a 40-hour work week)
Be a Canadian citizen or permanent resident
Have a Canadian bank account and be able to provide a void cheque
Have proof of address, e.g. recent utility bill or bank statement
Consent to a credit check
Before driving off the lot, you will also need to show proof of car insurance.
How to Get a Bad Credit Car Loan
There are several steps you can take to get a bad credit car loan in Ontario:
Gather Documents
You will normally need your driver's licence and car insurance card, and you may need to provide employment details, like tax returns or bank statements.
Compare Loans
Once you have the documents, start comparing loans. This is easiest to do online. Use the loan calculators many lenders provide to determine your best option.
Compare the terms, interest rates, fees, and eligibility requirements.
Apply for the Loan
When you are ready, apply for the loan online by filling out the application form.
Choose Your Vehicle
Once the loan is approved, the lender will usually connect you with a dealership in Ontario. You can check whether the vehicle you want is available and sort out the details.
Sign the Contract
When you are happy with everything, sign and submit the contract. Make sure you understand exactly how much you will be paying and any fees involved, including penalties.
How to Improve Your Chances
To improve your chances, it's always important to compare loans. Don't go with the first option you find, and don't apply to lenders that carry out a hard credit check until you have made your decision.
You might consider using a cosigner. This is someone with a better credit score to apply with you, and it can improve your chances of getting approved.
Always go prepared if you are using a dealership. Do some research beforehand, find out what sort of loans you can get from an online lender, get pre-approved, and use this to improve your bargaining power.
You could get a better loan by improving your credit score. If you have the time and you can wait a few more months, use a credit builder service like that provided by KOHO, pay down your existing debts, check your credit report and get any mistakes fixed.
What Is the Cost of a Bad Credit Car Loan in Ontario?
The cost of a bad credit car loan will depend on several factors.
The interest rate can range from under 10% to 30% depending on your credit rating, income, the size of your down payment, how much you want to borrow, the vehicle you are buying, the term of the loan, and more.
Let's say you want to buy a car that costs $28,000. There is a provincial sale tax of 13%, and you provide a down payment of $2,800 and want a loan term of six years.
The table below shows the cost of the loan for someone with a poor or fair credit rating:
| | | | |
| --- | --- | --- | --- |
| Credit Rating | Interest Rate | Monthly Payment | Total Interest |
| Poor | 14% | $594.27 | $13,947.41 |
| Fair | 9% | $519.86 | $8,589.67 |
Advantages and Disadvantages of Bad Credit Car Loans
There are several pros and cons of bad credit car loans to consider before applying for one.
Pros:
It can be a good option if you need a car but cannot qualify for a standard car loan.
Online applications are quick and secure and come with pre-approvals.
These loans are flexible, and you may be able to get a loan even without a down payment.
The option of longer terms means you can spread out the cost over several years to reduce your monthly payments.
You can improve your credit score if you make your monthly payments on time.
Cons:
Higher interest rates than standard car loans.
Some online lenders may be untrustworthy, so choosing a lender with a good reputation is important.
Extra fees can add up and make your loan more expensive.
Should I Get a Bad Credit Car Loan?
Whether you get a bad credit car loan or not depends on factors like your credit score, the car you want to get, whether you can pay a down payment, whether you have a steady income source, and more.
If you want to get a car, compare your options and find out about all the costs involved, including fees. The most important thing to consider is whether you can afford to pay the monthly payments.
Getting a bad credit car loan could be a good decision if you can afford it and you need a car.
How To Fix Your Bad Credit Score
Use the strategies below to fix and improve your credit score over time:
Pay your bills on time and avoid late or missed bill payments
Keep your credit utilization rate at 30% or less. If you have a credit limit of $1,000, your outstanding balance should not exceed $300
Limit your credit applications to minimize the negative impact of hard inquiries
Check your credit report for errors and inaccuracies
Consolidate your debt if it helps you secure a lower interest rate so you can pay it off faster
Here are some options for building credit history in Canada.
Alternatives to Bad Credit Car Loans
If you're still not sure about getting a bad credit car loan in Ontario, there are a few other options you might want to consider.
Secured Loan
If you own an asset like a property, you could use this to get a secured loan. These come with lower interest rates and reduce the risk for the lender.
Use a Cosigner
If you can use a cosigner, you might qualify for a loan with a better rate. A cosigner could be a friend or family member, and they essentially act as the guarantor.
Improve Your Credit Score
Finally, one option is to spend a few months improving your credit score.
If you are not in a rush, you can focus on paying off your existing debt, using a credit builder service, and more. Work on improving your score, and you may be able to get a car loan with a better interest rate a few months later.
Bad Credit Car Loan Terminology
APR (Annual Percentage Rate) – The amount of interest you will pay back on your loan.
Down Payment – A lump sum payment you can make to reduce the amount of money you need to borrow.
Secured Loan – A loan where you use an asset as security to reduce the risk for the lender.
Loan Term – The amount of time it takes to repay the loan.
Fees – Additional costs, including administration fees, account fees, original fees, and more.
Car Loan Rate Calculator
Bad Credit Car Loans Ontario FAQs
Does a bad credit car loan build credit?
Yes, if you make your monthly payments on time every month, a bad credit car loan can help you to build credit.
Which car dealerships accept bad credit in Canada?
Many dealerships in Canada approve bad credit to borrowers who meet their eligibility criteria. You can use a platform like CarsFast that has partnerships with more than 350 car dealers to find auto loans that meet your needs.
How to get a car loan with extremely bad credit?
Search for a lender that provides loans to people even with very bad credit and compare the options available to you.
Can I find a no-credit check car loan in Ontario?
There are no credit check car loan options in Ontario, but they will cost you dearly in interest fees and may require a guarantor.
Can I finance a car loan with a 500 credit score?
Yes, it is possible to get a car loan with a low credit score of 500. You can expect to pay a much higher interest rate than someone who has a good credit score.
What credit score do you need for a car loan in Ontario?
For a standard car loan in Ontario, you will need a credit score of 660 or over. But a bad credit car loan may be an option if you have a lower score.
What credit score is needed to buy a car without a cosigner?
You can get a bad credit car loan without a cosigner, even if you have a fair or poor credit score.
Can I get pre-approved for a car loan with bad credit?
Yes, several online lenders provide pre-approval for car loans for people with bad credit.
Related: