Your credit score can make or break your financial life. Lenders depend on it when you apply for a credit card or loan as it tells them how you have managed credit over the years.
With an excellent credit history, you get access to reasonable interest rates. And if you have bad or no credit, your application may be denied.
A credit-building app may come in handy if you need help with increasing your credit score.
While they aren't magic wands that change your finances overnight, they can help you get started on boosting your score over time.
My top picks are KOHO Credit Builder, Borrowell, and Chexy.
Best Credit Building Apps in Canada
1. KOHO Credit Building
KOHO offers the best credit building product in Canada. This optional add-on service is provided alongside the company's free cash back prepaid card, KOHO Prepaid Mastercard.
As a card user, you earn up to 5% cash back on purchases.
If you want to build a credit history, you can subscribe to the KOHO Credit Building product, which costs $10 per month.
A subscription usually lasts 6 months, and you can either pay monthly or pay the entire $60 upfront to cover the 6-month subscription.
KOHO opens a line of credit on your behalf, and each monthly subscription fee payment is reported to a credit bureau.
This helps build a strong credit history and improves your credit score.
You can also view your credit score within the KOHO app, and it is updated monthly.
Cost: $10 per month for 6 months.
Available: iOS and Android devices.
Pros of KOHO
The benefits of KOHO credit building are many:
Access to a free cash back prepaid card that earns up to 5% on purchases
Free budgeting app you can use to set financial goals and automate savings
Credit building product includes free credit score checks
Offers interest on your balance
Trusted by more than 500,000 Canadians
Cons of KOHO
Downsides of KOHO to watch for:
There is a $10 monthly fee
Credit score can be further damaged if you don't pay your subscription fee on time
KOHO Prepaid Mastercard
Rewards: Earn 1% cash back on groceries and transportation; Up to 5% cashback at select partners; Earn interest on your balance*.
Welcome offer: Get a $20 bonus when you load and make your first purchase (use promo code CASHBACK during sign-up).
Interest rate fee: 0%
Annual fee: $0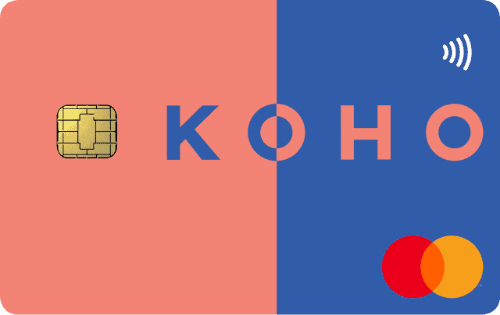 Check out our detailed review of KOHO credit building.
2. Borrowell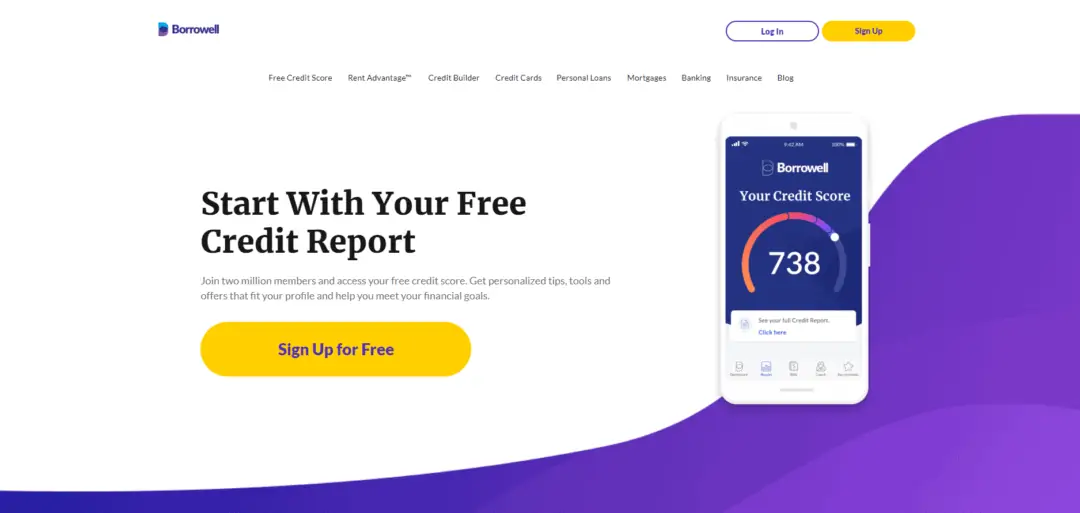 Borrowell was the first Canadian company to provide free access to Equifax credit scores in Canada.
The company offers various financial products, including Credit Building and Rent Advantage.
Credit Builder: This credit building product has a 36-month term. You pay a $10 monthly fee, and this payment is reported to Equifax. The monthly fee is withdrawn automatically from your bank account using pre-authorized debit.
After 36 months in the program, you receive $240 back in savings, which is paid to your bank account.
Rent Advantage: Borrowell's Rent Advantage service reports your rent payment to Equifax by connecting to your bank account.
Your landlord's approval is not required, and you can cancel anytime. The subscription fee is $5 per month.
Cost: $10/month for Credit Builder and $5/month for Rent Advantage.
Available: On web, iOS, and Android devices.
Pros of Borrowell
Benefits of using Borrowell include:
Free access to your Equifax credit score – updated weekly and good for credit monitoring.
No hard credit check required
Offers various financial products
Easy to setup
Cons of Borrowell
$5 to $10 monthly cost
Credit Builder requires a 36-month commitment, while at least 6 months is recommended for Rent Advantage
Only reports to Equifax Canada
Here's a comprehensive explanation of Borrowell.
3. Chexy Credit Building
Chexy is a Toronto-based rent payments platform founded in 2022 to empower Canadian tenants to achieve their financial goals faster by building credit on a major monthly expense while earning credit card rewards.
The introduction of its credit building offering is valuable, particularly for newcomers to Canada, as it helps them build credit through rent, their biggest expense. This then enables them to achieve a solid financial foundation faster.  
With its Credit Builder add-on that costs $9.99 per month, Chexy users can boost their credit score faster and build debt-free credit sooner. If you are a newcomer to Canada and you do not have any credit history, you can jumpstart by signing up with Chexy.
Cost: $9.99 per month
Available: On the web only; no app available
Pros of Chexy
Credit Builder offers a faster path to credit through on-time payments
Option to cancel the subscription as long as it is not yet active
Reports rental payments to Equifax every month to strengthen your credit profile
Reinforces your creditworthiness over time
Enhances your chances of securing future loans, mortgages and other financial products
Helps you secure future housing
Cons of Chexy
No mobile app
The monthly cost is higher than some of its competitors
Once Credit Builder is activated, it cannot be deactivated for the first six months, as per Equifax requirements.
Equifax may wipe all rent tradelines from your credit report if you cancel your Chexy account in the first six months.
Here's a detailed Chexy review.
4. Equifax Canada
Equifax is one of the major credit bureaus in Canada.
Lenders and other financial institutions report your credit transactions to Equifax and/or TransUnion, who in turn report this information on your credit report.
Equifax offers free access to your credit report and credit score, which is updated monthly.
When trying to build your credit score, this free service gives you insight into what is working. You can also check your credit report for errors that could negatively impact your score.
Equifax also offers a paid credit monitoring service that includes identity protection.
Cost: Free or $19.95 monthly for Equifax Complete Premier.
Available: Web.
Pros of Equifax
Free access to credit score and report online – updated monthly
Reliable information directly from a credit bureau
Cons of Equifax
It does not help you build credit directly
Credit score may be different from TransUnion's
Some lenders do not report to Equifax
Learn more in this Equifax review.
5. TransUnion
TransUnion is the second main credit bureau in Canada.
Like Equifax, it allows free access to your credit report. However, there's a fee to view your credit score.
Monitoring your credit report can help rectify errors. It could also alert you to potential identify fraud.
Cost: $0 for Consumer disclosure; $24.95 monthly for credit score (free in Quebec).
Available: Web
Pros of TransUnion
Free credit report (consumer disclosure)
It has a paid service that includes identity theft insurance
Cons of TransUnion
Has a $24.95 monthly subscription to view your credit score (except in Quebec)
Credit score may be different from Equifax's
Some lenders do not report to TransUnion
6. Credit Karma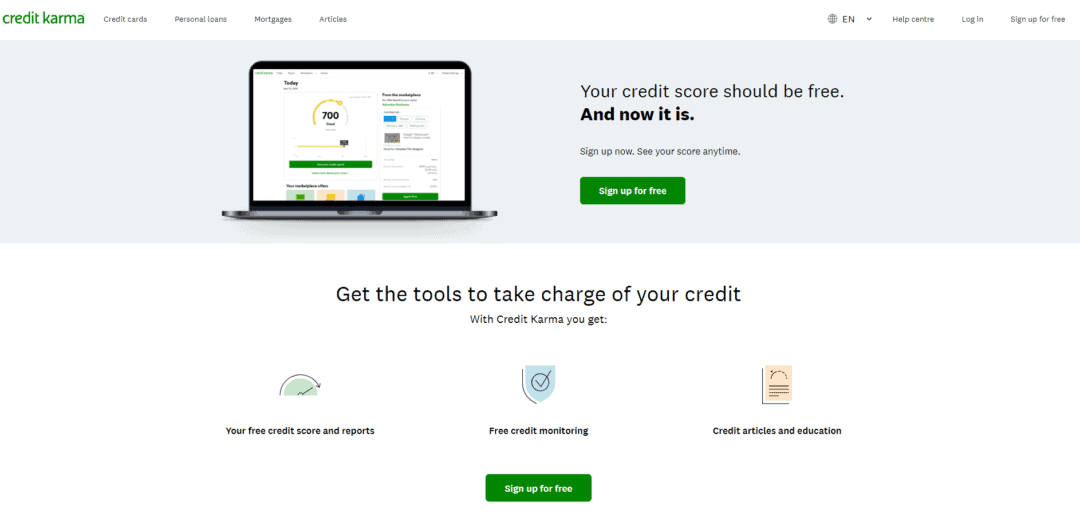 Credit Karma is a personal finance company like Borrowell. It provides free credit scores and reports from TransUnion and is a helpful tool when you are building credit.
If you use Borrowell to monitor your score and report from Equifax, Credit Karma can help you compare those with that of TransUnion.
Cost: Free.
Available: Web, iOS and Android devices.
Pos of Credit Karma
Free TransUnion credit score and report
Offer credit educational resources
Free credit monitoring
Cons of Credit Karma
Does not include Equifax
No direct credit building service
May receive too many emails about applying for new credit products
Learn more about Credit Karma in our review.
7. YNAB
YNAB is a personal budgeting app.
If you want to stop living paycheque to paycheque and get a better handle on your finances, this app is for you.
As per its website, new users of the app save more than $6,000 in their first year.
A big part of building credit is ensuring that your bills are paid on time, and you have enough money left to save for future needs.
YNAB simplifies this process with a loan planner tool and provides spending and net worth reports, goal tracking, and more.
Cost: 34-day free trial and $14.99/month after or $99/year (prices in USD)
Available: Web, iOS and Android devices.
Pros of YNAB
Best paid budgeting app
Real-time expense tracking
Offers a loan calculator to see how much interest you are saving
34-day free trial to see if it is useful
Cons of YNAB
Pricey at $14.99USD per month
Can be challenging to learn the ropes
Here's a review of YNAB to learn more.
8. Mint
Mint is a free budget tracker. If you are not willing to pay for a budgeting app like YNAB, Mint is a free alternative.
It links all your financial accounts in one place, including credit cards, investments, savings, chequing, and more, making it easy to see how you are doing financially.
You can easily use the app to create customizable budget, track your spending and bill payments, and calculate your net worth.
Cost: Free.
Available: Web; iOS and Android devices.
Pros of Mint
Free budgeting software
Has a bill payment tracker so you can avoid damaging your credit history
Provides financial tips
Works on all devices
Cons of Mint
Lacks connectivity with some financial institutions
Can't pay bills directly through the app
Expect to see ads
Credit Builder Loans
A credit builder loan is different from a traditional personal loan. Instead of receiving money upfront, a credit builder loan holds your loan in a savings account or Guaranteed Investment Certificate (GIC).
You make fixed installment payments to the lender and only get access to the loan after paying it off.
These types of loans can be great for building your credit history and boosting your credit score if you can't qualify for a regular loan.
Your payments are reported to the credit bureaus and count toward your credit history.
The top credit builder loans and sites in Canada include Refresh Financial, Loans Canada, and LoanConnect.
9. Loans Canada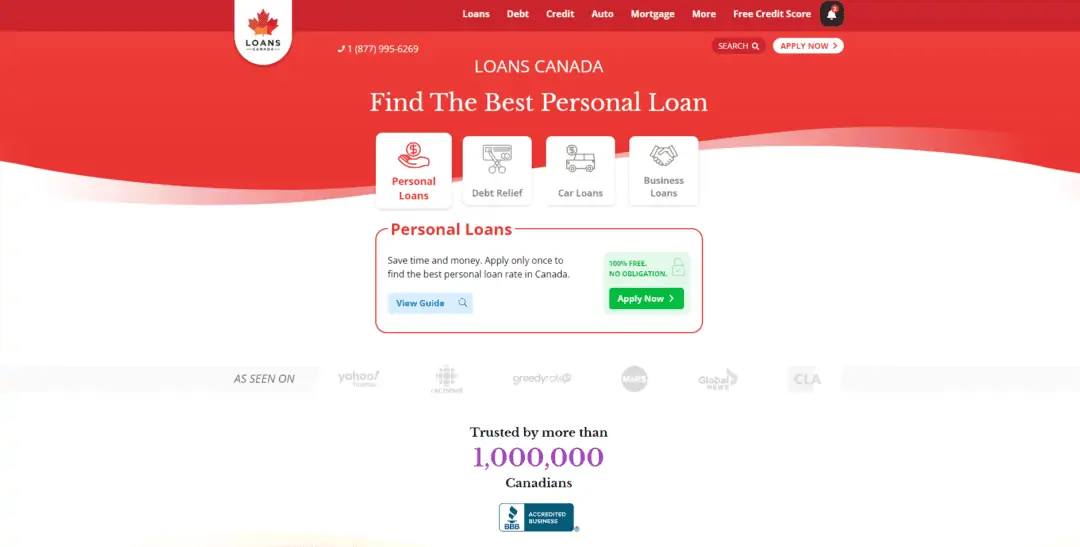 Loans Canada is a platform for accessing various types of loans, including credit builder loans. It also provides access to a free credit score check.
It works with lenders that accept all types of credit.
Cost: Interest rates for loans on Loans Canada range from 2.99% to 46.96%. There may also be origination fees.
Loans Canada
Loans Canada is a loan comparison platform for all kinds of personal loans, car loans, debt consolidation loans, and bad credit loans. It has partnerships with some of Canada's largest lenders and offers free access to your Equifax credit score.
Interest rate: 2.99% to 46.96%.
Loan term: 4-60 months.
Maximum loan amount: Up to $50,000.

Pros of Loans Canada
Free loan comparison website
Access to credit building, auto financing, debt consolidation, and other loan types
Streamlined application process
Free credit score check
Cons of Loans Canada
High interest rate loans
Does not provide loans directly
10. LoanConnect
Like Loans Canada, LoanConnect is a platform for comparing loan offerings from multiple lenders.
Cost: Interest APRs range from 6.99% to 46.96%.
Available: On all devices.
LoanConnect
LoanConnect is a search engine for finding personal loans online from various lenders. You can use it to find a loan that works for your situation regardless of your credit score.
Interest rate: 6.99% to 46.9%.
Loan term: 3-120 months.
Maximum loan amount: Up to $50,000.

Pros of LoanConnect
Easy online application
Fast approvals on the same day
Works with multiple lenders
Cons of LoanConnect
High interest rate loans
Does not offer credit builder loans directly
11. Mogo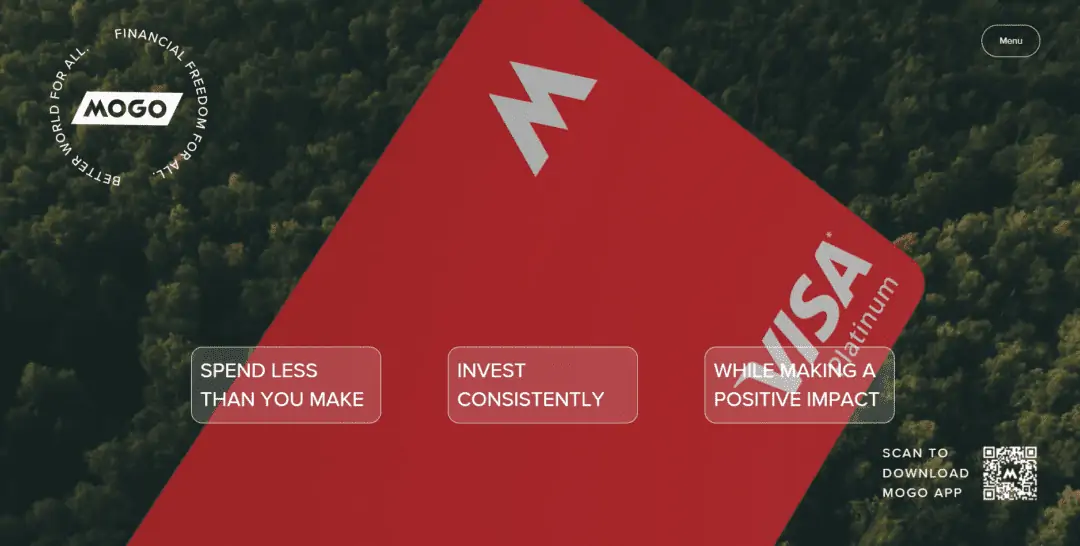 Mogo has a financial app for iOS and Android devices. It offers free access to your Equifax credit score when you sign up for its prepaid card (note that both products are being shut down – you can use Loans Canada instead).
There are two ways Mogo can help when you are building credit.
You can limit credit card bills by paying with cash, i.e. "buy now pay now". Although credit use is required to build a credit history, the MogoCard can help you manage your debit purchases and reduce your credit use and potential debt.
Secondly, the app includes free monthly credit score checks, and you get an alert when identity fraud is suspected.
Cost: Free; MogoCard use at ATMs ($1.50 in Canada and $3 abroad), $1.99 inactivity fee after 1 year.
Available: iOS and Android devices.
Pros of Mogo
No monthly fee prepaid card
A tree is planted each time you use the MogoCard (to offset your carbon emissions)
Free identity fraud protection
Cons of Mogo
Does not include your credit report
No direct credit building service
Prepaid card does not offer cash back rewards
12. Refresh Financial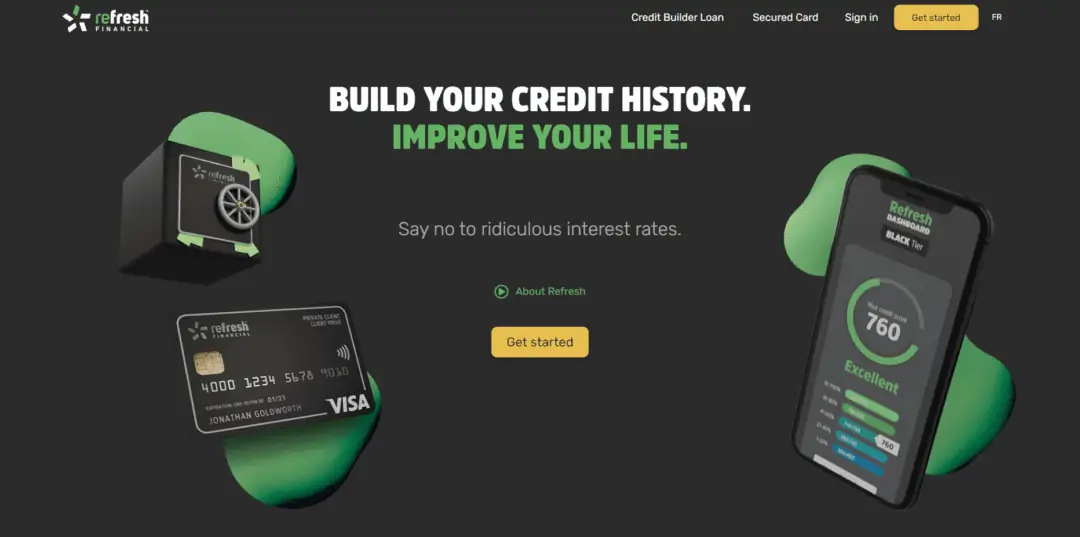 Refresh Financial's Credit Builder Program offers a credit builder loan at a 19.99% Annual Percentage Rate (APR).
You can apply for four different plans, starting at a $21.37 bi-weekly payment for 36 months.
Your payments are reported to both TransUnion and Equifax. At the end of the term, you receive your 'savings' less fees.
Cost: 19.99% APR; cash is not provided upfront to you.
Available: On all devices, including iOS and Android.
Pros of Refresh Financial
Benefits of the Refresh Financial credit builder loan:
No credit check is required to participate
It helps build your credit score at the two main credit bureaus
Cons of Refresh Financial
You won't get a loan upfront
Missed payments can further damage your credit
High interest rate
Methodology:
The credit-building apps on this list were chosen after looking at 17 apps and websites you can use to improve your credit score in Canada. The 12 on this list were the most applicable and are some of the best ones we have reviewed and/or used personally.
What to Consider With Credit-Builder Loans
If you decide to apply for a credit builder loan, consider the following:
Interest rate: These loans typically have high APRs, so look around for the best rates available.
Fees: Ask and read the fine print to know if other fees are associated with the loan, such as processing or origination fees.
Report to credit bureaus: Confirm that your payments will be reported to the major credit bureaus – TransUnion and Equifax.
Monthly payments: The larger your loan, the higher the monthly payment you will make.
Loan term: It takes time to repair bad credit. Check the loan term and be sure the payments work for you.
Alternatives to credit-building loans:
Regular personal loan
Prepaid card with a credit building program like KOHO
What is Credit History?
Credit history is a record of how you have used credit over time.
When you apply for a credit card, the credit card company submits an inquiry to the credit bureau so they can determine whether you are creditworthy. The credit bureau logs this inquiry on your credit report.
When you make payments on this credit card or a loan, these transactions are also reported. If you consistently make payments on time, this positive reporting increases your credit score.
If you miss payments, the negative reporting damages your credit score.
Other information recorded on your credit report includes how many credit accounts you have, how long you have had them, the types of credit accounts you have opened, and the amount of available credit used.
Credit history information on your credit report is used to calculate your 3-digit credit score, which ranges from 300 to 900.
The higher your credit score, the easier it is to qualify for loans.
Do You Need a Credit Building App?
A credit-building app like KOHO is handy if you have a thin or no credit file and do not qualify for a regular credit card.
Combine KOHO with a budgeting app like Mint to stay on top of your finances.
If considering a credit builder app, make sure you have exhausted other options. For example, a secured credit card like Neo Secured Card can help you build credit without contributing a hefty security deposit.
Overall, don't expect to boost your credit score by 100 or 200 points overnight. Credit building takes time, and you will need to show good credit habits for several months to years to obtain and maintain a good credit score.