If you want to transfer money internationally, the Simplii global money transfer service makes it easy. In addition to enjoying a $0 transfer fee, you can get up to a $350 cash bonus when you make your first money transfer.
Simplii also offers a foreign cash service, so you can order foreign currency easily online and have it delivered to your house.
This Simplii global money transfer review covers what the service entails, its pros and cons, and how to get a cash bonus using our Simplii referral link.
Simplii Global Money Transfer
Simplii Financial offers a global money transfer service that looks much like the international money transfer provided by CIBC.
Using this service, you can send money to more than 130 countries around the globe, including Australia, China, India, Nigeria, Ghana, Pakistan, the Philippines, the United States, the United Kingdom, and several others.
The benefits of sending money abroad via Simplii include:
No transfer fees ($0)
Fast delivery in 1-3 business days
Competitive exchange rates
Safe and secure transfer
Can send in USD to 60+ countries
Online tracking using the Simplii mobile app
You can send multiple daily transactions up to $50,000 CAD per 24-hour period. To get started:
Log in and choose the recipient, currency, country you are sending money to, and amount (at least $100).
Enter the promo code GMTEVENT to claim your cash back (up to $300).
Complete your transfer.
The additional $50 bonus is automatically applied when you use the link above to sign up.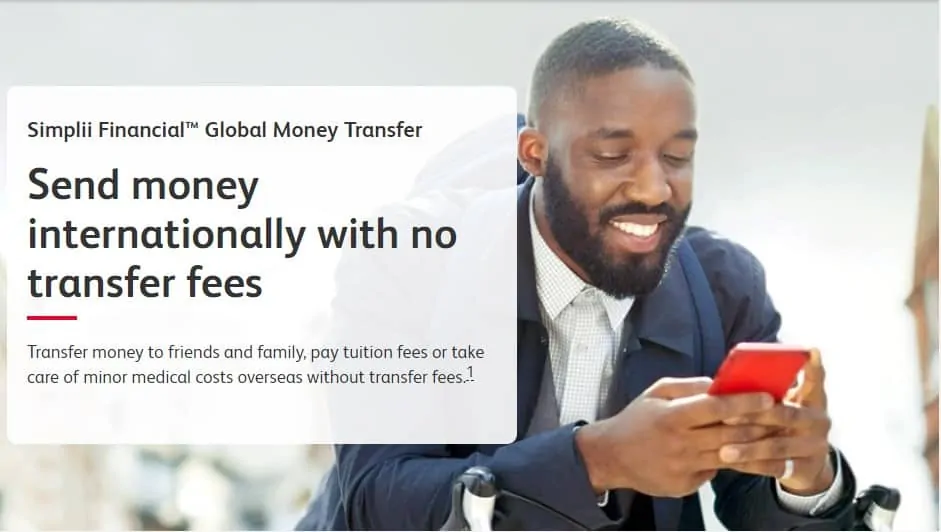 Simplii Global Money Transfer Promo (Up to $350 bonus)
When you send your first Global Money Transfer from your Simplii account (chequing or line of credit) and enter the promo code GMTEVENT, you get up to a $300 cash bonus.
The cashback offer varies based on how much you send, as follows:
$50 CAD bonus: Transfers under $5,000 CAD
$100 CAD bonus: Transfers from $5,000 CAD to $14,999.99 CAD
$175 CAD bonus: Transfers from $15,000 CAD to $24,999.99 CAD
$300 CAD bonus: Transfers of $25,000 CAD+
This promo is similar to the offer available through CIBC Global Money Transfer.
In addition to the $300 bonus, you earn an extra $50 when you open an account using a valid referral link. This $50 is credited to your account within 15 business days.
Simplii also recently launched its cash pickup service, making it easier for recipients of a Global Money Transfer to receive the money in cash at a MoneyGram location worldwide.
You can send up to $2,000 per transaction or up to $2,999.99 per day using this service.
Simplii Foreign Cash
Simplii Financial also provides a foreign cash service if you need physical currency to spend abroad. You can order up to 65 currencies with a daily cap of $2,500 CAD.
Features of Simplii Foreign Cash include:
No fees
Competitive rates
Cash is delivered to your home or you can pick up at a Canada Post location in 1-3 business days
$25 cash bonus when you order using this link
Downsides of Simplii Global Money Transfer and Foreign Cash
At 1-3 business days, Simplii's money transfer is not the quickest option available out there. That said, instant transfers are available when sending to eligible VISA cards.
Here is how long your money transfer could take depending on the method you use:
Bank to Bank – 1 to 3 business days
China Union Pay – 1 to 3 business days
VISA Debit or Credit card – real-time to 48 hours
Secondly, Simplii makes money on the spread when you convert your Canadian dollars into a different currency.
The exchange rate they use for conversions is not the mid-market or interbank rate and is not as competitive as what is offered by TransferWise (now Wise).
For example, CIBC's USD/CAD exchange rate was 1.3164 when I checked it on August 5, 2020. At the same time, the more competitive mid-market rate on Xe.com was 1.3268.
Who is Simplii Financial?
Simplii Financial is a fully-owned subsidiary of CIBC and one of the top online banks in Canada. It offers a variety of financial services, including:
Simplii Financial customers have free access to thousands of free CIBC ATMs, and you can complete transactions via online banking, mobile, and telephone banking.
Learn more about what they offer in this Simplii Financial review.
Money Transfer Options in Canada
An alternative option to send money abroad is:
Wise (formerly TransferWise): This money transfer company was founded in 2011, has more than 8 million customers, and sends to 60 countries.
Wise uses the "real" exchange rate, so you get a better value for your money after it has been converted.
The company has a 4.6/5 Trustscore from over 90K reviews on Trustpilot. Get more details in this Wise review.
Conclusion
If you have a Simplii Financial bank account, you can easily send money internationally or order foreign cash. A Simplii no-fee chequing account has no monthly fees, and you won't be on the hook for unnecessary fees.
You can get up to a $350 bonus when you send your first global money transfer here or a $25 cash bonus when you order foreign cash.
For some of the best mid-market rates on currency transfers, you can also look at TransferWise or Xe.
Simplii Global Money Transfer Review 2023
Ease of use

Countries supported

Transfer fees
Summary
Looking to transfer money internationally? The Simplii global money transfer service makes it easy. Learn about how to get a cash bonus (up to $350) with your first transfer.
Pros
No-fee money transfer
Access to no-fee banking including a chequing account
Convenient online banking
Cash bonus when you send first transfer
Cons
The exchange rate is not the mid-market rate
Money transfer takes up to 3 business days