TransferWise offers one of the cheapest ways to transfer money worldwide. While there are a good number of money transfer companies operating in Canada and the United States, TransferWise stands out from the pack with its low transfer fees and mid-market exchange rates.
Even better, using a TransferWise promo code, you can send your first money transfer of up to $800 (or £500) for free.
In addition, they pay you $75 to $115 for every three eligible new users who sign up to the platform using your TransferWise referral code or link.
TransferWise has been rebranded to Wise.
TransferWise Free Transfer Promo Code
Send your first money transfer free when you open a TransferWise account via this link (no promo code is required). Note that the offer only applies to your first money transfer….you can't use it more than once!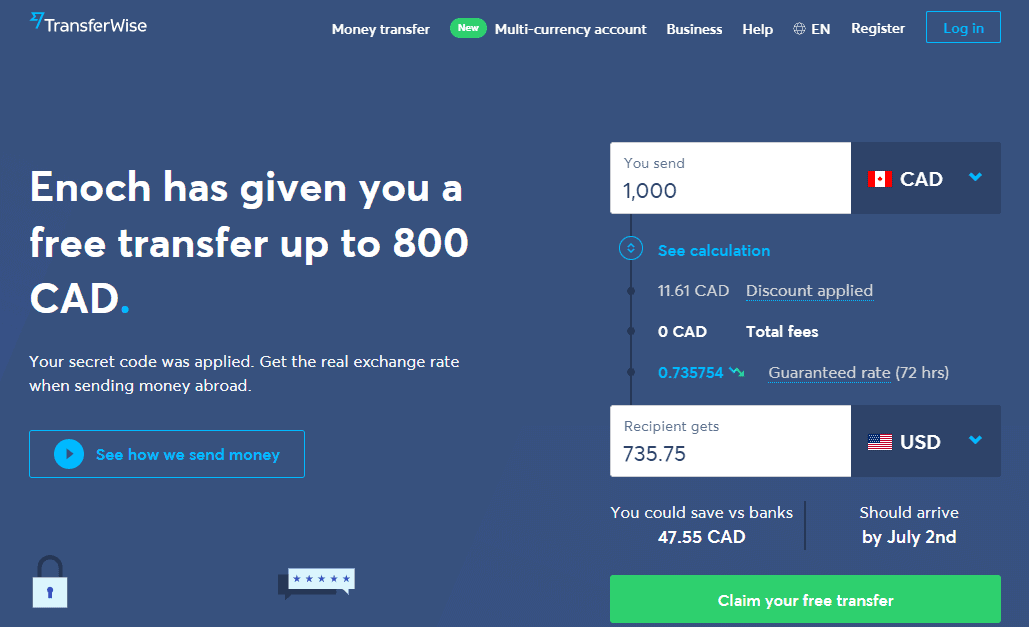 As shown in the image above, you receive free transfers of up to $800 CAD (£500 or equivalent in your currency).
If you send more than $800 CAD, the discount will still apply, and you only pay transfer fees on the balance.
Claim your Free Money Transfer (applies to first transfer only).
Wise Referral Bonus (Earn $75 to $115)
You can invite your friends to send money transfers using TransferWise. If they sign up for the service using your referral link, you earn a bonus as follows:
Get $75 to $115 CAD for every three friends who sign up and transfer $300 CAD or more (minimum £200 or equivalent in your currency).
Your friends get a discount on their first money transfer (no transfer fees for up to $800 CAD sent).
You can share your referral link multiple times, and there's no limit to how much referral bonus you can earn.
You can find your referral link or referral code on your account dashboard.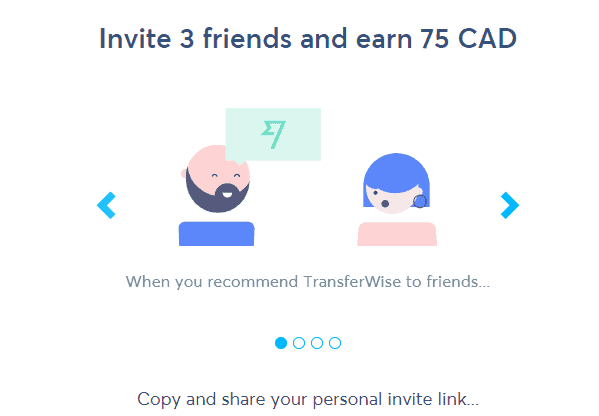 Related: TransferWise review
How Does TransferWise Work?
TransferWise is a global money transfer company with more than 10 million customers who send $9 billion monthly. Using their service, you can send money to 80 countries using 59 currencies.
TransferWise is all about saving money on transfer fees. Unlike the big banks and other foreign currency exchange services that use a marked-up FX rate, TransferWise utilizes a fair and competitive mid-market rate.
Sign up for free using your email, Google, or Facebook account.
Enter the amount you want to send and the recipient's bank details.
Verify your identity if required…often the case for larger transfers. You can send them a photo of your government-issued ID.
Pay for your transfer using direct debit transfer, debit card, ApplePay, credit card, SOFORT, SWIFT, wire transfer, etc.
TransferWise Fees
The fee you pay to transfer money is based on a combination of a fixed fee and a fee that varies with your means of payment.
In the example below (see image), the fixed fee is $9.03 CAD to send $1,000. In addition, you pay $2.58 CAD if paying for your transfer using direct debit.
Here's what the variable fee is based on the following payment methods:
Debit card: $17.68 CAD
Credit card: $22.48 CAD
Domestic wire transfer: $5.50 CAD
Bill payment: $5.50 CAD
Of course, due to the free transfer promo offer, you pay $0 CAD in fees when you send money for the first time.
TransferWise Borderless Account Canada
If you receive and send payments in multiple currencies, a free TransferWise Borderless account may be for you.
This multi-currency account allows you to hold money in 56 currencies, and you can convert them when you want using the real exchange rate.
In addition, you get access to 9 different personal accounts you can use for transactions as follows:
US Dollar: Routing ABA and account number
Euro: SWIFT/BIC and IBAN details
Australian Dollar: BSB Code and account number
British Pounds: Account number and Sort Code
New Zealand Dollar: Account number
Polish Zloty: Account number
Singapore Dollar: Account number
Hungarian Forint: Account number
Turkish Lira: IBAN
Canadian Dollar: Institution, transit, and account numbers
Is TransferWise Safe?
TransferWise is a legitimate company, and it is regulated by various government agencies around the world.
In Canada, it is regulated by the Authorite des Marches Financiers (AMF). It is also registered with the Financial Transactions and Reports Analysis Centre of Canada (FINTRAC) and is licensed as a Money Service Business.
In the U.S., TransferWise is registered with the Financial Crimes Enforcement Network (FinCEN) and supervised by regulatory authorities in different states.
TransferWise has a 4.5/5 TrustScore from over 180,000 independent reviews on Trustpilot.
Wise Promo Code FAQ
Does Wise have a referral bonus?
Yes, you get a $75 to $115 referral bonus for every three eligible referrals obtained using your Wise referral link. Each referral must send at least $300 for them to count as a valid referral,
Is Wise first transaction free?
Your first money transfer on Wise is free if you sign up using a valid Wise promo code or referral link. You can send up to $800 free.
Is TransferWise cheaper than PayPal?
Based on my personal experience using both services, TransferWise is generally cheaper than sending money via PayPal, Xoom, or World Remit. This is mainly due to their use of the mid-market exchange rate. PayPal and World Remit convert your money using an exchange rate that has been slightly marked up.
Who are TransferWise's competitors?
Their competition in the money transfer service space includes Remitly, Azimo, MoneyGram, Payoneer, Revolut, Western Union, OFX, Xoom, World Remit, Ria, and Skrill.
Is the TransferWise debit Mastercard available in Canada?
Yes, the Wise debit card is now available in Canada. The Wise card is currently available to people who have a Wise multi-currency account in the UK, Switzerland, Australia, New Zealand, Singapore, Canada, most of the EEA, and the US.


Let us know about your TransferWise experience in the comments.
TransferWise Promo Codes and Referral Bonus 2023
Ease of use

Transfer fees

Exchange rates

Referral program
Summary
Send money abroad using our TransferWise free money transfer promo code (applies only to your first transfer). You can also earn cash bonuses when others sign up using your TransferWise (Wise) referral link.
Pros
Mid-market exchange rates
Low money transfer fees
Free first money transfer
Solid referral program
Cons
Not available in some countries