Does having a limited budget stop you from travelling as often as you want to? Thanks to Hopper promo codes and its referral program, you can finally have the best travel experience without putting a hole in your pocket.
Hopper is an online travel agency that tracks the cost of airline tickets, car rentals, and hotel rooms. This app gives you a better insight into whether current prices are above or below the usual fare for a given timeline or date.
Using the Hopper referral code enocho8pr or referral link below, you get up to a $50 discount.
Hopper Referral Code (enocho8pr) May 2023
Join Hopper and enter the promo code enocho8pr for a US$25 discount on your hotel booking. Depending on the offers available, you may also qualify for up to $25 in Carrot Cash you can also use for hotels, car rentals, and flight bookings.
As a registered platform user, you can also invite friends and family to download the Hopper app using your referral code and get up to a US$25 discount per referral for hotel bookings.
Anyone who uses your referral code also gets a US$10 to $25 discount — it's a win-win for everyone! This is in addition to the $25 in Carrot Cash they may also get as a new user.
Invite ten people and unlock Hopper's partner program. Under the program, you'll work alongside Hopper's influencer team and earn affiliate bonuses from referrals and reward challenges.
All referral credits will be sent to you through the Hopper app in the form of vouchers or Carrot Cart. You can view your total voucher and Carrot Cart balance in your Hopper wallet, and the amount of credit you earned for each successful referral is under "Your Friends" on the "Friends" tab in the app.
The $25 bonus you get using the referral code is in USD and available to US and Canada residents. It registers in your balance after completing your first hotel booking.
How to Use a Hopper Promo Code
To use the Hopper promo code, follow these steps:
Find the Hopper promo code you want to use and click Copy code. The code will be copied to your computer or phone's clipboard, ready to paste when you checkout.
Once you're ready to checkout on the Hopper website or app, click Checkout or View Cart to begin the checkout process. On the payment page, find the promo code box and paste your chosen code.
Click 'Apply,' and the discount will be deducted from the total amount of your bookings.
This is an excellent way of saving money on your first booking, and it's incredibly easy to use!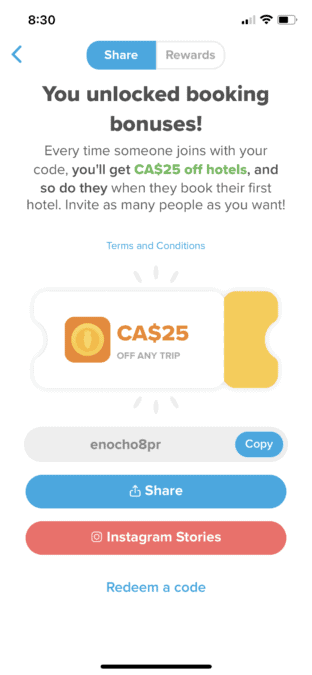 Is the Hopper Referral Program Legit?
Yes, the Hopper referral program is legit! By using a Hopper referral code, you can receive discounts on your first booking.
Your earning potential when you refer is uncapped, meaning you can earn unlimited travel credit cash for every new user that signs up using your unique code. The more people who use your code, the bigger discounts you can enjoy!
Download the App Today
With the Hopper promo code and referral program, travelling doesn't have to be expensive. Download the app today to enjoy everything Hopper has to offer to travellers!
FAQs
Does Hopper have a referral program?
Yes! The more people you "refer" to download the Hopper app, the more rewards you can earn.
Does Hopper have a referral bonus?
Yes, you can earn Carrot Cash rewards when you sign up here. You can redeem these rewards to pay for hotels, flights, and car rentals.
How can I get the referral code?
If joining, use enocho8pr to get the sign-up bonus. If you are already a member and want to earn points from the Hopper referral program, launch the app, tap "invite" from the menu, and share your referral code with your friends and family. You can share your referral code on different social media channels, iMessage, WhatsApp, and via email.
Related: