If you are looking to transfer money to Nigeria from Canada, a few things are top of the mind for you as the sender, including:
A great exchange rate from Canadian dollars (CAD) to Nigerian Naira (NGN)
A low money transfer fee
Fast money transfer to the recipient through cash pickup or bank transfer
Secure and guaranteed money transfer
Multiple options for funding your transfer, e.g. via a debit card, credit card, or directly from your bank account
There are many options available to transfer money from Canada to Nigeria; however, the best option for you will depend on a mix of the abovementioned factors.
In general, digital money transfer companies and apps cost you less than the traditional wire transfer offered by your local bank.
I have sent money to Nigeria from Canada multiple times and below are some of the best options available.
How To Send Money to Nigeria from Canada
To send Canadian dollars to Nigeria, you can simply create a free account online with these providers, choose how much you want to send, enter the recipient's details and pay for your transfer.
1. Africhange
Africhange was founded in 2020. It is based in Edmonton, Alberta, and supports money transfers from Canada to Nigeria, Mexico, the United States, Ghana, and Kenya.
Africhange Fees: Canadian Dollar to Nigerian Naira (NGN) transfers are free. You pay $1.50 CAD for CAD-CAD transfers, 1.5% to fund a Naira wallet (100 naira min. and 700 naira max.), and $1 CAD for NGN to CAD transfers.
Africhange Exchange Rate: For CAD to NGN money transfers, the exchange rate used by Africhange beats the "official" or "mid-market" exchange rate. For example, on December 27, 2022, the mid-market rate was 1 CAD: 330 NGN, while Africhange's rate was 1 CAD: 535 NGN (significantly higher and reflecting the "real" rate).
Payment method: You can fund your Africhange wallet using Interac e-Transfer.
Delivery method: Payment is sent directly to the recipient's bank account.
Africhange App: It offers a mobile app for iPhone and Android devices.
Is Africhange Safe?
Africhange is registered as a Money Service Business with FINTRAC in Canada. It has a 4.6/5 rating on the Google Play Store and App Store.
Promotion: Use the Africhange referral code REF889520 and get a $20 CAD bonus when your first transaction is at least $400 CAD.
Related: Africhange Referral Code Bonus.
2. Simplii Financial Global Money Transfer (up to $300 bonus)
Simplii Financial is the digital banking arm of CIBC, one of Canada's largest banks. It offers a global money transfer service to 130+ countries, including Nigeria.
Simplii Financial Fees: There is no transfer fee for this service. Transfers take 1-3 business days, and there is a daily maximum limit of $50,000 CAD.
Simplii Exchange Rate: The exchange rate used by Simplii's Global Money Transfer (GMT) service is the same as CIBC's, and it is marked up above the mid-market rate (by 2% to 3% based on my spot check).
Payment methods: Chequing account (debit card), line of credit, and the Simplii Financial Cash Back Visa Card. The chequing account is free and offers a $350 bonus when you sign up. The Simplii credit card also has no annual fees.
Delivery methods: Recipients receive funds directly in their bank accounts.
Simplii Financial App: This bank has a mobile app for iPhone and Android devices.
Simplii Financial GMT promotion: You can get up to a $300 cash back bonus when you send your first money transfer. Learn more in this review.
Is Simplii Financial Safe?
Yes, Simplii Financial is safe. It is owned by CIBC, a top-five bank in Canada. Your deposits at this bank are protected by CDIC up to $100,000, and it also offers an online security guarantee against fraudulent transactions.
Visit Simplii Financial (up to $300 bonus with first transfer)
3. WorldRemit
WorldRemit was founded by Ismail Ahmed in 2010. Since that time, it has grown to support over 90 different currencies across 130+ countries and over 5 million customers.
WorldRemit Fees: Their fees start at $1.99 CAD and increase based on how much you are sending and the delivery format, i.e. bank deposit, cash pickup, mobile money transfer, or Airtime top-up.
For example, if you sent $1,000 CAD to Nigeria on July 18, 2020, for a cash pickup, you would have paid $13.99 CAD as per below. Your recipient would have received ₦278,452.31 based on the $1 CAD = ₦278.45231 exchange rate.
The $13.99 fee is added, so you are paying $1,013.99 CAD in total.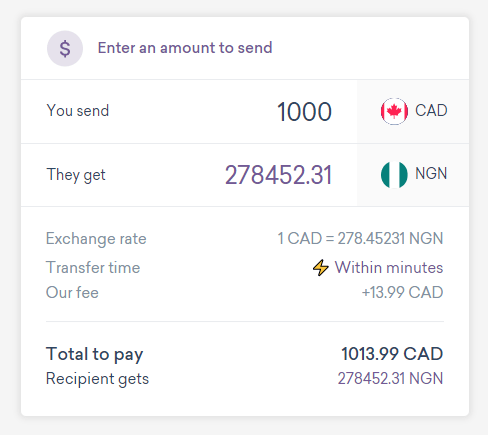 WorldRemit Exchange Rate: WorldRemit uses an exchange rate that is a bit higher than the mid-market or interbank rate.
Payment methods: To pay for your transfer, you can use a debit, credit, or prepaid card; bank transfer, Poli, Interac, iDEAL, Klarna, Apple Pay, and Trustly.
Delivery methods: Your recipient in Nigeria can receive the funds through cash pickup, bank deposit, mobile money transfer, and airtime pick-up.
The maximum amount you can transfer per day by bank transfer and for cash pickup is USD $5,000.
How long does it take? This varies as follows:
Bank transfer: Usually within minutes. In some cases, it can take up to a few days
Cash pickup: Available almost instantly from FCMB, Fidelity, Zenith and Access branches
Mobile money: Within minutes
Airtime top-up: Within minutes
WorldRemit App: WorldRemit has a mobile app available on both iOS and Android devices.
Is WorldRemit Safe?
WorldRemit is registered in the UK by the Financial Conduct Authority. On Trustpilot, they have a Trustscore of 4.1/5 from over 63,000 reviews.
The maximum amount you can send from Canada per 24 hours is $40,000.
Here's a detailed WorldRemit overview with more details.
Visit WorldRemit (Send your first three transfers free using the promo code 3FREE)
4. Remitly
Remitly was founded in 2011 and has its headquarters in Seattle. It offers digital money transfers to over 135 countries, including cash pickups at thousands of locations.
Remitly Fees: The fee you pay is based on the amount you send and the delivery speed. The two delivery speeds available are Economy (which takes 3-5 business days) and Express (within minutes).
You pay a $1.99 bank deposit fee or a $2.99 cash pickup fee when your recipient receives the funds in US dollars.
Remitly Exchange Rate: The exchange rate used by Remitly is marked up compared to the mid-market rate and can be up to 2% less favourable.
Payment methods: Debit card, debit card, and bank transfer. To send money via Express delivery, you need to make payments using a debit or credit card.
Delivery methods: Recipients in Nigeria can receive funds directly in their bank accounts. Alternatively, they can also receive funds via cash pickup at over 8,000 locations.
Remitly App: Remitly has a mobile app for iPhone and Android devices.
Is Remitly Safe?
Remitly is regulated by FINTRAC in Canada. On Trustpilot, it holds a Trustscore of 4.1/5 based on 36,000 reviews. As per its website, the company uses 256-bit encryption to protect your account.
Here's a detailed Remitly review.
Visit Remitly and send your first transfer free (plus $5 bonus for some transfers).
5. Xoom
Xoom is an online money transfer service owned by PayPal. They provide money transfers to 131 countries. In addition to sending money, you can also use Xoom to pay bills and reload phones.
Xoom Money Transfer Fees: The fees you pay include a fixed transfer fee that varies with your payment method. They also make money from currency exchange rates.
As of July 18, 2020, sending $1,000 CAD to Nigeria would cost you:
Bank account: $4.99
Debit card: $21.49
Credit card: $21.49
PayPal balance: $4.99
The CAD to NGN rate is $1 CAD = ₦275.7679, which is a lot lower than the rate offered by TransferWise.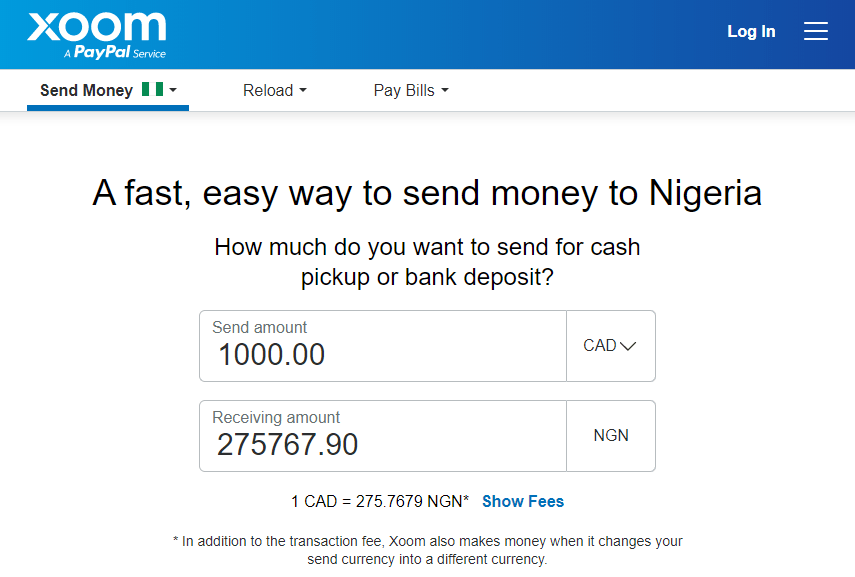 Xoom Exchange Rate: Xoom uses its own exchange rate, which is worse than the interbank or mid-market rate. Based on my experience, the exchange rate is significantly worse than what you would find on Xe.com at any given time.
Payment method: Pay with your bank account, debit card, credit card, or PayPal balance.
Delivery methods: Your recipient can receive money via cash pickups and bank deposits. Cash pickup is available at First Bank, FCMB, Union Bank, Fidelity, Access, Ecobank, and a few others.
How long does it take? Money transfers usually take a few minutes. In some cases, it may take a few business days if checks are required due to your funding method.
Is Xoom Safe?
Xoom is managed by PayPal and is regulated by the U.S. federal government and various state governments and agencies. They use 128-bit encryption to secure your private information.
Xoom has a 3.4/5 Trustscore rating on Trustpilot from over 22,000 reviews.
6. Wise (Formerly TransferWise)
Wise is one of the most popular money transfer services available in Canada. The company was launched in 2011 and is used by over 8 million customers monthly.
This platform used to be my #1 choice for sending cash to Nigeria; however, it recently suspended money transfers to Nigeria, and it is unclear when transfers will resume.
They offer money transfer services to over 70 countries, including Nigeria, Ghana, Ivory Coast, Mali, Niger, Togo, Senegal, and Zambia in Africa.
Wise Fees: Wise fees are very transparent. You pay a flat fee based on your payment method plus 0.88% of the amount you convert to Naira.
For example, if you are sending a total of $1,000 CAD by direct debit on July 18, 2020, your total fee is $12.66 CAD, and it is calculated as follows:
Direct debit fee: $2.58
Flat-rate fee: 0.88% of $987.34 CAD = $10.08
Total fee: $2.58 + $10.08 = $12.66
Total amount converted = $1,000 – $12.66 = $987.34 CAD
As shown in the example above, the transfer fee is deducted from the amount you are sending, and you can see how much your recipient gets.
In this example, they will receive ₦277,694.31 at a rate of $1 CAD = ₦281.255
For money transfers involving large amounts, the additional cost falls to 0.78% on amounts exceeding $175,000.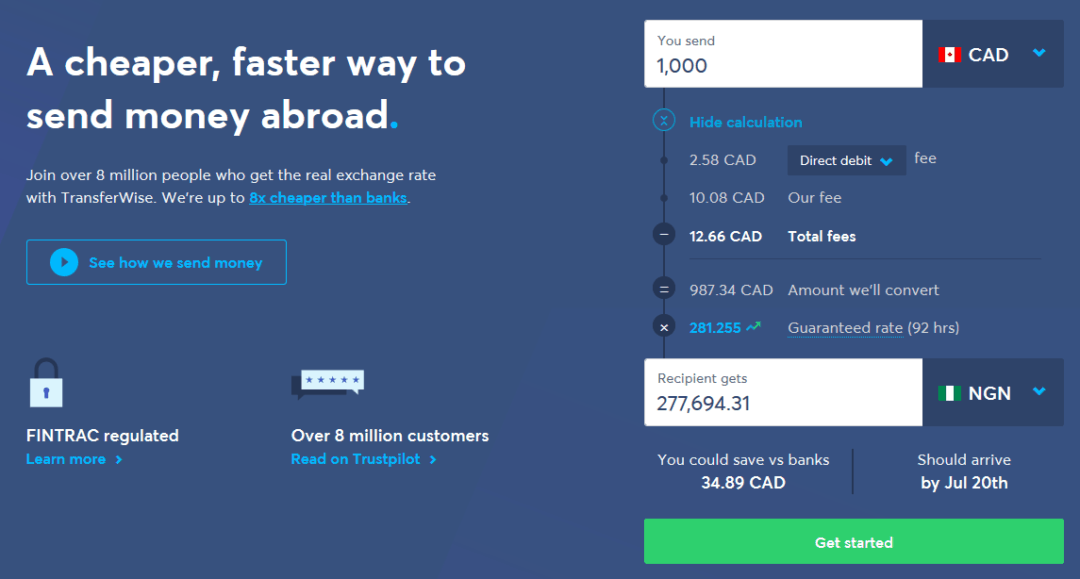 Wise Exchange Rate: The exchange rate used by Wise for currency conversion is the 'real' rate or mid-market rate set by the market. This rate has no markup and can save you a ton of money compared to non-mid-market rates.
Payment methods: Pay for your transfer using direct debit, debit card, credit card, and bank transfer.
How long does it take? The bank account transfer to Nigeria generally occurs within one day. Depending on your payment method, e.g. credit card or Apple Pay, your transfer may also occur instantly as long as you have already been verified.
TransferWise also offers a multicurrency account, Wise Borderless Account, for people who want to get paid in multiple currencies.
Is Wise Safe?
Wise is regulated by the Financial Transactions and Report Analysis Centre of Canada (FINTRAC). They have also garnered great ratings on Trustpilot (4.5/5) from over 167,000 reviews!
Promo: Send your first money transfer for free when you open a Wise account using this link (no promo code is required). You can send up to $800 CAD (£500 or the equivalent in your currency) free.
What to Look for in an International Money Transfer Company
1. Reasonable Exchange Rates: Some money transfer companies offer $0 in transfer fees; however, when you look at their exchange rate, it is significantly higher than the competitive mid-market exchange rate, and you end up paying way more in fees compared to other providers.
Find out if the company offers a guaranteed rate that stays the same for some hours (1-2 days) and allows you to lock in a rate.
2. Fees: The transfer fees should be reasonable and available upfront. You do not want a scenario where hidden fees are later deducted before the recipient gets the funds.
3. Fast Transfer: Instant and same-day money transfers are readily available. Read the fine print to understand how your payment method can prolong the time it takes for the transfer to be completely processed.
4. Security: Is the money transfer company regulated by a trusted entity, e.g. government agency? Are they well known? What do the reviews online say about their service? Is their app secure?
5. Convenience: What options are available to pay for your transfer? Money transfer companies offer payments by bank transfer, credit card, debit card, Interac, ACH, and more. What options are available for receiving money? They may offer cash pickup, airtime top-up, bank deposits, mobile money, and SWIFT.
6. Customer Service: It should be easy to chat or talk with a customer service representative if you have questions about your transfer.
Documents Required for a Money Transfer
When you first send a money transfer online, you may be asked to confirm your identity. This is often implemented due to regulatory requirements to prevent money laundering.
You may need the following:
A government-issued ID, e.g. driver's license or passport
Proof of address, e.g. utility bill or bank statement
In addition, you will also need to provide the full name of the recipient, their address, phone number, and bank account details.
If you are sending a very large amount of money, additional documents may be required. Full-time verification can delay your transfer for up to 3 business days in some cases.
How To Send Money to Nigeria From Canada – TransferWise Example
I recently had to send money to a sibling in Nigeria and cover the step-by-step process below. This transaction occurred on June 7, 2020.
As you can see in the image, to send $1,464.09 CAD, I paid $17.91 in fees by making the payment using direct debit.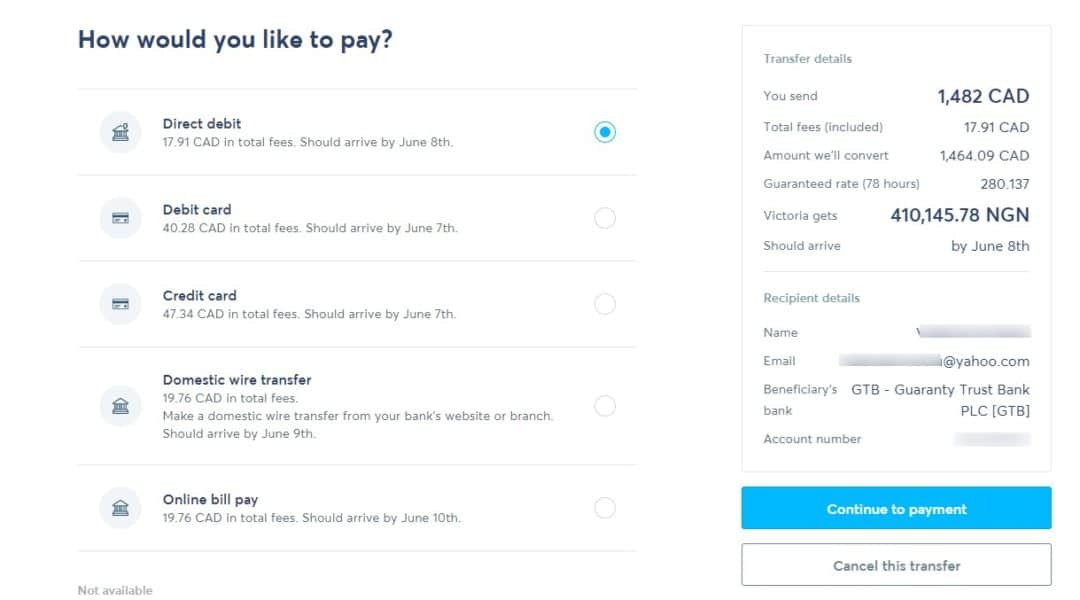 If I paid for the transfer via debit card or credit card, the transfer fee would top $40.
For this particular transfer, Wise was the cheapest option I could find by far for sending money to Nigeria after accounting for the exchange rate.
The rate they offered was $1 CAD = ₦280.137, and it was guaranteed for 72 hours.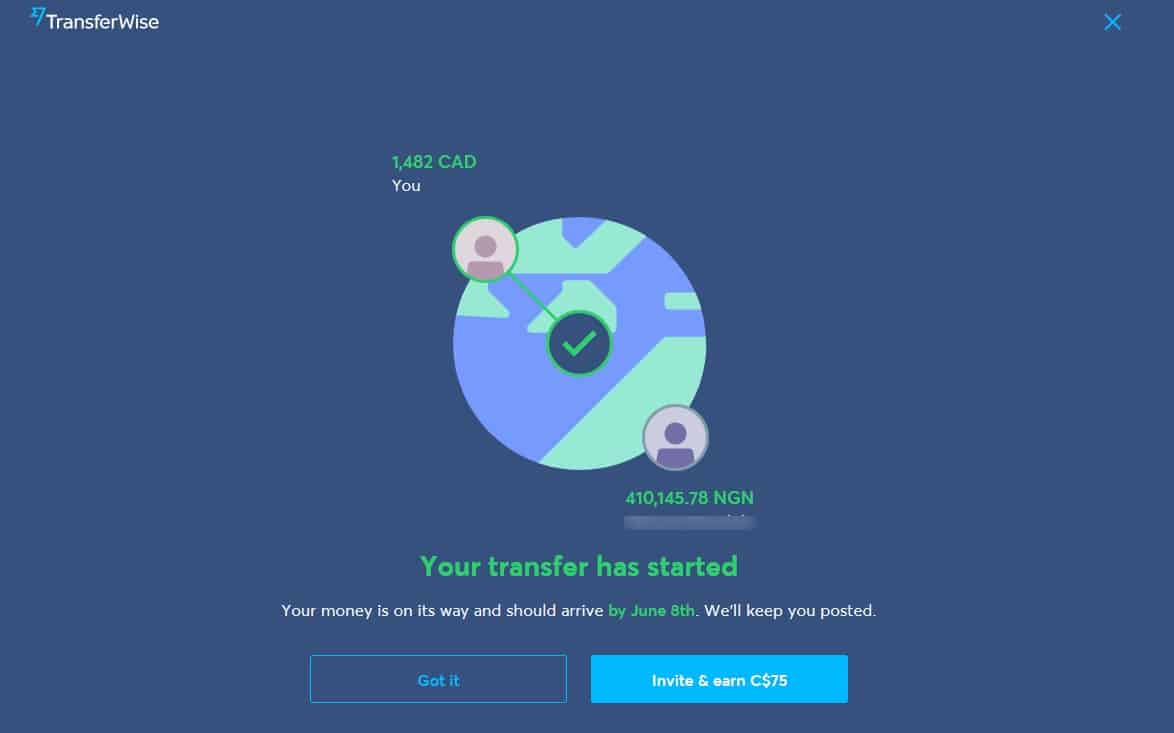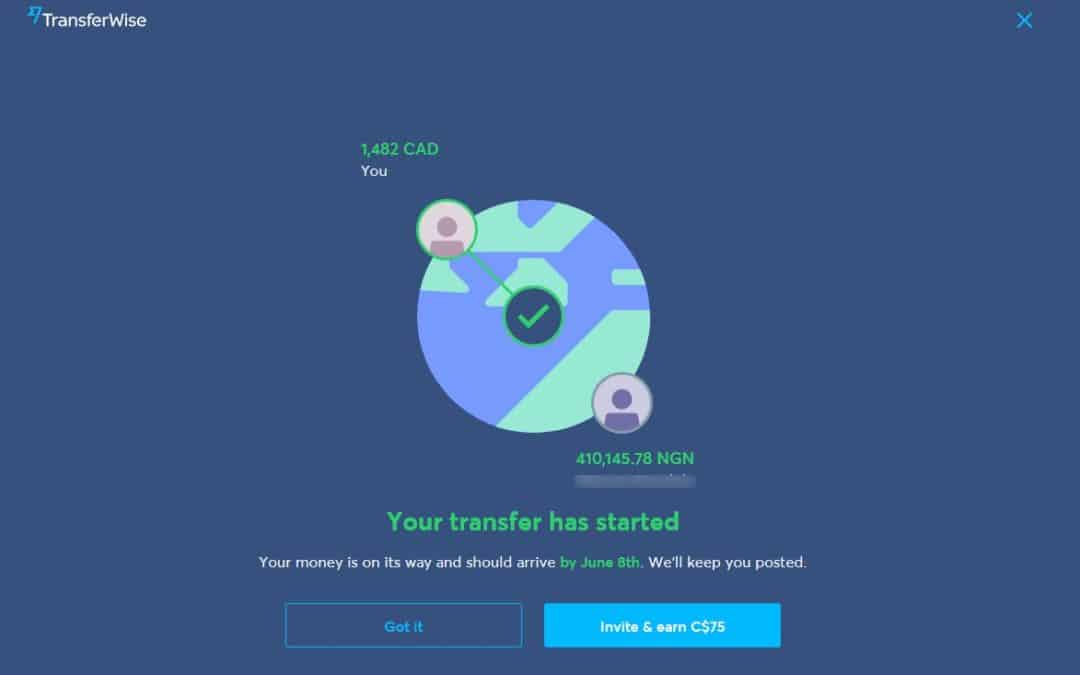 I initiated the transfer on June 7, 2020 (on a Sunday), and the recipient received it on June 8, 2020 (Monday). The entire process took me less than 5 minutes.
Final Thoughts
Sending money to Nigeria from Canada is straightforward, and you can save a ton of money in fees by comparing FX rates and transfer fees between money transfer services.
If you transfer money to Nigeria or another African country (e.g. Ghana, Ethiopia, or Zimbabwe) from the U.S. or U.K, the process is the same.
Wise offers some of the best value for money because they use a competitive mid-market rate to convert your currency.
International money transfer companies such as WorldRemit, Remitly, and Xoom use rates that differ from the interbank rate, and they make some money this way.
That said, you will probably still save money with these companies compared to a traditional bank wire and even companies such as Western Union.
Compare the fees vs. the exchange rate before making your transfer, and take a look at factors such as delivery time, transfer limits, transfer methods, pickup locations, credibility, etc.
Frequently Asked Questions
How can I send money to Nigeria from Canada?
You can send money via wire transfer through your bank or use an international money transfer service such as WorldRemit, and Western Union. The exchange rate you get through online money transfer services is often better than what the big banks offer.
What app can I use to send money to Nigeria?
The main money transfer companies have apps you can install on iOS and Android devices. You can access these services using your computer or tablet.
Is it illegal to send money to Nigeria?
No, it is not illegal to send money to Nigeria. Millions of Nigerians in the diaspora remit billions of dollars to Nigeria annually for family and business purposes. That said, you should always be careful if you are sending money to anyone you do not know. Do your due diligence. Many have fallen for dating, romance, and emergency scams carried out by fraudsters, thereby losing money in the process.
Where can I send money in Nigeria?
Money transfers can be processed as a bank deposit, mobile money, cash pickup, SWIFT payment, and airtime top-up. Recipients can pick up their Naira from all the major banks and agent locations within Nigeria.


Do you send money abroad regularly? Tell us about your preferred money transfer service in the comments.