If you have been a Simplii Financial Bank client for a while, then you know that they previously operated as PC Financial before re-branding to Simplii Financial, the direct banking arm of CIBC, on November 1, 2017. Since then, several changes have occurred with the bank, and they now have their own credit card – the Simplii Financial Cash Back Visa Card.
As an ardent user of the PC Financial World Elite Mastercard, one of the best no-fee credit cards in Canada, I was interested in seeing what Simplii's new credit card had to offer and if it was comparable or better than the 3% cash back offer I get on the PC Financial World Elite MC when I shop at the Real Canadian Superstore (or the Loblaws chain of stores in general).
This Simplii Financial credit card review covers its features and how the Visa Card stacks up against other popular no-fee cash back cards in Canada.
Simplii Financial Cash Back Visa Benefits and Features
Simplii Financial Cash Back Visa Card
Rewards: Earn 4% cash back at restaurants; 1.5% on gas & groceries, and 0.5% elsewhere.
Welcome offer: Enjoy 20% cash back on eligible gas, groceries, drugstore purchases and pre-authorized payments for your first 3 months (valued at $100).
Interest rates: 19.99% on purchases and 22.99% on cash advances.
Annual fee: $0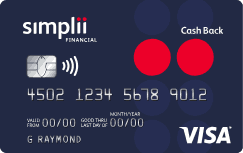 1. No annual fee: There is no annual fee, including your primary card and up to three additional cards for authorized users.
2. Cash back rewards: For a no-annual-fee card, it has some compelling cash back offers:
4% on your restaurant spending up to $5,000 per year.
1.50% on gas, groceries, drugstore purchases, and pre-authorized payments up to $15,000 per year.
0.50% on all other purchases with no limit on how much you can earn.
As a welcome gift, they also offer up to 10% cash back on your first $500 spend at restaurants and bars. This means an additional $30 in cash back on top of the regular 4% offer for this spending category.
3. Purchase security and extended warranty: You get free purchase security insurance of up to 90 days from the date of purchase and an extended warranty that doubles the manufacturer's warranty by up to 1 year.
4. Easy qualification: The annual household income threshold required to qualify for this card is very low, at $15,000. This makes for easy qualification if you are a student.
5. Low introductory interest rate: Enjoy a low promotional purchase interest rate of 9.99% for the first 6 months (limited-time offer).
6. Global Money Transfer: You earn up to $300 when you send your first Global Money Transfer. You also get 0.5% cash back when you use your Simplii Financial Cash Back Visa Card to send money abroad and use the code: GMTEVENT.
Here are more details on how the Simplii Global Money Transfer service works.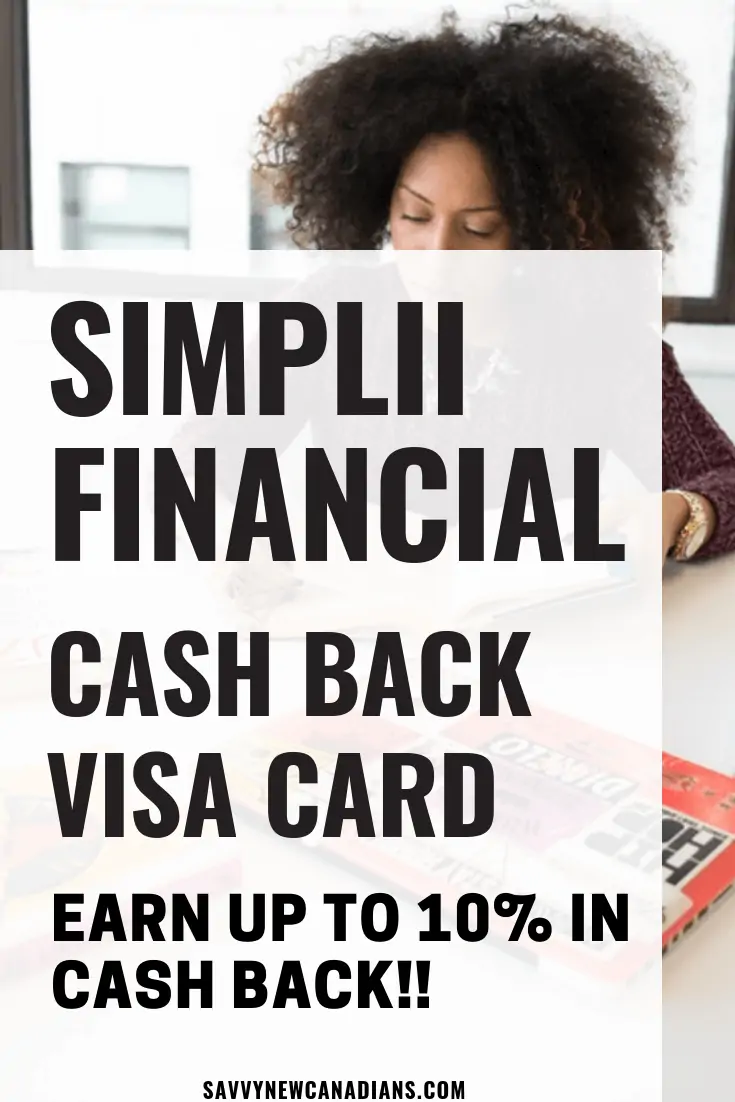 Downsides of the Simplii Financial Cash Back Visa
Some of the downsides of this card that should be taken into consideration are:
Simplii's online-only banking is great since they don't charge monthly fees. However, this requirement can be a hassle if you don't need a new bank account.
Cashback accumulates through the year and is reflected in your account as a one-time credit on your December statement. This is not as attractive as the cash back you earn on the no-fee Tangerine Money-Back Credit Card, which is paid monthly.
The Simplii card is not available to residents of Quebec.
Is The Simplii Financial Visa For You?
The cash back offered by the Simplii Financial Visa Card is great for a no-fee card.
For example, if every month you spend $400 on restaurants, $700 on groceries, gas, and bill payments, and $100 on your other purchases, your total annual cash back would be $324 or $354 (including the 10% welcome offer). This is not bad at all!
We don't eat out very often, so this card is not for me as I would not be able to take advantage of the 4% cash back on restaurants. For our occasional dining out, the Tangerine Money-Back Credit card's 2% cash back works well.
However, if you dine out a lot, the Simplii Visa is attractive, as it pays you up to $200 per year on this spending category alone, i.e. $5,000 x 4%. For restaurant/bar/coffee and takeout spending exceeding the $5,000 cap, you earn 0.5% in cash back.
While the 1.5% offer on groceries is good, the PC Financial World Elite Mastercard does better, paying you up to 4.5% cash back on your spending at Shoppers Drug Mart and 3% at their popular Superstores…if this is where you normally shop.
For grocery shopping outside of Loblaw banner stores, the Simplii Financial Cash Back Visa is excellent.
If you are in the market for a cash back card with no annual fee, the Simplii Financial Cash Back Visa card is worth checking out.
BONUS: Sign up for the Tangerine Cash Back Credit Card and earn unlimited 2% cash back in 3 categories, plus a bonus 10% cash back in your first 2 months ($100 value).
Related Posts: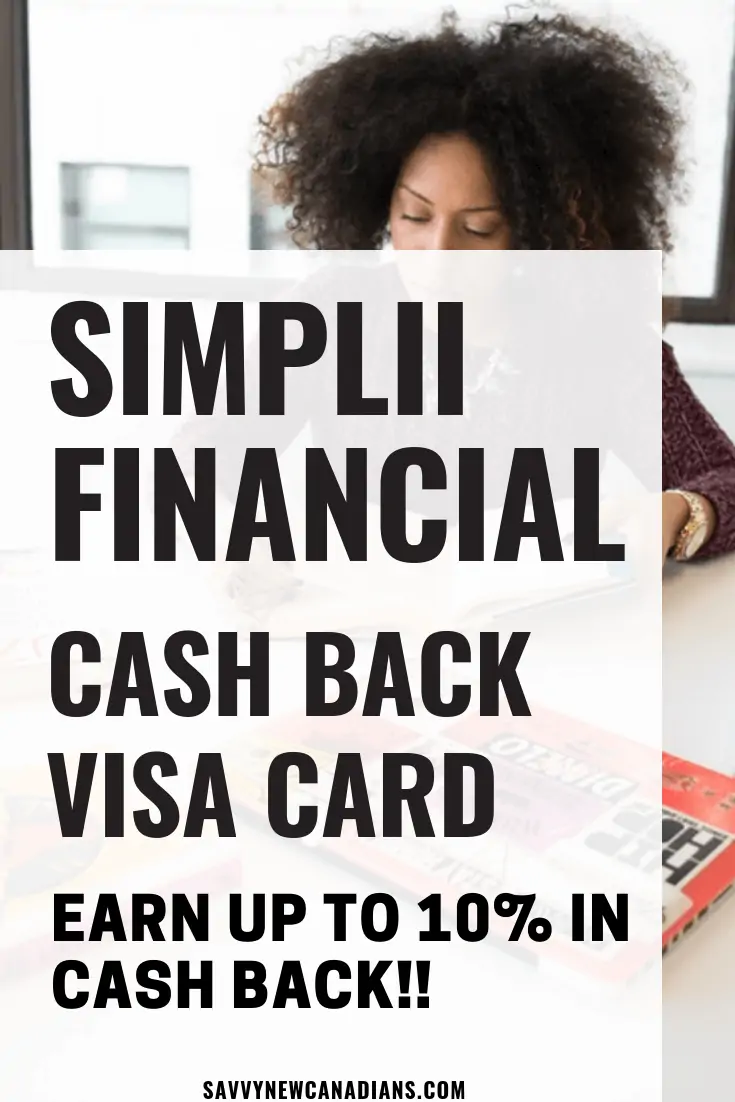 Simplii Financial Cash Back Visa Review
Cash back rewards

Annual fee

Insurance benefits

Eligibility requirements

Redeem rewards
Summary
The Simplii Financial Cash Back Visa Card is Simplii's first credit card offering. This review highlights its cash back offers and benefits as well as the downsides associated with the card.
Pros
No annual fee credit card
Earn up to 4% cash back
Low income requirement
9.99% introductory purchase APR for 6 months
Can be used for international money transfers
Cons
Not available in Quebec
The higher cash back rates have annual spending thresholds
Cash back earned can be redeemed once a year