The Tangerine Money-Back credit card is one of Canada's best no-annual-fee credit cards when its overall benefits and value are considered.
It is offered by Canada's most popular online-only bank, Tangerine, and you are probably familiar with its other innovative savings and chequing account offerings.
Credit cards are what they are. When used strategically, you enjoy convenience and security and can earn significant rewards. On the flip side, you could get stuck in a vicious debt cycle if you rack up balances that are not paid regularly.
The Tangerine Money-Back credit card delivers on the rewards side of things. There is no annual fee, and you earn 2% real cash back month after month from spending in your chosen categories.
Unlike many other cash back credit cards, there is no maximum limit to your cash-back earnings.
And for a limited period, new cardholders earn an extra 10% cash back worth up to $100!
Tangerine Money-Back Credit Card – Features & Benefits
The following features are what make this Tangerine credit card stand out:
1. No Annual Fee: There is no annual fee. Forget the $99 or more per year in fees charged by many credit cards that offer valuable rewards. The Tangerine credit card takes them to the cleaners by offering a $0 annual fee!
2. 2% Cash-Back on Categories of Your Choice: You earn 2% cash back on purchases in up to three different categories. The categories available include Groceries, Gas, Entertainment, Drugstore, Home Improvement, Recurring Bill Payments, Transportation, Hotel-Motel, Furniture, Public Transportation, and Parking.
The number of 2% cash-back categories you can choose depends on whether you want your cash-back to pay down your monthly credit card balance (2 categories), or whether you prefer it to be deposited into your Tangerine savings account (3 categories).
You can change your 2% cash-back categories to suit your spending at any time through your online account. A snapshot of the different categories is below: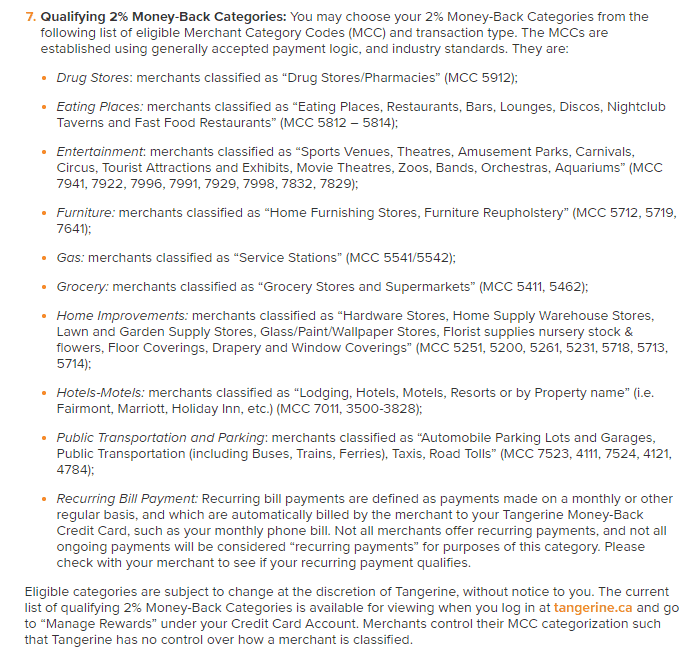 For a limited time, you can earn an extra 10% cash back when you spend up to $1,000 in the first 2 months. This offer is valued at $100.
3. Unlimited Cash-Back Paid Monthly: Unlike many other cash-back cards, this credit card puts no limit on the cash back you can earn. Each month, the money-back rewards are paid to either your Tangerine savings account or your credit card account. There is no need to wait till a specific threshold amount is reached.
4. 0.50% Cash-Back on Other Purchases: All purchases outside the three 2% cash-back categories will earn 0.50% cash-back with no limit on how much you can earn.
5. Free Purchase Assurance: This insurance covers loss, theft, and damage on most new purchases for up to 90 days from the date of purchase.
6. Extended Warranty: This extends the manufacturer's original warranty by up to one additional year. The free purchase assurance and extended warranty provide a lifetime coverage of up to $60,000.
7. Free Cards for other authorized users on your account. In addition, you enjoy Mastercard's zero liability and acceptance at more than 24 million locations worldwide.
8. Low Balance Transfer Rate: All new Clients will receive a balance transfer promotion of 1.95% for six months with a 1% fee. You are eligible for this balance transfer offer for 30 days after you have been approved for a Tangerine Money-Back Credit Card.
Pros and Cons of the Tangerine Money-Back Credit Card
The benefits and downsides of the Tangerine Money-Back Credit Card include:
Pros
No annual fees
Up to 2% unlimited cashback
Low rate balance transfer
Competitive welcome offer
Low minimum income requirement
Cons
Lacks travel benefits
Balance transfer has a transfer fee
Is The Tangerine Money-Back Credit Card Worth It?
The Tangerine Money-Back credit card may suit your needs if:
You prefer cash-back rewards as opposed to accumulating points. Cash is easier to spend on what you want, and since Tangerine pays you monthly, you do not have to wait till the end of the year to use your cash back.
You dislike paying annual fees for credit cards. Think about it, who likes to pay the bank any more than they have to?
There are specific categories where you regularly make purchases, such as groceries, gas, restaurants, entertainment, and so on. A 2% cash back on any three of these categories is nice. For your other general spending, you can use another card that pays more than 0.50%.
You do not meet the high-income requirement that most other premium cards have. To apply for this card, you only need a personal annual income of $12,000.
As with all credit cards, you should aim to pay off your balance every month to avoid interest charges and ballooning credit card debt.
If you have a personal income of $60,000 or more, you can opt for the premium version of this card: the Tangerine World Mastercard.
The Tangerine World Mastercard offers similar cash back benefits, plus complimentary access to airport lounges worldwide, free global Wi-Fi, mobile device insurance, and more.
Related reading:
Tangerine Money-Back Credit Card Review
Zero Annual Fees

Rewards & Benefits

Eligibility Requirements

Versatility

Overall Value
Summary
This Tangerine Money-Back credit card review highlights its 2% cash-back rewards, no-annual-fee, and why it's one of the best cash back credit cards in Canada.