The Refresh Financial Secured Visa Credit Card is a popular go-to card if you have poor credit, damaged credit, or no credit at all, and are looking for ways to build or repair your credit rating.
Starting at a minimum deposit of $200 and a $12.95 base annual fee, the Refresh Visa card is one of the easiest secured credit cards to obtain within its category.
Have a bad credit score or bankruptcy history? Have a low personal income? Have been turned down by other credit card issuers and want to start building your credit history using a low-annual fee card?
This review of the Refresh Secured Credit Card highlights some options that may work for you, including unsecured bad credit loans.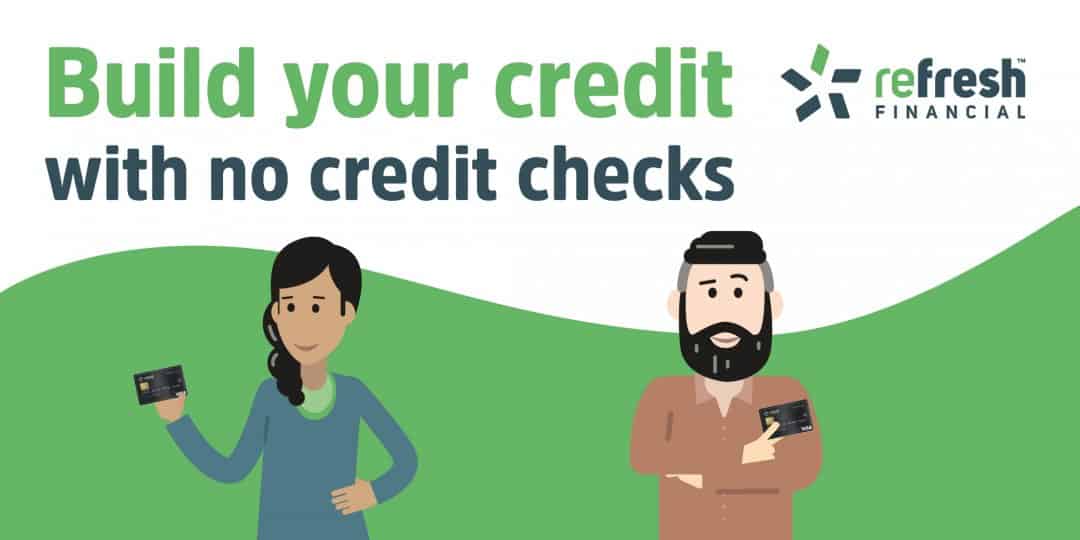 Refresh Secured Card – Features and Benefits
If you are in the market for a secured credit card either because you have a limited credit history or your credit history has taken a bad hit from a bankruptcy or consumer proposal, this card is worth checking out.
If you do not know what your current credit score is, you can check it for free.
These are some of the features and benefits offered by the Refresh Financial Secured Card:
1. Guaranteed Approval: Most credit card issuers require that your credit score is in the "good" to "very good" range for you to get approved for a card.
With the Refresh card, there is no credit check required. Bad or poor credit? No problem – approval is guaranteed as long as you meet the following basic requirements:
Be the age of the majority in your province
Have the security deposit, starting at $200
Don't have an existing Refresh credit card or a pending application for one
2. Low Annual Fee and Interest Rate: The annual fee of $12.95 charged for this card is competitive when compared to alternatives. In addition to the $12.95, you pay a monthly fee of $3, for a total annual cost of $48.95.
The Refresh Secured Credit Card is often used as a stepping stone to an unsecured card, once your credit score has increased. Therefore the annual payment is structured this way to ensure you do not have to pay the full amount if you only have the card for a portion of the year.
On the interest rate side of things, you are charged 17.99% interest if you do not pay your credit card balance within the 21-day interest-free Grace Period.
3. Low Security Deposit: Eligibility for the Refresh Visa card starts at a minimum deposit of $200, and up to $10,000. What this means is that if you have at least $200 in down payment, you can apply for the card and start building your credit.
Your deposit amount determines your credit limit, and the $200 minimum deposit was the lowest I found among secured credit cards in Canada.
4. Build Credit: Every time you make payments towards your card balance, it is reported to the two major credit bureaus as revolving credit. With each report showing you are managing your debt responsibly, your good credit history grows, as well as your credit score.
5. Financial Education: Refresh Financial offers their clients free financial education through Refresh F.I.T, also known as Financial Intelligence Training.
This program is free and helps you to learn the basics about money, credit cards, how to become debt-free, save money, set financial goals, boost your career, and build wealth.
Refresh Secured Visa Card Fees
Similar to other credit cards, the Refresh Secured Card has extra fees that may become applicable, including:
Cash Advance Fee: $5.00
Over Limit Fee: $5.00
Declined Transaction Fee: $0.10
Fee on International Transactions: 3.50%
Paper Statement Fee (in lieu of the e-copy): $2.50
ATM Transactions (Canada and International): $5.00
Point of Sale Transaction Canada: $0.00
Point of Sale International: $3.50
You can avoid some of the extra fees by paying off your balances within the 21 day Grace Period and not using your credit card at an ATM or internationally.
Is the Refresh Secured Visa For You?
Secured credit cards are generally useful if you:
Have limited or no credit history
Have a damaged or poor credit rating from going through a bankruptcy or consumer proposal
With these types of cards, you get a chance to repair or build your credit score while paying a low annual fee. To see results quickly, you should plan to use your card frequently and make on-time payments.
Other Options To Rebuild Your Credit
Unsecured Personal Loans
Even with poor to bad credit, you may be able to qualify for an unsecured loan at competitive rates compared to a payday loan which comes with insane APRs.
1. LoanConnect
LoanConnect is Canada's popular search engine for personal loans. The platform links you up with multiple lenders who accept bad to excellent credit scores.
The maximum loan available via LoanConnect is $50,000 and loan terms range from 6 months to 60 months. Expect to pay anywhere from 5.7% to 46.96% APR.
Read our detailed LoanConnect Review for more information on how to compare personal loan rates across several lenders.
Secured Personal Loans
In addition to its Secured Credit Card, Refresh Financial also offers a secured loan option for repairing or building your credit.
2. Refresh Credit Builder Loan
The Credit Builder Loan requires you to pay the loan upfront. The funds are held in a secured account and your payments are reported to the credit bureaus as installment loan payments.
Credit builder loans may work if you do not qualify for a loan due to poor credit and they are useful for building or establishing credit. 97% of applications are approved and loan terms vary from 36 to 60 months.
Note that when you combine the interest rate and fees, you can expect to pay between 19.99% APR on this loan.
Refresh Secured Visa Credit Card Review
Eligibility Requirements

Minimum Deposit

Annual Fees

Interest Rate

Customer Service
Summary
The Refresh Financial Secured Visa Credit Card is one of the go-to cards if you have a poor or damaged credit score and are looking for ways to build or repair your credit rating.