If you are looking for a chequing account with no monthly fees and unlimited free transactions, the Simplii Financial No Fee Chequing Account ticks both boxes.
It also goes a step further by paying interest on your cash balance.
This Simplii Chequing Account review covers its benefits, downsides, fees, alternatives, and how to get a welcome bonus.
What is Simplii Financial?
Simplii Financial is an online bank owned by the Canadian Imperial Bank of Commerce (CIBC).
It offers a variety of products and services, including the following:
Simplii chequing account
Simplii savings account
Guaranteed Investment Certificates (GICs)
Mortgages
Mutual funds
Simplii Financial has almost 2 million customers and is one of Canada's best online banks.
Simplii No Fee Chequing Account
The Simplii chequing account has zero monthly account fees and includes unlimited debit purchases, bill payments, and Interac e-Transfer transactions.
As an account holder, you get free access to over 3,400 CIBC ATMs, and you can set up direct deposits and pre-authorized bill payments.
You can also use this account for international money transfers and earn interest on your balance.
This chequing account provides free personalized cheques, and new clients receive a welcome bonus.
Simplii Chequing Account Offer
Simplii Financial has one of the best new bank account offers on the market.
You receive a $350 cash bonus if you open a no-fee chequing account and add a direct deposit of at least $100 for three consecutive months.
Direct deposits that qualify for this offer include payroll, pension, and EI direct deposits.
Simplii Financial Chequing Account Fees
The Simplii chequing account does not have a monthly fee. That said, some service charges may apply depending on whether you have special service requests:
Overdraft protection: $4.95 per use (charged no more than once per month). A 19% interest rate applies to overdraft balances
Non-sufficient funds (NSF) fee: $45
Stop Interac e-Transfer: $3.50
Stop payment requests: $10 to $16.50
Money orders and bank drafts: $7.50
Outgoing wire transfers: $30 to $80 per payment, depending on the amount
Retrieval of past statements: $5/statement
Paper statements: $1 per statement
Inactive accounts (after 2 years): $20/year
Pros of the Simplii No Fee Chequing Account
The benefits of a Simplii chequing account include:
No monthly account fees
Free and unlimited transactions
Free access to CIBC ATMs across Canada
Interest is paid on your balance
Access to free international money transfers
Deposits are insured by the Canada Deposit Insurance Corporation (CDIC) up to specified limits.
Cons of the Simplii Chequing Account
Some downsides to consider when you have a chequing account at Simplii:
There is no in-person support. While not a big deal these days, it is worth noting
Not available in Quebec
Does not offer business accounts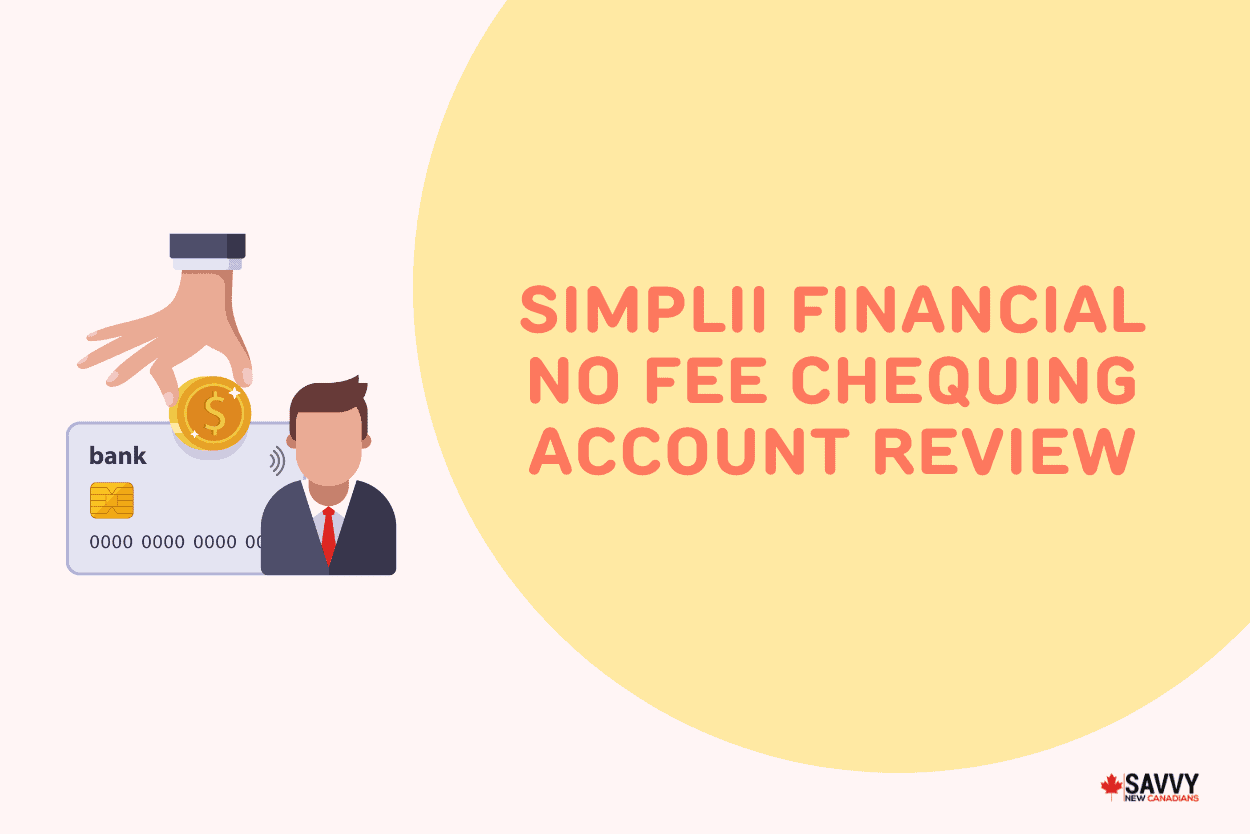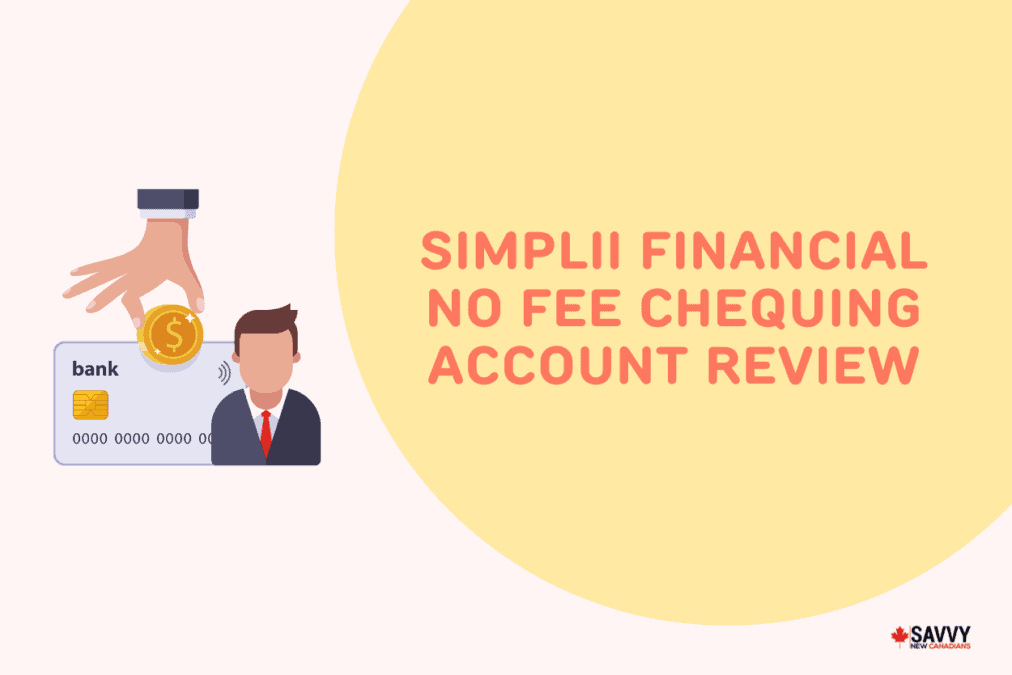 How To Open a Simplii Chequing Account
To open a Simplii bank account, you must be the age of the majority in your province of residence.
Visit Simplii Financial here to start the application process.
You will need your social insurance number and will also be required to provide a digital signature during the application process.
You can deposit cheques to your account using a CIBC ATM or the Simplii Financial Mobile Banking App. You can also add funds by setting up a direct deposit or linking an external bank account.
No Fee Free Chequing Accounts in Canada
In addition to Simplii, online banks like Tangerine and EQ Bank do not charge monthly account fees.
| | | | |
| --- | --- | --- | --- |
| | Simplii Financial | EQ Bank | Tangerine |
| Monthly fee | $0 | $0 | $0 |
| Minimum balance | None | None | None |
| Free debit transactions | Unlimited | Unlimited | Unlimited |
| Free cheques | Yes | N/A | First chequebook free |
| Free ATMs | CIBC ATMs | N/A | Scotiabank ATMs |
| CDIC insurance | Yes | Yes | Yes |
| Other products | Savings, GICs, mutual funds, mortgages, credit cards, loans | GICs, mortgages, money transfer | GICs, savings, credit cards, mortgages, etc |
| High-interest savings | 0.40% (5% promo for a limited time) | 2.50% | 1.00% |
| Learn more | – | Read review | Read review |
Conclusion
The Simplii No Fee Chequing account works well for those looking to cut their banking fees.
It comes with free and unlimited transactions, and you won't be compelled to maintain a high balance just to avoid fees.
If you prefer to visit a branch in person for your banking, this account is unsuitable.
Simplii Chequing Account FAQs
Is Simplii Financial safe?
Yes, Simplii is safe. It is a legit online bank owned by CIBC, and your deposits are insured by the CDIC.
Is Simplii Financial free?
Yes, the Simplii chequing account is free with no monthly account fees. That said, some service charges may apply if you make 'special requests.'
Which banks have no fee chequing accounts?
Banks with free chequing accounts include Simplii, Tangerine, motusbank, Motive Financial, and Alterna Bank.
Is Simplii a good bank?
Yes, Simplii is a good bank. It is one of the best digital banks in Canada.
Does Simplii have overdraft?
Yes. You can add overdraft protection to your Simplii No Fee Chequing Account. There is a $4.95 fee, and the overdraft interest rate is 19%.
Is CIBC and Simplii the same bank?
No, CIBC and Simplii are different banks. Simplii Financial is owned by CIBC, but its accounts are separate.
Related: