A secured credit card is excellent for improving your credit score when you cannot qualify for a regular card.
If you are a newcomer to Canada, a secured credit card can also help you build your credit history.
Does RBC offer a secured credit card? Read on to learn how to get RBC secured credit card in 2023.
RBC Secured Credit Cards
When I arrived in Canada 10+ years ago, my first credit card was the RBC Rewards Visa Gold secured card. At the time, I was a student and was required to provide $1,000 in security funds.
While this card is no longer offered by RBC, you may be able to qualify for the RBC Rewards+ Visa instead.
The security fund you provide is equivalent to your credit limit. For example, if you apply for an RBC secured credit card and deposit $1,000, your credit limit is also $1,000.
When you close your credit card account, this collateral is refunded as long as your account is in good standing.
The RBC Rewards+ Visa does not have a monthly fee, and its interest rates are:
Purchase rate: 19.99%
Cash advance rate: 22.99%
It offers 1 RBC Rewards point for every $1 spent on gas, grocery, and drugstore purchases, and you earn 1 point per $2 on all other purchases.
Related: Best RBC Student Credit Cards.
Best Secured Credit Cards in Canada
If you don't qualify for an RBC secured credit card, or are looking for the best RBC alternatives, these secured cards below fit the bill.
They have almost "guaranteed" approval and can be used to build, improve, or repair your credit.
1. Neo Secured Mastercard
The Neo Secured Mastercard is the best secured credit card in Canada.
In addition to having no fee, the Neo Secured Card offers cash back rewards on all purchases. You earn up to 5% cash back at Neo partners and a 1% minimum cash back at non-affiliated stores.
This card offers guaranteed approval regardless of your credit score, and when you initially sign up, a 15% welcome bonus is available at most partner stores.
The credit limit for this Neo Card starts at $50 which is also equivalent to your credit limit compared to other secured cards that require you to deposit at least $500 or $1,000; Neo Financial makes it easy for you to start growing your credit score with as little as $50.
Other benefits of the Neo Secured Card:
Does not require a hard credit check
No annual fees
Both physical and virtual cards are provided
You can apply for this secured card here and begin using the digital card immediately while the physical one is sent to you by mail.
2. Plastk Secured Credit Card
The Plastk Secured Credit Card helps you take control of your credit while earning rewards. This card has a $48 annual fee plus $6 monthly maintenance fees.
New cardholders enjoy 0% APR on purchases for 3 months, and 5,000 bonus rewards points ($20 value).
You also earn points on purchases and can redeem these points for merchandise and gift cards.
The security deposit ranges between $300 and $10,000, and interest rates are:
Purchase rate: 17.99%
Cash advance rate: 21.99%
Other benefits of this Plastk secured card include:
25 days interest-free grace period for purchases
3 days grace period for cash advances
Compared to the Neo Secured Card, the Plastk card will cost you $120 in total fees per year. That said, if you are a student, this fee is waived in the first year.
Plastk Secured Credit Card
Rewards: Earn points you can redeem for cash.
Welcome offer: 5,000 bonus points and 0% APR for 3 months.
Interest rates: 17.99% on purchases; 21.99 on cash advances.
Annual fee: $48, plus a $6 monthly maintenance fee.
Secured vs. Unsecured Credit Cards
A secured credit card requires the cardholder to provide security funds that are held by the credit card issuer until you close your account.
These funds are also referred to as "collateral" and are designed to protect the bank if you default on your payments.
On the other hand, unsecured credit cards do not require collateral.
To qualify for an unsecured (i.e. regular) credit card, you will need to have a good to excellent credit score.
Both types of cards work the same way in impacting your credit score – they both report your transactions to the credit bureaus.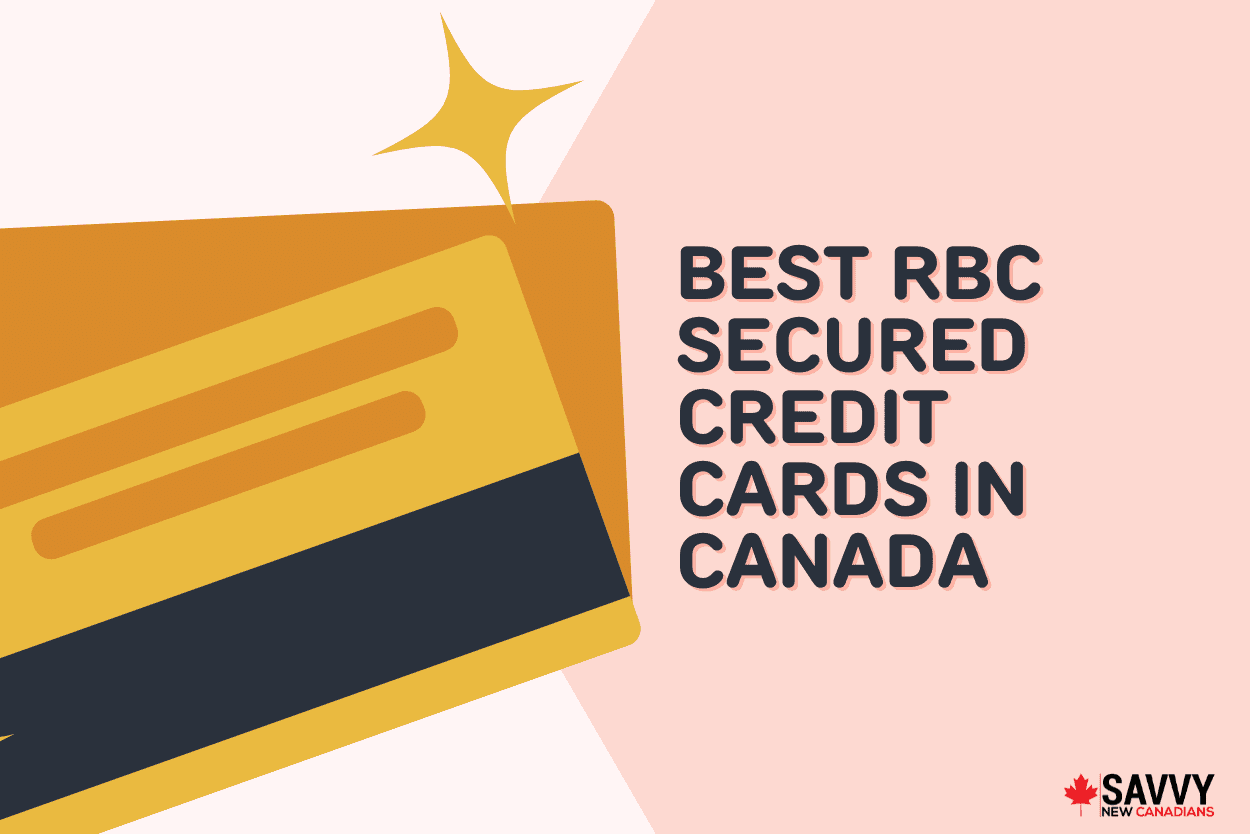 What Are The Benefits of a Secured Credit Card?
They help you improve your credit score if used responsibly
You can be approved for one regardless of your credit rating
The best secured cards also offer rewards, such as cash back
You may qualify for a regular credit card after some time
Cons of a Secured Credit Card
You can't access the security deposit while your card account is open
If you miss repayments, your interest rates may skyrocket
Watch out for hidden fees, including monthly maintenance fees
Approval may not be guaranteed for some cards
Related: Best RBC Cash Back Credit Cards.
Conclusion
If you have an RBC account, you can approach your local branch to see whether you qualify for an RBC secured credit card.
You can also easily apply for the Neo Secured Card or Plastk Secured Card online from the comfort of your home.
Regardless of which secured card you go with, strive to make payments on time so your credit rating can begin to improve.
You can check your free credit score here.
RBC Secured Credit Card FAQs
Does RBC offer a secured credit card?
Yes, RBC offers secured credit cards. To qualify for one, visit your branch. You can also call RBC to determine whether you qualify for an unsecured card.
Does RBC check my credit score when I apply for a secured credit card?
Yes, RBC conducts a credit check when you apply for secured and unsecured credit cards.
Can I get a secured credit card through my bank?
Some Canadian banks offer secured credit cards to newcomers and individuals with a limited credit history or bad credit rating. You can also get a secured card through financial technology companies like Neo Financial and Plastk.
Does RBC offer student credit cards?
RBC student credit cards include RBC Rewards+ Visa, RBC Cash Back Mastercard, and Signature RBC Rewards Visa.
Does RBC offer a secured line of credit?
Yes, RBC offers both unsecured and secured lines of credit. You can use the equity in your home or investment portfolio to apply for a secured line of credit at RBC.
Related: