No age is too young to start learning about money. Personal finance and understanding the value of money are valuable things to know which aren't often taught in school.
When kids have conversations and learn about money at an early age, they are better prepared for later in life when they open a bank account, get a credit card, and get a job.
Until now, there hasn't been an intuitive budgeting or money-saving app for kids and adults. Enter Mydoh – a smart money-saving app with a prepaid, reloadable Visa Debit card that teaches kids about money at a young age and helps them become financially literate.
In this Mydoh review, we'll cover the app, how it works, some top features, pros and cons, and more.
What is Mydoh?
Mydoh is a smart money-saving app for parents and kids. Its goal is to make it easy for kids to become smart with their money and spending and empower them to experience financial independence.
Mydoh is owned by RBC and was launched in 2021. The app is available on iOS and Android devices across Canada (excluding Quebec).
Upon signup, kids and their parents can download the Mydoh app (the link includes a $15 bonus), and kids will receive a Visa Debit card controlled by the parent through the app.
Parents can deposit money and assign weekly tasks for their children to complete. Once they do those tasks, kids can access the money on "payday," which is every Saturday. Parents can also set controls and limits on spending through the app.
Children can use the Mydoh Smart Cash Card for in-store and online purchases. Since it is a prepaid card, there is no risk of overspending.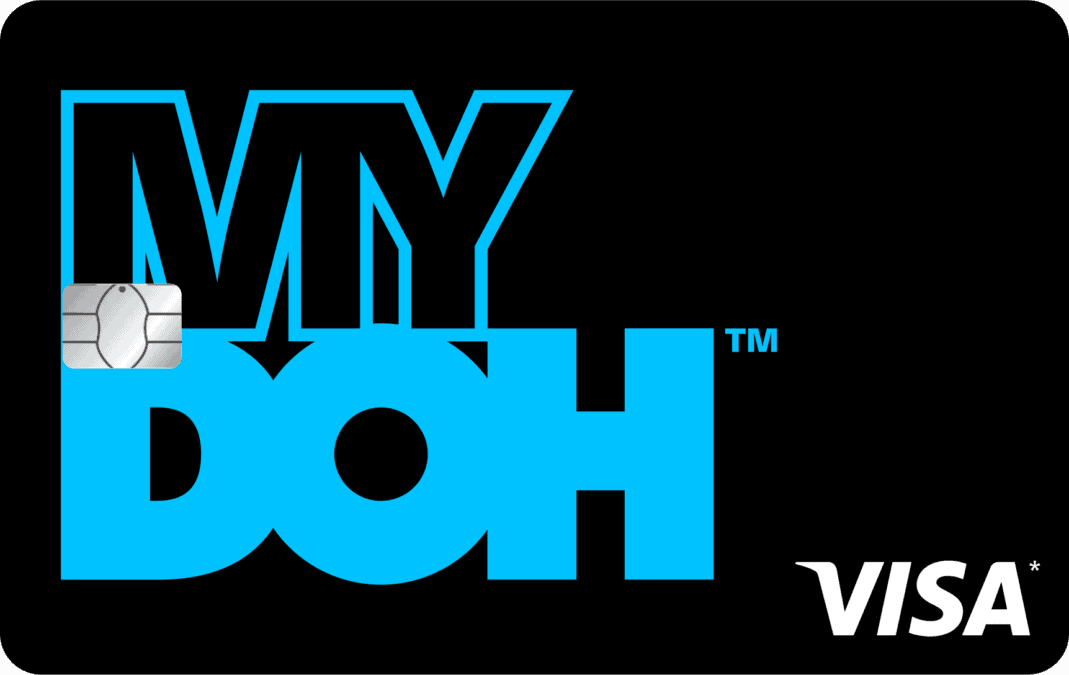 How Does Mydoh Work?
Mydoh is used through a linked parent and youth account. Here's an overview of how both work:
Parent Account
From the Parent account, you can view and manage your children's activities and do things such as:
Set up weekly tasks and give your kids an allowance
Instantly send your kids money
Lock and unlock kids' cards
Track all earning and spending
View and react to transactions with emojis
Youth Account
Kids can learn the basics about money and saving through Play on their app. They can earn their own money through Tasks, which the parent sets up on their account.
Once they complete the tasks, kids can access and spend their money on payday, which is every Saturday. They get a Smart Cash Card, which is a Visa Debit card that can be used in-store and online.
Kids can also do the following with their account:
Manage tasks and mark them as complete
Use their Smart Cash Card and spend up to the limit
Track their earnings, spending, and view their balance
Learn about money basics, spending, and saving habits through the Play feature
The Youth account and card are controlled entirely through the Parent account.
How Do Tasks Work?
Parents can create tasks for their kids to complete and check off on the app.
To create a task, you can either select an already-created task from the menu or create your own. They can be recurring tasks or one-offs. For each task, you set the due date and how much your child will earn for completing that task.
On the parent account, you can see how your kids are doing with the tasks – if they are on track, overdue, or completed.
Earnings for each completed task will add up and be sent to the child's account on Payday. This automatically happens, and money will be moved from the parent's account to the kid's account.
The idea behind completing tasks for money is for kids to learn about the value of earning money and what goes into it.
How Does a Weekly Allowance Work?
Instead of giving your kids a cash allowance, Mydoh allows parents to set up a weekly allowance that is automatically sent to their Smart Cash Card every Saturday.
Parents can set up an allowance of $10, $20, $30, $40, $50, or a customizable amount.
Depending on the kid's age, the weekly allowance can be very different. With Mydoh, you can edit the allowance anytime.
What is the Mydoh Smart Cash Card?
After signing up for a Mydoh account, kids will be sent a Smart Cash Card, which is a reloadable, prepaid Visa Debit card that is linked to their account.
They can either use the physical card or add it to their Apple Wallet and use it online or in stores, wherever Visa or Apple Pay is accepted.
The Mydoh Smart Cash Card is a valuable tool for kids to start developing good money habits and track their spending and earnings. As it's a prepaid card, they can't spend more than they have.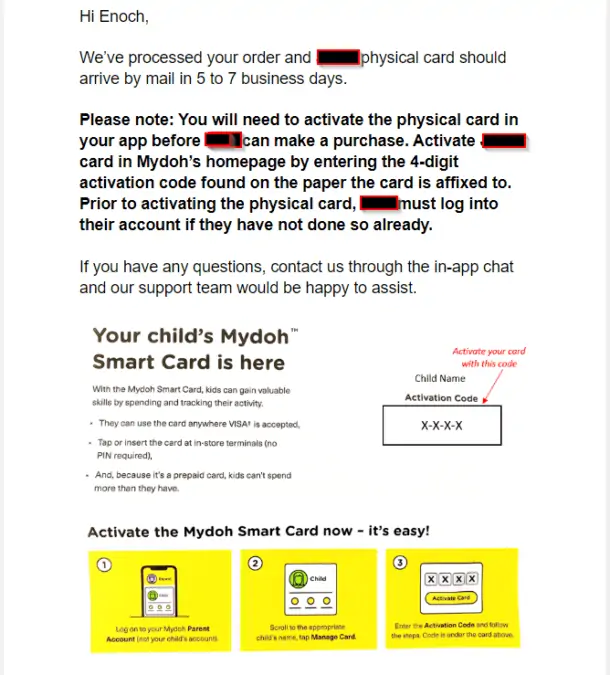 In addition to the physical Smart Cash Card, kids can also design and own an optional custom Smart Cash Card called "Mydoh by Me." This customizable prepaid VISA card allows your child to express their unique personality.
The card costs $6.99, and it can be designed by uploading your child's photo of choice or a photo from Mydoh's gallery (plus cool stickers!). Once the design is approved, it'll be shipped to you in 5 to 7 working days.
What is Mydoh Play?
Mydoh Play is a feature on the kid's account that teaches them about all things finance, including loans, cost of living, and how money is made through fun facts and trivia.
Currently, nine money topics are covered, with more to come in the future:
Budgeting
Savings and investing
Debt
Taxes
Prices
Cost of living
Standard of living
The evolution of money
The psychology of money
This feature is a great way for kids to get an early start on learning about money and becoming financially literate.
Parents can see which money lessons their kids are on and track their progress through the parent app.
How Much Does Mydoh Cost?
When you sign up for Mydoh, you get a 30-day free trial. After that, you pay a small monthly subscription fee.
Mydoh costs $2.99/month for all users, including existing RBC clients.
You can cancel your subscription anytime.
Is Mydoh Legit?
Yes, Mydoh is a legitimate company. They are owned and operated by the Royal Bank of Canada, which keeps your funds and information safe.
Mydoh is currently ranked #13 in finance in the iOS App Store and has an average rating of 4.2 with over 1,500 ratings.
Pros and Cons of Mydoh
Below are a few pros and cons of using Mydoh:
Pros
Teaches kids about earning, spending, and saving money at a young age
Kids can do tasks for parents to earn money
Kids learn about finances through fun facts and trivia with Play
The Mydoh physical card and digital cards are free to use
Cons
Children need access to a mobile phone or iPad to use their account
There are a few limits to the card, including a $999.999 maximum balance, 10 purchases per day, and 30 purchases per month
Alternative Apps Like Mydoh
If you're looking for an alternative budgeting app, these two are some of the best. Keep in mind, however, that they won't be as intuitive for kids and do not offer linked parent and youth apps.
Mydoh vs YNAB
You Need A Budget (YNAB) is a budgeting app with a four-rule method that helps you organize your finances and save money.
YNAB links to your bank account and automatically imports and categorizes your transactions.
They aim to teach you to be intentional with every dollar you have by using an envelope budgeting system.
Their four rules are:
Every dollar has a job
Embrace your true expenses
Roll with the punches
Age your money.
YNAB costs USD $14.99/month or USD $98.99/year.
Read our full review here.
Mydoh vs Mint
Mint is a budgeting app similar to YNAB where it syncs with your bank accounts and automatically imports and categorizes all transactions.
It is completely free to use. You can set budgets and view your spending habits with colourful graphs and charts.
Mint also helps you keep track of bills and recurring payments. You can opt-in to receive spending notifications on a daily, weekly, or monthly basis.
Conclusion
Mydoh is an innovative mobile app and reloadable Visa Debit card that teaches kids about earning, spending, saving, and the value of money at a young age. This can get money conversations started early, which is great, as no age is too young to learn about finances.
Kids have the independence to make their own financial decisions but cannot overspend as it is a prepaid card.
With two synced accounts, parents can view their kids' transactions, balance, and tasks completed. They can even lock or unlock the card anytime from the app.
FAQs
How old do you have to be to use Mydoh? 
Kids should be between the ages of 6 and 18 years old to use Mydoh. You can add up to 5 kids to one account. 
Is Mydoh free?
Mydoh offers a 30-day free trial. After that, Mydoh costs $2.99 per month.
Is Mydoh secure? 
Yes, Mydoh is secure and legit. It is powered by RBC, which keeps your funds safe. They ensure all information is encrypted and a full audit trail is done whenever money moves to and from the Mydoh wallet. 
Do I need an RBC account to use Mydoh? 
No, you do not need an RBC account to use the app.
How do I use my Mydoh card online? 
Kids can use their Mydoh card online by entering their card details. They can find the details in the app by going to the Wallet tab, clicking on the card and re-entering their password.
Can 2 parents use Mydoh?
Yes. Mydoh allows you to add a second parent to the account. They have all features available to the primary parent, but are not able to invite kids, cancel a child's account, or order a physical card. 
Related: