Have you ever found yourself spending money here and there, only to look at your bank account and realize you've gone over your budget?
It can be hard to keep track of your expenses, especially if you have multiple bank accounts, loans, and debt.
A personal finance app, aka a budget app, is one of the best ways to track your spending habits and create a budget.
But with all the different apps out there, which one is the best?
This You Need A Budget review covers how the budgeting app works, its fees, and how it compares to other similar apps like Mint, Goodbudget, and EveryDollar.
What is You Need A Budget (YNAB)?
You Need A Budget is a budgeting app with a simple four-rule method that helps you organize your finances, get rid of debt, and save money.
YNAB connects to your bank account and automatically imports transactions, syncs across devices, tracks your spending and savings goals, and more.
YNAB's goal is to teach you their method of being intentional with every dollar you have, and in return, you'll be in control of your finances.
How Does YNAB Work?
YNAB is different from other budgeting apps in that it makes you assign each free dollar to a category, so you can plan where your money is going before you spend it.
It uses a four rule system:
1. Every dollar has a job
You Need A Budget works on a digital zero-based budget, which means you take all the money you earn and divide it across bills, debt, and savings until you have nothing left to allocate.
You can create categories and assign any amount of money to them.
This helps you not spend your money on things you don't truly need. Instead of stressing out about every spending decision, simply consult your budget plan.
2. Embrace your true expenses
YNAB encourages you to take large, less frequent expenses and break them down into recurring monthly "bills."
This way, you'll look ahead by slowly paying off the large expenses in manageable monthly payments without worrying about any debt piling up.
3. Roll with the punches
The third rule is called "roll with the punches," because you should be flexible and take care of overspending as it happens.
This works by simply adjusting your budget categories if you overspend. You should try to free up money in another category and move it to the one where you spent more that month.
There are no set rules or budgets, making it super flexible to move money around to wherever it's needed.
4. Age your money
The goal of this last step is to be spending money that is at least 30 days old. In essence, you should be spending last month's pay on this month's expenses.
By doing so, you are not relying on money you just earned this month – you have some breathing room.
Eventually, by following the three other rules, this one should come easily.
By being more purposeful about spending, you will spend less than you earn, and your money will bank up.
How to Use YNAB
To get started with the app, make a list of your weekly, monthly, and non-monthly expenses. Ballpark a rough cost for each category and input it on the app.
The YNAB app encourages you to leave room for the fun stuff, so you should input savings goals and budget categories like eating out, drinks with friends, and vacations.
Connect your bank accounts (checking, savings, and credit cards) to the app and start assigning money to each category. Assign your money into categories manually or use the auto-assign feature.
If you have money left over, start budgeting for your true expenses (the ones that will happen eventually, but not monthly).
Continue allocating your money until the number hits zero. You now have a budget!
Next, record your spending habits manually or automatically import them from your bank accounts.
Once you get through the month, your budget will roll over, and you can prepare for the next month.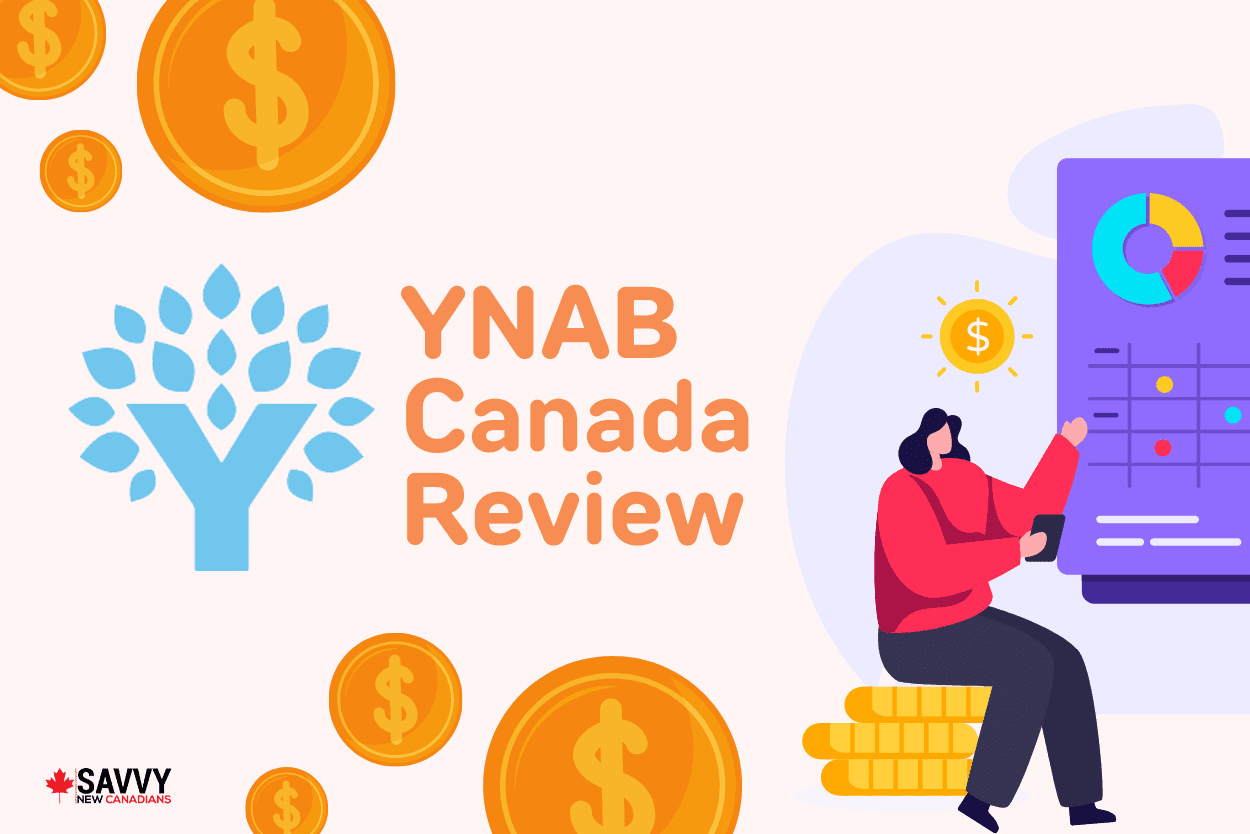 YNAB's Top Budgeting Features
The following are a few of YNAB's top budgeting features:
Every dollar is assigned a purpose, helping to eliminate spur-of-the-moment spending
YNAB connects to your bank accounts and automatically imports transactions
Goal-tracking and target-setting features to track your progress
Spending and net worth reports to view your average spending
Loan planner tool which calculates interest
How Much Does YNAB Cost in Canada?
YNAB Canada offers a free trial for 34 days. After that, it costs USD$14.99/month or USD$98.99/year.
YNAB claims that, on average, budgeters using the app save $600 during their first two months and more than $6,000 during the first year.
YNAB for College Students
In addition to the free 34-day trial, students enrolled in a college or university get a free 12-month YNAB subscription.
To get the free subscription, you need to email student@ynab.com with proof of enrollment. You can show them a student ID card, transcript, or tuition statement.
Is YNAB Canada Safe?
YNAB Canada is safe. It uses bank-level encryption and security measures to keep its user's personal accounts and data secure.
According to its Security page, the YNAB team does not access or interact with users' budget data as part of their normal operations.
Pros of YNAB
A few pros of YNAB include:
Easy to set up and connect your bank accounts
Simple, easy to navigate user interface
Many features like assigning every dollar a job, goal, and spending tracking
Monthly reports to monitor your spending
Cons of YNAB
Some cons of YNAB are:
If you're not familiar with the zero-dollar system, it can take some getting used to
There is a learning curve
It is quite pricey at $14.99/month or $98.99/year
Not as visual as other free YNAB alternatives like Mint
YNAB vs Mint
Mint is a free budgeting and financial tracker app. It is quite a simple app that requires you to connect your bank accounts.
You can sync your checking, savings, and credit accounts and keep track of bills, as well as receive spending notifications on a daily, weekly, or monthly basis.
With Mint, you can view your spending habits and monitor budget progress. As you use the app, you can analyze your money habits with graphs and charts.
Key Similarities and Differences
Like YNAB, Mint allows you to create different categories, sync your bank accounts, and track your transactions.
However, Mint is used more for keeping tabs on your transactions and seeing where your money is going, instead of allocating every dollar to a budget.
Mint does not help to change your saving and spending habits like YNAB. That said, it is completely free to use, whereas YNAB costs $14.99/month or $98.99/year.
YNAB vs EveryDollar
EveryDollar [ iOS and Android ] is a zero-based budgeting app that helps to track your spending and plan for monthly expenses. It is a free app with an option to upgrade with additional features.
It focuses only on budgeting, and with the free version, you'll need to manually enter all of your transactions.
This can be to your advantage if you want to really see what you're spending.
Like YNAB, EveryDollar focuses on assigning every dollar a purpose to a category like an expense, budget, or savings account.
When you do this, you'll plan out your spending ahead of time and avoid impulse purchases.
Key Similarities and Differences
YNAB and EveryDollar are very similar in the zero-based budgeting system.
The key feature is the same between both apps, but to sync your bank accounts, you'll need to upgrade to the paid version of EveryDollar, which ranges from $59.99 to $129.99.
YNAB is a more complex budgeting app, and it helps you to categorize and understand your spending habits
YNAB vs Goodbudget
Goodbudget is a virtual budget software that also works with the zero-based, or envelope system.
You allocate all of your money to certain expenses, or envelopes, as a way to plan your spending instead of just tracking it.
Goodbudget syncs between mobile devices and the web, so members of the family can be on the same page with spending.
Goodbudget does not link to your bank accounts, even with the paid version, so you will need to track your spending and bank balance by manually inputting it or downloading your recent activity from your bank's website and importing it into the app.
Key Similarities and Differences
Like YNAB, you assign every dollar to a category or purpose with the Goodbudget app. Both apps focus on planning and tracking your spending.
YNAB is only for individuals, while Goodbudget allows you to share a budget across your entire household.
Goodbudget has both free and paid versions. With the free version, you get up to 20 categories, called "envelopes," one account, two devices, and one year of tracking history.
The paid version is cheaper than YNAB, at $7/month or $60 annually, which gets you unlimited envelopes and accounts.
Is You Need A Budget (YNAB) Worth It?
Considering all the points mentioned above, you may wonder if You Need A Budget is worth it.
Many people use and love it, as it encourages them to plan ahead with their spending. It differs from a traditional budgeting app like Mint and has many more features.
However, the main drawback is its hefty price of almost $100 a year.
If you're looking for something a bit simpler and more affordable, you can consider Mint as a free alternative to start tracking your expenses.
If you want to radically take charge of your finances, YNAB may be the way to go.
Ultimately, it's up to you to determine if YNAB is worth it.
Consider if the features will benefit you, how often you will use the app, and if you have the extra cash to spend on a subscription.
YNAB Canada FAQs
How much is YNAB per month?
After a free 34-day trial, a YNAB subscription costs USD$14.99/month. Alternatively, you can get an annual plan for USD$98.99 which will save you $80 per year.
Does YNAB work in Canada?
Yes, YNAB works in Canada. It is one of Canada's top budgeting apps, supporting most major banks.
How do I get YNAB for free?
You can sign up for a 34-day free trial. If you don't like the app, you can cancel before the end of the 34 days. If you are a student, you can get a one-year YNAB subscription for free.
What banks work with YNAB?
Most major Canadian banks work with YNAB, like TD, CIBC, BMO, Scotiabank, RBC, and several others.
Is YNAB better than Mint?
YNAB is similar to Mint, but they have a few different features. Mint is completely free but does not work on a zero-based budgeting system like YNAB. Mint is better for those who want simpler and more automated budgeting options, while YNAB is best for those who want to think more proactively about their spending.
Related:
Summary
You Need A Budget (YNAB) is the best paid budgeting app in Canada. This YNAB Canada review covers how it works, cost, pros, cons, and alternatives like Mint and EveryDollar.