Meal kit delivery services are a convenient way to receive pre-portioned, easy-to-prepare lunches and dinners delivered to your door. This takes the time out of planning, prepping, and shopping for ingredients and offers a fun way to try new recipes.
There are many meal kit delivery services available in Canada, such as HelloFresh, Chef's Plate, and Goodfood. HelloFresh stands out as one of the most popular, as it has a wide variety of meals and plans to choose from.
This HelloFresh Canada review covers how it works, the meal options, cost, promo code, pros and cons, and if it's worth it.
What is HelloFresh?
HelloFresh is a top meal kit delivery service in Canada.
Each week, they ship boxes of fresh ingredients along with detailed and easy-to-follow recipe cards to help make lunch and dinner easier. Each box contains pre-portioned ingredients, such as fresh veggies, protein, sauces, seasonings, and garnishes.
HelloFresh offers boxes with either 3, 4, or 5 meals per week with two or four servings each. You can choose between eight types of meals such as vegetarian, high protein, family-friendly, and mostly meat.
How Does HelloFresh Work in Canada?
When you sign up, you can choose to receive weekly boxes with either 3, 4, or 5 meals with two or four servings.
Each week, choose your meals from the HelloFresh menu. You can choose between eight categories of meals and over 35 new recipes every week. You can also add extra meals or add-ons, like breakfasts or desserts, for an additional cost.
Boxes are delivered weekly from Sunday to Thursday, depending on your postal code, and they usually arrive between 8 am and 8 pm. You can easily skip a week or cancel your subscription anytime.
HelloFresh is available almost everywhere in Canada, including Ontario, Quebec, Manitoba, Saskatchewan, Alberta, British Columbia, Newfoundland, and the Maritimes.
HelloFresh Menu and Meal Options
HelloFresh offers recipes for almost every diet. When signing up, you can choose from eight categories of HelloFresh meals. They include:
Mostly Meat
Family Friendly
Smart Meals
Vegetarian
Quick & Easy
Pescatarian
High Protein
Flexitarian
Some HelloFresh recipes you can expect include Hearty Steak and Potatoes, Mozzarella-Crusted Chicken, Ginger Beef Stir-Fry, and Spanish One-Pan Chicken.
Related: Instacart Alternatives in Canada
Top HelloFresh Canada Recipes
Some of the most popular HelloFresh Canada recipes include:
Protein-Packed Roasted Veggie and Red Lentil Soup
Grilled Herby Lambchops
Teriyaki Chicken
Creamy Carrot, Ginger, and Tumeric Super Soup
What Does HelloFresh Cost?
HelloFresh prices vary depending on the number of servings and meals each week. Shipping costs $9.99 per box.
Below is a table detailing the various combinations of servings and recipes each week with the cost per serving and total cost.
| | | | |
| --- | --- | --- | --- |
| Number of People | Number of Recipes | Cost Per Serving | Total Cost |
| 2 | 3 | $12.17 | $82.99 |
| | 4 | $11.88 | $104.99 |
| | 5 | $11.50 | $124.99 |
| 4 | 3 | $10.83 | $139.99 |
| | 4 | $10.31 | $174.99 |
| | 5 | $9.25 | $194.99 |
Pros and Cons of HelloFresh
As with any other meal kit delivery service, there are pros and cons of HelloFresh.
Pros
HelloFresh takes the meal planning, shopping, and prepping out of your hands, making it fast and easy to cook meals. Most ingredients are pre-portioned, and each recipe generally only takes about 15-30 minutes to make. The recipe cards are very detailed, showing you exactly how to make each recipe.
You can choose your meals, and HelloFresh offers over 35 new recipes each week, so you won't make the same recipe twice. They also offer meals for almost every diet, including vegetarian, calorie-smart, and family-friendly meals.
Cons
As easy and convenient as it is, HelloFresh can be quite expensive if you order boxes weekly. Shipping costs $9.99 per box, and each serving costs between $9.25 to $12.17, which is generally more expensive than if you were to buy the ingredients from the grocery store.
HelloFresh is not great for those with dietary restrictions, like vegan, gluten-free, and keto, as they don't offer meals in those categories.
Another thing to consider is that the cooking time can be longer than expected for some recipes, especially if you're a beginner and not used to cooking things simultaneously.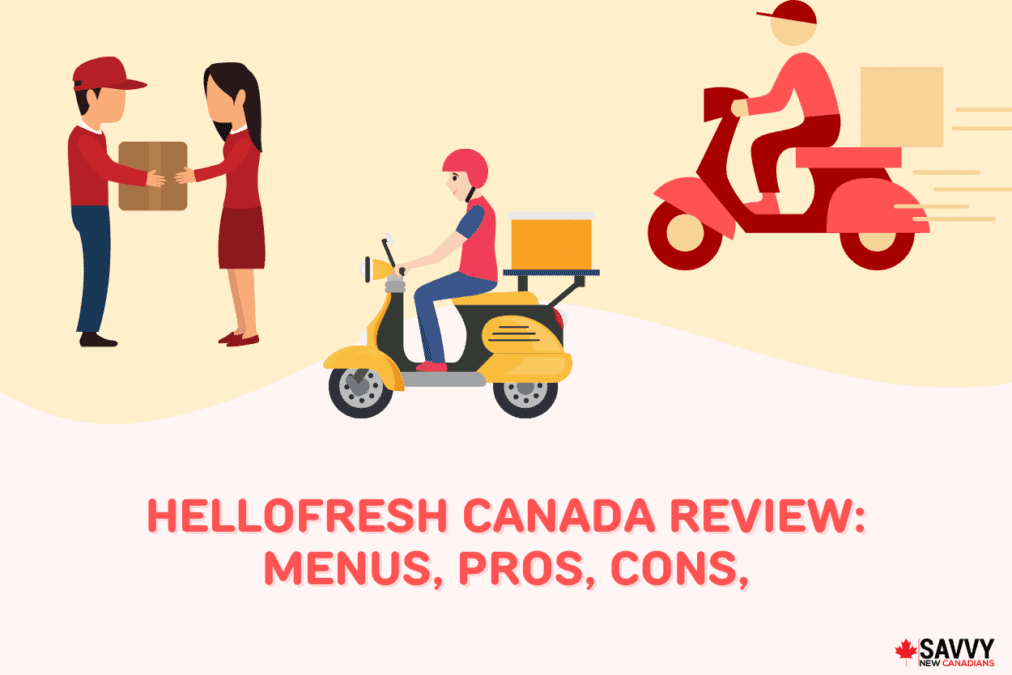 HelloFresh Customer Service
If you have an issue or question about your order, you can contact HelloFresh customer service here. Alternatively, you can give them a call at 1-855-272-7002.
HelloFresh Promo Code and Discounts
When you sign up for your first HelloFresh box, use our exclusive HelloFresh Canada promo code to save up to $80 plus free shipping. Simply click on the link, and the discount code will automatically be applied to your order.
You can also get an extra $20 discount code if you sign up for their email newsletter.
Learn more about the HelloFresh referral program.
Is HelloFresh Legit?
Yes, HelloFresh is legit.
Founded in 2011, HelloFresh has been around for just over a decade. There have not been too many HelloFresh complaints. Consumers praise easy and delicious meals as well as helpful and responsive customer support.
HelloFresh has a rating of 4.1 on Trustpilot with over 11,000 positive reviews and 3.8 on ConsumerAffairs with over 5,000 ratings.
HelloFresh vs Chefs Plate
Chef's Plate is another popular meal kit delivery service that is very similar to HelloFresh and is owned by the same company.
Chef's Plate is available in Ontario, British Columbia, Alberta, Saskatchewan, Prince Edward Island, New Brunswick, Nova Scotia, and Manitoba. Like HelloFresh, the boxes arrive between 8 am to 8 pm, and shipping costs $9.99.
Each week, you can choose from 23 recipes starting at $8.99 per serving. Chef's Plate offers only three categories of recipes, including Meat & Vegetables, Vegetarian, and Family Friendly.
Chef's Plate allows you to choose either 2, 3, 4, or 5 meals per week with two or four servings each. Learn more about how it works.
Is HelloFresh Worth It?
If you can afford to pay over $100 per week for the convenience of your meals being delivered to your door, then HelloFresh may be worth it.
You need to consider the cost over convenience. HelloFresh is a very convenient way to receive pre-portioned, easy-to-follow recipes delivered right to your door. If you value your time and don't mind paying the cost, HelloFresh can be worth it.
However, HelloFresh can be quite expensive. Looking at recipes, buying the ingredients from a grocery store, and preparing the meals yourself takes more time, but you'll save a lot of money. Each serving from HelloFresh ranges from $9.25 to $12.17, which really adds up.
To see if HelloFresh is worth it for you, sign up for your first box with this coupon code (which applies automatically) and try it out. You can easily cancel your subscription if you decide it's not for you.
Related: Best Food Delivery Apps in Canada
HelloFresh Canada FAQs
How much does HelloFresh cost in Canada?
The HelloFresh Canada cost varies based on the number of meals and servings you choose to receive. The cost per serving ranges from $9.25 to $12.17, and each box ranges from $82.99 to $194.99.
How do I cancel HelloFresh in Canada?
To cancel your HelloFresh subscription, log into your account and click on Account Settings. Click on Manager subscription and scroll down to the Status section, where you can cancel your plan.
Is HelloFresh worth it for a family?
HelloFresh meals are quick and easy to prepare, perfect for a family. It is very convenient and cuts out the planning and shopping. However, it is quite expensive at $194.99 if you get five meals per week with four servings each.
Can I lose weight on HelloFresh?
HelloFresh is not specifically designed for weight loss; however, they do offer calorie-smart and high-protein meals with pre-portioned ingredients. By monitoring what you eat and managing your diet overall, HelloFresh can help you lose weight.
Is HelloFresh processed food?
HelloFresh does not include processed foods. You are cooking from scratch, using fresh and healthy ingredients.
Where does HelloFresh ship from in Canada?
HelloFresh's distribution center is in Brampton, Ontario. It isn't specified if that is the only distribution center or where else the meals are shipped from.
What is HelloFresh's shipping policy?
HelloFresh Canada delivers Sunday-Thursday each week, depending on your postal code. Boxes typically arrive between 8 am to 8 pm on the delivery day. All boxes have an insulated liner and ice packs to keep the food cold until you receive the delivery.
Where can I get a HelloFresh gift card?
You can buy and redeem HelloFresh gift cards on their website. You can also buy them at stores that sell gift cards, such as Staples and many grocery stores. Some rewards sites also offer ways to earn free HelloFresh gift cards.
What is the top HelloFresh complaint?
A few of the top HelloFresh complaints include it being too expensive, the fact that there isn't an option to receive two meals per week, and that your subscription automatically renews every week without warning.
How long does it take to deliver HelloFresh?
You can choose a delivery date five days or more from the day you choose your meals. For example, if you order on Sunday, your meals can arrive on Friday. Once your order is shipped, it will arrive the same day between 8 am to 8 pm.
Related: